Electric Dirt Bikes, as the name suggests, are designed to ride on irregular or muddy grounds. They are light in weight, and their purpose is off-road riding. These electric dirt bikes are relatively smaller than ordinary bikes and are highly energetic. The tires of these dirt bikes are created for rough or irregular surfaces that play a significant role in riding these bikes in conditions of muddiness, loose soil, and stony lands. Riding a dirt bike polishes your riding skills. You are exposed to various land conditions; muddy, irregular, stoned, etc.
You get to learn new approaches to riding through it. It gives you a sense of freedom and boosts your confidence. It enhances your physical and mental stability. Many best electric dirt bike brands offer you bikes with great features and functionality. Also, dirt bikes are categorized according to age groups. There are the best electric dirt bikes for kids and the best for adults. Kids get dirt bikes according to their age and height. Dirt bikes are also called off-road bikes since they aim to not ride on straight roads but on irregular, muddy and stony surfaces. This article will review some of the best electric dirt bikes, also known as electric off road bikes.
Table of Content:
Top 5 Best Electric Dirt Bikes
Razor SX 500 Dirt Rocket McGrath Electric Off Road Bike
can easily park
Weight: 98lbs
Top speed: 15 mph
Range: 40 minutes
Full charge time: 12 hours
Motor: 500W
Material: Aluminum and Plastic
Suggested Users: Unisex-teen
Height: 36 inches
Seat Height: 24.5 inches
Battery Capacity: 36V
Suspension: Dual Suspension
Weight Capacity: 220lbs
Once my family and I went on an adventure trip. All of us traveled by our bikes. The bikes we choose were according to the unstable ground conditions of the place where we were headed. So, we all got dirt bikes for that trip and then went on it.
My 14-year-old sister was worried since she thought she might be unable to join us on the trip because she was just 14. But then I informed her that there were dirt bikes for her age group. I told her that this bike was Razor Dirt Rocket SX500 McGrath. She became thrilled hearing this, and then we got her dirt bike and went on our trip, all happy and satisfied.
Easy to Handle
Razor electric dirt bike does not have typical lubrication systems and engines, which is why it is easy to handle this bike. Its characteristics like the twist-grip throttle and movable handlebars make steering effortless and let the bike do its activity efficiently.
Bumpy Tires
These electric dirt bike tires are designed to make the rides as smooth as possible. After coming in contact with dirt particles, these tires hit them and do not allow them to come in the way of your comfortable and enjoyable ride.
Excellent Weight Capacity
Even though this dirt bike is said to be designed for kids but it has excellent weight capacity. This weight capacity allows even the adults to sit on this bike and enjoy the ride. This bike can bear up to 79 kg weight, which is pretty much suitable for adults to enjoy their rides.
Benefits:
Due to its smaller size, you can easily park your Razor electric dirt bikes even in the narrower space.
The small size also allows it to go through a narrow street quickly.
It has an appealing outer appearance that makes the rider look cool.
This bike has top-notch safety features.
User friendly price.
Drawback:
Due to its height, this electric dirt bike is more suitable for children 6-8 years older than 14 years ago.
X-Pro Hawk DLX 250cc Endure Best Electric Dirt Bike for Adults
outer steel casing
Weight Capacity (lbs.): 330
Gross Weight (lbs): 310
Net Weight (lbs): 280
Overall: LxWxH: 84″x32″x55″
Carton: LxWxH: 69x18x34″
Seat Height: 36″
Wheelbase: 54″
Ground Clearance: 8.3″
Engine Oil Capacity: 1.1L
Gas Tank Capacity (gal): 1.4
Max Speed (MPH): 68+
Battery: 12V/9Ah
Once I was traveling back from my office, and it started to rain heavily. Due to the heavy rainfall, the land conditions became unfavorable. Soil, together with water to come into mud form. It became difficult for the bike riders to ride freely as the tires got stuck in the mud. All the people around me who were on the bike were having one problem or the other running their bike.
Some of the bikes stopped working because of the water entry inside the engine, and the others were facing something other. I thanked God for that day, for I had the X-Pro Hawk DLX 250cc Endure that made my riding smooth even in that messy situation, and I reached home safely. This, in my opinion, is the best electric dirt bike for adults.
Air-cooled Engine
This dirt bike displays a 4-stroke engine with an air-cooled system that works to remove the engine heat by utilizing the air that blows the engine when the bike is in motion. This function of the bike makes it cool and easy to use.
User-friendly Wheels
The wheels are installed to provide better grip and friction to make the bumpy rides comfortable and easygoing. You can use them on all grounds. This bike is much suitable for racing. Youngsters really feel the fun while riding on it.
Comfortable Seats
The seat is fixed at a lower level keeping in mind the rider's comfort. It is stuffed with leather for comfort and cozy rides and to make mobility easy in case of bumpy rides. You will not fell out by the obstacles coming into your way.
Hydraulic Brake System
The hydraulic brake system provides a path for instant breaking in case of muddy and wet rides where friction becomes lesser, and there are chances of accidents. But with this braking system, such rides are made convenient.
Benefits:
It is an affordable dirt bike that is worth the cost.
The bike has sufficient ground clearance.
It is easy to set up and improve.
The outer steel casing is of top quality.
Unchallenging and easy going acceleration.
Easy to handle on bumpy areas.
It has a powerful and authentic engine.
Drawback:
Its manual clutch and plastic hardware are of poor quality.
Voltrik Bolt 500 Best Electric Dirt Bike 2022
high-powered motor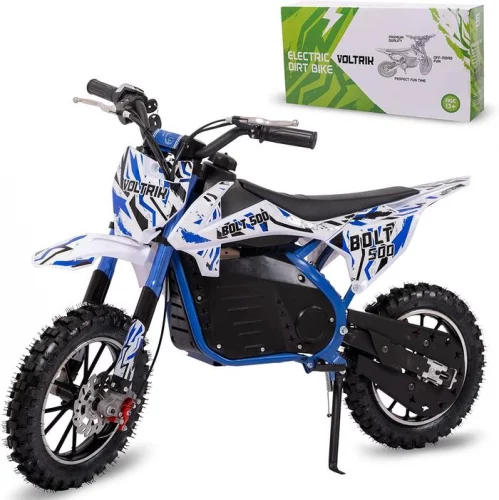 Motor: 500w
Battery: 36v
Top Speed: 15 Mph
Shocks: Spring Suspension
Display: Smart Digital
Looks: Number Stickers
Tires: Ari Filled
Recharge: 4 to 6 Hours
Range: 15 Km
Max Weight: 140 Lbs.
Handlebar: Adjustable Height
Weight: 88lbs
One of my friends at my workplace was worried. I asked her what the reason was. She told me that her little brother was soon turning 13, and she did not know what to gift him on his birthday. I had an idea in my mind, and I shared it with her.
I told her that her brother will now become a bit independent and want some freedom, so she should give him such a gift to help him feel free. I advised her to gift him a dirt bike because he would feel free when he rides it. She listened to my advice and gifted him Voltrik Bolt 500 Electric Dirt Bike. She told me that he got pleased with this.
Front and Rear Disc Brakes
Dual disc brakes that are manually operated help restrict the bike movement if needed. The extraordinary thing about these disc brakes is that they can be adjusted accordingly depending on how much stopping power is required. There is no fixed amount, but you can set them as per your need.
Adjustable Handlebars
Another key feature of this dirt bike is its handlebars that you can adjust according to your height and enjoy a carefree, comfortable ride. This feature will attract every aged and height people towards it.
Convenient Riding over Bumps and Roots
The Voltrik Bolt front and rear shock absorbers significantly make your ride disturbance-free and smooth. These shock absorbers give the rider a unique and different feel. They are designed in a way to give this bike an authentic look.
Benefits:
This is one of the best off-road electric bikes, having tired with large grooves.
It has a high-powered motor for superior experiences.
Overall bike look is professional motor-cross.
The battery is long-lasting and charges fast.
Bike is easy to handle, having features on handlebars.
Drawback:
This bike is not suitable for under 13 children.
Hover-1 TRAK Best Electric Dirt Bike for Kids
disk brake for instant breaking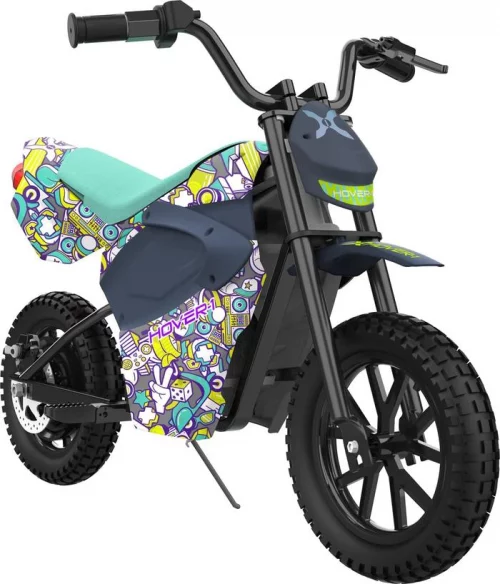 Weight: 34lbs
Top speed: 9 mph
Range: 9 miles
Full charge time: 4 hours
Motor: 250W
Material: Aluminum
Suggested Users: Unisex-teen
Included Components: Assembly Kit, Charger, Bike
Brake Style: Rear Breaking
Height: 2.25 ft
Seat Height: 21 inches
I was searching for an electric dirt bike to gift my 14-year-old niece. She likes adventurous trips and wants to be on her own. Before her birthday, I asked her what present she wanted on this birthday. She told me about her interest in riding a dirt bike because she will feel freedom and independence with the enjoyable rides.
Then, I started researching online to find a perfect dirt bike for her. After doing a lot of research, I finally learned about the Hover-1 TRAK Electric Dirt Bike. I got this bike for her and gifted it on her 14th birthday. She was amused with the look of it and enjoyed riding it. This dirt bike satisfied her adventurous spirit and made her happy. In my view, it is the best electric dirt bike for kids.
Durable Structure
The all-steel frame of this dirt bike is proof of its long-lasting feature. It is made keeping in mind the authentic dirt bike geometry and structure. Its air-pressured tires are made to provide a great experience of off-road rides and can bear up to 120lbs weight.
Easy-to-handle for New Learners
With a 34lbs weight and 2.25 height, this is the ideal and best dirt bike for kids who are yet learning to ride and are not experienced. This dirt bike makes riding for beginners fun and easy. They do not face any difficulty handling bikes due to their lighter weight.
Security and Ease
This dirt bike has long-lasting 12-inch-air-filled tires that significantly make rides on irregular, stony surfaces smooth and comfortable. Hence the rides become unrestricted, and the off-road rocky surfaces feel like regular and plain roads and are jerk-less.
Benefits:
This dirt bike has a powerful motor that makes rides speedy and fun.
Rechargeable 24V Lithium-ion battery inside this dirt bike has excellent durability.
This dirt bike is ideal for starters.
This bike has many extra features. For example, disk brake for instant breaking.
It has comfortable seat pillows for pleasant rides.
Drawback:
These dirt bikes are not ideal for covering longer distances.
SYX MOTO Holeshot ES 50cc Dirt Bike
extra protection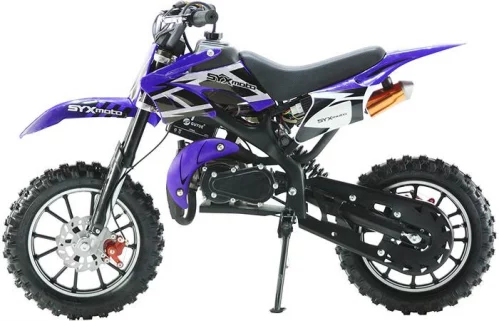 Weight: 48.5lbs
Maximum weight Capacity: 160lbs
Seat Height: 22 inches
Fuel tank capacity: 0.45gal
Max Speed: 24.9 mph
Front/Rear Tire Specification: 2.5-10, both are disk brakes
Height: 21 inches
Once I saw in the newspaper an ad regarding the SYX MOTO Holeshot ES 50cc Dirt Bike. After seeing this ad, the first person who came in my mind was my little 6-year-old nephew. He is very crazy about bike travelling. One thing that upsets him for sure is his dirt bike. It got damaged for some reason and did not start ever since.
When I saw this newspaper ad, I told him about this electric dirt bike that seemed pretty good and reasonable, and one of the best electric dirt bikes for kids named SYX MOTO Holeshot ES 50cc Dirt Bike. His father bought him this dirt bike, and then my nephew got back his lost happiness.
Vibrant Colors of Dirt Bike
The most attractive thing for kids before they buy anything is the colors. Generally, children are attracted to goods that have bright colors. So, this bike is designed keeping that in mind. Its color makes it unique, and wants kids to have it without waiting. The color options you get with this bike are blue, green, and yellow. This color range is pretty much compelling.
Kill Switch for Safety
What makes this bike different from other safety bikes is its kill switch. If kids experience more than the required one, they can use the kill switch's help to control the speed. This kill switch keeps parents satisfied with their kids riding in their absence too.
Controlling the Dirt Bike
Due to its lighter weight, you can control the bike efficiently. There is no need for extra force to stop, start, run or turn this bike. All of these things are done effortlessly. The speed controller also makes the controlling even easier.
Benefits:
This dirt bike is easy to fix and has an easy setup.
You can always contact the makers of this dirt bike in case of queries.
It promises to give you extra protection.
It has incredible weight capacity by which even adults can experience its ride.
The physical appearance of this bike makes it stand out from the rest.
Drawback:
This dirt bike is not suitable for taller kids, more than 5.5ft.
Buying Guides for the Best Electric Dirt Bikes
Before you buy an electric dirt bike, there are a few things that you should keep in mind. This is because you do not want to waste money by buying it without prior knowledge. After all, it may be a fault, and you may learn about the faults later.
So, it is better to gain firsthand knowledge on the essential things you should be looking for when you aim to buy an electric dirt bike or an electric off road bike. These things are mentioned below:
Motor Power
Electric bikes can have a high-power motor-battery combo and a low-power motor-battery combo. If you are experienced in riding electric dirt bikes, you can opt for the first option. But if you are a beginner and just starting things and learning the dirt bike techniques, you should go for the second option to handle your bike effortlessly with the lower power.
Weight of Bike
Before you do the final deal with the seller of the electric dirt bike, make sure that the dirt bike can bear your body weight. You can do that by riding it and seeing if it goes with your weight and if you are comfortable while riding it before you do the final deal.
Travel Range
The range is how much distance your bike can travel with one charge. If you are a carefree rider and travel long distances, you should prefer to buy a dirt bike with a heavy-powered battery pack to enjoy your ride without any worries.
Charging Time
Before buying an electric dirt bike, you must check how much time it takes to charge the bike and how long the charging lasts. You can do that by taking a test ride on a fully charged dirt hike until it shows low battery and then note the distance covered and time is taken.
Exchanging the battery is another option too that is an option in KTM FREERIDE E-XC, where there is always an option of replacing the dead battery with a fresh one. Due to this battery swapping feature, KTM electric dirt bike is one of the best electric dirt bikes.
Seat Height
When choosing an electric dirt bike, you should examine its seat height. You should check if you are comfortable with the seat height since it makes your rides carefree, enjoyable, and smooth. If you are buying a dirt bike for a kid, the seat height should also be of great concern even then.
Maximum Speed
Speed is one of the most important things that you should keep in mind when you decide to buy a dirt bike. You should check the maximum speed with which the bike can travel. Speeds may vary from kids to adults on dirt bikes.
Affordability
When you decide to get an electric dirt bike, you should consider your budget and look for the bikes accordingly. Also, when you see the bike, you should check if the price suits the bike's features.
Best Electric Dirt Bikes 2022:
Electric dirt bike is becoming a significant need in 2022. That day is not too far when all the dirt bikes will be electric due to the premium features these bikes have. These dirt bikes make traveling easy and smooth on stony surfaces and make you feel like you are riding on an ordinary road. Also, dirt bikes need less maintenance than you have to do in typical bikes.
Many superior brands offer you an electric dirt bike with excellent features. One of the electric dirt bikes from a well-known brand, KTM, is KTM FREERIDE E-XC. This electric dirt bike has all the advanced features. It is designed to run on rough surfaces. It is, in my view, the best electric dirt bike for adults.
Another brand SEGWAY offers a dirt bike SEGWAY Dirt Ebike X260. This is another incredible dirt bike. It does not have the conventional electric bike looks but its unique. Segway Electric Dirt Bike has a comparatively lower price and has 3-speed modes. Like the KTM FREERIDE E-XC, it also has a swapping battery system with which you can change the battery if in case your inserted battery gets low.
One of the bikes from a well-known brand considered one of the best electric dirt bikes in 2022 is RazorSX500 Dirt Rocket McGrath. This dirt bike is considered one of the best electric dirt bikes for juniors. It is designed to provide total safety to your kids and for their utmost ease. These are the best electric dirt bike brands for ease and utmost comfort. It will not be wrong to give each one of these bikes the title of the best electric dirt bike 2022.
Honda CRF50F 50cc Dirt Bike
After launching its first dirt bike in 1970, Honda is still the largest motorcycle-creating company in Japan, and no other company has been able to beat them to date. Their brand is trustworthy, and motorcycles are reasonably priced. Honda CRF50F is a 50cc dirt bike which ideal for beginners. This bike has an air-cooled 4-stroke engine and a 3-speed transference.
To manage the top speed of 40 mph, a throttle limiter in these dirt bikes regulates the speed by turning a screw before riding. The Honda CRF50F is ideal for lengthy trips and voyages having a larger tank volume. Honda CRF50F is the best dirt bike for who are trainees yet. This is because it has a customized key ignition starter that will not let kids ride the bike until you allow them.
Best Electric Dirt Bike under 2000
In today's world, buying an electric vehicle for as slight as $2000 is not easy. But one dirt bike is such that it costs an amount under $2000. This electric dirt bike is Denzel Rush. It is an affordable bike with excellent features.
It is a multi-tasking electric bike. Its features include cruise control, an onboard fast charger, built-in Bluetooth speakers, safety lights, and a fully adjustable suspension. This electric dirt bike under 2000 has a top speed of 100kph. Due to its exceptional cost and features, this is the best electric dirt bike under $2000 for me.
I recommend the Razor SX 500 Dirt Rocket McGrath Electric Off Road Bike because this dirt bike not only functions incredibly but also has an appealing outer appearance that makes you ride it even if you do not intend to purchase it. It has user-friendly features that you can adjust according to the need.

This dirt bike is designed for people who wish to cover longer distances comfortably and enjoyably. It makes off-road rides smooth and less bumpy. Another excellent feature of this dirt bike is that, unlike other electric dirt bikes, it does not require regular maintenance.

You do not need to waste much money on maintenance every few days. Thus, this dirt bike is undoubtedly one of the best electric dirt bikes due to its premium features.

Best Product Recommendation