When it comes to off-road vehicles like ATVs, having a reliable battery is essential. A good ATV battery powers the engine and provides electricity for the vehicle's lights, winches, and other electrical components. According to recent surveys, the average lifespan of an ATV battery is only 3-4 years. But don't worry; I have done the research and hard work to find the best ATV battery on the market.
Take advantage of the opportunity to get the best ATV battery and save yourself from the hassle of constantly replacing it. By reading this article, you will save money and learn about the benefits of owning a high-quality battery. Read on to discover what you still need to know about ATV batteries.
Weize YTX14-BS High Performance Best ATV Battery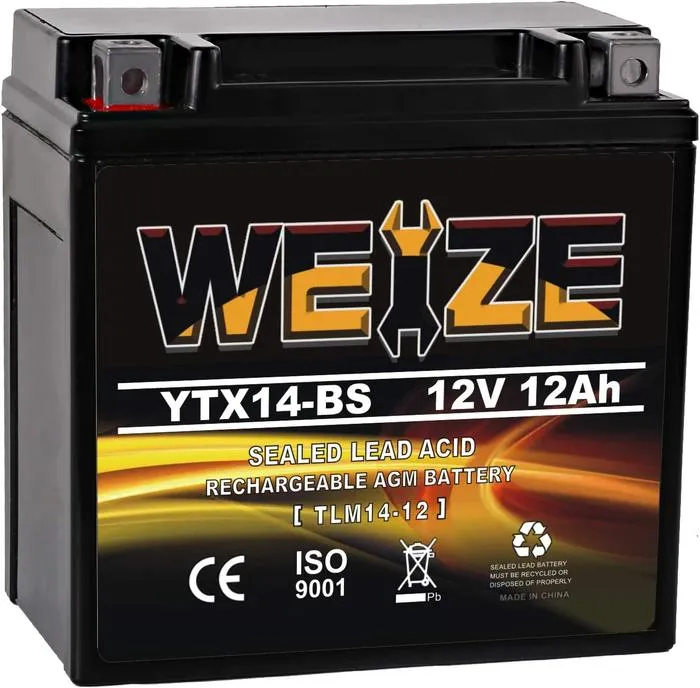 CCA: 252
Voltage: 12V
Capacity: 10 Hours, 14 AH
Charge Current: 1.3 A
Wattage: 144
Are you searching for a high-performance ATV battery? Weize YTX14 BS is the best ATV battery cold weather. This maintenance-free battery provides reliable power for your Honda, Suzuki, Kawasaki, Yamaha scooter, or snowmobile.
Extreme Weather Resistance:
From scorching hot summer days to freezing winter rides, this battery delivers consistent power regardless of temperature.
Vibration Resistance:
It is the perfect battery for off-road enthusiasts like me. Its AGM construction and spill-proof design provide superior vibration resistance.
Long Life and Reliability:
I've used this battery for several months, and it's still going strong. This battery offers excellent performance, reliability, and a long lifespan.
High Cold Cranking Amps:
This battery comes with high cold-cranking amps and a low self-discharge rate. It provides the power to start your engine, even in the coldest weather.
Benefits
Maintenance-free battery
Leak-proof and spill-proof
High cold-cranking amps
Long lifespan & vibration resistance
Weize YTX5L-BS High Performance Rocky Mountain ATV Battery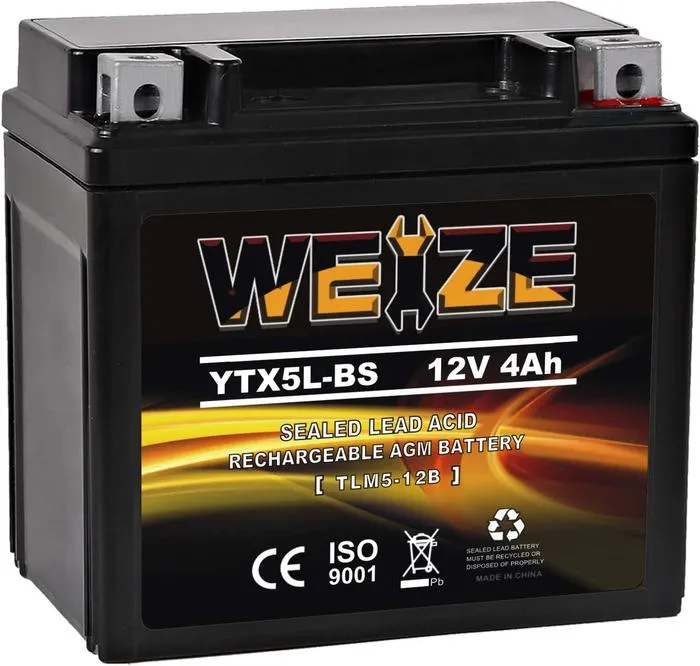 CCA: 80
Voltage: 12V
Capacity: 10 Hours, 4 AH
Charge Current: 0.5 A
Wattage: 48.0
Let me introduce you to the best rocky mountain ATV battery, Weize YTX5L-BS. It is designed for compatibility with an extended range of ATVs.
Maintenance-Free Design:
As someone who has used this battery, I assure you that the AGM gel-sealed design requires no constant care or additional water.
Durable and Safe:
The battery's ABS case material and AGM separator ensure it won't spill acid. Its slower discharge rate makes it safer than conventional batteries.
High Performance:
With 80CCA and a 4AH capacity, this rechargeable battery offers high performance in high and low temperatures.
Wide Compatibility:
I can vouch for this battery's compatibility with several brands of ATVs, motorcycles, and scooters that have used it to replace several previous versions.
Positive
Maintenance-free operation
Durable and safe design
Rechargeable and versatile
Easy installation process
Wide compatibility with different vehicles
Negatives
Not appropriate for all vehicle models
Weize YTX20L-BS High Performance Power Sports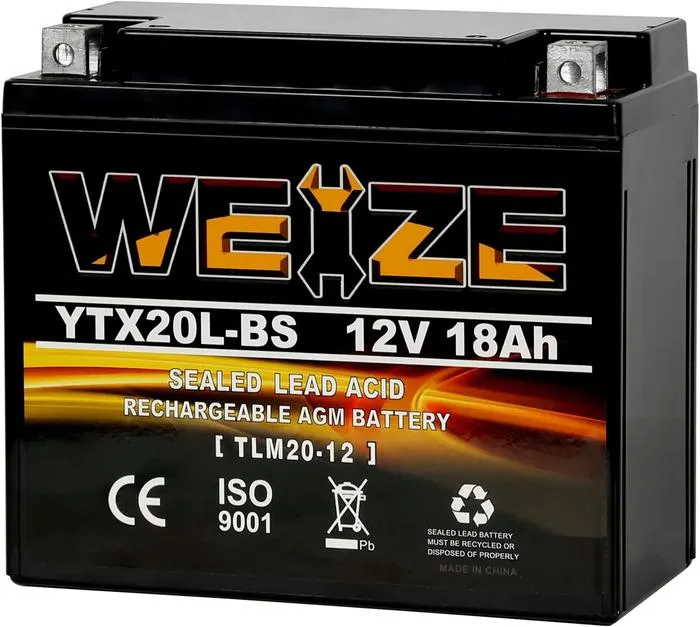 CCA: 270
Voltage: 12V
Capacity: 10 Hours, 18 AH
Charge Current: 1.8 A
The Weize YTX20L-BS is a reliable, high-performance power sports vehicle battery. It's an advanced technology, and durable construction delivers reliable starting power and long-lasting performance.
High Performance:
With a CCA of 270 and 18ah capacity, it delivers reliable starting power and long-lasting performance for your motorcycle, ATV, UTV, snowmobile, and more.
Maintenance-free and Efficient:
It has a low self-discharge and offers a long cyclic life, making it a highly efficient choice for power sports enthusiasts like me.
Perfect Fit:
It is compatible with a range of vehicles with a measuring capacity of 6.893.436.1 inches. There is Honda TRX680 FourTrax Rincon VTX1800 Goldwing GL1800 for perfect usage support.
Reliable Warranty:
But what is a good ATV battery? A good battery offers a 1-year warranty and a 30-day return policy. You can trust this battery to provide quality customer service and stand behind the premium quality of this battery.
Positive
Reliable starting power
Long-lasting performance
Maintenance-free technology
High efficiency output
Negatives
Battery replacement is required every 2 years
Chrome Pro YTX14-BS iGel for ATV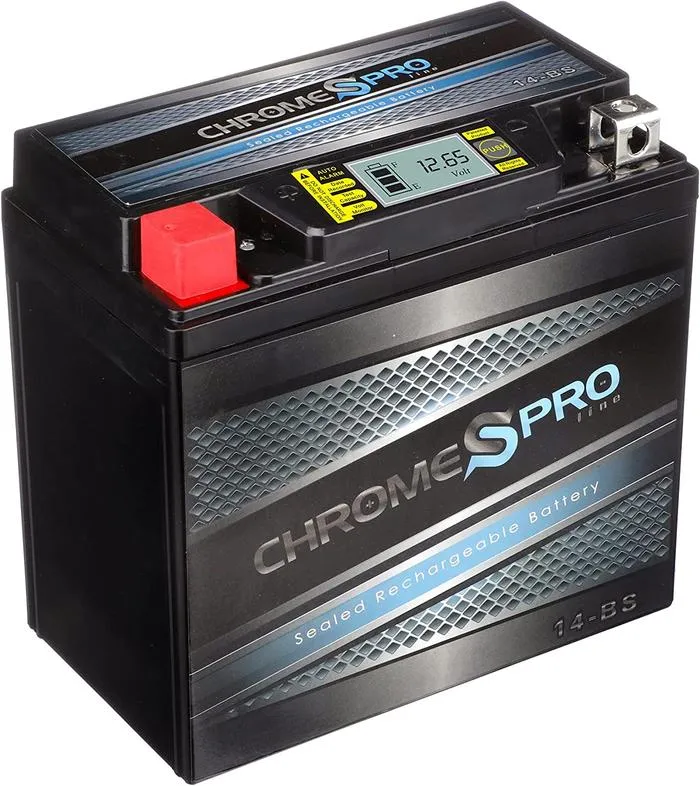 CCA: 200
Voltage: 12A
Capacity: 12 AH
Number of Cells: 6
Wattage: 168
If you're looking for a high-quality replacement battery for your ATV, the Chrome Pro YTX14-BS iGel Battery is here. It features a digital display that shows the battery's voltage and state of charge.
Compatibility Guide:
The compatibility guide PDF and Amazon Garage helped me find the perfect battery for my vehicle.
AGM Battery:
The rechargeable YTX14-BS AGM Battery with +/- terminal provided the power I needed for my power sports vehicle.
Smart LED Display:
The LED digital display screen was a game changer. I loved monitoring my battery's alternator voltage and receiving alerts for low voltage.
Gel Electrolytes:
The gel electrolytes injected into the battery created a maintenance-free operation.
Positive
Easy installation with included components
Maintenance-free operation with gel electrolytes
LED digital display for monitoring
Reliable and powerful battery
Compatible with various power sports vehicles
Negatives
Compatibility may be limited
Pirate Battery YTX5L-BS Best Battery for ATV With Winch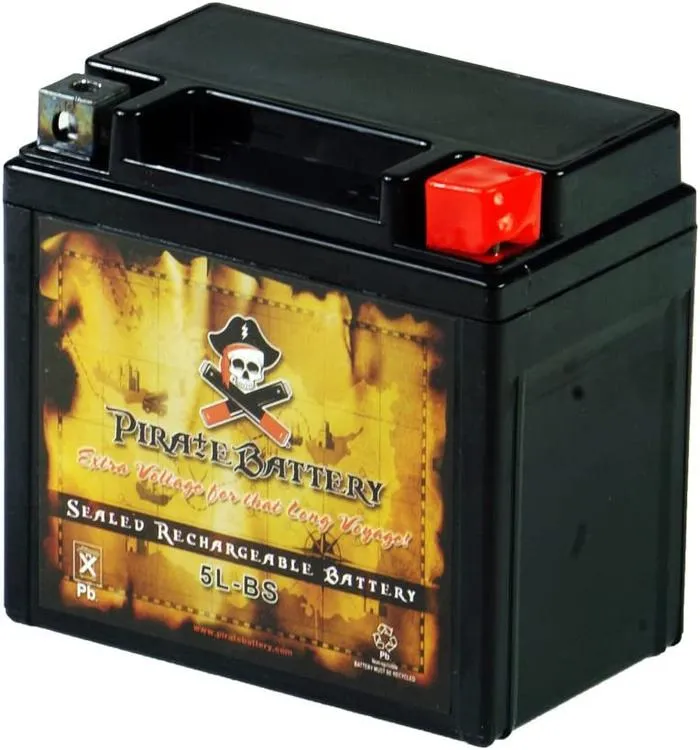 CCA: 70
Voltage: 12A
Capacity:4 AH
Number of Cells: 6
Wattage: 48
The Pirate Battery YTX5L-BS is designed to provide reliable and long-lasting performance, with a 12-volt, 5-amp capacity, and 4Ah rating. Installation with a nut and bolt (T3) terminal is easy and hassle-free.
Powerful and Rechargeable:
This best battery for ATV with winch offers AGM battery packs a powerful punch with its 12V 4AH capacity. Its rechargeable nature makes it a cost-effective solution for power sports enthusiasts.
Versatile Fit:
It is perfect for those with multiple power sports vehicles. This battery can fit a variety of applications, ranging from motorcycles to jet skis.
Top Technology:
The Absorbed Glass Mat technology used in the construction of this battery makes it low-maintenance and spill-proof.
Easy to Use:
It comes fully charged and ready to go, so installation is a breeze. Connect the battery to your application, and you're good to go. No fuss, no hassle.
Positive
Reliable and long-lasting power
Versatile fit for multiple vehicles
Low-maintenance and spill-proof
Resistant to corrosion
Negatives
Requires periodic charging to maintain performance
Chrome Battery YTX14-BS Battery for ATV Riders
Are you wondering, which is the reliable battery replacement for your ATV, motorcycle, scooter, snowmobile, or UTV? Chrome Battery YTX14-BS is an excellent choice for you, with 12-volt battery boasting a capacity of 12Ah and 1.4 amps.
Fits in Various Applications:
It is the perfect fit for various machines as someone who has owned multiple power sports vehicles.
Absorbed Glass Mat Technology:
Its Absorbed Glass Mat (AGM) technology requires little to no maintenance—the spill-proof design of this best ATV battery and the patented sealed post.
Compact Design:
Despite its small size, this battery packs a powerful punch. I appreciate this battery's perfect fit and reliable power.
Positive
Positive
Maintenance-free AGM technology
Spill-proof design
Compact and robust design
Negatives
Terminal connectors may need modification
NOCO Lithium NLP14 Best Lithium Ion ATV Battery
CCA: 500
Voltage: 12A
Capacity:4 AH
Number of Cells: 4
Wattage: 51.2
I highly recommend the NOCO lithium ion ATV battery for all your power needs. You may trust this product for heavy-power vehicles because of its high-performance 500A Lithium LiFePO4 battery.
Unmatched Power and Longevity:
It delivers insane performance with over 500-amps of starting power and over 50,000 starts.
Superior Safety and Reliability:
Thanks to its advanced Dynamic BMS, the battery provides maximum safety protection and long-lasting reliability.
Lightning-fast Charging:
Its superfast charging technology can be fully charged in just a few minutes—the ability to recharge quickly and return to the road or water without delay.
Versatile Compatibility:
This best ATV battery is compatible with various power sports brands, including motorcycles, ATVs, quads, 4-wheelers, and more.
Positive
No maintenance required, hassle-free
Long-lasting, up to 5x life
Insane power, 500A starting power
Fast recharge, up to 5 minutes
Advanced battery management for safety
Multi-terminal configuration for versatility
Negatives
Higher cost than lead-acid batteries
Mighty Max Battery Motorcycle Battery Replacement
If you're searching for a reliable, high-performance replacement battery for your motorcycle, consider the Mighty Max Battery Motorcycle Battery. With a capacity of 12V 4AH and 55 cold-cranking amps, it is perfect for any rider who demands power and durability.
Reliable Power Source:
It delivers 80 CCA for smooth starting performance on your 50cc 90cc ATV Scooter. I've been using it on my ATVs, which has never disappointed me.
Easy to Install:
The battery fits perfectly due to its compact size and polarity on the left negative and right positive.
Long-Lasting Performance:
This rechargeable SLA/AGM battery resists shocks, vibration, and wide temperature ranges, making it suitable for outdoor environments.
Versatile Compatibility:
This battery is compatible with various models like Yamaha Raptor, Polaris KFX, and Honda CH80 Elite.
Positive
High discharge rate for better performance
Resists shocks and vibration for durability
Fits multiple models for versatile use
Long service life for peace of mind
Negatives
May require frequent charging in high-use situations
Product Recommendation
The
Weize YTX14 BS ATV Battery
is an excellent choice for those who must withstand extreme weather and off-road conditions. It is the best ATV battery, with its maintenance-free operation and compatibility with various vehicles.
Perfect for those who need a robust, reliable battery for their motorcycles, ATVs, UTVs, snowmobiles, and more. No matter your needs or budget, there are different ATV batteries out there to serve your needs.
How long do ATV batteries last?
ATV battery lifespan depends on usage frequency, maintenance, and storage conditions.
How to keep ATV battery charged in winter?
Store the ATV in a dry and warm area, remove the battery, and charge it every 3-4 weeks with a battery maintainer to prevent it from losing charge.