Hoverboards vary in their tire sizes, depending on their usage and rider's preference. For kids, any tire size can work as they use hoverboards for short commutes and fun. For adults, the choice of tires differs according to usage. The best 10-inch hoverboard is the right choice due to several factors to fulfill the needs of most adult riders. They have speed, range, UL certification, self-balancing, portability, and good performance on all terrain.
With the recent advancement in hoverboard self-balancing, more people want to ride them for commute and fun. A 10-inch hoverboard provides more grip on all terrain while keeping you safe with its improved balance. You may want to use them on grass, gravel, cracks, and uneven road without fear of falling or getting stuck. There is a hoverboard with inflatable tires that absorb shocks well and keep you running through anything you throw at them. However, for better performance on grass, we would prefer the best hoverboard for grass.
Top Picks
Best 3 Hoverboards with 10 Inch Wheels
When it comes to buying a 10inch hoverboard, certain constraints limit the process. There are not many choices from which you buy them while the quality remains the top concern. For this purpose, we ran across several stores and researched for the best 10-inch hoverboard available in the market. After more than 48 hours of research and testing, we have selected the top 3 hoverboards with 10-inch wheels worth spending money on. Let's start with 10 inch hoverboard review one by one.
SWAGTRON T6 Best Hoverboard For Adults with 10 Inch Wheels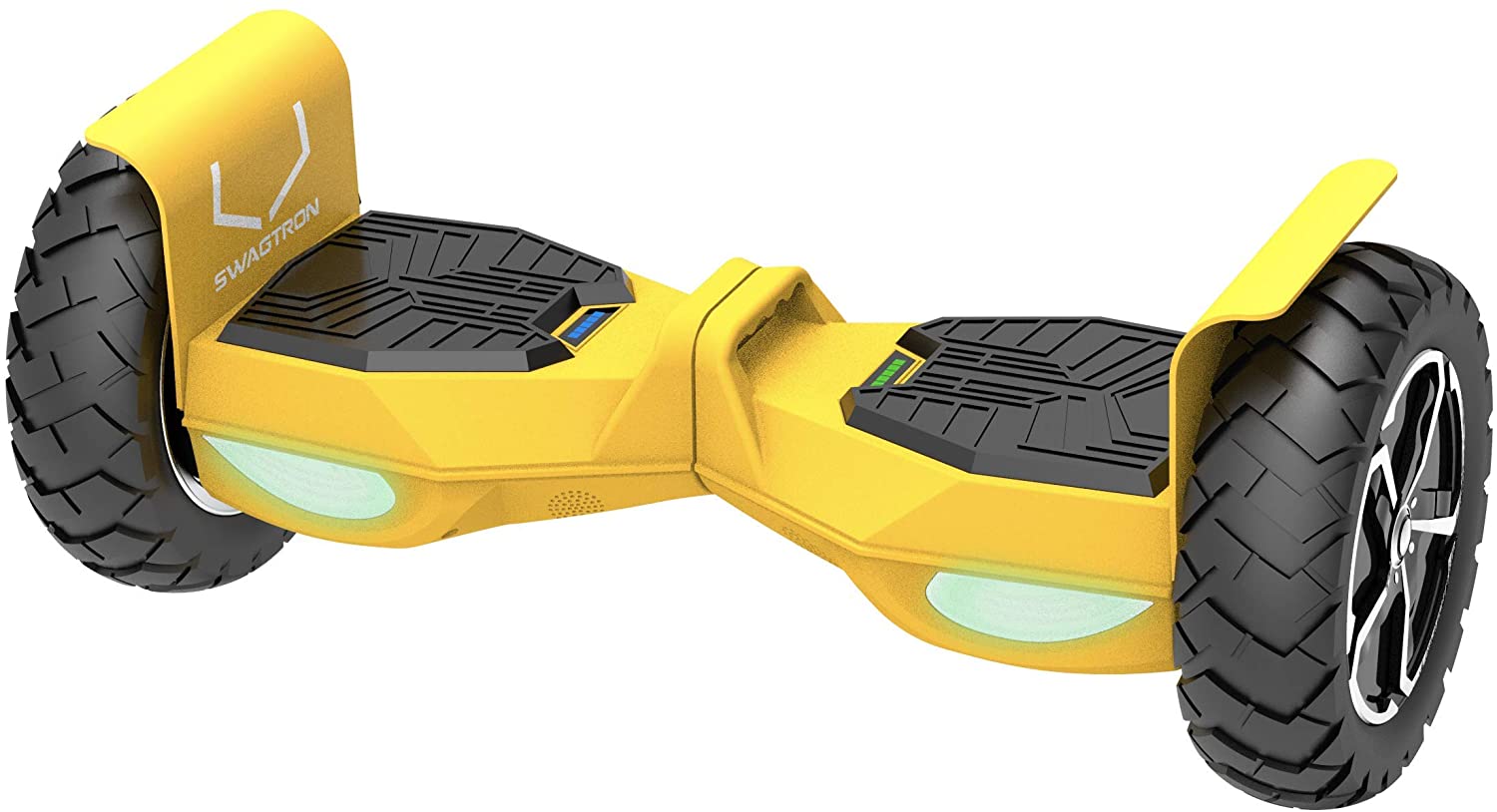 Motor Power: 600W
Top Speed: 12 MPH
Travel Range: 12 miles
Max Weight Capacity: 420 pounds
Wheel Size: 10 inch
Swagtron T6 Hoverboard with 10-inch wheels comes with a powerful motor and excellent build quality that can take you to a new level of excitement. The top speed of this hoverboard makes it a better suit for experienced riders that like a punch of power for their off-road journey.
Speed and Acceleration
The powerful dual-motor system of the Swagtron T6 Outlaw is the best 10 inch hoverboard as it can maintain its top speed for an extended period without overheating or being too loud. It's also capable of tackling 30° inclines and travel through any terrain with ease.
While it is not fast enough that you would be seriously injured if you accidentally fall off the hoverboard while riding on a normal surface, it is also quick enough to feel like you're actually making progress towards your destination instead of crawling along at a slow speed.
Battery and Range
A superior lithium-ion battery in Swagtron 10 inch hoverboard provides an excellent travel range. You can expect 12 miles range at optimum conditions provided with the rider's weight in allowed limits. The recharge time is quick but fast enough to charge the battery back to its capacity within 2 to 3 hours, making it available for the next ride.
Riding Modes
There are three different modes that you can ride on the Swagtron T6 Outlaw: Learning Mode, Standard Mode, and Advanced Mode. The learning mode allows riders to get used to their new hoverboard by not accidentally engaging its top speeds.
Standard mode provides relatively fast top speed while helping to build momentum towards slightly aggressive speeds. The advanced mode makes it easier for riders to control where they are going. The rider can go faster in this mode, which is great if you're looking for speed.
Build Quality
Swagtron T6 is the first-ever wheeled hoverboard that can support over 300 pounds. It is considered to be enjoyed by everybody in the family and friends of all shapes and sizes due to its maximum load capacity of 420 pounds.
The T6 is a durable hoverboard made of ABS plastic and aluminum with non-slip pedals. This makes it great for off-roading in addition to comfortable usage around the home. The durable and sturdy casing prevents internal components from damage and provides a reliable ride.
Ride Quality
Due to dual 10-inch air-filled and tubeless tires, the Swagtron T6 Outlaw provides comfort and stability second to none on any terrain provided. The nylon-infused tires have better shock absorption and provide excellent traction due to the rugged pattern. The larger tire size enables the rider to control the hoverboard well over tracks, obstacles, and hills and ease the ride along the way.
Safety
The T6 UL 2272 is safety certified, and it has an IPX4 rating which ensures you will remain protected against dirt and splashes of water. You can feel carefree in the rain or dust because Swagtron has a high focus on safety when riding.
Additional Features
The SWAGTRON T6 Off-Road Hoverboard with Bluetooth is a great way to have fun and stay entertained. This 10-inch self balancing hoverboard plays your desired music from any device through Bluetooth. The board features bright LED lights that make the rider visible during night trips and enhance its outlook.
PROS
Excellent safety with UL certification
One of the highest weight capacity
More than average travel range
Quick speed and acceleration
Excellent built-in Bluetooth speakers
CON
Slightly difficult to carry around
RIDE SWFT Sonic Best Self Balancing 10 Inch Hoverboard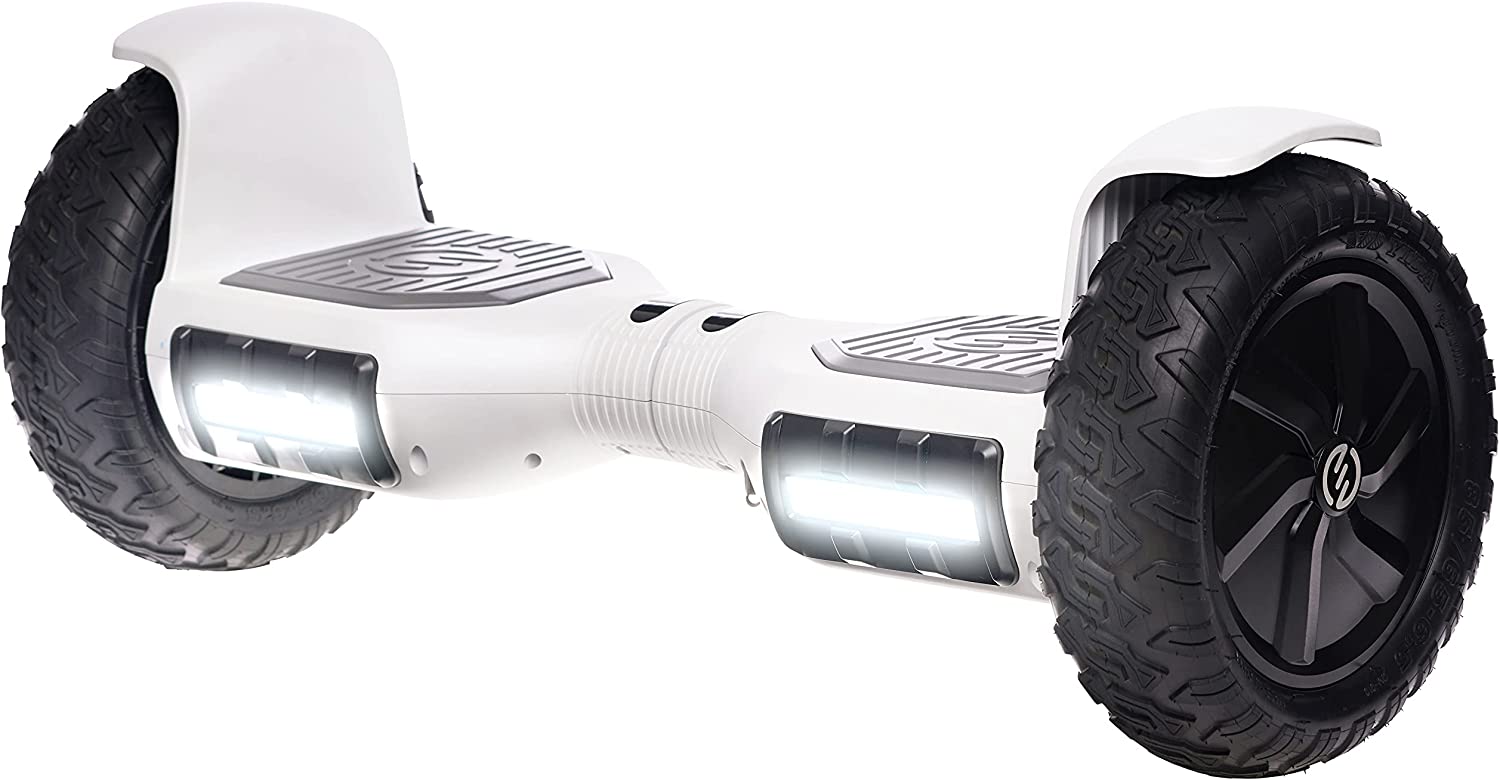 Motor Power: 500W
Top Speed: 9 MPH
Travel Range: 8 miles
Max Weight Capacity: 265 pounds
Wheel Size: 10 inch
The RIDE SWFT Sonic is the perfect model for those who love to take their hoverboarding skills outside. The top-quality materials and safety measures ensure that you will not be injured while riding. It has non-slip pedals and a shock-absorbing design that is very durable and can run for a long time. Its speed limit and range make it the best Hoverboard for Kids and adults.
Speed and Acceleration
Ride SWFT hoverboard went ahead of its competitors regarding the motor power and acceleration it provides. The dual 250W motor provides enough pace to carry around an adult weighing 265 pounds with ease on any terrain. The 10-inch tires support the body weight and manage to keep the ride up for the task.
With this hoverboard, you can glide across the surface with ease. It allows for a top speed of 9 miles per hour and comes equipped to handle bumpy terrains without any hitch. The casing is sturdy enough to take care of wear and tear while allowing your ride up 15° inclines at max.
Battery and Range
It has an amazing lithium-Ion battery that powers hefty motors, self-balancing, Bluetooth speakers, and LED lights. It is UL certified, so you don't have to worry about catching fires or dealing with an unexpected battery explosion during the commute. Lithium-Ion batteries in electric scooters are of higher capacity and give power like hoverboard batteries
Besides the highly secure battery, the travel range also seems handy for short commutes for fun or work. It has a maximum of 8 miles range on a single charge. It takes 5 hours to charge the battery, which is another considerable thing when buying the best 10 inch hoverboard.
Build Quality
The Ride SWFT Sonic has not compromised the build quality for its 10 inch hoverboard off road commute due to its possible application in all-terrain. The self-balancing technology and non-slip footpads enable the rider to better balance when riding it for swivel or commute.
Due to its strong and durable construction, the Ride SWFT cheap 10 inch hoverboard has better weight-bearing capacity than most hoverboards available in the market. Its weight range is 44 pounds as far as the minimum weight limit is concerned. It is suitable for heavy adults due to the 265 pounds max weight capacity for the maximum weight capacity.
Safety
The Ride SWFT received UL 2272 certification and passed a 27 point safety inspection to ensure safety for everyone. The battery is fully protected while the electrical systems and other components follow the highest safety standards, making it equally good for indoor and outdoor use.
Besides the safety of components and battery, it has water-resistant properties. You can ride it without any issues for both indoor and outdoor use. However, we advise not to go into puddles or standing water to damage the hoverboard.
LED Lights
This self-balancing scooter 10 inch hoverboard has light-up wheels, and they increase the beauty and aesthetics of this scooter. Besides that, there are 2 LED lights on both sides for increased visibility. You can ride at night while remaining visible to the other riders.
Bluetooth Speakers
This sleek, modern hoverboard with inflatable tires features a Bluetooth speaker to pair with most devices whether you're riding for fun or listening while on the road; this board ensures good sound quality.
PROS
Excellent build quality
Weight capacity accommodates adults very well
Improved self-balancing
Bluetooth speakers for an enhanced experience
It packs a good punch of speed and acceleration
CON
Mud protector seems flimsy
Segway Ninbot S Best Off Road Hoverboard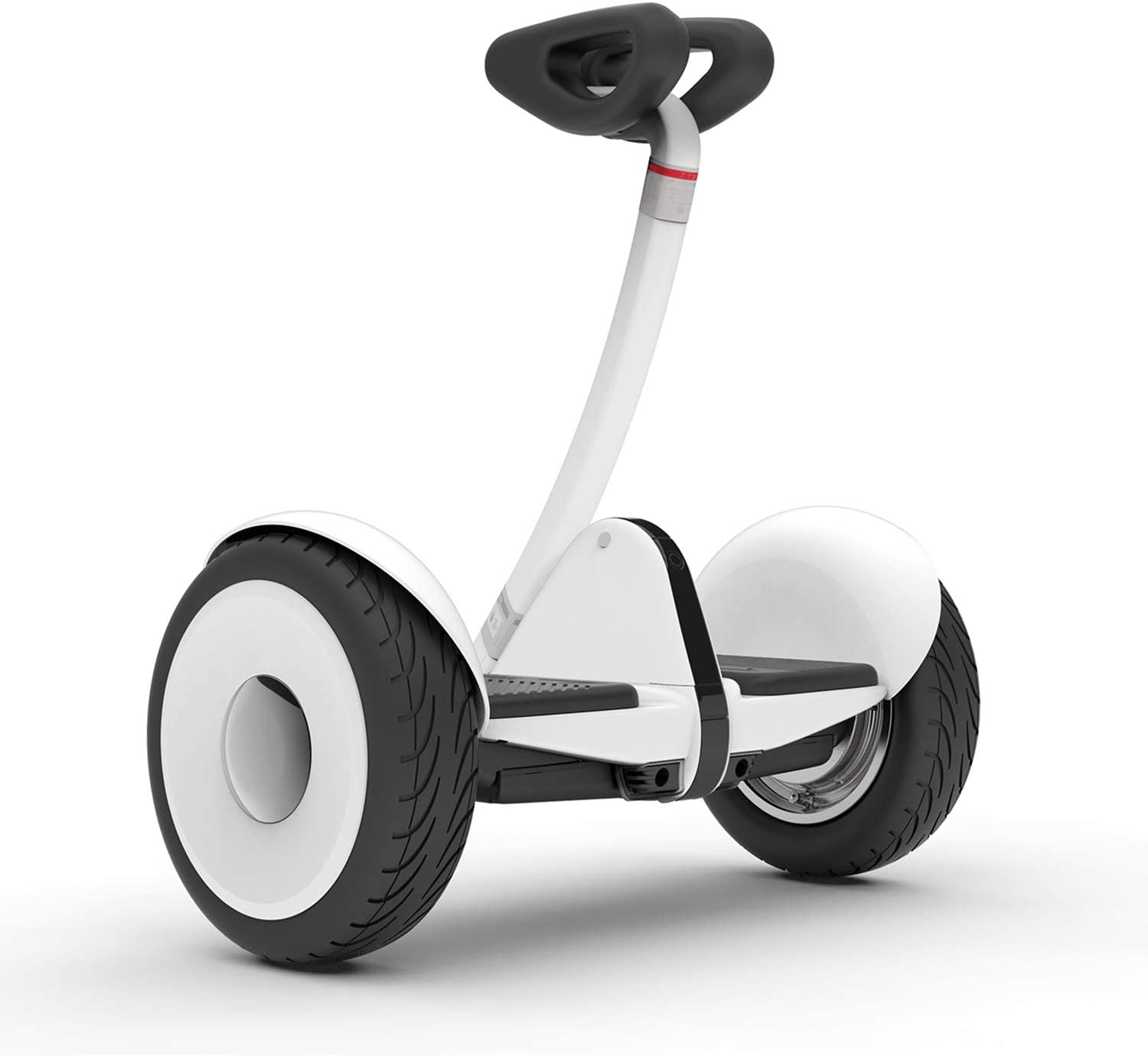 Motor Power: 800W
Top Speed: 10 MPH
Travel Range: 13.7 miles
Max Weight Capacity: 220 pounds
Wheel Size: 10.5 inch
Warranty: 12 months
If you want to enjoy the ride of a hoverboard with no frills, the Segway Ninebot S Best 10 Inch Hoverboard is perfect for off-pavement shredding or routine commuting. It has long-lasting battery life and beefy wheels, ensuring that your feet don't get tired too quickly. With its unique design, you can amaze other riders and show them your matchless ride.
Speed and Acceleration
The Segway Ninbot S ten inch hoverboard has dual 400W motors. These collectively provide 800W of power with a max power of 1600W to boost incline and off-road paths. In optimal conditions, you can get 10 miles per hour top speed, which is more than enough for beginners and powerful hoverboard for adults.
Battery and Range
The 310W lithium-ion battery housed in Ninbot S provides impressive mileage per charge. You can never feel stranded during the commute with 13.7 miles travel range. This equates to the 1 hour and 20 minutes continuous riding at top speed. Despite the extra mileage, the recharging takes more than the average hoverboard as it takes almost 4 to 5 hours to charge with the standard charger completely.
Build Quality
The high-end, lightweight Segway Ninebot S is made with a super durable magnesium alloy frame. This hoverboard features superior shock absorption, hear distribution, and corrosion resistance so you can feel confident operating it in all weathers. The build quality places the Ninebot S on the top spot due to its sturdy and lightweight material.
Off-Road Capabilities
The Ninebot S is an all-terrain master, creating a standard for its category. With different surfaces to go across like grass, packed dirt, sand, or tarmac with cracks and thresholds, this board can do anything you throw at it.
The Segway S hoverboard excelled on every surface type, displaying stability and confidence for the most part. The robust 10.5-inch pneumatic tires propelled by twin 800W electric motors are primarily responsible for the ease of traversing uneven surfaces. With all these features under one roof, we are not surprised why the Ninbot S outperformed other products in its class.
Safety
The Segway Ninebot S is a hoverboard designed for safety and customization in mind. It allows you to set speed limits as well as alarm options through its mobile app. If you're riding on roads, it can be useful to have this board's self-balancing feature, which reduces errors significantly.
Self Balancing
Segway is never afraid to be different with its innovative designs in the electric vehicle market. The Ninebot S is no exception. Its knee-driven steering column strays from its footpad pressure-driven device, and it also self balances, which means that you won't need any external input for keeping upright while riding this scooter.
Additional Features
The Segway Ninbot S Hoverboard is the perfect balance of power and portability. Don't know where to start? The app allows both kids and adults to make their custom speeds or take a tutorial with ease at your pace. You can create a unique board for the perfect ride with fully customizable headlights in over 16 million color combinations.
PROS
A smooth and reliable ride
Works on all terrain
Excellent self-balancing
Unique knee control bar
Large pneumatic and anti-skid tires
CON
Only available in one color
Buying Guide
What to Look in Hoverboard with Inflatable Tires?
Any hoverboard user must know about all the features deeply when buying the best 10 inch hoverboard. We are here for you with a list of some factors and features that should remain under consideration while making a purchase.
Without examining some critical elements is a big mistake. That's why it is an important step to avoid these mistakes to check all aspects properly. We try our best to help you out, which features you should thoroughly consider before deciding to purchase.
Price and Budget
When you want to buy anything, the most important thing is your budget. When you want to choose the best 10 inch hoverboard for yourself, check its price because it is good to remain under your budget and pick up that product that meets your budget. If the product does not meet your budget, then find out which remains in your range.
If you exceed your range and pick up a 10-inch hoverboard above your budget, it is a foolish idea. It disheartens you at the end, and you may not enjoy the ride as much when you ride hoverboard within your range. However, you may find the best hoverboard under 200 with a better build quality when selected the right one.
Motor Power
All of the performance of your hoverboard depends on the power of the motor. So, it is highly recommended that when you choose any board on which fulfills your speed requirements. You must check its motor power first. If you pay attention to other features than a motor, the performance will not be satisfied in the end.
If you want to enjoy your ride with good performance in any terrain and even off the road, it should have almost 500 watts of power. As the range of motor power is more than 500 wat is remarkable.
Battery
Without checking out any quality and specs before buying a hoverboard, there is a chance that you get an underperforming battery. A 10-inch hoverboard with less time to get fully charge is the best choice for you. Because if the battery charge in less time, you may enjoy the ride even for more time without the irritation of waiting for long.
If the battery takes a long time to charge, you may feel irritated and miss having fun with friends. Investing more in a hoverboard that takes 1 to 2 hours to recharge is better than getting a cheap 10 inch hoverboard with a Bluetooth speaker with more battery recharge time.
Warranty and Customer Service
The warranty of any product is a good thing for mental satisfaction in case of damage to your ride. Most 10 inch hoverboards have a warranty to use them without any concern on or off-road. The more the manufacturer's warranty, the more the product is reliable and trustworthy for the buyer.
In the form of a warranty, this contract gives you relief about any problem in your 10-inch hoverboard during this period. In this given time duration, you may remain safe to spend money on any repairing and replacement. All of the benefits show that how important a warranty is.
Speed
Some of the hoverboards have slow speed, and some are fast on the road and off-road. Mostly the best speed rate of a 10-inch hoverboard should be around 8 to 12 miles per hour. This is a good range of speed because no one wants to ride slow. However, the speed above this is also not safe for the kids.
Inclination capacity is another thing alongside speed that you should consider while buying a hoverboard, especially for the hilly and steep roads. The minimum climbing ability of the 10-inch hoverboard should be 15° for better coverage for the riders.
Safety and Reliability
Safety is the priority for everyone, whether you want to buy a hoverboard or a cell phone. It is your right to find out that is the product is safe for you are not. If the product cannot fulfill safety requirements, do not buy them as nothing is important than your safety and health.
All of the 10-inch hoverboards include in the list are UL 2272 certification. Some of the brands are equipped with self-balancing features, which are most suitable for your safety as they help you while ridding. So, you need to determine whether the hoverboard fulfills all the safety needs.
Additional Features
It is good to search for extra features in your hoverboards. Most of the hoverboards offer some add-ons like Bluetooth speakers, colorful led lights, and also manage by your smartphone app. It is good for you to get any additional features in your 10 inch hoverboard at the same price.
If you have 10 inch hoverboard with a Bluetooth speaker, it allows you to enjoy music during the ride with the help of smartphone connectivity. Secondly, it is more convenient to control it from your smartphone with ease. If your 10 inch hoverboard comes with LED lights, they help with night travel so that you remain visible for others during the ride.
Comparison
10 Inch Vs 7 Inch Hoverboards: Which is better?
Everyone wants to know, "what is the difference between a 10-inch hoverboard and a 7-inch hoverboard?" Is hoverboard 10 inch tires and superior to other options? We will try to explain some differences so that you may get the best one according to your needs.
Wheel
The 7-inch model features a hard wheel; on the other hand, 10-inch is equipped with inflatable ones. This makes a big difference for both of them. The 7-inch model is suitable only for indoor use like home and office tracks, and it may have a bumpy feeling on rough terrain.
While at the same time, 10 inch hoverboard inner tube wheels are best to handle the rough surface even on grassy areas and have a great experience for you off-road with a smooth ride.
Speed vs Tricks
If your only purpose is to show off and only impress your friends, you may pull off some tricks on a smaller model. With smaller ones, you can make tricks by navigating pinpoint, and as it is light weighted, you can flip it around your legs to make swage.
But if you want speed, need fun, and commute, go for the larger models. The 10-inch version is more powerful than the 7-inch. It gives increased power that allows flying through the streets at least by hoverboard standard.
Max Weight and Battery Life
Smaller boards offer mostly 220 pounds, while this weight is a good option for both riders looking for larger riders and those looking to increase riding range by lessening the weight factor. On the other side 7-inch, hoverboards have long battery life. But it is still difficult to carry around for long distances as it offers a full ride, and the difference in range isn't anything noteworthy.
The best 10-inch hoverboard is a great commute to ride on most terrain without dealing with cracks and obstacles. It is any healthy addition for anyone who likes to get the best hoverboard 10-inch wheels to ride for people of any age.
All the hoverboards mentioned here have the excellent build quality and improved safety features. However, SWAGTRON T6 Hoverboard with 10 Inch Wheels remains our top pick due to its excellent weight capacity and a good balance of speed, travel range, and features to get itself on the top spot among the competition.
How can I use my 10 Inch hoverboard?
For beginners, it is a challenging task to use hoverboard, but it is not as difficult as it looks. Follow some simple steps, and you can enjoy the ride. First, place your feet on the footpad. The second step involves moving and going forward. Bend your body and put all the weight on the front side. When you want to slow down or stop it, put your maximum weight on the back.
How fast are hoverboards?
Mostly the speed depends on the motor. There are different types of hoverboards, and the speed will be distinct by model. The acceleration rate of a kid's hoverboard is slower than the off-road ones. Mostly, the kid's hoverboard is 5 to 6 miles per hour, and off-roads have a speed of 7 to 16 miles per hour.
Is it beneficial to have LED lights in my 10 Inch hoverboards?
The LED lights are handy on a 10 inch hoverboard. These lights are beneficial at night as you remain visible to anyone while you ride at night or in low light conditions. These LED light looks elegant at night and attract the attention of everyone for safety and aesthetics.
Are hoverboards repairable or not?
Just like cars, you can easily repair your hoverboards. There is only need to buy spare parts and repair it by yourself. However, to self-repair, your hoverboard is a relatively cheaper procedure. If you want to repair it by hoverboard technician, it costs you more.
Are hoverboards worth the money?
Hoverboards are expensive, but they are more worthy to spend money on them if you consider them before purchasing. You can double the fun by using it for commute, groceries, going to school or work, or just letting the cool morning breeze inside your lungs for a comfortable riding experience early in the morning.