Hoverboards hype is not going to slow down soon. Due to their constant increase in demand and popularity, their price is also a hike. To get a hoverboard on budget, the best hoverboard under $300 are a perfect choice. They provide the luxury and fun of expensive hoverboards in an affordable price range. But getting the hoverboard under 300 dollars is worth your time and money?
The self-balancing best budget hoverboard is not difficult to find in the market. It is relatively more popular than expensive choices as they are affordable and target a large audience.
With a decent set of features and UL certification, these hoverboards are not any less than overpriced hoverboards. They have a perfect travel range and speed that help you enjoy adventurous rides in your neighborhood or the parks.
Latest
3 Best All-Terrain Hoverboard Under $300
Getting the perfect choice out of many reputed brands and model choices can get tiresome. Each model has different features and abilities that distinguish them from others. This review focuses on the top 3 of the best hoverboard under $300.
Each hoverboard explained in detail will make it easier for you to select a suitable model. If you wanted a list of features that you should look at when buying a hoverboard, you could read the buying guide at the end of the review.
Gyroor Warrior Best Budget Hoverboard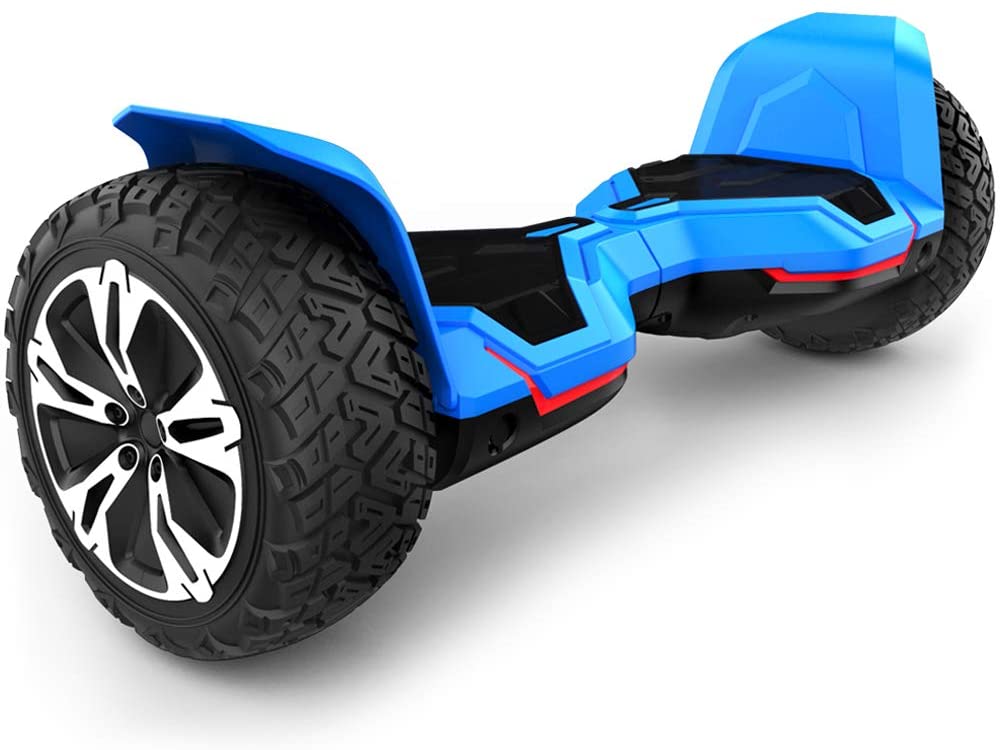 Motor Power: 700W
Top Speed: 9.95 MPH
Travel Range: 9.5 miles
Max Weight: 265 pounds
Wheel Size: 8.5 inch
Max Climbing Angle: 30 °
Charging Voltage: AC100 to 240V/50-60Hz
Charging Time: 1.5 to 2 Hours
Battery: 4.0Ah/36V Lithium-Ion
Gyroor Warrior is the best budget hoverboard with everything you need for a safe and adventurous hoverboard ride. It has a build quality that is outstanding and can easily manage adult weight. Many unique features, including performance, versatility, and reliable self-balancing, make it the perfect choice for affordable hoverboards.
Speed and Acceleration
The Gyroor Warrior is a high-performance hoverboard that can handle any terrain. Equipped with two 350W independent motors for each wheel, it has the power and speed needed to conquer all types of obstacles in your way.
This hoverboard can climb hills up to a 30-degree grade. The maximum speed of 9.95 miles per hour will allow you to zip around with ease on flat surfaces or over bumps in your path without slowing down too much; however, if there's an incline that is higher than what this board can handle, then it might be best not try zipping it up at top speeds.
Battery and Range
The Gyroor Warrior has a removable 36V LG/Samsung battery, reaching up to 9.5 miles in terms of range. It depends on various factors such as the terrain or weight of the rider that can affect both speed and range in varying degrees.
To ensure that you get the most out of your battery, charge it every time it gets down to 40% at least. This will keep the health and life of your battery in check so that you can use this for an extended period without having to spend money on replacements or repairs.
Also, make sure not to leave charging overnight. Some chargers may overcharge, which might ruin batteries early than expected by causing overheating issues due to too much current going through them all day round, even when they are full already.
Build Quality
Besides the performance and travel range of these super cheap hover boards, it has high-quality material in its construction. The build quality shows withstand heavier adults without any damage to the board.
This hoverboard is made with tough materials like aluminum to provide a better ride. Its 90% metal frame and ABS composition can hold heavy-duty usage, making it the best all terrain hoverboard under $300.
Safety Precautions
The Gyroor Warrior self-balancing scooter is UL 2272 certified to ensure our safety. This certification ensures that all electrical components are safe to use and includes everything from the battery to the charger.
The bright LEDs on the board change color to indicate each move. Not only are they useful for visibility at night or in low light, but these safety features make them suitable ride for kids, beginners, and adults alike.
Bluetooth Speaker
With the Bluetooth speakers on this hoverboard, you can cruise through your favorite spots and jam out to great music. You won't lose focus of where you are going because these speakers provide excellent sound quality while allowing clear sounds from other places around you so that nothing gets in the way of a good time.
Anti-Theft Alarm
Gyroor hoverboard has an anti-theft alarm that keeps it safe from theft. The best part is, you don't even have to take action yourself; just make sure your board and phone are connected when turned on so the App can track its location for you.
PROS
Bluetooth connectivity for App
Excellent quality speakers
LED lights to keep you visible on the road
Durable and sturdy construction
Best for all terrain ride
TOMOLOO V2 Eagle Best All Terrain Hoverboard
Motor Power: 700W
Top Speed: 10 MPH
Travel Range: 12 miles
Max Weight Capacity: 265 pounds
Wheel Size: 8.5 inch
Warranty: 12 months
The Tomoloo Eagle V2 Hoverboard is one of the fastest off-road hoverboards you'll ever find. Equipped with smart self-balancing technology, this makes balancing easier for beginner riders especially. It offers all-around performance with power, range, and build quality, making it a special purchase for your loved ones.
Speed and Acceleration
The Tomoloo Eagle V2 has everything you need to enjoy a fun ride. Equipped with dual 350-watt brushless motors, it can reach speeds up to 10 miles per hour and is more durable than a hub or brushed motor.
With its powerful motor and massive tires, you can explore any terrain. The 10 miles per hour speed is one of the fastest for hoverboards. Having this speed makes you able to ride this hoverboard for grass and road without any slowdowns.
Battery and Range
If you're looking for hoverboards with a great battery, then TOMOLOO V2 Eagles are the best option. Their batteries are primarily 4 Ah in capacity and 25.6 V in voltage which can last up to 12 miles on one charge.
The recharging ability of the TOMOLOO Eagle V2 is very efficient. Its charging time of 2 hours is best for the people who like shorter charger time. You don't have to keep the hoverboard on the charger overnight, saving time and preserving the battery longevity.
Build Quality
TOMOLOO Eagle V2 is a high-quality hoverboard with the most advanced technology. The professional motherboard, acceleration sensors, and gyroscopes guarantee that you will have an excellent self-balancing experience on this board. You'll be pleased to know that it comes with an aluminum alloy body frame along with solid tires and powerful motors for a better experience.
These boards are very sturdy and durable because the materials used to manufacture them have excellent properties such as fire retardance, high-temperature resistance, toughness, and endurance. These keep you safe and away from getting into trouble during hoverboard riding.
Safety
When you purchase a TOMOLOO Hoverboard, rest assured that they are high quality and will not cause any kind of fire or explosion. You won't have to worry about anything like these disasters happening as these hoverboards have high safety standards/
The TOMOLOO V2 Eagle has been certified by UL, the global safety science organization. The electrical system resists malfunctions like electric shocks and fire hazards; you can buy it with peace of mind knowing that this board will keep you safe.
Additional Features
The Eagle V2 has massive 8.5-inch tires, smart control technology, and stunning LED lights, which allows you to see with clarity while riding, even during low light conditions. Its unique design helps the riders to ride comfortably on any road surface they encounter.
The TOMOLOO V2 Eagle hoverboard has a built-in Bluetooth speaker to play high-quality 4.1 surround sound audio on your road hoverboard trips. These speakers add more to your fun either you are drifting in your spare time or going to work.
PROS
Impressive range per charge
Excellent top speed
UL certified and safe for the ride
Comfortable and unique design
LED lights for better visibility and aesthetics
Bluetooth speakers keep you relaxed with music
CONS
App connectivity need more options
Hover-1 Titan Best Affordable Hoverboard Under $300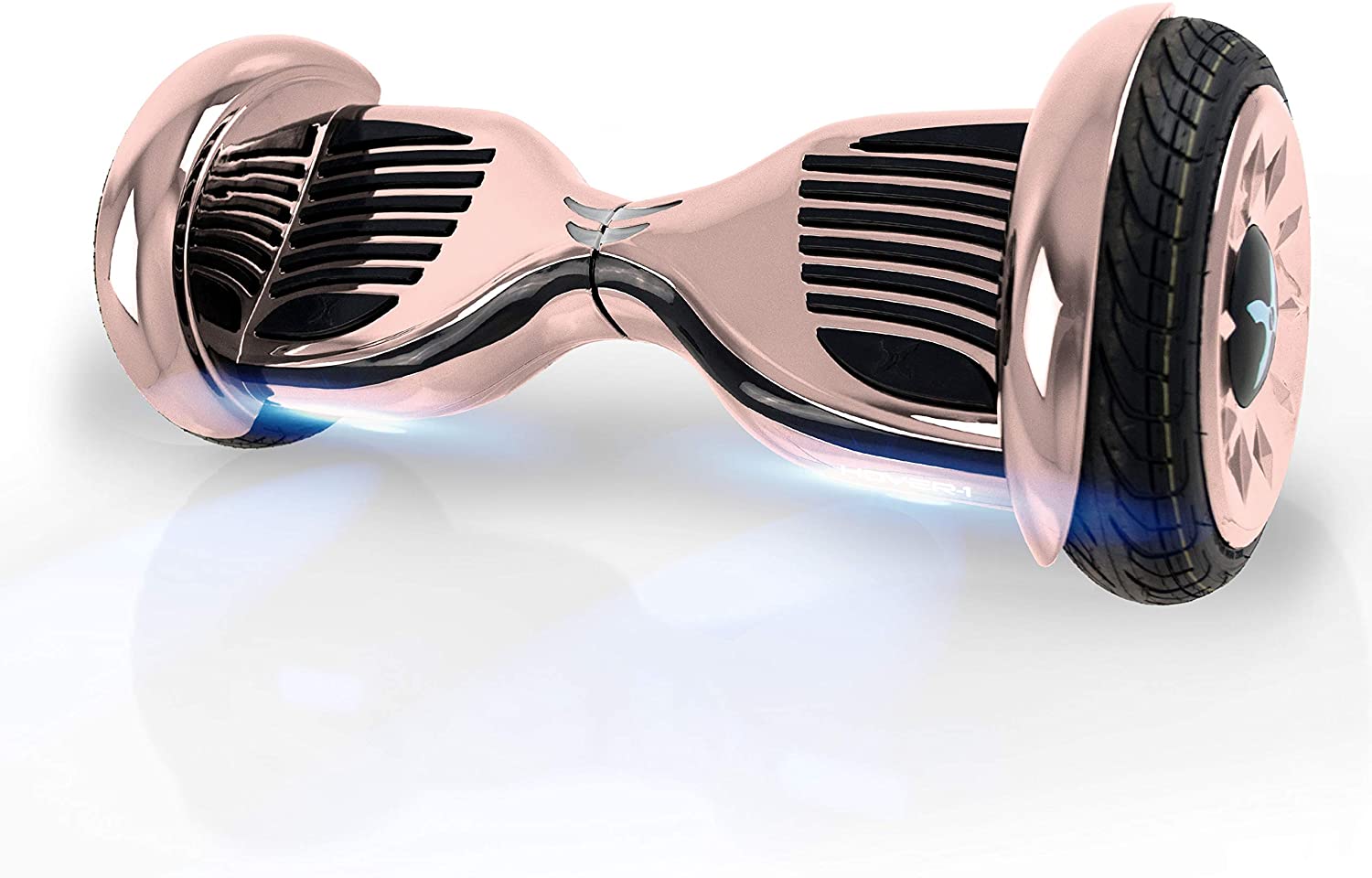 Motor Power: 500W
Top Speed: 7.45 MPH
Travel Range: 8.5 miles
Max Weight Capacity: 265 pounds
Wheel Size: 10 inches
Warranty: 90 days
The Hover-1 Titan Affordable Hoverboard Under $300 is best for riders who want to explore outdoor terrain. It has large tires and dual 250W motors, which makes it more suitable for fun rides. The travel range isn't impressive, but charging does happen pretty quickly so that you could have fun on a short ride around your neighborhood without having too much downtime for the charging.
Speed and Acceleration
The Hover-1 Titan is a cheap hoverboard with wheels with two motors, each delivering 250 watts. It has enough power to climb 15-degree hills but only reaches up to 7.45 mph in speed.  According to the competitors, the speed seems slow, but it offers excellent value for the money you spend on the hoverboard.
The speed affects the hoverboard battery to a great extent. You can ride at a medium pace to get the ideal travel range because riding at top speed can limit the battery range. For hoverboards, 8 miles per hour is already fast enough as riding faster can cause safety issues.
Battery and Range
A powerful 4Ah 36V lithium-Ion battery comes fitted in Hover-1 Titan hoverboard. These rechargeable batteries show a decent travel range when a ride is at an optimum level. You can ride to a maximum of 8.5 miles on a single charge so you can feel freedom and have fun riding the hoverboard in the neighborhood.
Charging the battery takes 4.5 hours which is quite a long duration. It would be better if the manufacturer provided a fast charger to limit the charging time. However, you can work around this situation by putting the hoverboard for charging at night or at idle hours. It will keep the battery in good shape and will not take your precious time.
Build Quality
The build quality of Hover 1 Titan is excellent for riders up to 265 pounds. The body looks sturdy and premium. The material choices make the hoverboard a bit heavy as its weight measures 30 pounds, posing portability issues for the kids and teenagers on their way to school or college.
Besides the main body, tires exhibit sturdiness and durability. They are massive 10 inches in size, which makes them best for all terrain hoverboarding. You can ride them on roads and off-road terrain due to their build quality. However, riding the hoverboard on rough patches can significantly reduce the speed and battery juice.
Safety
The Titan Hover-1 is the best hoverboard under $300 that you can trust for its safety. The UL certification ensures it has passed rigorous safety tests, such as overheating and overcharging. It also passed the safety test that prevents the risk of electrical fire or power surges from damaging your device during charging.
Riding around at night is safer and more fun with LED lights that make you visible to cars, pedestrians, or other riders. These lights are best for visibility and the aesthetics of the hoverboard if you want to show your friends excellent lighting.
Additional Features
The Titan is the best affordable hoverboard that lets you stream music from its built-in Bluetooth speakers. We like the option to control the hoverboard via App so that you can see stats like speed, battery life, and distance on the screen of your smartphone or tablet.
You can choose from three skill-level riding modes to make the board versatile. If you're a beginner, stay on the easiest mode until it feels safe enough for you. The safety of this makes it suitable for beginners as well as advanced riders.
PROS
Decent power and speed
Decent power and speed
Speaker quality seems excellent
Good for most terrains
Tested with UL safety standards
CONS
May feel less powerful on soft surfaces
Things to Consider
Before Buy Cheapest Hoverboard with Wheels
Before buying a hoverboard, there are some things you should consider rather than just choosing any board that looks nice. It is best to consider all factors before making your purchase. Let us go over those important points so you can make the right choice when purchasing the best hoverboard under $300.
Reputable Brand
When buying a cheap hoverboard, it is advisable to buy from one of the top-rated brands in the industry. These hoverboards have premium quality materials and are UL certified, meaning they are safe for you and your family. Furthermore, the sturdy material ensures that your hoverboard lasts longer, and you don't feel at risk during its ride.
Price Bracket
If you are looking for a hoverboard that won't break the bank, we have you covered. We made sure to include only models with features and prices under $300 so our readers can save their money without sacrificing quality or style. These are some of the cheapest hoverboards with wheels but offer premium build quality and safety that you want in your ride.
Weight limit
If you are considering buying the best hoverboard under 300 dollars, it depends on the weight of that person. If they're under 160 pounds, we recommend getting them an average-sized board with no more than 8-inch diameter wheels.
However, if the intended rider is over 160 pounds or around 200 pounds, get one that can support up to their entire body weight and at least 10 inches in wheel rim size.
Speed and Motor Power
People love speed, but an average-speed hoverboard would be perfect for you if you're a beginner. If you are an expert and looking for more speed, getting any hoverboard over 8 miles per hour is the best decision that you can make.
However, 6 to 8 miles per hour for kids or beginners will be ideal as it is within their comfort zone while riding on two wheels self-balance hoverboards.
Battery and Range
If you are looking for a hoverboard that can reach 10 miles on a single charge, count yourself lucky if you find one. Most low-cost models only go 6 or 8 miles before needing to recharge the battery again.
It isn't easy to get an affordable model with a greater range. TOMOLOO V2 Eagle Best All Terrain Hoverboard has 12 miles range which is the best hoverboard under $300 if we compare the speed and range to the competitor.
Self-Balance and Safety
Hoverboards are a great way to have fun, but they can be dangerous if you don't take precautions. Always check that your hoverboard is UL2272 certified before purchasing it and buy a helmet for safety. Self-balancing hoverboards have different modes explicitly designed to make learning the ride safe and easier for beginners.
Charging Time
It is essential to check the charging time before buying to avoid wasting your money on one that takes 5 hours to charge, only to drain all its power in 30 minutes. On average, 1-3 hours should be enough and allow you 6 -12 miles, depending on several factors. So check these parameters as well when making your purchase decision.
Waterproofing
When you are buying a hoverboard, be sure to pick one that is waterproof. Water and electric components do not mix well, so find out if the board can handle getting wet before making your purchase. Also, remember it is best practice to keep water away from any electrical device!
Additional Features
When looking for cheap hoverboards, the options you have are limited. Cheap versions of these devices do not come with additional features like Bluetooth connectivity or smartphone app integration. They will usually only include LED lights which can be fun to use when riding through dark spaces and trails at nighttime
Look for the models that offer you more features at a given price. We have reviewed the best hoverboard under $300 here, which has Bluetooth and App connectivity. These hoverboards offer you to play music on their wireless speakers and let you enjoy the rides.
There are some common mistakes that buyers make when purchasing the best hoverboard under $300. Avoid these mistakes to ensure getting the affordable hoverboard in your budget.
Declining the Warranty
There are many reasons why people do not ask for a warranty. Sometimes, they decline the warranty because it involves paying additional charges or forget to look into having one at all when buying something new.
To avoid any issues, you should not waive the warranty when buying a hoverboard. Since there is always a risk of encountering problems with even high-quality products, it becomes more important to purchase cheap ones.
Not Giving Attention to Reviews
A majority of hoverboard buyers never read customer reviews before making a purchase. However, these online opinions provide information essential to the shopping process and help individuals decide if they want to invest in this product.
There are many great hoverboards available to purchase on Amazon. But before you buy, use online reviews as a way for comparison and insight into how the board works, its pros and cons, customer service quality. Don't just focus on the positive reviews; pay attention to what people say in their negative ones.
Buying without Brand Reputation
If you want a durable and safe hoverboard, it's best to buy from an established company. Hoverboards are still a relatively new technology. When choosing where to spend your money, consider factors like their track record regarding the safety of products or quality in general.
Ignoring Safety
If you are buying a hoverboard online or purchasing from any store in person, ensure that it is certified by Underwriters Laboratories. A UL certification means that electrical systems within the device have passed all tests ensuring they will not harm people when used as intended.
Compromising on Battery Life
Make sure that the hoverboard you buy has a high battery life with decent charging time. Don't fall prey to buying one, which takes little time for a charge but does not last long.
Make sure you check the battery life of your hoverboard because that will determine how far it can take you on a single charge. Some can take you 5 to 6 miles, while some to 10+ miles depending on the type and capacity of the battery.
Our Personal
Recommendation
The best hoverboard under $300 is a perfect choice if you are looking to buy affordable hoverboards. They show good performance and packs with UL certification for your safety during the ride.
If you want us to single out one product, TOMOLOO V2 Eagle Best All Terrain Hoverboard is the best option. It has everything from speed to decent battery life. The massive tires on this hoverboard help you to ride on any terrain. The UL certification makes it stands out from its competitors.
Similar
FAQ'S Related To Best Hoverboard
How do Hoverboards work?
Hoverboards work the same as the electric scooter. However, it does not have handlebars to operate and balance the ride. For balancing, there is a self-balancing system that is easy to control. You can control the speed and direction using feet and body movement. Once you get used to it, the forward and backward movement is no problem.
What are hoverboard UL certifications?
UL or Underwriters Laboratories is the company responsible for testing product safety standards. A hoverboard receives a UL certification after going through multiple thorough tests such as motor overload, overcharge, water exposure, and shock and drop tests. The certification has further categories into UL2271 and UL2272 depending on the batteries and electrical/mechanical system.
Are Cheap Hoverboards Safe?
In the early days, there were incidents recorded of a hoverboard catching fire and exploding. Now the strict safety standards ensure that hoverboards remain safe for riding. As long as you buy a hoverboard that has UL certification, it is safe to ride. If you buy a cheaper hoverboard with UL certification, it will be safer than an expensive one without any UL certification.
How many years do Hoverboards last?
A hoverboard that costs under $300 has a pretty good chance of lasting 4 to 5 years. But it all depends on the care and handling of the hoverboard over that period. If you keep the hoverboard clean and maintained, they can last more than said period. Avoid overcharging to prevent batteries from getting weak earlier.