Xprit is famous for making next-gen hoverboards for both kids and adults. Our Xprit hoverboard reviews cover the best Xprit hoverboards in their class. These are reliable hoverboards with decent battery life and top speed. You can expect them as a reliable source of commute with a good weight-bearing capacity. They have Bluetooth speakers and UL2272 certification for making them reliable and trustworthy.
While many manufacturers focus on speed and battery timing, The best Xprit hoverboard focuses on the safety and reliability of the riders. They have good self-balancing and Xprit hoverboard app connectivity for contributing to an excellent riding experience. Due to their safety features, you can trust them for your kid's and teenager's rides while a decent speed limit keeps them in check and prevents overspeeding on the road.
Best Picks
Top 3 Xprit Electric Hoverboard Reviews
There are not many choices when buying Xprit hoverboards due to limited models availability. However, you may want to read Xprit hoverboard reviews to understand better the functionality and features they offer. There are minor differences between the models that we will explain in these Xprit electric hoverboard reviews. Once you read these reviews, you can select hoverboard according to your choice and need.
XPRIT 8.5 Wheel Best Off-Road Hoverboard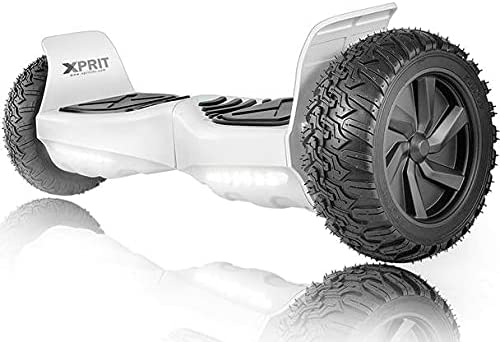 Motor Power: 500W
Top Speed: 6 MPH
Travel Range: 6 miles
Max Weight Capacity: 264 pounds
Wheel Size: 8.5 inch
XPRIT 8.5 Wheel Off-Road Hoverboard is the top of the product in the Xprit hoverboard lineup. It has excellent build quality with improved electric motor capacity over its siblings. The 8.5-inch tires are the prominent features that enable it to ride on the grass, gravel, and smooth surfaces with equal ease.
Speed and Acceleration
No matter what terrain you are going to explore, the dual 250W motor provides enough power to carry the rider. When combined with 8.5-inch of-road tires, the power matches the likes of expensive hoverboards available in the market. You can never feel deprived of the acceleration and speed when riding this hoverboard.
It has a maximum top speed of 6 miles per hour which is decent for a hoverboard. It provides enough power to climb a 15-degree incline with ease. However, the ability to climb the incline and top speed are related to the rider's weight and the type of terrain they are riding it.
Battery and Range
Xprit Hoverboard battery does a decent job regarding mileage per charge. It is not extraordinary for the range and recharge but does well for most users. The lithium-ion battery is great for short commuting and fun, but you may look for another option if you plan to use the hoverboard for extended travel.
Despite some complaints about the battery life, the Xprit 8.5 inch off-road hoverboard does well for short-range commutes. Depending on the throttle and rider weight, it has a maximum travel range of 6 miles per hour. The recharge time is moderately good and takes up to 3 hours to fully charge from empty to full level.
Build Quality
The all-terrain self-balancing scooter can take you through the roughest terrain, from gravel to sandy paths. The 8.5-inch solid rubber tires will provide a stable and smooth ride even when traversing tough terrains like these.
If you are thinking of buying this hoverboard, be sure to consider that the recommended weight limit is 198 pounds. This Xprit model can handle a maximum weight limit of 264 pounds; however, it's important to consider why they recommend only weighing up to 198 for your safety and best experience with them.
Additional Features
The bright LED lights on this hoverboard are programmable with the application but work well for night travel. They are good for visibility on the road and provide aesthetic value to the ride.
Besides lights, there are Bluetooth speakers in the hoverboard for enjoying the music during the commute. It doesn't have any dedicated application for playing the music; however, you can connect the speaker to the smartphone using Bluetooth. Once connected, you can play your favorite Spotify list and enjoy the ride.
Safety
The recommended riding age for this Xprit electric hoverboard is 8+, but we believe it is an excellent choice for both young and old. We found the rides smooth, well-balanced, and enjoyable when testing the hoverboard despite its slow speed and short-range.
Portability
For Xprit all-terrain hoverboard, portability is not a big concern for adults. However, for kids under 10 years, 32 pounds weight seems difficult to carry around. While purchasing this hoverboard, keep in mind the portability constraints according to the age of the rider.
PROS
Sturdy and reliable body
Less recharge time
Excellent weight capacity
Large and wide tires for all-terrain
Built-in wireless speakers
CONS
Travel range needs improvement
XPRIT 6.5" Best Self Balancing Hoverboard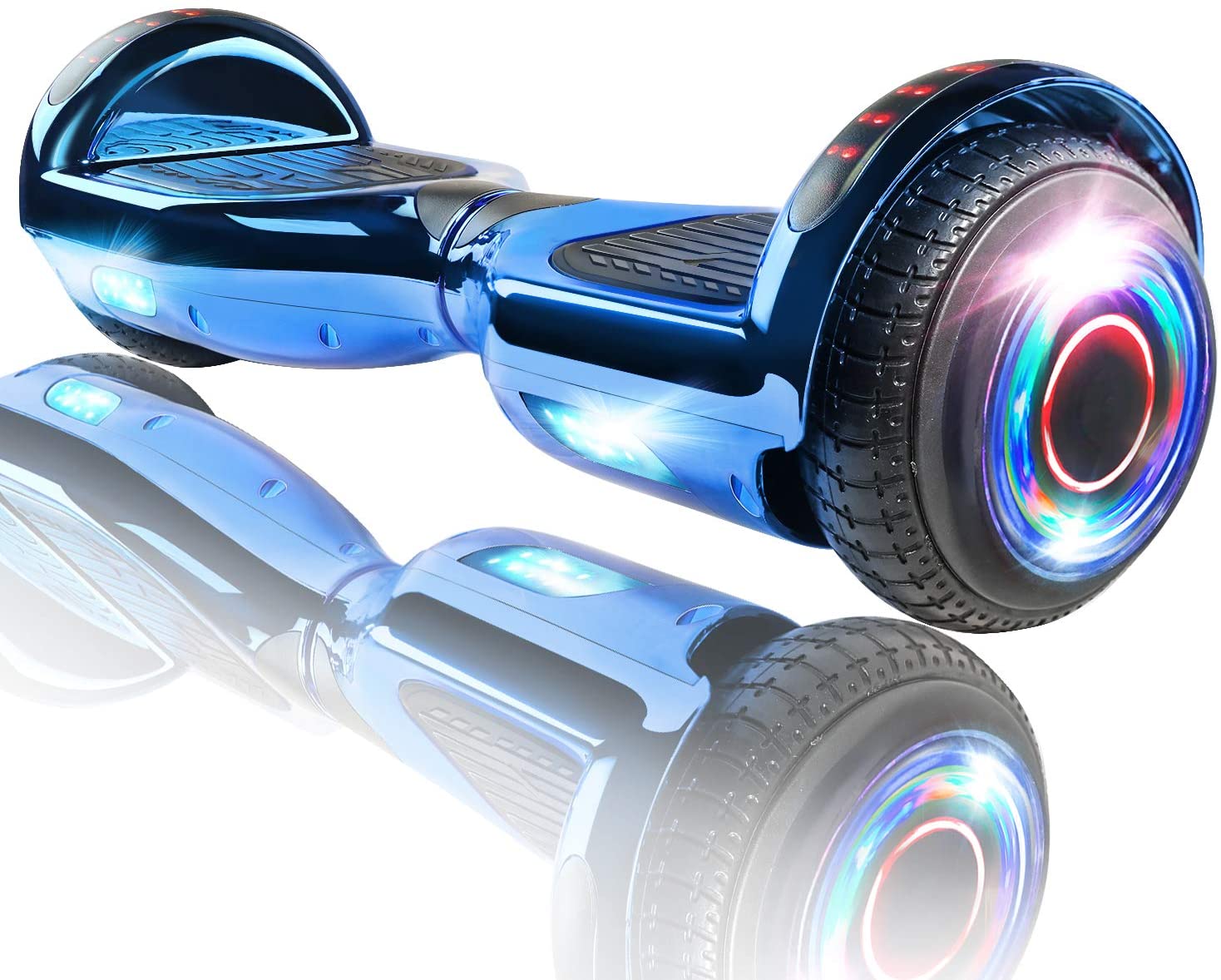 Motor Power: 250W
Top Speed: 6 MPH
Travel Range: 75 mins
Max Weight Capacity: 220 pounds
Wheel Size: 6.5 inch
The XPRIT 6.5" Self Balancing Hoverboard is an excellent product you can consider for purchasing for your loved ones. This stylish board ensures your safety while also allowing you to enjoy the ride with its Bluetooth speaker. It has everything you need in a short distance commute from style to durability to make your journey more secure.
Speed and Acceleration
Parents should consider the speed of a hoverboard before purchasing one. From experience, we know that if it is too fast for children to handle, they might accidentally injure themselves and others around them.
This hoverboard comes with 6 miles per hour speed that may be a little fast for kids under 10. This is the perfect Xprit hoverboard with a Bluetooth speaker for adults and teenagers learning to ride the hoverboard and need a limited top speed model.
Battery and Range
The Xprit hoverboard battery is excellent for its quality and safety. When we compare the range per charge, it gives around 45 to 75 minutes of continuous riding. Having this range means having fun around your house and neighborhood while avoiding traveling far from the initial start.
Despite the limited riding range, the recharge time is pretty standard with these Xprit hoverboards. You don't have to put the ride to the charger overnight as it only takes 2 to 3 hours to recharge the lithium-ion batteries.
Build Quality
The minimum Xprit hoverboard weight limit is 45 pounds, which is perfect for kids. However, it can accommodate an adult up to 165 pounds pretty well as it has a maximum weight capacity of 220 pounds. If you buy this board as your child's first one, they will not need any other one once they reach their teenage years.
This hoverboard is great for off-road riding because of its high-quality wheels. The aluminum alloy construction and vacuum-filled tires help you ride smoothly on any surface, especially rough terrain where most other boards struggle to maneuver.
Safety
The gyroscope sensors of this hoverboard turn it on as soon as your child gets on and tell if the foot position is right. The rubber pads ensure no slippage while riding, making this a safe option for kids to ride in case you have any safety concerns about their children.
The hoverboard is easy to ride and has an effective design that makes it practically impossible for children to fall off. It's one of the good options on the market compare to the hoverboard under 300 dollars, ensuring your child can enjoy a fun but safe time riding without worrying about safety hazards.
Certification
This Xprit hoverboard has UL2272 certification, which is important for all customers looking to purchase hoverboards. Having all safety measures and UL certification, you can trust this hoverboard for your child. Beginners who need a reliable hoverboard for practice can rely on its performance and safety.
Bluetooth Speaker
You will be happy to know that these hoverboards have Bluetooth speakers. This feature is not common among most budget models, but it comes in handy for this model. Your child can now enjoy their favorite songs while riding the scooter. Connect them up through a smart device like an iPod or smartphone, and they're good to go.
PROS
Sturdy hoverboard for kids
Excellent balance for easy riding
Decent recharge time
Excellent value for money
It comes with Bluetooth and LED lights
CONS
Chrome finish can rip off with time
XPRIT Best Bluetooth Self Balancing Hoverboard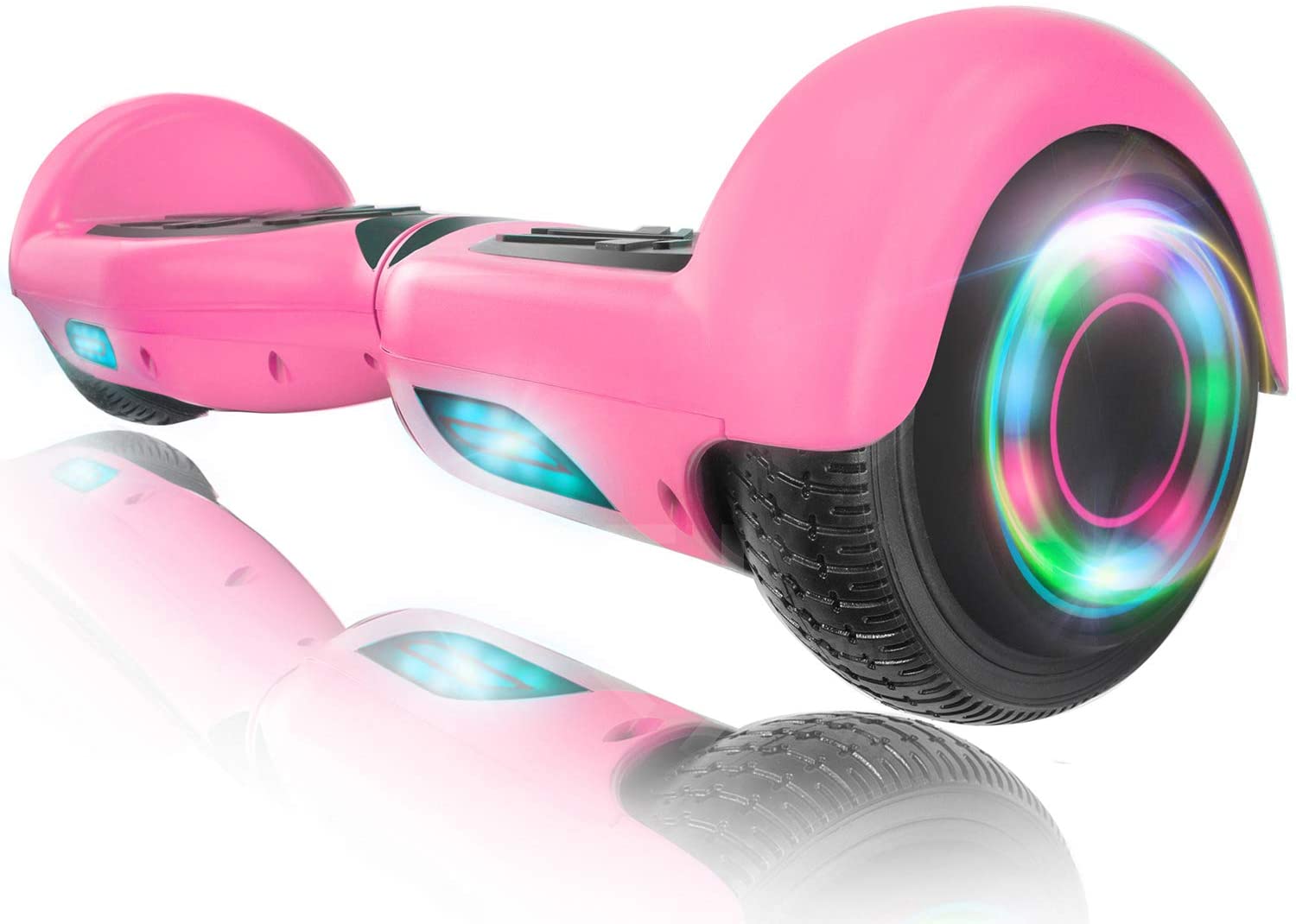 Motor Power: 250W
Top Speed: 6.2 MPH
Travel Range: 6 miles
Max Weight Capacity: 165 pounds
Wheel Size: 6.5 inch
Warranty: 90 days
It is the last hoverboard in our Xprit hoverboard reviews and is a great choice for riders looking to get into the self-balancing scooter trend. It's easy and fun to learn and has Bluetooth speakers to listen to your favorite tunes on the move. While it comes in various colors with LED lights adding some bling, it is ideal for beginners or kids.
Speed and Acceleration
We like the XPRIT hoverboard for differing reasons. Kids and teenagers enjoy it because of its sense of adventure while adults find it fun, useful for short commutes to work or school. Its decent top speed combined with a long battery life makes this an enjoyable way to get around town or work.
The XPRIT board's maximum speed is about six miles an hour, which isn't as fast as most hoverboards. But the powerful 250W motors and anti-slip wheels ensure that it can handle inclines up to 15 degrees with ease.
Battery and Range
The XPRIT Hoverboard is a decent hoverboard regarding travel range, but it isn't the best. It has an average top speed, and its range is short compared to other models on the market today. The range seems fair enough for young and beginners riders who are just starting their hoverboard journey.
The recharge time is pretty standard for all the Xprit hoverboards available in the market. It takes 2 to 3 hours for this hoverboard to recharge back to its full level. You can ride it roughly for 75 minutes till you need the recharge.
Build Quality
The 6.5-inch rubber wheels on the board can handle most surface types, including cracks and small bumps in the road, making it suitable for use indoors or outdoors conditions.
The firm but smooth treads claim to have anti-slip properties that keep you safe when traversing wet surfaces. However, we recommend staying away from wet surfaces since they are not suitable for use in water due to no waterproof rating.
Additional Features
The board comes equipped with LED lights on the wheels and at the front of the board, which help you see where you are going in low light and make others aware of your presence on the road.
Additionally, there is a built-in entertaining Bluetooth speaker that helps you stream the media from your smartphone. You can connect the hoverboard speaker wirelessly and listen to your favorite music while riding it in style.
Safety
This best Xprit hoverboard for kids comes with a regenerative braking system. It ensures reliable braking and provides more control over the ride, making the parent comfortable purchasing these hoverboards for their kids and young ones.
The braking is fairly easier to apply and works when you lean forward. When you apply the brake on a hoverboard, it is very smooth and easy to stop. Once your foot is off the board, some stabilizers make getting off super safe without looking like an idiot.
The XPRIT Hoverboard is safe for riders thanks to its use of improved self-balancing technology. It's UL 2272 safety certified, so mounting the board, dismounting it safely, and balancing are easy tasks. The result? A secure and stable ride on an innovative product.
PROS
Bright and vibrant LED lights
Various color choices
Decent battery recharge time
Protective anti-slip surface for feet
Bluetooth connectivity with speakers
Certified with UL2272 standard
CONS
Weight capacity is limited
Lacks waterproofing
Guide
How to Ride Xprit Hoverboard for the First Time?
After reading the Xprit Hoverboard reviews and purchasing the right one for your needs, you may require a proper riding guide, especially when trying a hoverboard for the first time.
For making the first ride more controlled and safe, you need to follow the steps given below. These instructions will enable you to operate the device properly and enjoying your first ride with much ease.
Steps
Place the hoverboard on the plain surface and start it by pressing the power button.
Place one foot at a time when riding for the first time. After stabilizing the first foot, place the other one carefully.
You can listen to the Xprit hoverboard beeping continuously if it is not is a good balance. The warning LED lit up, and the system does not enter the self-balancing state.
To make the hoverboard work, you need to maintain the balance, as the system won't trigger the self-balancing until you are in a good balance.
Re-calibrate the hoverboard to make it work again.
Once you are on the hoverboard, try leaning forward and backward to speed up or applying the brake on the hoverboard.
Don't try any tricks at the start, and once you master the ride, you can do different maneuvers with your hoverboard.
For better experience or for safe ride best helmet are highly recommended.
That is all from our Xprit hoverboard reviews to enlighten you about the features and functionality they offer. You can select any of these models as they have exceptional build quality and come with an Xprit hoverboard charger for fast recharging.
However, if you want to pick the best Xprit hoverboard, we recommend XPRIT 8.5 Wheel Off-Road Hoverboard due to its larger off-road tires, cruising power, and safety features. It is the best hoverboard for adults, teenagers, and kids to its higher weight carrying capacity.
Factor to Keep
Xprit Hoverboards Buying Guide
Besides Xprit hoverboard reviews, buying guide is very important for the riders who are want to spend their money on the right product. It covers all the considerations that buyers need to keep in mind while purchasing the hoverboard.
Safety Rating
Safety is one of the most important things while buying a hoverboard for yourself or your kids. If we look at the past, hoverboards were not safe enough as they catch on fire and cause a major risk for your safety. The industry has done many responsible things and made good changes in hoverboards and made them much safer.
Because of the efforts to make the hoverboard a safety-certified product, it's hard to find any fire report nowadays. When you go to purchase a hoverboard, you must look for UL 2272 certification on it. The UL certified means that the product went under experiments and passed all the tests very well, and can fulfill all the safety purposes so that you have a safe ride without any problem. 
Tire Size
The tires' size is another part that may concern you more than any other thing for your ride. When we talk about self-balancing, tire size remains the top consideration. There are two sizes of tires: small tires and large tires. It's up to you which one is best for your ride because it depends on the terrain where you want to ride.
Tires are not only responsible for your stability but also responsible for any kind of terrain it will be able to handle. The small size of the tires is a good choice when you surf on the sidewalk or around the neighborhood. But if you want to go off-road, you may choose larger tires because they can handle that terrain better than the other.
Xprit Hoverboard Battery
Everyone wants to have a long-life battery to enjoy a good ride. Having a good battery life ensures a more than average travel range for the hoverboard. You may want a balance of long-lasting battery with speed, recharge time, and performance.
It is an important thing to have a long battery life because it can maintain extraordinary run time. You can run more miles and at top speed with a battery with a long-range and better life. Some of the boards offer a small battery management system that can help to protect the battery.
App Connectivity
It's an extra quality of any hoverboard if it can connect to your mobile by the smartphone application. It is the best feature that lets you operate many of its functions with your mobile.
It became an easy way to control most functions like updating firmware, customizing the flashlights, and diagnostic. You can also adjust the speed of your board from your mobile and turn on the anti-theft alarm.
Travel Range
A hoverboard with a long travel range per charge is more considerable. The range of your hoverboard with a single charge is one of the vital things for any buyer. For the good range of your battery, you must find out the better product under your purchase.
The battery with a short time of charge and good range make the best ride for you. You can go more places without any waiting irritation. Mostly 6 to 13 miles is the appropriate range of any battery.
Reliable Body
The durability of any vehicle is one of the most important things. The first concern should be good built quality as a sturdy and reliable frame is preferable for a better ride. Some of the models offer scratch resistance materials. The best quality hoverboard, which is reliable, can serve better and have a better life.
The body made of aluminum alloy is excellent to use as it is a tough material that can bear any situation. There is another option of carbon fiber which is a lightweight and strong material. When you want to buy a hoverboard, you may choose a solid construction and a lightweight one because a lighter hoverboard offers more speed and good battery capacity and brings a smooth ride for you. 
Motor
The efficiency of your hoverboard depends on the power of the motor. More powerful electric motor more your hoverboard can deliver. Mostly, a motor of 250 watts is best, but some of the models have dual motors that offer double the power.
As the power of the motor increases, the efficiency also increases. A powerful motor of the hoverboard can gain more speed and enhance the performance overall. As the motor gets bigger in watts, it generates more power and speed.  
Xprit Hoverboard Weight Limit
Before buying any hoverboard, you must know about that it can bear your weight or not. Mostly the limit is 165 pounds or 220 pounds. Your body weight can control the movement on a hoverboard. If the weight exceeds from limit, then you may suffer many problems during the ride.
That's why it is important to buy a hoverboard that you must search about maximum weight bearable by hoverboard so that you won't be disappointed if you exceed the limit. 
Ease of Use
Most of the hoverboards can be operated by using your feet. But there are some of the options which may control by your knees. But it isn't easy to use by kids and beginners, so we have not listed them in our options. Everyone should prefer their ease to control it without any problem.
It is better to look for hoverboards which bring an easy ride for all ages people. That is why find out the hoverboards, which have different riding modes and are easy to control for kids and beginners. Training mode is one of the best options for kids and novices.  
Is Xprit a good hoverboard?
The Xprit Hoverboard is the best board for use due to its stability. It is also UL2272 certified with a very good performance for beginners and advanced riders. It has a speed of 6 miles per hour approximately with decent battery life and fast recharge time. It is not one of the fastest hoverboards, but it is still big fun for beginners and kids.
How do I choose the right hoverboard?
It is important to read out all the information on the product's packing to choose the best hoverboard. Purchase only the best product certified by the UL to certain your safety. See our buying guide to read about the things you should consider for choosing the right hoverboard.
Are Bluetooth speakers and apps important to you?
Many hoverboards feature Bluetooth speakers and stereo surround sound music to enjoy music during the ride. If you don't want these extra features, you can choose the model which does not have the speakers. The smartphone app enables you to connect the hoverboard and monitor its activity, stats, and various options. So depending upon your need, they can be either important or not worthy.
What is a gyroscope on a hoverboard?
The gyroscope on a hoverboard is a spinning wheel or a disk. On this spinning wheel, the axis of rotation freely moves in any direction or orientation. But during the movement, this axis of rotation remains unaffected. It can change its orientation while the whole apparatus is moved and sloped.
How long do hoverboards last?
Using it carefully and giving proper time to charge and discharge the battery may help exceed the time duration. Mostly the life of a hoverboard is up to three to four years. But eventually, it starts dying out before this period. We recommend you buy a new one if you feel the old one is getting problematic.