The best hoverboard charger is the most important accessory for your favorite hoverboard. It might seem silly that something so small can make a difference, but you can't charge and use your board without it. Your self-balancing scooter needs convenient charging to function properly, which means investing in a quality charger will keep your battery and ride ready to commute.
Do you think your hoverboard will work without charging it? Let me tell you, all the features of a hoverboard only take place when it is charged. Without any power source to keep it going, this cool tech toy is just an expensive piece of cardboard at best.
For charging them, hover board chargers are the right choice. They provide excellent performance like the stock chargers except for some better features at a cheaper price.
Personally, I am a big supporter and promoter of EVs. As a traveler, I always carry my electric ride to keep journey comfortable anywhere in the world. I came here online on this platform to give you my personal experience and other user's reviews of all used products.

WHO I AM?
Top Picks
Best 5 Hoverboard Battery Charger
There are a plethora of options when going to buy a hoverboard adapter from the market. With all the similar features are technical specifications, it is difficult to decide which charger is best for the hoverboard model you own. To help out our readers, we have thoroughly researched the best universal hoverboard charger. These top 5 chargers are the best in the market due to their safety features and reliable charging.
LotFancy Self Balancing Hoverboard Charger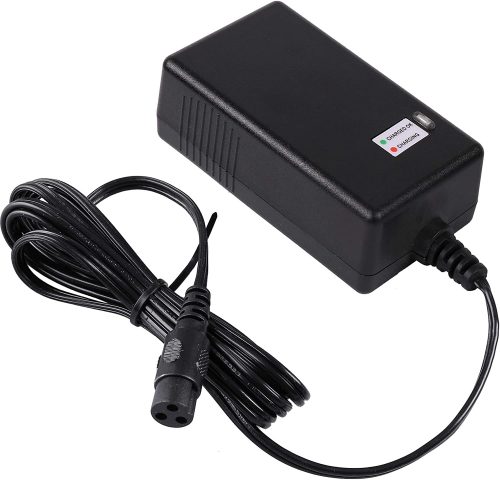 UL Listed Certified
3 Prong Connector
Charging Indication Light
Money-back Guarantee
Wide Compatibility
LotFancy best hoverboard chargers are universally accepted because of their compatibility. Whether you need a charger for your Razor Hoverboard or one from another company, it can be used to recharge any board on the market today with efficiency and safety.
Compatibility
The Lotfancy is a 3-pin hoverboard charger with an input of 100-120V at 1.2A and an output of 24 volts with 1500ma amps. With its safe charging mechanism, it eliminates the worry of short circuits or overheating when charging your hoverboard. The ideal time to charge is 7 to 8 hours because that's how long it takes on average for the hoverboard.
Safety
The LotFancy is in the same league with Segway chargers and Hover 1 charger regarding safety. It is an excellent replacement for the stock charger with a much safer and reliable charging time.
With a UL certification, you can expect it to be much safer for different hoverboard models. Its compatibility and safety is the primary reason of its demand and popularity amongst hoverboard community.
Charging Lights
Having LED lights for charging is a big relief on a hoverboard charger. The charging alerts with LED lights ensure that the battery does not overcharge. These also ensure that you may not end up with incomplete charging, so it's a win-win situation.
The Led lights give a clear indication of the charging level. If the LED light turns red, it means that the charging is in process. When the light turns green, it shows that the battery is full, and you need to disconnect the charger.
PROS
Durable and reliable construction
Universally compatible with the hoverboards
Good charging potential
The charging time is ideal
Protects the battery health
Safe to use due to UL certification
CONS
May charge slow for more demanding hoverboards
Mouow 42V 2A Hoverboard Adapter
If you are not happy with the slow charging of your replacement charger, Mouow 42V Hoverboard Adapter is the best choice. It answers your fast charging needs with a powerful and robust mechanism. The charging job that can take hours with an ordinary charger can take only a couple of hours for this hoverboard battery charger.
Compatibility
The Mouow hoverboard charger has universal compatibility with a wide range of hoverboards. It can charge compatible models with excellent efficiency. You may wonder why it is so popular among the hoverboard community. The answer lies in its quality and capabilities.
The Mouow Fast Battery Charger is a lot more than just your hoverboard battery charger. The durable ABS construction gives it the ability to be used for years without issue and can charge batteries at an astonishing 84W DC.
Features and Safety
Trendy and lightweight, Mouow fast battery chargers can be taken anywhere. They weigh 290g which is about the weight of a water bottle or so much lighter than your laptop! You don't have to worry about carrying them around in your bag because they only take up 13 inches.
Mouow is so confident in their products that they offer a one-year warranty. Their fast hoverboard battery chargers will get you zipping around town with your friends while they charge safely. It does have excellent safety to prevent catching fire during charging.
Charging Lights
Mouow self-balancing scooter chargers have standard LED lights to keep you alert about the battery capacity during charging. It uses green and red lights to indicate the charging state.
If the red light turns on, it means that charging is in progress and it is storing the charge. Similar to this, the green light indicates the hoverboard battery full charged state. Just like Electric Scooter Battery. It warns to cut the power supply to the charger to prevent overcharging immediately.
PROS
Indicator lights for charging
Fast charging capabilities
Lightweight and easy to carry
Durable ABS plastic body
Affordable price range
CONS
It heats in an even of overcharging
EVAPLUS Universal Hoverboard Charger
universal compatibility
Charging Status Light
Excellent Supply Tolerance
Universal Compatibility
42V 1.5A Output
High-Quality Material
The Evaplus Hoverboard Adapter is one of the best chargers for your lithium-ion hoverboard batteries. It comes with quick and safe charging to ensure quality that we rarely see in a hoverboard charger.
Features
The charger has compatibility with most hoverboards that can provide an all-around performance. It can easily manage the charger with the 42V output. Some hoverboards come with a 24 or 36V rating, so it is easily the best charger for most hoverboards.
Compatibility and Performance
If you are looking for a universal powerboard charger, Evaplus comes with some of its high power ranges and compatibility with 42V batteries. However, it is important to double-check your hoverboard's specifications before purchasing it so that the power range matches what you need. These chargers are mostly used for hoverboards under 200 Dollars.
The Evaplus charger quickly charges your hoverboard with an output of 2A. Though you may be disappointed if it does not fit the power range, this would still make for a great choice to charge your hoverboard instantly. It only needs fixing the charger into the socket.
Charging Lights
A safe charging time is worth having with the best hoverboard charger on the market. One of this device's unique perks includes an LED indicator in its power brick that will keep you informed when your devices are safely charged up and ready to go.
The LED light notifies the rider to ideally charge, letting you know when it is fully charged. It also disconnects the adapter once completely charged, minimizing overcharging or overheating your hoverboard while charging.
Safety
Evaplus hoverboard charger has features that are not only convenient but also safe. With a handy glow light to show the status of your charge and complete protection from overheating or overcharging, you can be sure that this charger will protect the battery's lifespan.
PROS
Fast speed for quick charging
Compatible with a wide range of hoverboards
Durable and sturdy body
Safe charging mechanism
LED notification light for better management
CONS
Not best for the low voltage hoverboards
Tangsfire Hoverboard Charger 36V
The Tangsfire Hoverboard Charger 36V is an amazing addition to the hoverboard chargers. Due to its 36V output, it is highly recommended for all types of hoverboards. With its four-level security, you can feel protected and prevent the batteries from catching fire due to faulty charging.
Reliability
Charging your Li-ion battery can cause it to heat up, but you will never have to worry about that with Tangsfire Hoverboard Charger due to its reliability. This charger will keep its temperature at a low and manageable level. Even after hours of charging, you will feel its body only warm up to secure levels.
Compatibility
This hoverboard charger is a lifesaver for those who don't have three prongs output as it only has two prongs. It is compatible with most devices, so if it fits in the slot, this can be an irreplaceable addition for the hoverboards. The wide compatibility is the primary reason for the popularity of this hoverboard charger.
Features and Performance
The Tangsfire Hoverboard charger is the perfect size to fit in your bag, so it's always by your side. The charging cable length of 39 inches gives you plenty of distance and mobility while still keeping everything contained within arm's reach.
This lightweight and compact device are perfect for kid's rides. It's sleek so that it won't take up too much space in your suitcase or backpack. And with its 42V output using 100-240 V input power supply, you will never be without a charge again.
PROS
Easy to use and operate
Durable build quality with waterproofing
Good heat dissipation
LED lights for the timely connect and disconnect
CONS
It doesn't have a 3P balance interface
Jucuwe 42V 2A Power Board Chargers
Jucuwe Universal Hoverboard Charger is a stylish charger for the hoverboard is easy to use with its 42V 2A output for fast charging without worry about overheating or other hazards. You can remain confident in this product as it offers more protection against overcharging, heating, and potential damage to batteries.
Compatibility
Customers need to check the plug size before ordering Jucuwe Power Adapter. It comes with a 0.31-inch connector that is ideal for compatible hoverboards. The charger produces an output of 42V with 2A for fast charging options.
Safety
The Jucuwe self-balance board charger is suitable for every type of hoverboard due to its advanced safety features. The charger offers multiple protection to the hoverboard and its battery during the charging.
It offers overcurrent protection, short circuit protection, overvoltage protection, and overload protection. It is probably the best hoverboard charger due to its extensive safety mechanism. You won't have to worry about anything from overcharging to the short circuit because of its robust security features.
Charging Lights
Did you know that hoverboards are dangerous? If left unattended, they can cause fires. This is why it's important always to understand the LED lights importance on the hoverboard charger.
When there is a red light next to "Charging," the battery needs more juice, so plug the charger in and charge away. But if there is a green light, make sure you unplug immediately before any potential hazards come into play.
PROS
Safe and reliable charging
Fast charging due to 42V output
LED lights for indication of charging level
High-quality materials ensure long-lasting performance
Protection against short circuits and other hazards
CONS
Not best for 24V or lower batteries
Factors to Follow
Best Buy Universal Hoverboard Charger Guide
There are not many buying considerations that you need to focus on during the hoverboard charger purchase. However, you need to consider these important factors before buying the best hoverboard charger. Keep in mind that avoiding these considerations can affect the battery performance and charging capabilities.
Power Requirements
The first thing you should check is the power requirements for your hoverboard. Inappropriate power ratings such as voltage and amperes can cause harm to both the battery and hoverboard. In many cases, it can result in consequences such as fire hazards being more dangerous than you could have guessed.
Hoverboard chargers come in many different voltages, ranging from 24 to 42 volts. You need to know the voltage that your hoverboard support before you can buy a new one. If your hoverboard is of a lower voltage than what's listed on the supported list, it won't work with that charger. Always match the charger's voltage so that you don't have any charging and battery health issues.
Charging Time
Charging time is one of the most influential factors that affect the charger purchase for the hoverboard. Some hoverboard charger has better-charging capabilities that ensure good charger storage over the poor quality chargers.
The charging time can range from 3 to 5 hours, depending on the type of battery and charger. On average, it takes 3 hours to charge the hoverboard for a good quality charger completely. Always choose the charger that takes less time and effectively store that charge in the battery.
Pricing
The hoverboard charger pricing is not a matter of concern. They are not expensive and usually are affordable for the masses. If you buy the hoverboard charger, you can easily get around $15 to $30 with good build quality and certification that ensure maximum safety for charging the batteries.
If you want to find a good price and value combination, you can go with EVAPLUS Hoverboard Adapter and LotFancy Self Balancing Hoverboard chargers. These chargers provide excellent value for the money and do not disappoint the user due to extensive compatibility with hoverboards. On a plus note, they are the best replacement for the Jetson hoverboard charger.
Charging Lights
The LED lights on your charger adapter are the most helpful for charging, but they can also be a bit of trouble. Usually, these small LEDs help you monitor how close you're getting to full charge and warn if an excessive amount is being drawn. However, sometimes charger continues their progress that comes without LED lights even after reaching 100%.
This excess power could cause overheating, which in turn may lead to damage for both yourself and the hoverboard. To prevent this issue, charging lights are the best option for the best hoverboard charger. Prefer purchasing the charger that comes with the lights so that you remain alert about the remaining charging.
Step by Step Guide
How to Charge a Hoverboard?
Are you looking to find the proper way to charge the hoverboard? Don't worry; we got you covered. There is no rocket science involved in charging the hoverboard. However, you may need to follow charging instructions with clarity to avoid any issues in the charging process.
Get a compatible charger
Getting a compatible charger is crucial for proper storage of charge in the battery. Before plugging the charger into the hoverboard, ensure that the ampere and voltage match the supported range. If not, don't use the charge and get a compatible charger first.
Turn off the Hoverboard
Before charging the hoverboard, it is best practice to turn it off completely. This process prevents excessive power loss, results in quick charging, and protects the battery's health. Most hoverboards have charging protection that stops the charging process when the hoverboard is on.
Keeping an eye on lights
Charging lights play an important role in showing the battery percentage. If you have good knowledge of the charging lights and what they represent, charging becomes easier.
There are commonly three lights for charging indication in the hoverboard. They are Green, Orange, and Red. Each light has a different meaning for the battery charging state to alert the user about the charging level.
The Red light indicates that hoverboard charging is critically low, and it needs instant plugging of the charger before the battery dies out. At this stage, you need to plug the charger into the hoverboard port and connect it to the power outlet.
When the Orange light is on, the battery reaches its 50% charging capacity. This light usually turns on after one hour on an average hoverboard, depending on the initial charge level.
If you see Green light on the charging port, it means that the battery got fully charged. It is time to remove the charger to prevent overcharging, resulting in deteriorating battery health.
You may need the hoverboard replacement charger sooner or later if the stock charger no longer works. For getting the right charger, there are plenty of options on the market. They offer competitive prices and features that you look into the quality replacement chargers. These features are the deciding factor for the decision-making as they directly impact the product's durability and charging quality. These are easy to carry in the ride for adults and kids.
EVAPLUS Hoverboard Adapter is the best charger with its competitive price and features like 42V and 2A output if you want one best option. This charger is the best powerboard charger with its necessary security features. Having fast charging and good build quality, it is second to none.
Common Queries
Self-Balancing Scooter Chargers FAQs