Are you a passionate cyclist who loves to bring your pet along for the ride? Well, let me tell you, you're not alone. Biking with your pup can be a fantastic way to bond and enjoy some exercise together. But safety is vital, and that's where the best bike trailers for dogs come in. These handy contraptions allow your pup to ride comfortably and safely with you without worrying about them getting tired or falling behind.
With so many options on the market, choosing a dog bike trailer for bike touring is essential. But don't worry, I've got you covered. In this guide, you can look closely at some of the best bike trailers for dogs and what makes them stand out. The features you should remember when shopping for a trailer and how to select the right one will also be discussed.
Whether you're a casual cyclist or a seasoned pro, there's something here for you: why use a bike trailer for dog? So, buckle up, grab your helmet, and let's get rolling. Let's get started.
Schwinn Rascal Bike Pet Trailer With Folding Frame Carrier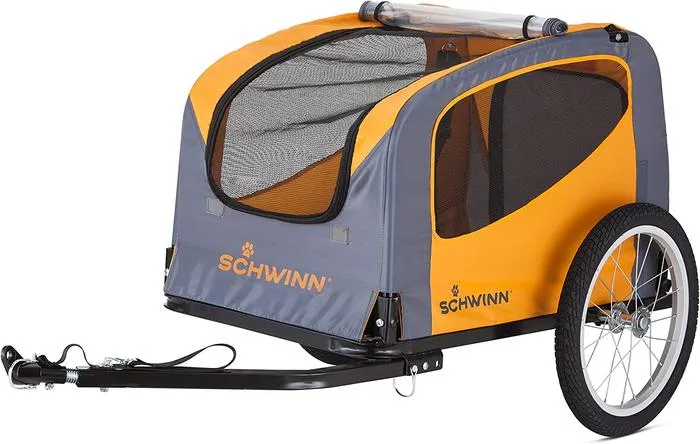 Frame Material: Aluminum Steel
Max Weight Capacity: 50 Pounds
Seating Capacity: 1
Max Height: 16 inch
Item Weight: 25.9 Pounds
Item Dimensions: 31 x 8 x 20 Inches
Are you looking for a terrific way to take your puppy on adventures with you? Whether your pup is small or large, this folding carrier with quick-release wheels and adjustable features has you covered. It easily attaches to your bike with a universal bicycle coupler so you can hit the road quickly. Your pup will wag its tail excitedly as you explore the great outdoors together.
Safety is a Top Priority:
This trailer has an internal leash to prevent your pooch from jumping out and a safety flag for visibility. You can put your pup on the trailer and enjoy the ride without worrying about safety issues.
Convenient & Versatile:
With the best bike trailers for dogs, your puppy will enjoy a smooth, breezy journey with air-filled tires and an adjustable bug screen. The folding frame and quick-release wheels make it easy to store and transport. It has a universal coupler that fits most bikes.
16 Inch Aluminum Rims:
16-inch aluminum rims and air-filled tires ensure a smooth ride, while the adjustable bug screen keeps pesky insects at bay. Moreover, all dog size for trailers can hold pets up to 50 lbs, and the rear door allows easy access.
Benefits
Quick-release wheels for easy transport
Internal leash for safety
Adjustable bug screen for comfort
Holds pets up to 50 lbs
Versatile and fits most bikes
Pet Stroller Best Bike Trailers for Dogs 66lb Weight Capacity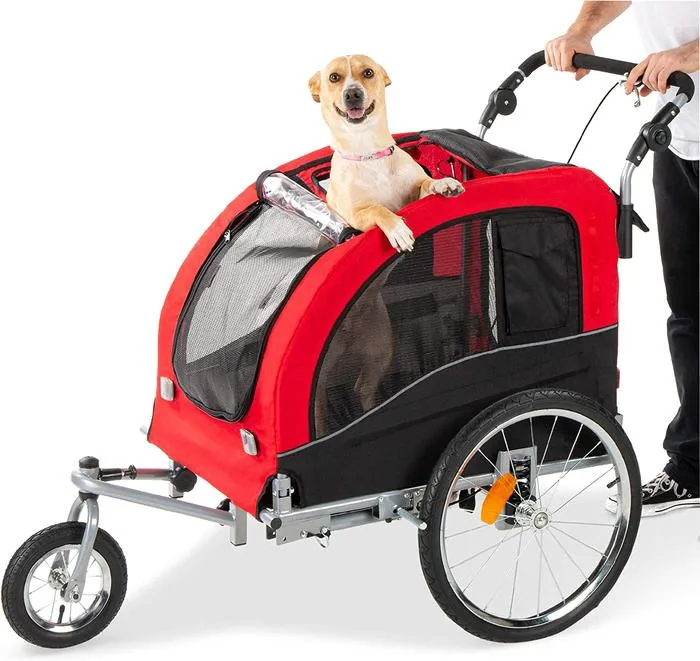 Frame Material: Alloy Steel
Max Weight Capacity: 66 Pounds
Seating Capacity:
1 large or 2 small
Max Height: 37 Inches
Item Weight: 40 Pounds
Item Dimensions: 46 x 24 x 38 Inches
Best Choice Products 2-in-1 Pet Stroller and Trailer is perfect for taking your dog on bike rides or walks. You can enjoy safety and security with a bike hitch, suspension, safety flag, and reflectors. The convertible design lets you switch from stroller to trailer in no time. Let your pet experience the fun with you on your road trips.
2-In-1 Stroller for Multiple-Size Pets
Take your pet on your evening strolls or hitch it to your bike for convenient travel. You can stroll in style with comfortable push handles while your pet relaxes.
It is suitable for large animals or a 2 dog bike trailer for little ones; this stroller can hold up to 66 lbs. A removable cushion keeps your pets cozy while you travel.
Keep Your Pet Safe:
With a safety flag and wheel reflectors, visibility during low-light conditions is promoted. The interior safety leash will ensure your pet stays secure, while a fabric cover on the front opening keeps them comfortable in all weather conditions.
Built-in Hand Brake System:
The best bike trailers for dogs have built-in hand-lock brake systems that let you stop for rest stops with ultimate comfort. Mesh screens keep debris out, while multiple windows promote breathability, making the ride smooth and easy.
Quality Materials:
Their durable steel frame material of trailer and water-resistant polyester make for a pleasant riding experience no matter the weather. The stroller can be used for any occasion with durable wheels that ensure easy maneuvering.
Benefits
Versatile for strolling or biking
Suitable for medium to large pets
Provides safety features for visibility
Built-in hand brake for rest stops
Durable and all-weather appropriate materials
Drawback
Assembly may require some effort
Retrospec Rover Waggin Pet Bike Trailer with 16 Inch Wheels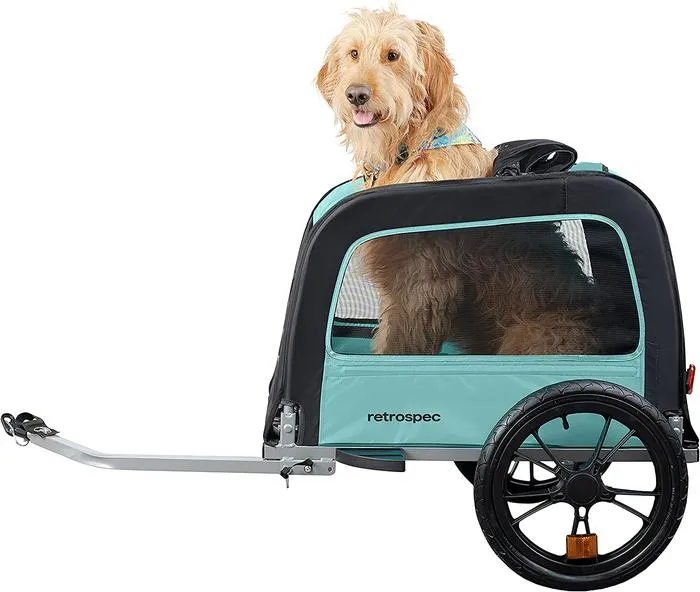 Frame Material: Nylon
Max Weight Capacity: 50 Pounds
Seating Capacity: 1
Max Height: 16 Inches
Item Weight: 28 Pounds
Item Dimensions: 30 x 19 x 17 Inches
The Retrospec Rover Waggin' Pet Bike Trailer is designed for small and medium-sized dogs and boasts a foldable frame with 16-inch wheels, making it easy to store and transport.
Get ready to hit the road with your furry sidekick by your side. Its non-slip floor and internal leash ensure your pet is safe and secure during the ride. Plus, with its eye-catching design and sturdy construction, you'll be the talk of the town.
Water Resistant Material:
No more worrying about sudden weather changes ruining your ride. It is constructed with a water-resistant fabric that's also element and weather resistant. The 2-in-1 canopy, and mesh shielding ensure your dog has a comfortable ride without being bothered by pesky critters.
Foldable Frame:
The unique folding frame of these best bike trailers for dogs makes them easy to store and bring along on your next ride. The low-maintenance, 16-inch, 1-piece molded nylon wheels have air-filled tires that quickly inflate with a standard bike pump but don't over-inflate.
Rear Door & Storage Pouch:
Let your furry friend easily hop in and out of the trailer with the rear doggy door that securely zips for added safety. Plus, this pooch pouch is perfect for storing treats, toys, and everything you need for your ride. Keep everything organized and accessible for you and your dog.
Bike Compatibility:
This pet bike trailer is compatible with nearly all adult bicycles with the included coupler. It fits 20″-29″ wheels, so you can hit the road with your four-legged friend without worrying about bike limitations.
Benefits
Water-resistant material for all-weather use
Foldable frame for easy storage and transport
Internal leash and no-slip floor for safety
Rear door and storage pouch for convenience
Compatible with most adult bicycles
Drawback
Larger pets might not be able to use it
Aosom Dog Bike Trailer Pet Cart Bicycle Wagon Cargo Carrier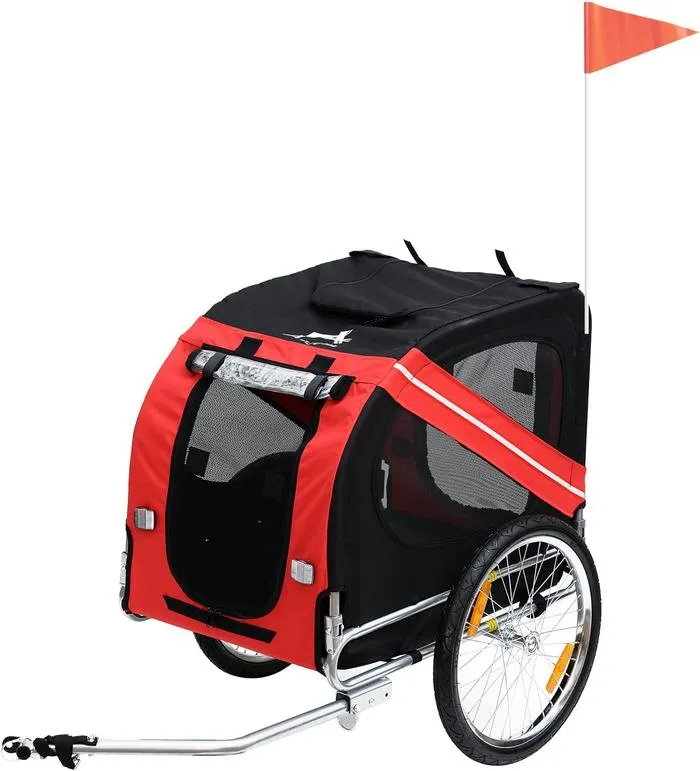 Frame Material: Alloy Steel
Max Weight Capacity: 66 Pounds
Seating Capacity: 1
Max Height: 25 Inches
Item Weight: 30 Pounds
Item Dimensions: 51.25 x 28.75 x 35.5 Inches
The Aosom Dog Bike Trailer is a bicycle wagon carrier attachment with three entrances for easy access and added convenience. With large wheels built for off-road adventures and a sturdy mesh screen to keep your pup safe, this trailer is the ultimate travel companion. The red and black design adds color to your journey, while the spacious interior ensures your puppy has room to stretch out and relax.
Weather Protect:
The Oxford fabric on a sturdy steel frame can withstand weather conditions, including UV rays and water. Plus, it provides excellent shade for your pet to stay calm. It is perfect for medium dogs under 44 lbs and with a length of less than 20.75″.
Easy Entry & Ventilation:
Zippered doors on the front, back, and top of the trailer make it easy for your pet to get in and out. It also allows excellent ventilation to keep your pet comfortable during the ride. A D-ring is included to keep your pet secure inside the carrier.
Smooth Rolling & Easy Storage
This off road bike trailer is perfect for both pavement and off-road adventures. Enjoy a smooth ride on any terrain with the two 20″ rear wheels. The trailer also includes a flag and wheel reflectors for visibility in traffic and low-light conditions. The trailer's quick-releasing wheels make it easy to fold flat and store away—no need to worry about taking up too much space in your home or car.
Benefits
Convenient pet transportation for adventures
Sturdy and weather-resistant for long-term use
Multiple entrances and ventilation for pet comfort
Smooth ride on any terrain with large wheels
It takes up a minimal amount of space and is easy to store
Drawback
Only for medium-sized dogs under 44 lbs and less than 20.75″ in length
Doggyhut Premium Pet Bike Trailer for Small, Medium or Large Dogs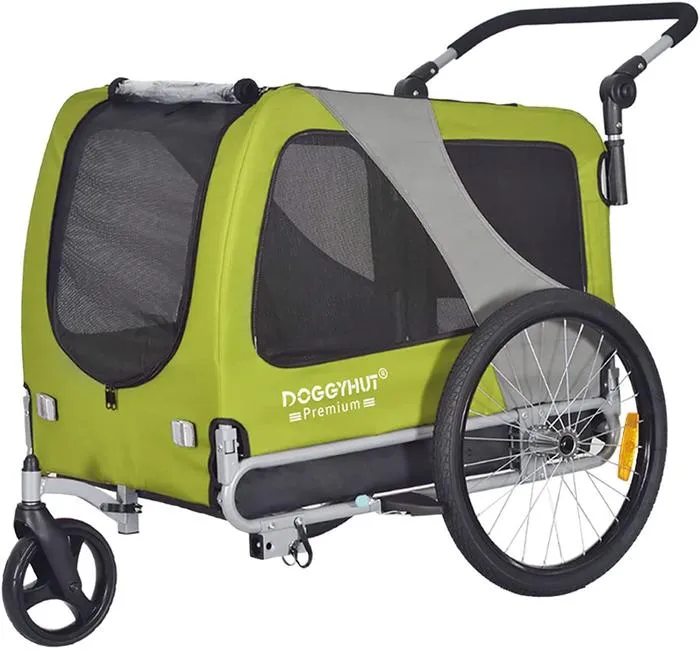 Frame Material: Alloy Steel
Max Weight Capacity: 50 Pounds
Seating Capacity: 1
Max Height: 26 Inches
Item Weight: 28 Pounds
Item Dimensions: 43.5 x 25 x 38.5 Inches
Whether you've got a small, medium, or giant doggo, the Doggyhut Premium Pet Bike Trailer & Stroller is the ultimate ride for your dog. This bike carrier will keep them safe and comfy on your outdoor adventures.
You can take your pet anywhere with a versatile design that easily converts from a bike trailer to a stroller. With its durable construction, weather-resistant canopy, and smooth-rolling wheels, this pet trailer is the Wonderfull.
Fit for All Dog Sizes:
This small dog bike trailer is perfect for small to medium-sized dogs with a max shoulder height of 18 inches and length of 26 inches. You should measure your dog before ordering to ensure that it fits properly. Use it as a bike trailer, stroller, crate, or car seat – this carrier does it all. Perfect for those who love to take their pets everywhere.
Durable Construction:
This carrier is built to last with its powder-coated steel frame and waterproof 600D polyester. Its anti-slip floor made of solid PE board will keep your pet safe and secure.
The front door features a zippered mesh screen layer and a vinyl layer to block wind and weather. Rear door zips open for easy entry and exit of your pet.
Smooth and Safe Ride:
Your pet will enjoy a smooth ride with an 8″ swivel front wheel and 16″ air-filled tires. It has wheel guards, reflectors, a safety flag, and a dog leash for extra safety.
This one of the best bike trailers for dogs assembles in minutes and folds flat for easy storage and transportation. Perfect for on-the-go pet owners. Interior Dimensions of trailer measure 26.5 x 17.5 x 19.5 inches, providing ample room for your dog to relax and enjoy the ride.
Benefits
Versatile design for multi-functional use
Durable construction for long-lasting use
Weather-resistant design for all-weather use
Smooth and safe ride for pets
Spacious interior for pet comfort
Drawback
It may be bulky to store when assembled.