Hoverboards can be expensive at times, but not all of them have a $1000 price tag. Luckily, the best cheap hoverboard is available in an affordable range in the market with all the perks of the expensive options.
Usually, it is the rule of thumb that you get what you pay for, but not every good thing comes at a high price. By buying the hoverboard for a cheap price, you may miss some luxury features of the expensive hoverboard, but this is the ultimate choice for the newbies or the riders on a budget.
When buying a cheap hoverboard for adults, you may think you are sacrificing the ride and build quality for a few bucks, but this is not true for all budget hoverboards. Most manufacturers are making cheap but good hoverboards for the customers in the lower bracket to give them a feeling of riding the hoverboard, same as with the expensive ones.
However, there are some riding restrictions and few cuts in the motor power and battery department. But the good thing is that they all come with the UL certification, which makes them safe for use.
Top Choices
5 Best Cheap Hoverboard in 2023
Due to advancements in technology and continuous innovation, every new hoverboard comes loaded with features. This innovation also increased the chances of getting the best cheap hoverboard due to the variety of options.
People can get confused about selecting the right hoverboard for an affordable price. To address this situation, we are here with a comprehensive guide of the top 5 cheapest hoverboards. Let's get into the brief review of each product followed by the buying guide without further delay.
LIEAGLE Best Affordable Self Balancing Hoverboard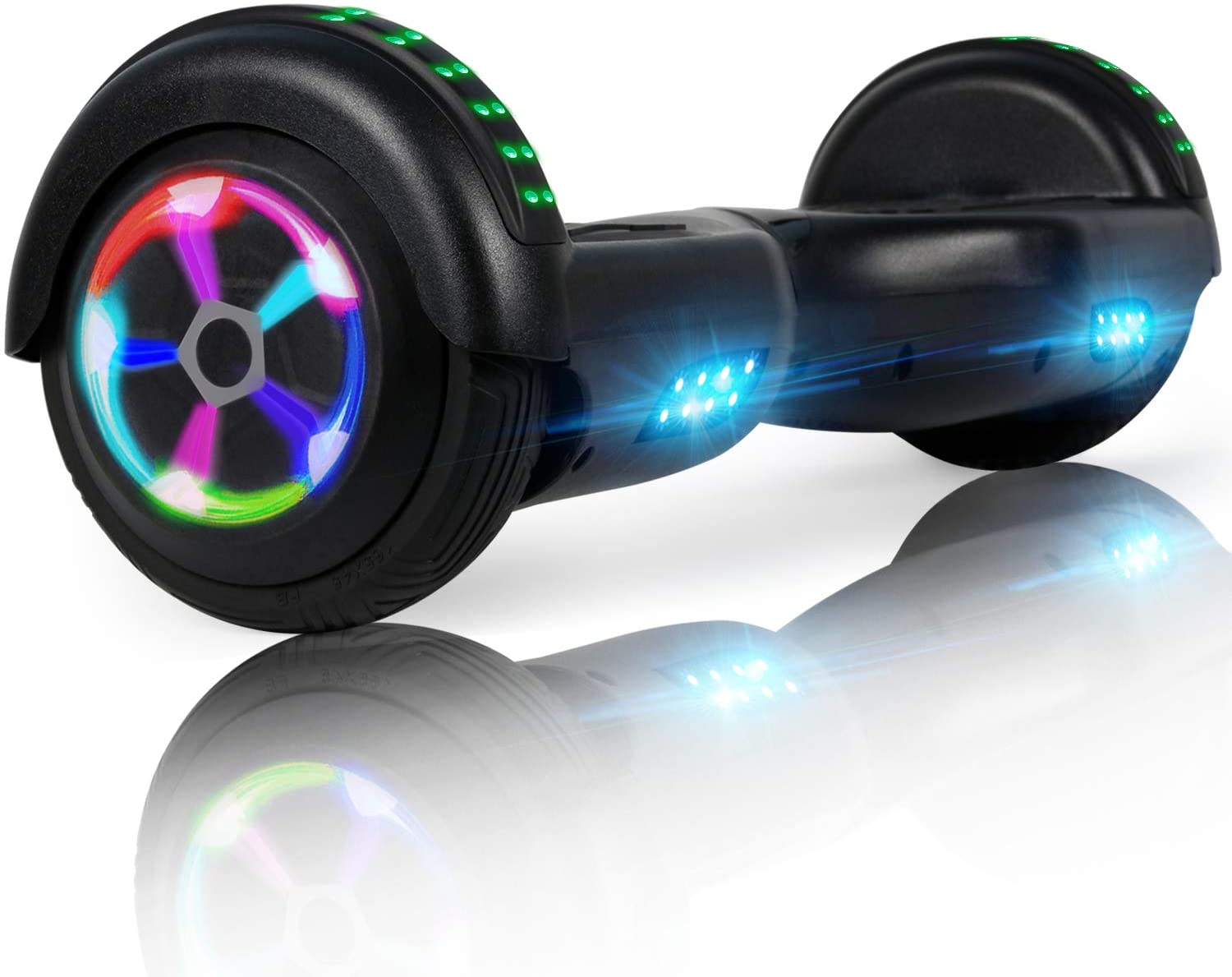 Motor Power: 600W
Top Speed: 7.5 MPH
Travel Range: 6 miles
Max Weight Capacity: 200 pounds
Wheel Size: 6.5 inch
Affordably priced, the Lieagle hoverboard is the finest option due to its features, such as Bluetooth speakers, LED lights, and self-balancing functionality. Remarkably, this hoverboard is UL certified at this pricing, making it an attractive alternative for both adults and newbies who are just beginning to explore hoverboarding and are searching for a low-cost but secure alternative.
Speed and Acceleration
Children and adults can enjoy riding the Lieagle good cheap hoverboard that ensures a better riding experience. Its robust 300W brushless dual motors provide smooth riding on plain terrain while also coping with slight uphills. The power is sufficient to take you through most terrain without trouble.
It is capable of reaching a maximum speed of 7.5 miles per hour under perfect circumstances. This pace is more than sufficient for novices and little children.
Battery and Range
The travel distance and range of the Lieagle hoverboard are not particularly noteworthy. It comes with a lithium-ion battery that ranges up to 6 miles per charge, relying on numerous parameters such as the rider's weight, weather, and terrain.
If we translate the distance traveled into hours, the battery has a capacity of one hour of commuting time. The recharge time for this board is usual, and it shouldn't require more than 2-3 hours to get it ready to let you ride again.
Build Quality
Using your new Lieagle hoverboard, you can now ride over the roads in comfort and style while experiencing a comfortable ride. Featuring two huge 6.5-inch tires that are both robust and adaptable to various surfaces, this hoverboard is ideal for enjoying a pleasant experience both indoors and outside.
Apart from its amazing functionality, this board is also available in various colors, allowing you to choose the one that best reflects your style. Even after years of use, you will not be dissatisfied with the quality of construction.
Ride Quality
With its design and build quality, the Lieagle cheap all-terrain hoverboard does provide a good riding experience for novices. This Lieagle cheap hoverboard has an anti-slip design that makes it simple to ride and stable, making it an excellent choice for first-time hoverboard users.
This is a very user-friendly board that incorporates the most up-to-date self-balancing technology to help you maintain your balance while riding. You can find yourself performing more sophisticated stunts such as 360-degree rotation.
Additional Specifications
Hoverboarding while listening to your favorite music is possible by the Bluetooth speaker included in this Lieagle hoverboard. You don't need to use earbuds or headphones anymore while riding as the sound effects created by the speakers are quite crisp and loud.
Lieagle is the best hoverboard under 200 that makes the journey in the middle of the night more magical by using LED lighting. They illuminate in a variety of colors and flash alternately to increase visibility and assure the safety of riders during nighttime or evening trips.
PROS
Performance and power are outstanding.
Battery and components that have been UL certified
Exceptional value for the money
It is simple to ride and maintain balance
Superior durability and stability when compared to competitors
Jolege Self Balancing Cheap Hoverboard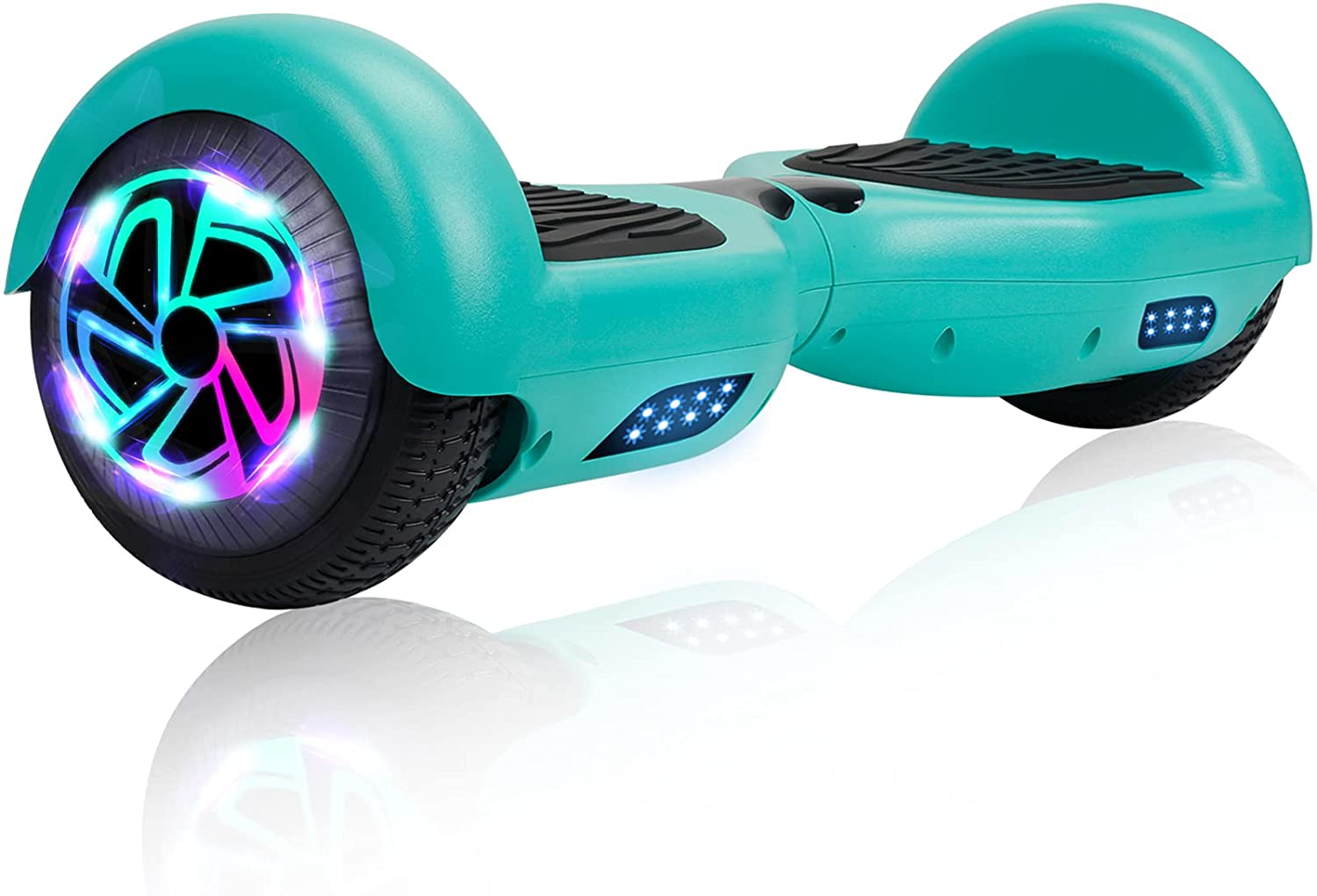 Motor Power: 320 Watt
Top Speed: 6-8 MPH
Travel Range: 9 miles
Max Weight Capacity: 265 pounds
Wheel Size: 6.5 inch
Jolege Best Cheap Hoverboard is the best cheap hoverboard due to its excellent self-balancing at an affordable price. It has a smart design with sturdy and reliable construction to withstand years of usage on both asphalt and off-road terrain. The tires and frame support both kids and adults with ultimate stability on the go.
Speed and Acceleration
With its high efficiency and simplicity, this hoverboard is perfect for beginners. With a maximum speed of 6 miles per hour, you will have no trouble riding it around the neighborhood. Moreover, it feels secure because this variant is extremely steady when traveling on the road.
Battery and Range
These best-in-class hoverboards have lithium-ion batteries with limited charge carrying capacity. Their range is between 6 and 9 miles on a single charge, typical for this type of vehicle. However, for most short commutes, the range is perfect. Because it takes up to 2 hours to recharge, the recharge period is sufficient to cover the travel distance.
Build Quality
Because of the heavy-duty design of this hoverboard, it can last for a prolonged period. Frame and tires are important components for a durable hoverboard, and you will enjoy the durability of this hoverboard.
It is capable of supporting a weight of 265 pounds, which distinguishes it from the competition. However, you may look for the best electric hoverboard for adults for better choices. The material used to construct this best board is lightweight and sturdy.
Jolege hoverboard Safety
To ensure that the Jolege hoverboard is secure to use, it has passed a comprehensive battery certification. The UL2272 certification confirms that the battery and operation of this gadget are of the highest possible quality, allowing you to put your trust in its safety standards.
It does not burst into flames or explode into bits as a result of overheating while in travel. This certification criteria ensure that it can support their child's and adult's weight easily without tripping during the ride.
Plus Points
Rubber tires are not encouraged for off-road use, but they are excellent for asphalt city streets and give added protection throughout the journey. They also look fairly amazing as they come with LED lights. The rubber pedals of the Jolege hoverboards are anti-skid and rotatable to 360 °, making them ideal for children and teens.
Bluetooth Mount
This Bluetooth hoverboard is an excellent choice to provide your children with an enjoyable riding experience. Overall, they are the best cheap hoverboard in 2023 due to the additional features they offer and their ability to support greater weights.
PROS
Excellent product and manufacturing quality
Durable and risk-free ride
The speed that is reasonable and dependable
Bluetooth speaker with superior sound quality
Exceptional value for the money
CONS
Concerning warranty structure
Tomoloo Best Inexpensive Self Balancing Hoverboard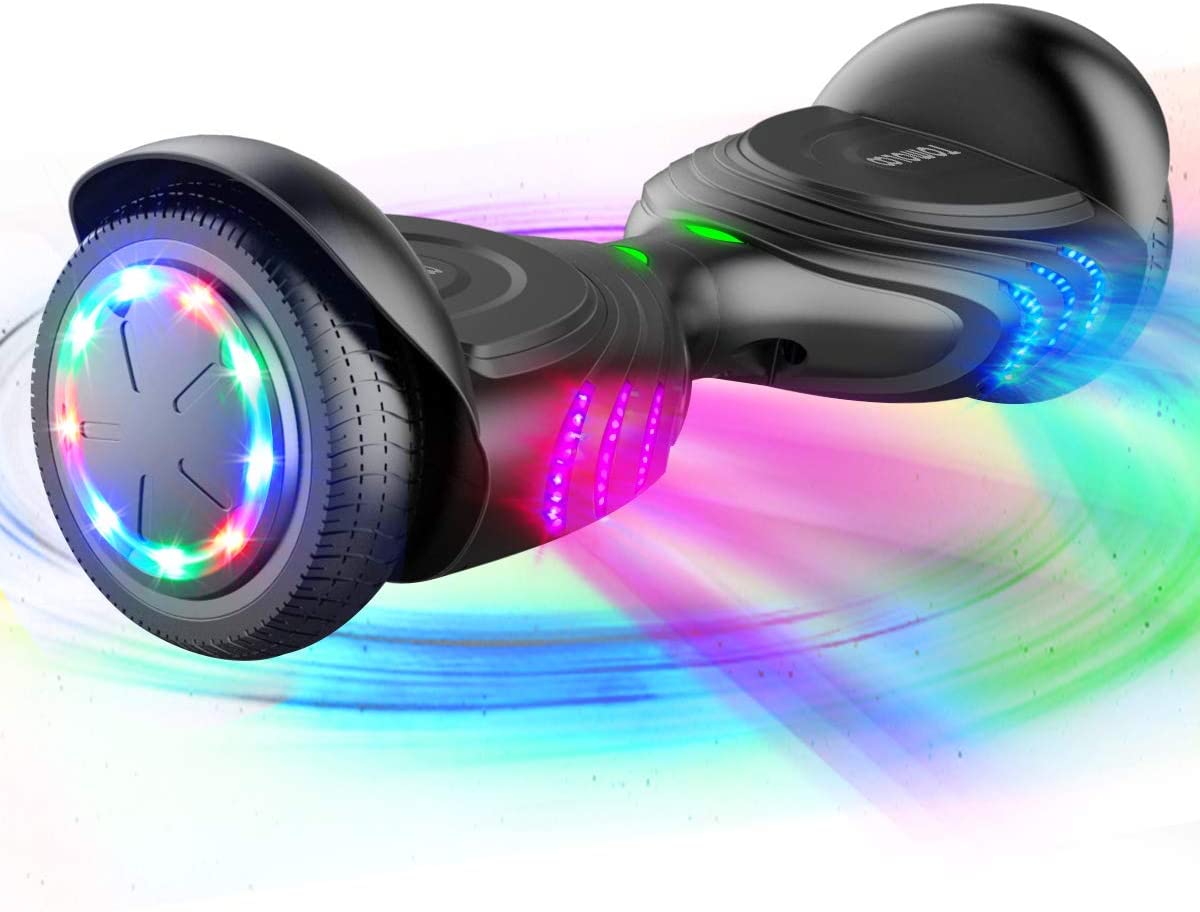 Motor Power: 700W
Top Speed: 7.5 MPH
Travel Range: 6.2 miles
Max Weight Capacity: 165 pounds
Wheel Size: 6.5 inch
Warranty: 12 months
The Tomoloo Music-Rhythmed Cheap girl hoverboard has solid tires, a robust body, and efficient motors that allow it to reach speeds of up to 7.5 miles per hour. The speed is perfect for safe travel.
However, you can manage the speed of your hoverboard by installing an app, ensuring that your children remain within your specified boundaries of the speed.
Speed and Acceleration
Tomoloo Music Rhythmed is the best hoverboard for girls and five-year-olds due to its speed being within a safe range and stylish body. It is also a fantastic alternative for those just getting started with hoverboarding, as it is quite user-friendly. The rider's riding skills get improved as a result of the slow and more restricted pace.
Its 700W motors are sufficient for cruising around the city while keeping the young ones safe and secure on the road. Because of the lower top speed, it is much easier to bring the hoverboard to a halt in an emergency, which is great for beginners.
Battery and Range
This hoverboard comes with a lithium-ion battery of exceptional quality. Although it has a smaller capacity than its counterparts, the performance remained its most outstanding attribute. You can feel safe due to UL-tested batteries since they will not overheat or catch fire during the ride.
Tomoloo cheap, safe hoverboards have a range of 6.2 miles on a single charge, which is impressive. This range may seem low for long travels. However, it fits well for the kids commuting as kid's hoverboards are mostly intended for fun.
Build Quality
When compared to its competitors, this hoverboard features one of the most durable build qualities. It demonstrates the same level of durability against excessive wear as some of the more expensive hoverboards. Tomoloo distinguishes itself from the competitors with its fire retardance, temperature resistance, higher strength, and toughness.
The Tomoloo comes with large and wide tires that allow it to go long distances effortlessly over various terrain. It is possible to ride over rough terrain easily because the tires are wider than the conventional size. This allows for safe riding up or down low slopes.
Safety Measures
TOMOLOO has received both UL 2271 and the UL 2272 certifications. The UL2271 ensures that the battery does not burst into flames or blow due to malfunction. UL2272 certification confirms that the hoverboard is suitable for use, providing the best possible riding experience for the rider with safe batteries.
Extra Features
The Tomoloo hoverboard electric scooter cheap is the best riding in low light conditions. While you're cruising around your neighborhood or through urban roads, the surround sound and LED lights to provide the perfect light display for you. When it comes to sound quality, there is a fine blend, which allows you to enjoy listening to music while riding.
It is possible that your child would enjoy the built-in Bluetooth 4.0 technology and smooth hollow layout on this board if they are a music lover. They can use a smartphone to wirelessly connect their favorite music to it, allowing them to enjoy while cruising around in comfort.
PROS
UL 2271 and 2272 certifications ensure its safety
It has Bluetooth connectivity that is second to none
Younger children will benefit the most from this hoverboard
Durable and well-constructed for long-term use
Jetson Spin Best Budget Hoverboard For Adults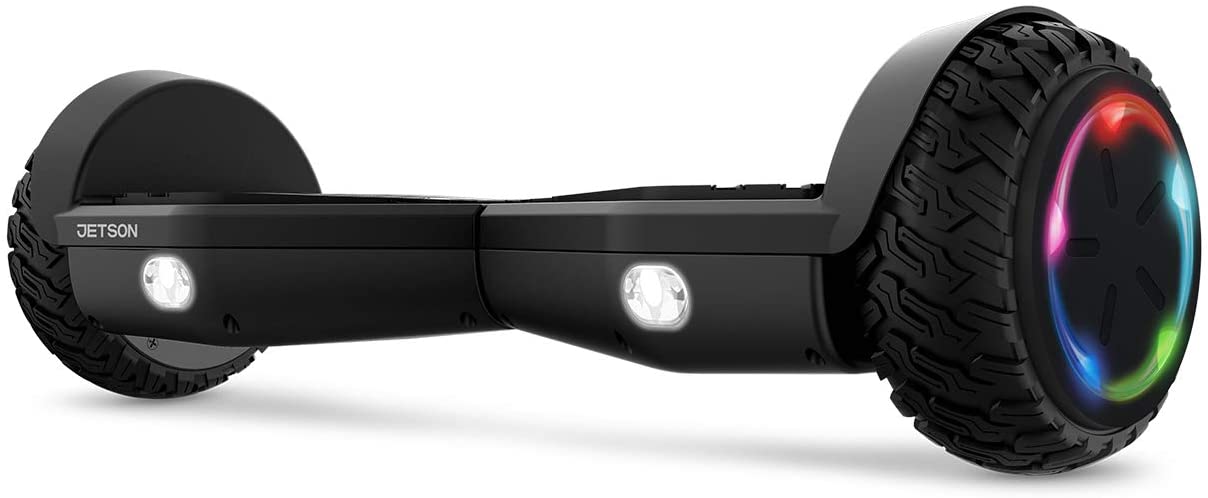 Motor Power: 300W
Top Speed: 7 MPH
Travel Range: 7 miles
Max Weight Capacity: 220 pounds
Wheel Size: 6.5 inch
The Jetson Spin is the latest cheap hoverboard which is a perfect choice for kids and adults because it is lightweight and easy to maneuver. Its weight-bearing capacity makes it ideal for long-term use for people of all ages.
A combination of reasonable speed, good build quality, and outstanding mileage make it a fantastic pick for anyone searching for a comfortable and robust board.
Speed and Acceleration
It comes with a 300W motor that can deliver high performance on most terrain. The rider never feels a lack of power during the journey because the motor delivers high performance because of its excellent acceleration.
On a Jetson Spin hoverboard, you may anticipate reaching a top speed of 7 miles per hour in optimal circumstances. This pace may appear less than ideal to riders accustomed to riding high-speed vehicles, but it appears to be ideal for hoverboard users. Its riding modes aid in learning, especially for kids and new riders.
Battery and Range
Jetson uses a 2.0Ah Lithium-ion battery, with a maximum range of 7 miles for a full charge. The hoverboards have a greater range than the standard hoverboards at this price, with speeds ranging between 6 and 9 miles per hour. You will be able to ride on all surfaces with comfort because the battery and motor seem to have enough power to transport you anyplace.
Because of the lithium-ion battery, the battery's lifespan seems impressive with 3-4 years of use. When you want to recharge the hoverboard, you can use the standard charger that comes with the purchase.
Build Quality
In terms of construction quality, the Jetson Spin hoverboard shows no sign of cheap materials in its construction as all the materials are of high quality. The plastic appears to be solid and resilient, although it is lightweight. Because it is only 15 pounds in weight, you will have no trouble transporting it to and from work or school.
Aside from the lightweight and compact, the ride quality is amazing on any type of surface. It can absorb the shock during the ride with comfort. If you weigh 220 pounds, you will have no trouble riding the hoverboard because it has a good weight capacity for people under the allowed limits.
Safe Ride
Despite its low cost, Jetson did not make any compromises on the safety of its riders. It carries the UL certification, which provides a safe ride for you. It prevents any charging and battery problem and ensures protection from malfunctioning.
More Features
The LED lights on the tires of the Jetson hoverboard are a terrific feature of the device, which are way better than lights on a cheap Segway hoverboard. These lights shine brightly and add to the overall beauty. 
They are more noticeable in low light conditions, but they are easily visible in the daytime due to high brightness. In addition, two LED lights at the front of the hoverboard improve the road visibility for the rider.
PROS
Highly compact and light in weight
Solid construction with high-end materials
The design appears to be appropriate for comfortable rides
Riding is less difficult and more enjoyable
It has stable control due to active balance technology
CONS
It has stable control due to active balance technology
Hover 1 Dream Best cheap Self Balancing Hoverboard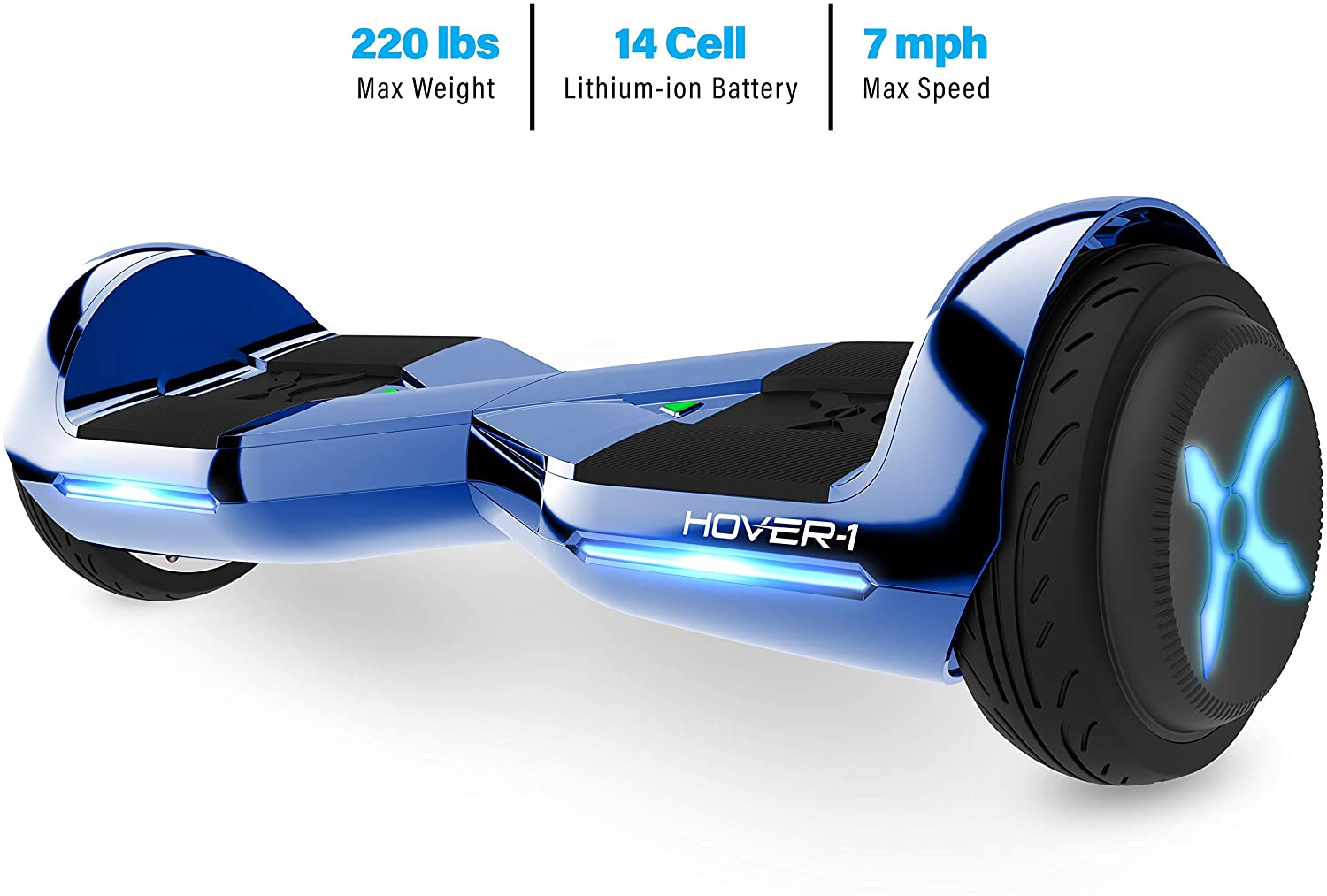 Motor Power: 400W
Top Speed: 7 MPH
Travel Range: 6 miles
Max Weight Capacity: 220 pounds
Wheel Size: 6.5 inch
Hover 1 Dream is the finest inexpensive hoverboard for kids and adults with a nice touch of speed and mileage. It is an excellent ride for getting from one place to another without fear about lack of power.
Its powerful motors equipped with a high-quality battery make it ideal for any terrain, while the build quality makes it reliable during the commute. If you are looking for a cheaper and inexpensive hoverboard, it is the right choice.
Speed and Acceleration
Its dual brushless motors allow the rider to propel through any terrain without much effort. You can cruise around at a good pace because each motor has 200W of power. Because the Hover 1 Dream hoverboard has a top speed that is more manageable, it is good for beginners who are intimidated by the idea of riding a hoverboard.
Almost any terrain is easier to traverse, thanks to the Dream 1 motors' strong performance. On the other hand, you should expect acceleration slightly restricted on grass and off-road terrain. However, it is capable of handling asphalt roads with a top speed of 7 miles per hour. 
Battery and Range
It is a cheap Hover 1 hoverboard with a lithium-ion battery having a capacity of 4.0 Ah and a 14 cell module. It can work efficiently for up to 5000 charging cycles. Because of the quality standards, it is safe for consumers of all ages since it does not burst into flames.
Aside from the reliability, the battery has a respectable distance of 6 miles per charge which is adequate for a hoverboard. An indicator for battery life comes with this hoverboard to make you aware of the battery's current state of charge. We got concerned with the charging time as it took 4 hours to fully charge the battery.
Ride Quality
Being the best hoverboard under $300, Hover-1 does not make any compromises regarding the riding quality. It has unique foot panels that allow you to swivel, turn, and tilt while riding. The concept is so simple that anyone may ride it without encountering any balance or riding ability difficulties.
Build Quality
The 6.5-inch tires on the Hover 1 Dream are not the finest for riding, but they perform admirably on most terrains nonetheless. In addition, the high construction quality assures that the rider is comfy while riding on the robust frame. It has a maximum limit of 220 pounds, making it an ideal choice for both children and adults.
Safety Notes
This hoverboard is ideal for ensuring the safety of your kids because of the anti-skid rubber footpads. This textured footpad provides good traction and a standing platform for perfect balance. A rider can balance well using these and feel secure while riding.
In addition to the safety features onboard, Hover 1 Dream has a UL 2272 certification. Additionally, it has a certified power adapter and has undergone MSDS and UN 38.3 tests, all of which contribute to its high level of safety.
Additional Features
When it comes to colorful LED lights, Hover 1 Dream has all the features you require. The tire's customizable LED lights keep you cruising in elegance while also providing you with the ability to select the color of the lights at any point throughout your journey.
PROS
Superior build quality
Customizable lighting options
A reliable and secure ridex
Decent cruising speed for the beginners
CONS
No Bluetooth connectivity
Basic Riding Follow-ups
Fast Cheap Hoverboard Riding Safety Tips
Everyone knows that only reliable hoverboards are good for usage, and the low-quality hoverboard can harm you and your surroundings. Buy the hoverboard only from the trusted manufacturers which have a sturdy and reliable body.
Only buy the hoverboards that can fulfill all safety conditions and pass the safety tests set by the UL certification. So, you need to research this certification and then buy the best hoverboards that meet all the safety conditions. Don't worry; all the hoverboards included in our list are UL certified and authentic.
Let's start with the basics of riding the hoverboard.
Practice in Controlled Environment:
If you are a beginner, then it is recommended that you use the training mode and ride your hoverboard on paved roads and carpets. Because in the learning process, you may face slight accidents and balance issues.
So, to avoid minor accidents on carpets as they reduce the speed of your hoverboards, followed by turning on the training mode. If you ride on paved roads, not only will you remain safe from accidents, but also your hoverboard remains safe from bumps.
Avoiding the road bumps and irregular surface when learning to ride improve your balance. When you become an expert, you can ride your hoverboard in any terrain and bumpy places if the size of wheels and the power of your motor allows you.
Always Watch for Legal Requirements:
Every country has its own rules and regulation about transportations. In some countries, you can ride the hoverboards in public places, and in some countries like the UK, riding in public is not legal.
But you can ride hoverboards indoors. So in this case, you need to buy that hoverboard that has specifications for the indoor ride. In the US, some states allow using hoverboards in public parts and close spaces so you can still enjoy the ride while following the legal protocols.
Improve You Riding Instincts:
Like any other vehicle, motorcycles, and cars, hoverboards also need practice. Practice makes a man perfect, and without perfection, you might have an accident and endanger yourself.
Before hitting the road, practice on grass or carpet because both places check on speed and reduce the impact of falling. Also, remember to wear a safety kit during the ride to remain safe from any injury. This safety kit keeps you safe during the learning phase.
Follow Precautionary Measures:
In the past, hoverboards caught on fire due to low-quality materials. Nowadays, this is not common as hoverboards pass through vigorous testing. Although, UL certification makes the products safe from overheating and battery explosions. But there is still a need to keep your hoverboards away from the flammable material during charging.
For getting info
Buying Guide for Best Affordable Hoverboards
These inexpensive and best cheap hoverboards, listed above, are all different in design, capacity, specs, and even in performance. Some of the models are good for kids, while some suit both kids and adults.
That's why everyone needs to have a look at the features before buying the hoverboard. Only consider buying the one which suits your needs. There are some features given below which may help you to select a super cheap hoverboard.
Top Speed:
The top speed of any self-balancing hoverboard is different from one model to another. It is up to you which speed you want to have on your hoverboard. The speed limits are between 6 to 10 miles per hour in most of the hoverboards. Lower speed is best for the beginner and kids who just started learning hoverboarding.
But if you are an expert in riding, you may choose the top cheap hoverboard on your budget. The 7 miles per hour or greater speed range is enough to give you an excellent riding experience. Any speed exceeding 8 miles per hour is risky for the kids and beginners and only suits experts that can handle the high speed.
Range in Miles:
The travel range depends on the speed, battery, motor power, and type of terrain. The range is different in different hoverboards as some can go for 6 miles while others can get to an extended range of 12 miles in a single charge.
Although, it is difficult to find a cheap and inexpensive hoverboard with a range greater than 10 miles on a single charge. Still, Jolege is the best cheap hoverboard that can provide 9 miles travel range in a single charge.
Motor Power:
The performance and speed of the hoverboard primarily depend upon the motor power. If the motor of the hoverboard is powerful, it can generate better acceleration and speed. Higher motor power will allow the hoverboard to go faster, carry more weight, and ride even on steeper slopes.
Most motors produce up to 400 to 800 watts, but when we talk about cheap off-road hoverboards, they can produce up to 700 to 800 watts of power to get you through rough terrains. So that, choose the hoverboard, which offers more power for better performance.
Recharge Time:
The recharge time also decides the fate of your ride as you don't want to get always stranded on the charger. The recharge time varies from 2 to 5 hours for most hoverboards, depending on the model and manufacturers.
Usually higher the battery capacity, the more it takes to charge the hoverboard. So, before buying, always consider the recharge time according to your needs.
UL Safety Certifications:
No one can compromise on the safety of rideable gadgets. When you are looking for a white cheap hoverboard, check whether it has passed the safety standards or not. Don't compromise on the safety in exchange for saving few bucks.
Weight Limit:
Always buy that hoverboard that is compatible with your weight. If you want to buy an off-road hoverboard cheap that does not match your weight, you can have a problem riding, and it can break easily.
Mostly, hoverboards offer a weight limit of 44 to 220 pounds, but some of the brands offer to carry heavy weight so that the heavy guys can also enjoy the ride. The weight of the hoverboard is also an important thing that also remains under consideration.
It has less weight so that you can easily carry it from one place to the other. If the hoverboard is bulky, then you may drain all your energy to carry around. Choose one that weighs between 20 to 30 pounds, especially if you're buying for a kid.
Wheel Size:
The wheel size is also not the same in all the models as it differs for each model. There are some common sizes like 6.5, 7, 8.5, and 10 inches. Cheap pink hoverboard and Segway hoverboard cheap are the common examples for the 6.5-inch tires.
You can decide the size of wheels by the surface at which you want to ride. If you want to ride in rough terrain and bumpy places, you prefer a size above 6.5 inches.
Brand Reputation:
When you want to buy a cheap hoverboard, you need to choose a brand with a good reputation. The hoverboard includes in our list is of good reputation due to their best build quality and superior features. Moreover, these top brands are UL certified, which means that they are safe.
Addons Features:
Each hoverboard varies from the other due to the features it offers. Like cheap Lamborghini, hoverboard lacks Bluetooth speakers, the hoverboards in our list have Bluetooth connectivity, smartphone app integration, and LED lights. In some of the hoverboards, there is another extra feature of the training mode, which makes it easy for you to learn how to ride properly.
Hoverboards are an excellent gadget for riding short distances with added fun. For getting the best cheap hoverboard, you need to keep in mind the features and specifications. We have provided you with a list of the top 5 cheapest hoverboards that exhibit some excellent features and build quality for your all kind of commuting needs.
If you want our recommendation, then Jolege Best Cheap Hoverboard is our top pick. It offers great features and pricing, which suits kids, adults, and beginners who just started their hoverboard journey. It is the fastest cheap hoverboard with up to 8 miles per hour top speed, showing what wonders it can do while commuting.

Best Recommended Product
What is the best cheapest hoverboard?
Jolege is the best cheapest hoverboard due to its excellent features and builds quality. It is suitable for both kids and adults. The powerful motors, self-balancing, good travel range, and UL certification makes it the best choice.
Do Affordable hoverboards come with a warranty?
Yes, some of the brands come with different periods of warranty. Like LIEAGLE hoverboards have three months of warranty, the Tomoloo Music Rhythm hoverboard comes with one year warranty. This is a generous thing from the manufacturers and reflects the excellent customer service.
How much does the cheapest hoverboard cost?
Mostly, the price ranges from $100 to as much as $300 on the cheap hoverboards. The good point is that hoverboard's lowest price circulates from $150 to $200. However, the price range also depends on the features of the hoverboards. As the features of hoverboard increase, the price range also becomes high.
Do cheap hoverboards come with a Bluetooth speaker?
Yes, the cheap hoverboard in the market comes with built-in Bluetooth speakers. These hoverboards even cost less and also offer additional features like LED lights. But you might have a compromise on the quality of sound as compared to the high-end hoverboards.