A mobility scooter is an electrically powered chair on wheels with a steering tiller designed to carry people with mobility impairments. They are also known as electric, power, or motorized scooters. Many models of mobility scooters are available on the market, so knowing which one is right for you can take time and effort. The best way to decide is to think about how and where you will use your scooter.
Keeping that in mind, I've selected two of the best mobility scooters for outdoor from the market. They offer different features that might suit various people, so read the whole article to find the perfect one for you. You can also check out the products' features, benefits, and drawbacks and compare the specs before selecting the perfect one according to your need.
Top Pick List
5 Best Mobility Scooter For Outdoors Reviews
Senior citizens or disabled people mainly depend on others for transportation purposes. Using these mobility scooters, they do not have to rely upon others to push them forward like a wheelchair. No more dependency feeling present in your grandparents. Mobility scooters for Outdoor Use are specially designed to travel faster. They operate their own set of mechanisms that control the specification of speed and range.
Nothing can ease the disabled than this kind of vehicle. It is versatile and portable. You can quickly assemble and disassemble it. It will be an add-on to your improved lifestyle. Your comfort and efficiency will surely increase. We have chosen the 5 best outdoor mobility scooters for the elderly in your family.
Drive Medical Travel Power 4 Wheel Outdoor Scooter for Adults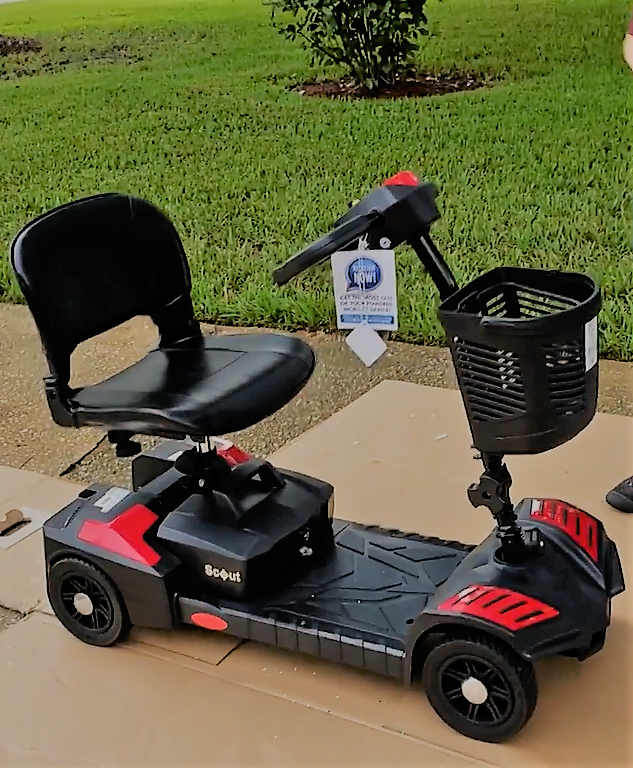 Age Range: Adult, Patients
Maximum Speed: 4.25 mph
Number of Wheels: 4
Motor: 270 Watt
Range: 15 Miles
Battery: 24 Volts
Weight Capacity: 300 Pounds
Tire Size: 8 x 2 Inch
The Scout Compact Travel Power Scooter from Drive Medical is an excellent choice for those who need a little help getting around. This scooter is easy to maneuver and disassemble, making it perfect for taking with you on the go. The four-wheel design provides stability, and the padded seat and armrests make for a comfortable ride.
Ergonomic Design:
It is quick and easy to disassemble, and the interchangeable color panels make it easy to keep the scooter looking new. The height-adjustable swivel seat and fold-down backrest make it easy to get in and out of the scooter. The armrests are padded and adjustable for added comfort. The large plastic carry basket is perfect for carrying groceries or other items.
Flat-Free, Non-Marking Tires:
The Delta tiller is easy to adjust, and the ergonomic throttle control makes it easy to get around. The flat-free, non-marking tires with anti-tip wheels make it an excellent choice for indoor and outdoor use. These best mobility scooters for outdoor comes with floor-to-seat height is 17-19 inches, and the front and rear wheels are 8 x 2 inches.
15 Miles of Max Range:
The seat width is 16.5″, which is a good size for most people. The max speed is 4.25 MPH, which is fast enough to get around but not too fast to be dangerous. Its climbing angle is 6 degrees, which is steep enough to overcome most obstacles. The maximum range is 15 miles, which is plenty for most people.
PROS
Transportation is easy due to its compact and lightweight design
Easily disassembles into 5 pieces for storage or transportation
Assembly requires no tools
Comfortable swivel seat with padded armrests
Adjustable tiller for customized comfort
Pneumatic tires for a smooth ride
Includes front and rear storage baskets
CONS
A maximum speed of only four mph
Vive 4 Wheel Best Mobility Scooter For Outdoors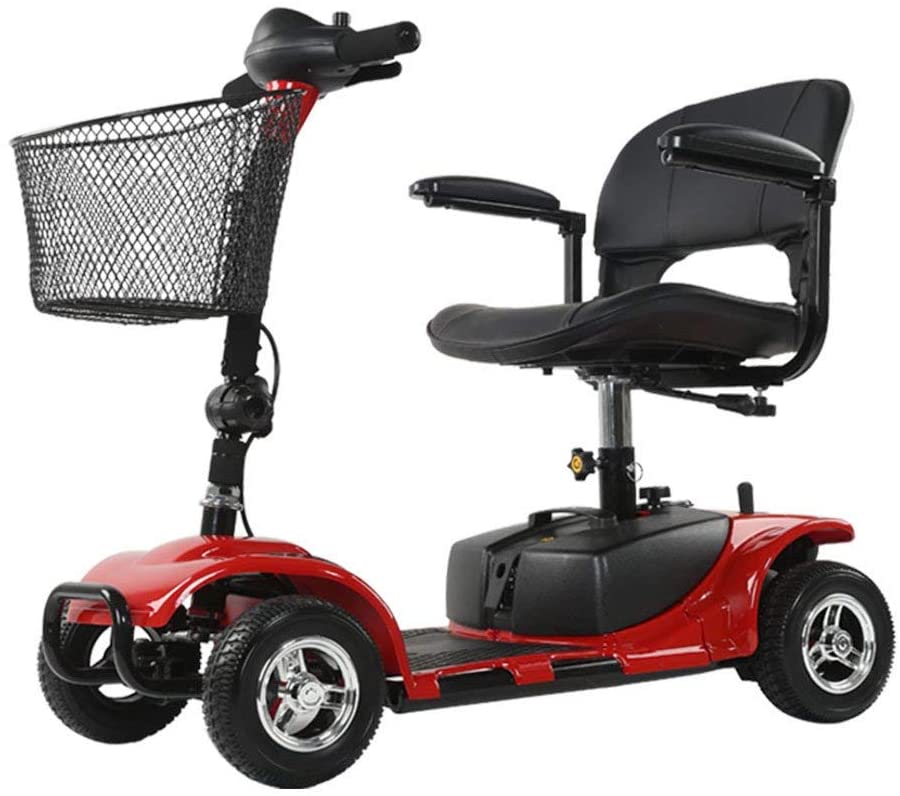 10-16 miles range
Speed 4.5 mph
Length 43.7″
Width 20.47″
Height 36.22″
Wheel size 8″
Vive is the company that is responsible for mobility vehicles provider. The company has been working for 20 years, and it brings the customer joy of riding by their newly designed vehicles. Several products are sold by the company every year.
They provide world-class support, and their customers are delighted. Their best mobility scooters for outdoors have matchless performance among all the products. Watch out for its benefits and then decide to buy it at once!
Convenience
The best portable mobility scooter for outdoor is suitable when going short-distance traveling. You can easily disassemble this mobile device. It is reliable and gives you 100% safety. It gives you convenience and control in driving.
Freely Adjustable
You can rotate the seat and adjust its height for your convenience. You can also change the direction of the seat when you need to be seated and also need to get off the form the scooter. The width of the arm sets can be set at your usability. The angle of the direction rod can be accommodated for your suitability. The scooters for disabled adults should have this characteristic for sure.
Mileage and Speed
The max speed of 4.5 mph is excellent to travel for short distances like you can reach your office and grocery store near you. The range offered by this e mobility scooter is 10-16mph. The outdoor fast electric mobility scooter can proceed you towards your destiny in a rush.
Prevent Tipping
This rugged outdoor mobility scooter not only allows better running possibilities but also prevents you from rolling over. The anti-tipping wheel is present above the rear wheels that keep you stable if the scooter silts in traveling. The best mobility scooter for outdoor does not turn back and you don't need to worry about the risks.
Medical Scout
The intuitive driving board is suitable to operate spontaneously with a single finger. It is beneficial for senior adults. It gives a medical guide to disabled and disabled persons. It runs steadily, and a risk free drive gets you better opportunities to reach your destination faster.
PROS
It is lightweight and portable.
Easy assembling and disassembling options
It has an adjustable and rotating seat.
Adjusting the height and direction of the seat.
Good mileage of 16 miles range
Anti-rolling wheel to prevent from rolling over the danger
CONS
Available in only one color
Must be affordable
Travel Pro 3-Wheel Best Portable Mobility Scooter for Outdoors
3-wheel scooter
Speed 4 mph
6.3 miles drive range
Weight capacity 275lbs
Overall Width: 22.3″
Overall Length: 37″
Seat Width: 17″
Max Seat to Deck Height: 17.25″
Pride mobility scooters are the best vehicles because of their different models and specification. You can buy the best mobility scooters within your budget. It has safety certification and is specially designed for senior citizens, which helps them achieve their mobility goals.
Pride is the company that manufactures environmentally supporting devices with passion, modesty, and professionalism. Its mobility scooter for outdoor use yields smashing execution when considering agility.
Maneuverability
Traveling with this outdoor scooter for adults bestows you maneuverability in tight spaces. It has a sharp turning radius that benefits you with a high range of travel. The flat-free tires are good for off-road driving. You can supervise the onward and reverse movement freely. It can take a load of 275 lbs that means heavy adults can also travel on it leisurely.
Transportable
The quick disassembly of this lightweight, fantastic mobility scooter gets you to make free decisions to transport it during long traveling by air or train. It will be segmented into five spare parts. You can carry it independently. No need to fetch a heavy load.
Comfort
If the seat of your scooter isn't comfy, you will face difficulty and results in body pain. Our selected outdoor fast electric mobility scooter has a fully padded faux leather seat. Plus, you can correct the height concerning your size. The padded armrests are flappable to board and exit the vehicle. You can store your water bottle and other items in the front basket of the outdoor mobility scooter storage.
Applications
The people use it peacefully indoors and outdoors. Whether you wish to do window shopping or just visit your buddies, it will take you to your destination. If you have plans of hiking or going on a picnic with your family, just sit over the seat and start the scooter.
You can visit the museum and supermarkets while passing through their halls and doors, having no difficulty running. It is one of the all weather mobility scooters.
More Specs
How do you feel when your scooter carries your teacup? It will be a wow feature indeed.
The cup holder carries your beverage cup vertically straight. You can enjoy tea or coffee in winter and can take fresh lemonade with you during summer. The saddlebag is attached that you can keep your mobile and wallet safely in it. The most delicate part of the best mobility scooters for outdoors is their storage possibilities.
PROS
It is a 3-wheel mobility scooter.
A sharp turning radius gives smooth drive in tight spaces.
Flat-free tires assure safety.
Easy forward and reverse control
Quick disassembly assists in taking in travel.
The comfiest and adjustable seat get you driving fun.
Front basket for keeping personal items
Easy to use indoors and outdoors
CONS
High in price
Specs are not included in it
BUZZAROUND EX Extreme Best Folding Mobility Scooter for Outdoors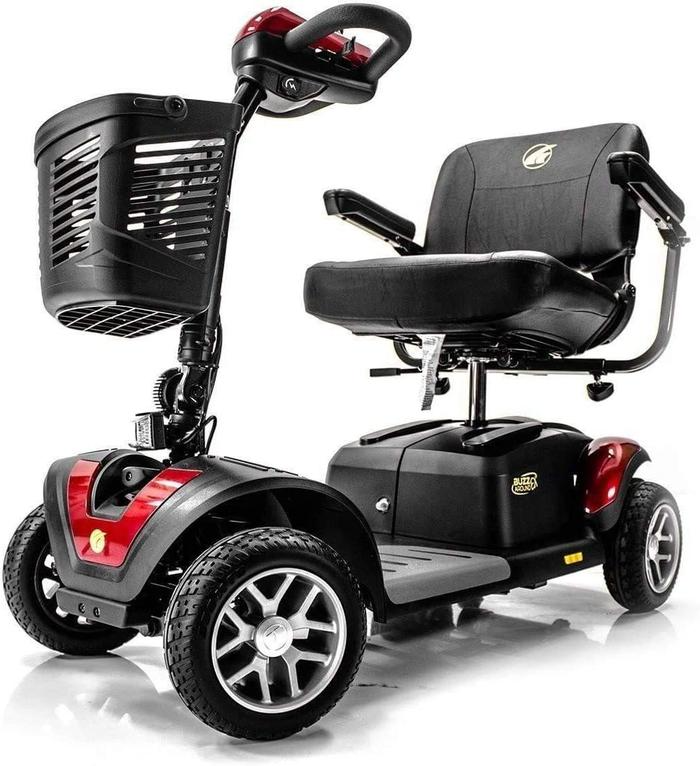 Maximum Speed: 5 mph
Number of Wheels: 4
Seat Height: 18 Inch
Motor: 250 watt
Range: 18 Miles
Battery: Dual U1 Batteries
Weight Capacity: 330 Pounds
Tire Size: 9 Inches
The BUZZAROUND EX Extreme comes with a powerful motor and large batteries; this scooter can travel up to 18 miles on a single charge, making it perfect for long days out and about.
The heavy-duty construction can support up to 500 lbs, making it perfect for those who need extra support, and the large wheels make for a smooth ride, even over rough terrain.
Up to 18 Miles Range:
It comes standard with 2 U1 batteries, the industry-leading and largest batteries in this category. This allows for a maximum operating range of up to 18 miles on a single charge.
It has a powerful motor that can easily handle rough terrain, and the large battery ensures that you won't have to worry about running out of power when you're out and about.
Comfort Spring Suspension:
One of the best features of this scooter is the comfortable spring suspension, which gives you a smoother ride even on rough terrain. The ultra-bright LED headlight and tail light are standard, so you can see and be seen even in low-light conditions.
The best mobility scooters for outdoor come with a charging port is conveniently located below the control panel, and the scooter has a 4-inch ground clearance so you can navigate over obstacles with ease.
Up to 330 Pounds Weight Capacity:
It offers a max speed of 5 mph and a weight capacity of up to 330 lb. The stadium-style height-adjustable seat is an excellent feature for those who want to be able to customize their riding experience. I love this scooter because it is so easy to maneuver, and the added weight capacity is a huge plus.
PROS
Portable and easy to disassemble
Increased weight capacity
Operating range of up to 18 miles
Comfort spring suspension
Ultra-bright LED headlight and taillight
Charging port below the control panel
4-inch ground clearance
CONS
More expensive than some other scooters
Ephesus S5 25 Miles Best Mobility Scooters For Outdoor Use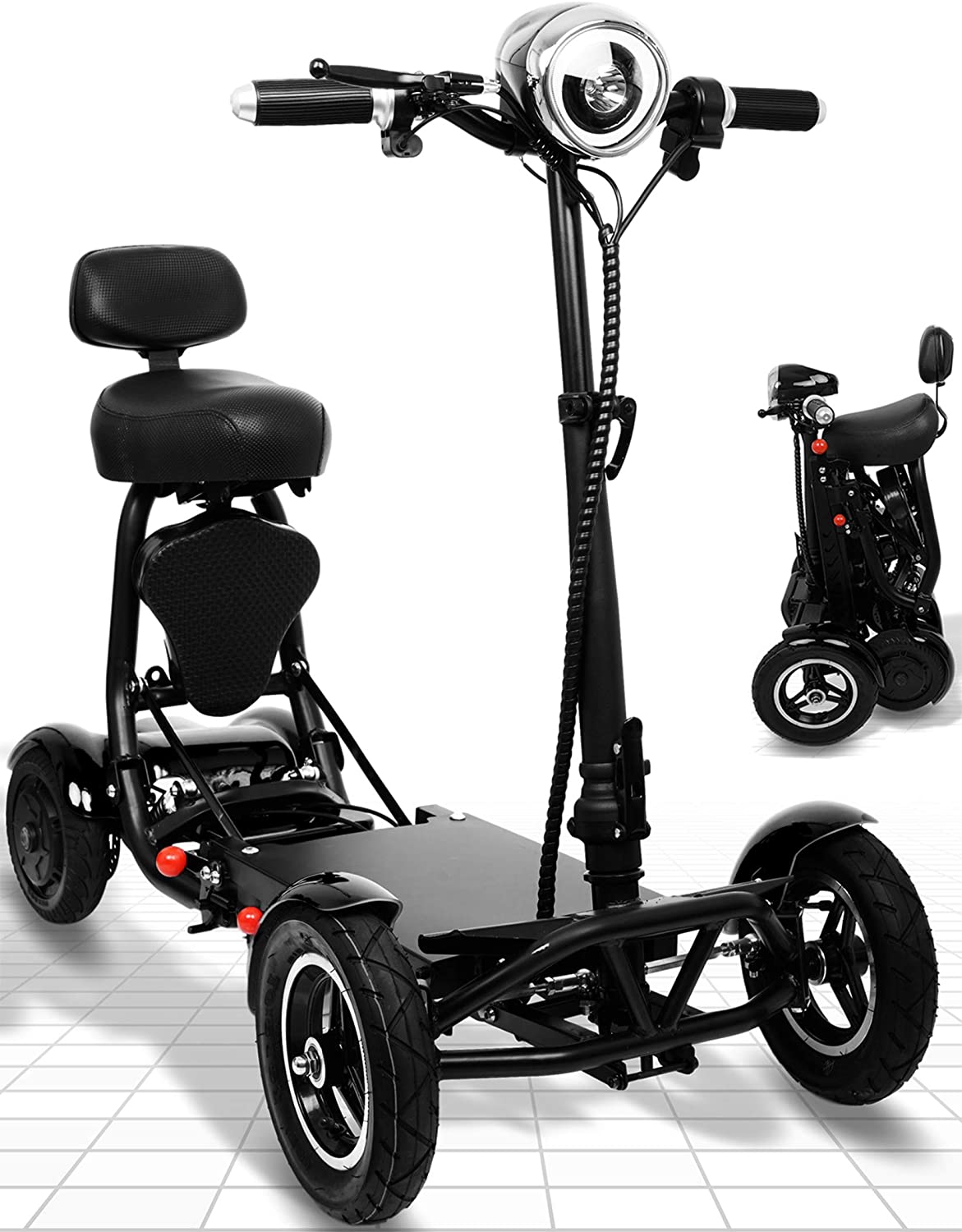 62 lbs weight
25 miles range
12 mph speed limit
Speed 1: 3.75 mph
Speed 2: 7.5 mph
Speed 3: 12 mph
7″ direction bar
Ephesus is the fastest-growing mobility aids provider, which is famous for making scooters and wheelchairs. It has influential expertise in the health industry and applies this experience in making the best mobility devices. It makes sure comfort, freedom, and facility to the customer.
It uses advanced technologies and creates fun products for its users. It sells its product all over the globe. Its outdoor fast electric mobility scooters are well-known devices for the disabled and injured to use at their convenience.
Lightweight
The latest model of this outdoor electric mobility scooter is the smartest and has the best features. It is lightweight because it weighs only 62 lbs, including its battery. It has four wheels which make it more stable and well provided for the journey.
You can use it on all rugged surfaces. It will protect you from falling and reach you to work within no time. It is indeed the leading best mobility scooter for the outdoors.
Long Range
The maximum speed of 12 mph makes you sure to reach up to 25 miles distance readily. Your range can be affected by the weather, road surfaces, handling operations, and other factors. But if you use it carefully, you can cover this extended range of 25 miles in a single battery charge. That is why it is an elite power scooter for adults.
Easy Control
Controlling this rugged outdoor mobility scooter is a child's play. You can govern the speed levels in compliance with your convenience. The speed level 1 is 3.75 mph that is perfect for beginners. The second level speed is 7.5 mph for moderate drivers, and 12 mph speed can be set if you are an expert in driving or rushing to your work.
Be careful about the surfaces you are running the vehicle on!
Environmental Friendly
The most advanced scooter has been composed of new technology. That can save energy as well as environmental preservation. It decreases the pollution in the environment. Also, it reduces noise pollution because of soundless operation. The scooter for disabled adults will be a weapon for you to save the environment.
Customer Satisfaction
It is California based company that gives priority to customer satisfaction. You will get free shipping on every product all over the United States. You can get 24 hrs customer service whenever you need it. The best mobility scooters for the outdoors must have gratified customers.
PROS
It is lightweight and foldable.
The structure is stable and all-terrain.
It covers the long-range up to 25 miles.
You can set the three different speed levels.
It supports a healthy environment.
100 % customer satisfaction is guaranteed.
CONS
Extremely high in price
The seat does not have an armrest
Researched Factors
Purchasing Guide for the Portable Outdoor Mobility Scooter
Purchasing the best outdoor mobility scooters can keep you in trouble when you do not take care of some factors. The outdoor scooters for adults are designed for the transportation of healthy people and the disabled community. Even your grandparents can comfortably drive it and go to their friends' homes without being dependent on you.
There are many realities of power scooters for adults, but you will have to consider some best products for the sake of the safety of your loved ones. Please read the article further and focus on the facts defined in it.
Economical:
Not everyone has the perfect budget to buy portable devices. You must also have a limited budget besides the other expenses of your house. But of course, you want the heavy duty outdoor mobility scooter without compromising on quality. Keep an eye on the pricing when you order the best outdoor mobility scooters for the elderly at your home.
Three Wheels Scooters:
Suppose you want to have a scooter for indoor traveling just like, in your home's rooms, corridors, halls in the office, supermarkets, amusement parks, etc. You can select a three wheel scooter that makes it easy to turn. It will provide you with a little more leg-keeping place as compared to other models.
People searching the mobility scooter for unique needs can pick three-wheel scooters for their comfort zone. The best part of the three wheel scooter is that it needs low maintenance.
Four Wheel Scooters:
If you want the perfect balance on the mobility scooter, then select the four wheel mobility scooter. It provides stability because it has a powerful motor and larger tires. You can cover long distances and also go uphill with these scooters. The best outdoor mobility scooter is recommended to be a four-wheel.
Heavy Duty Scooters:
The perfect mobility scooter must have a weight capacity. For this purpose, it is sure to have powerful motors and bigger batteries. So that they can show heavy-duty performance for long-distance and high speed, they must have large seats and LED lights for the safety of the nighttime drive.
It must be easy for the disabled person to fit it in the seat as the wheelchair supports them. Despite being disabled, they can manage their routine of going out with their friends' circle.
Freedom from Danger:
The all-weather mobility scooter must be safe enough for senior people. With the increase in age, people get weaker. They can't carry heavy loads. They have long-sightedness issues. By examining these factors, we should take safety as the priority for their transportation.
One thing is to take care of your elders on your own. That means you are bound to take them to different places they need to visit. The other thing is to select free-of-danger outdoor scooters for adults. It must have all-terrain tires, long-range to be covered in a single charge, and a comfortable seat for their excellent posture.
You must take a look at this aspect before buying the vehicle. By searching for the above stepping stones, you can get the best mobility scooters for outdoors ringing your doorbell soon. Don't forget to order an outdoor cover for a mobility scooter!
Community Targeting
Who Can Use the Folding Outdoor Mobility Scooters?
Mobility scooters serve as a lifeguard to the people who need help regarding their mobility. These vehicles are simple to use and portable to carry on the journey. The vehicle has steering as the bike has. It directs the wheels to move ahead and reverse the movement.
In the hectic days of full-time working, you can't manage your time to take the seniors at your home to the nearest park. Your busy schedule does not allow you to drop them at the golf club. Make a decision to buy an outdoor scooter for adults. Older persons can drive these all-weather mobility scooters even if they have arthritis or obesity. People who are disabled after suffering from multiple sclerosis can benefit from this portable device.
Patients with genetic diseases or injured people can procure an extraordinary comfort level for spending life as their own. There are a lot of safety aspects, including in the manufacturing of the outdoor electric mobility scooter. Consequently, safety is the top priority!
Usage Guide
Instructions for Mobility Scooter for Outdoor Use:
Before using a folding outdoor mobility scooter for the first time, you need to follow its instruction manuals. First of all, be confident that you can drive it like a pro in a few minutes.
Check the Safety before Riding:
You must make sure that all the gears of the mobility scooters are working correctly. Watch if the tires aren't damaged or worn. Look for the electrical connections for appropriate working conditions. Check for the battery if it is fully charged.
Starting the Scooter:
Be seated comfortably. If your scooter starts with the key, then turn it on in the ignition. If it is operated with the lever, then move it forward. Now place your hands on the steering and hold it firmly. You can move the tiller to go straight and in other directions. You can accelerate it by slowly engaging the throttle control lever.
Handling the Steering:
Grip the steering with your hands and be concentrated. Change the directions according to your way. Try not to turn it on at high speed. Slow down the rate and then turn your vehicle. Be alert when you reverse the scooter.
Going Uphill:
The best outdoor mobility scooters recommend the slope degrees. Never try to go beyond it. When going uphill, you need to lean your body slightly forward. Be high alert when going up on the slopes.
All-terrain Surfaces:
The best mobility scooters for outdoors showing excellent efficiency on grass and sand. You can run it on pebbles too. But try to avoid rocky areas if you are not an expert with its driving. Otherwise, you can lose control over your vehicle, and it can also damage the parts of the scooter.
Getting off from it:
When you reach your destination, then park the e-mobility scooter at the safest place. Remove the key and keep it secure in your pocket. You can rotate your seat to the side of the ground. Now you can get off the chair and enjoy. Make it safe with an outdoor cover for a mobility scooter.
If you have any serious injury and resist your transportability, you need to buy scooters for disabled adults. These cool mobility scooters increase your transportation without relying on others. It is an aid to improve your lifestyle. It is easier to operate. You can use it as public transport. You can make your daily activities more easily with these devices. The power
scooter for adults
is portable. So you can take them with you on air travel along with your luggage. The most beneficial thing is that you don't need a license to drive this best portable mobility scooter outdoors. You can easily take it into the public. There is no harm in it because of its slow speed. The new outdoor mobility scooter reviews are the greatest because they have a wide range of benefits that facilitate you more than any other vehicle. It's time to get the one for you!
Can I keep my mobility scooter outside?
Yes, you can keep it outside. Just be sure to have an outdoor cover for the mobility scooter. It is necessary to make it safe from harsh weather and dust. It will also save your time cleaning it when you need to rush somewhere on it.
Are mobility scooters waterproof?
These are not waterproof. Even it is a kind of electronic. Water can damage its circuit. A moderate amount of rain gives no harm to it, but if it is heavy raining, you need to save your scooter inside your house.
What is a class 3 mobility scooter?
Class 3 scooters look like small cars. They are larger than regular portable scooters. They are spacious and have unique designs. These scooters have 8 mph top-rated speed.
Can you carry another passenger on a mobility scooter?
Mobility vehicles are designed to carry one person. Two people cannot ride on it because they don't meet the definition of an invalid carriage in law. In conclusion, it is not permitted to carry anyone else on a mobility vehicle, e.g., children standing on the vehicle, etc.
What is the maximum speed of scooters for disabled adults?
Some power scooters for adults can be used on the pavement only and cannot exceed 4 mph (6 km/h). Others can go on the road, and this category cannot exceed 8 mph (12 km/h).