Hover 1 hoverboards are known for their affordable price and higher build quality, making them suitable for kids and adults. They show remarkable safety levels due to UL certification and quality control measures. Our Hover 1 hoverboard reviews will include the best options from the Hover 1 lineup to make your journey more fun. They are reliable, affordable, and ensure user satisfaction.
One thing that makes the hover balance board stand out in the completion from other brands is its valuable features. Almost all models have Bluetooth speakers and app integration for a better user experience while on the road.
Some models have extra LED lights to add more fun to the kids and increase the road's visibility. Besides that, the incredible motor power and battery quality make them the best affordable hoverboard in the market.
Researched Picks
5 Best Hover 1 Hoverboard in 2022
In our Hover one hoverboard reviews, we have listed the 5 best Hover 1 hoverboards in 2022. These include top-notch boards with excellent value for money. If you need affordable hoverboards with unique features, you may choose any of these depending on your liking.
We have also listed different choices for the kids to use by remaining within the speed limits safely. In the end, buying guide and troubleshooting will help you to choose the Hover 1 hoverboard wisely.
Hover 1 H1 Best Hoverboard for Urban Use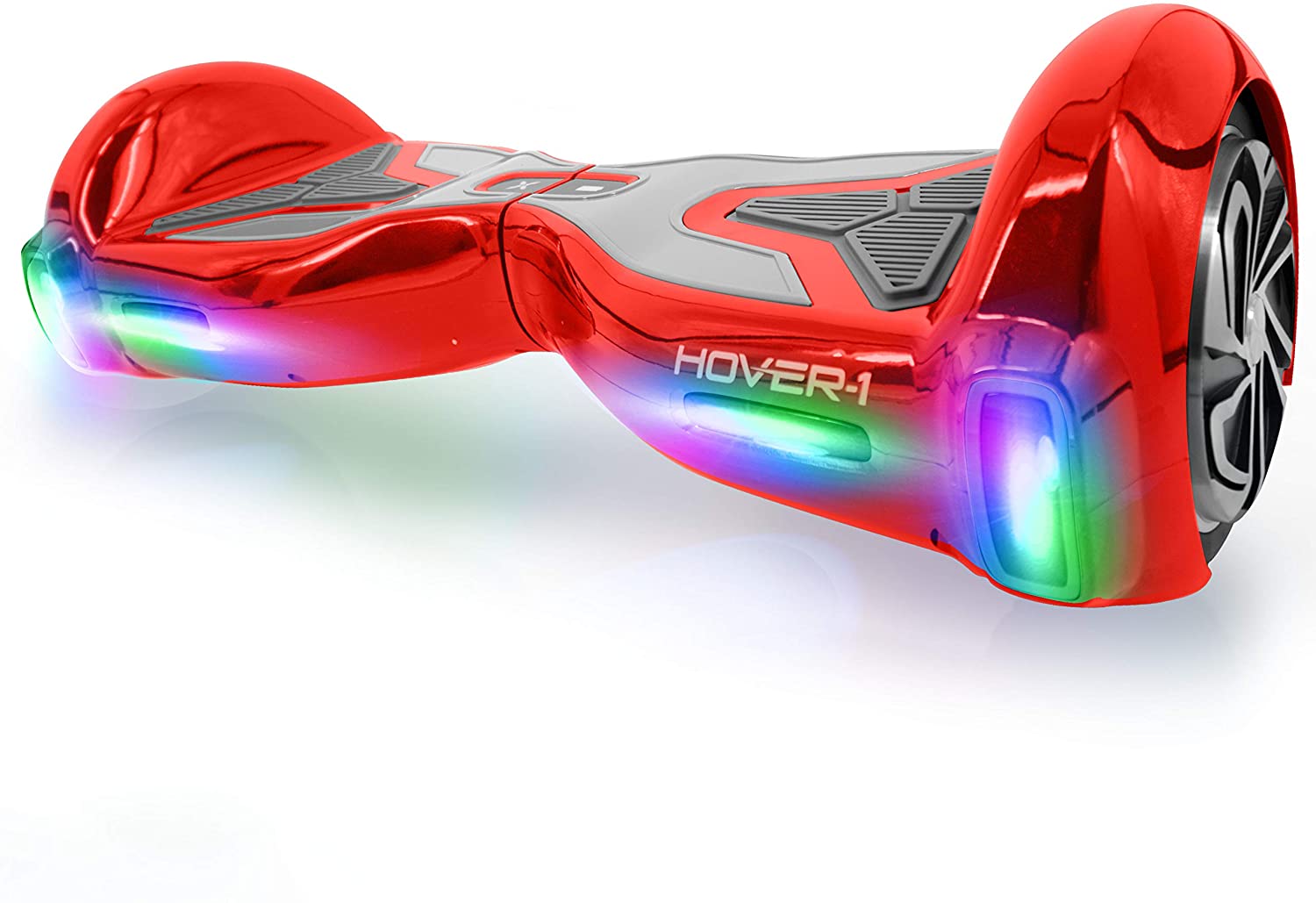 Motor Power: 500W
Top Speed: 9 MPH
Travel Range: 9 miles
Max Weight Capacity: 264 pounds
Wheel Size: 6.5 inch
Warranty: 90 days
The Hover 1 H1 is the best self-balancing board from the manufacturer with its excellent performance for urban tracks. Due to its versatility and safe ride, it is equally suitable for kids and adults. It is powerful enough to go to any terrain due to its robust motors. However, the ride is compact enough to fit anywhere when you ride the bus or train during the commute.
Speed and Acceleration
Dual 250W motors and their powerful acceleration helps to propel Hover 1 H1 electric hoverboard to reach a maximum speed of 9 miles per hour. This speed is excellent for adults and teenagers who want some fun time on the ride.
Battery and Range
The travel range of Hover 1 H1 is excellent due to its 36V lithium-ion battery. This 4.3 Ah battery can provide a range of 9 miles per charge or 4 to 5 hours of the continuous ride. Besides the large battery capacity, it is safe for everyday use due to the overcharge and undercharges protection which increases the Hover 1 hoverboard battery life span.
Build Quality
The design of this hoverboard is not something out of the world as the manufacturer didn't experiment with any new layout. This best Hoverboard for urban use is a simple and minimalistic design with a decent curve to support self-balancing for the riders.
Besides the design, the build quality seems sturdy and robust, with a maximum weight capacity of 264 pounds for slightly heavier adults. The portability is no concern for the kids and adults as it only weighs 22 pounds which is manageable to carry around during commute. Overall the build quality and material used for the construction speaks for the high craftsmanship on this hoverboard.
Ride Quality
The 6.5-inch non-pneumatic tires on the Hover 1 electric hoverboard make it invincible for any kid on track. There are no chances of these tires getting flat, and the fenders protects them from the other elements. The size of the tires is large enough to ignore any road cracks, bumps, and small obstacles that can come in the way during the ride.
IPX Rating Safety
Hover 1 is safe for most users due to its UL 2271 and UL 2272 certification. It ensures excellent protection for the battery and electronic system as they are certified by the UL standards.
One more advantage of the Hover 1 hoverboard is its IPX4 rating which gives it the ability to maneuver through any climate without getting damage. It can handle the rainy weather and slight splashes during the ride, but we won't recommend taking out in the water puddles as it can damage the board's internal parts.
Additional Features
There are two applications that you can use to connect the hoverboard with your smartphone. Both apps help give live feedback and show stats. They provide excellent GPS tracking of the rider and let them track the location. One of the most beneficial features of these apps is their ability to show the remaining battery life, which comes in handy during travel.
Besides the apps performing all the above functions, there is a strong connectivity option for the Bluetooth speakers. You can control the music and other media playing of these speakers using the apps. The sound is crispy and clear for the rider, even during busy hours.
PROS
Excellent app connectivity
Customizable LED lighting
IPX4 water resistance rating
The moderate speed with superior motor power
Good wait bearing capacity
CONS
Short warranty period
A bit expensive for a hoverboard
Hover 1 Titan Best Off-Road Hoverboard
high motor power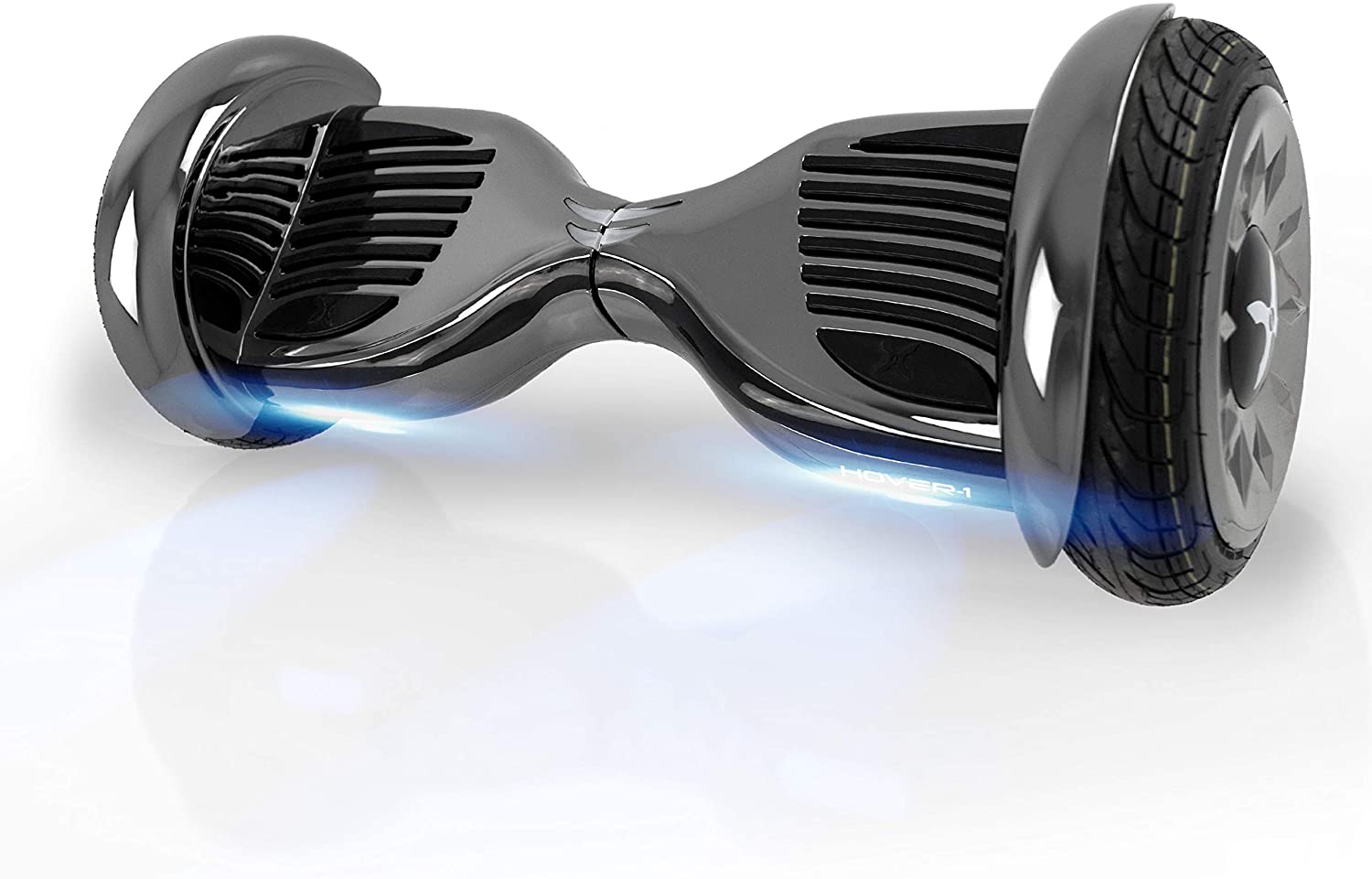 Motor Power: 500W
Top Speed: 7.45 MPH
Travel Range: 8.5 miles
Max Weight Capacity: 265 pounds
Wheel Size: 10 inches
Warranty: 90 days
The Hover 1 Titan is an excellent off-road hoverboard that is best for riders to explore challenging terrain easily. It comes with large and powerful motors on each wheel to carry the rider for more fun. With the impressive travel range and oversized tires, exploring the neighborhood becomes a walk in the park.
Speed and Acceleration
The Hover 1 Titan is a relatively cheap Hover 1 hoverboard with dual 250W motors to generate immense power for an all-terrain ride. It has a maximum speed of 7.45 miles per hour which may seem less for specific terrain needs but 15 degrees' climb angle; it has enough power.
For young riders and beginners, the 7.45 miles per hour speed may still seem overpowered. However different riding modes help to monitor the speed and keep it in check for the kids and young riders. The slower speed also improves the battery timing besides providing safety to the rider.
Battery and Range
A powerful and robust 36V 4 Ah lithium-ion battery comes equipped in the Hover 1 Titan hoverboard. The battery shows good performance with 8.5 miles per charge range when riding at the optimum speed. The riding time may decrease depending on the rider's weight and prevailing weather conditions.
The charging time is respectable, but not much of a boost as the battery on Titan takes 4 to 5 hours to completely charge. A fast charger option could be better as it would limit the charging time. However, you can minimize the hassle by charging the scooter overnight and making it available or ride during working hours.
Build Quality
The higher build quality is a trait of Hover 1 hoverboards. In our Hover 1 hoverboard reviews, all the machines have robust build quality. Hover 1 Titan shows similar characteristics as it supports 265 pounds of the rider's weight. The high-quality materials increase the weight of the ride to 30 pounds which can hinder the portability of the rider for young riders.
The massive 10-inch tires on the Titan provide extreme durability and resilience for all-terrain. The treads on the tires are best for off-road adventure as they provide enough traction to keep the rider upright on the tracks. However, the large size of the tires consumes the battery faster while providing traction and speed.
Titan Safety
Under an affordable price tag, Hover 1 Titan still manages to provide a safe ride. It has UL certification that helps it to marks its name in the market for road safety. The safety ensures protection from overcharging and overheating while you charge the hoverboard. It has also passed the safety tests regarding fire and power surge to prevent battery and board circuit damage.
With impressive Hover 1 hoverboard lights, the Titan hoverboard is safe for riding at night. You remain visible to the pedestrians and road traffic due to the bright lights. These lights also increase the aesthetics while addressing the safety needs, so you remain safe on the road while riding in styles.
Additional Features
The Titan is one of the most economical hoverboards that lets you play music from its built-in Bluetooth speakers. We appreciate the possibility of operating the hoverboard through App so that you can check stats like battery life, distance, and speed from the smartphone.
PROS
Excellent speaker quality
A good learning curve for the beginners
Packs with decent power and speed
All-terrain large tires
It is tested with UL certifications
CONS
Consume more battery due to large tires
Hover 1 Ultra Long Range Hoverboard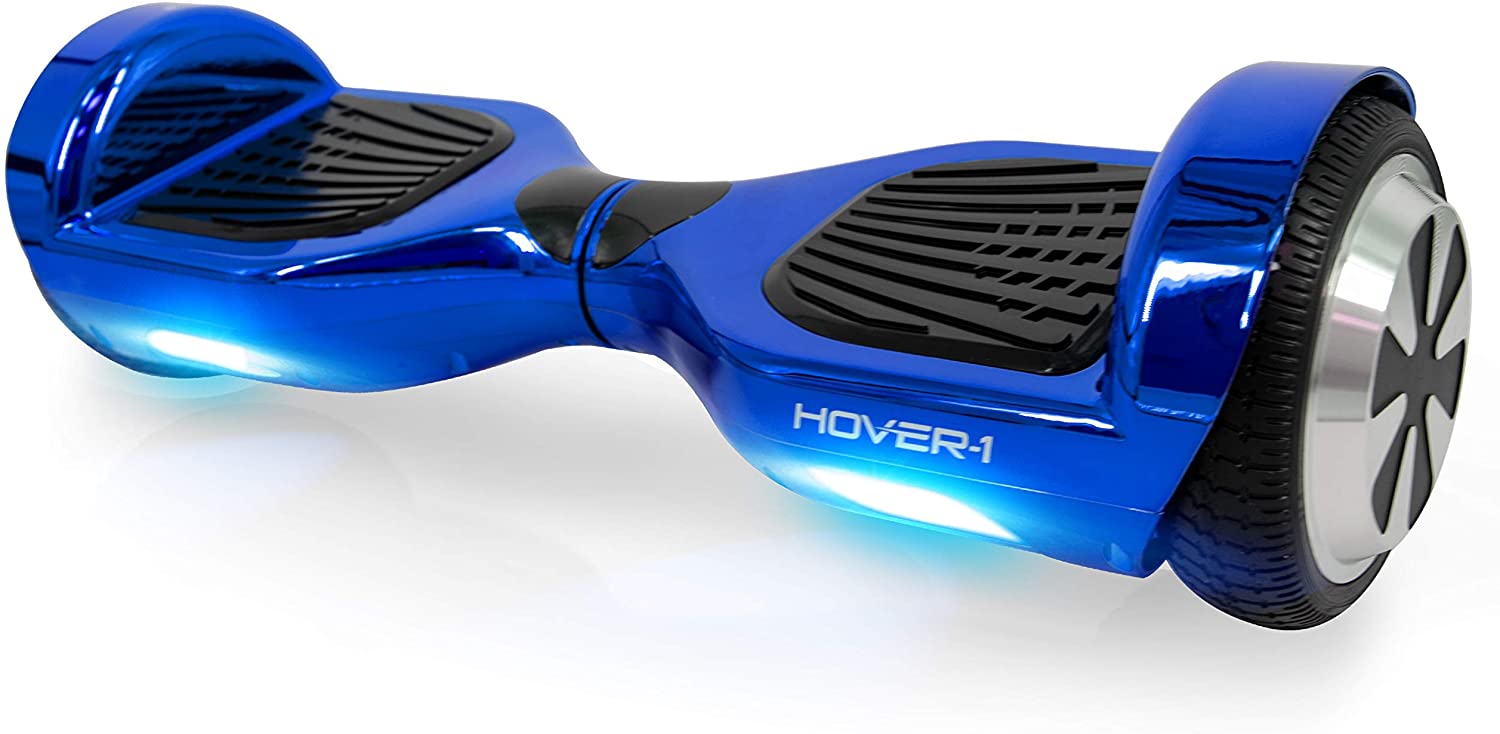 Motor Power: 700W
Top Speed: 7 MPH
Travel Range: 12 miles
Max Weight Capacity: 220 pounds
Wheel Size: 6.5 inch
Warranty: 90 days
Hover 1 Ultra is a long-range self-balancing electric hoverboard that provides a fun ride with an excellent commuting experience. The motor power with 6.5-inch tires makes it a perfect choice for indoor and outdoor commuting on a smooth path. It may not be the fastest and powerful regarding top speed but provide a good option for reliable travel.
Speed and Acceleration
Hover 1 Ultra took an apparent hit on the motor power and speed department due to its affordable price range. But the good thing about it is that the impact is not to the extent to affect its overall performance. It packs a dual 350W motor that can help the rider accelerate faster than most budget scooters.
Its 700W motor generates a top speed of 7 miles per hour while remaining under rider control. This speed is far better than the hoverboards in this price range; however, you may feel underpowered by the sloppy and off-road terrain.
Battery and Range
If you want to hit a long distance on your hoverboard, then Hover 1 Ultra is the right choice for your commuting. It is not a traditional hoverboard with a 6 to 8 miles travel distance. The 36-volt battery provides 12 miles range on a single charge. So you don't have to worry anymore about the fear of running out of charge during the commute.
You can rely on the lithium-ion battery for your short and slightly long journey across the neighborhood or campus. The travel range improves for the lighter rider weight; however, you may get less range for the heavier riders.
Build Quality
With its low price, it's evident that the company went all out to produce this hoverboard. They utilized high-quality components and a robust construction without compromising anything merely because of the limited budget and more affordable board.
This hoverboard is excellent for anybody seeking to enjoy the outdoors on a flat surface without the worry of crashing. The secure non-slip grips and strong frame guarantee protection while letting you experience a fun ride on any terrain.
Safety Certification
The safety features on Hover 1 Ultra are top-notch because of its self-balancing, non-slip foot pads, and gradual braking. It also complies with the UL 2272 certification, ensuring that the manufacturer has security checks to maintain safety. You don't have to fear anymore for the hoverboard catching fire or exploding the batteries.
Hover 1 Ultra ensures safe travel during the night and low light conditions due to its dual LED lights on the front. You can remain assured that other riders and pedestrians see you during the travel.
Ride Quality
The Hover 1 Ultra reviews on Amazon and other platforms show its excellent build quality. Our tests showed the same quality and ranked at the top for affordable electric hoverboards in this category.
Additional Features
There is not much to offer by this hoverboard in terms of additional features. It does not provide bells and whistles like Bluetooth speaker and app connectivity. However, it has a battery meter to monitor the remaining charger and mileage to let you know about the possible stoppage during the travel.
PROS
It has good protection against catching fire
Excellent travel ranges due to superior battery
Build quality is suitable for all ages
Excellent value for money
Decent speed and acceleration
It has better self-balancing and control
CONS
No option for Bluetooth connectivity
Absence of speakers
Hover 1 Nomad Electric Hoverboard with Lights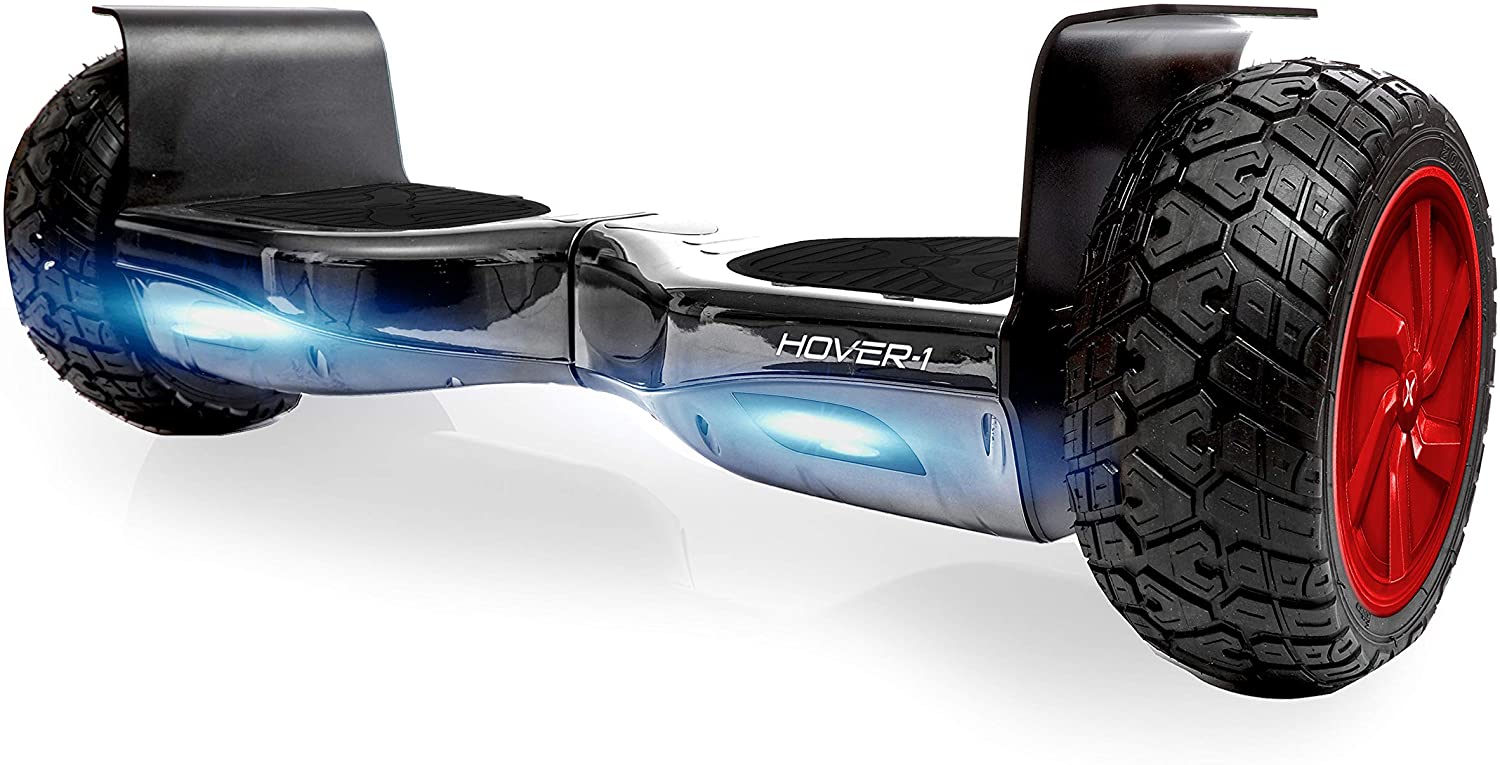 Motor Power: 800W
Top Speed: 7.45 MPH
Travel Range: 7.45 miles
Max Weight Capacity: pounds
Wheel Size: 8.5 inch
Warranty: 90 days
Hover 1 Nomad is one of those hoverboards that has excellent ability to adapt to any terrain. It has large tires coupled with a powerful motor for non-stop fun. You can cross grass, gravel, roads, and rough paths without issues due to its wide tires. The design of this hoverboard looks fascinating for adults as well as for teenagers.
Speed and Acceleration
The dual 400W hub motors on Hover 1 Nomad produce enormous acceleration for traction and speed. It has collectivity 800W base power to fulfill the off-road and urban commute needs. These motors are responsible for producing 7.45 miles per hour top speed under optimum conditions.
Controlling the speed is easier on the Nomad due to its learning modes. This feature is handy for the riders who just started learning the hoverboard. With the beginner mode, you can drive the board at a slower speed. Once you get adapted to the beginner mode, you can try intermediate and expert mode to test your limits.
Battery and Range
The Hover 1 Nomad features a 20 cell lithium-ion battery. This 36V 4Ah battery provides a decent travel range. You can get a maximum of 7.45 miles in a single charge which is not impressive if you have more commuting needs. The recharge time is not helping the riders here as it takes 4 to 5 hours to charge the board for the next adventure completely.
Besides the travel range, Hover 1 didn't compromise the safety of the riders. The battery is UL certified with 38.3 certifications. This certification gives assurance against fire, discharge protection, overcharge protection, and safety from accidental explosions.
Build Quality
Noman is the best choice for Hover 1 hoverboard off-road board due to its 8.5 massive tires. These tires support the rider's weight and carry them through any path with ease. The large size of the tires helps to travel on bumpy roads and maneuver over the cracks without having any issues.
If you travel a lot and want to carry the hoverboard with you for a fun time. Nomad hoverboard is pretty much portable due to its lightweight design. It is only 22 pounds in weight, which makes the portability easier and helps the rider take it anywhere without concern about carrying and storage.
Rider's Safety
Hover 1 Nomad hoverboard offers excellent safety for the rider. It has passed all the tests required for the UL certification. With this certification, you get assurance about the hoverboard to ensure the safety and security you need for such rides.
Besides UL certification, it has several properties that protect the battery long-term and prevent any fire-catching event. This safety becomes possible due to the overheating, short circuit, overcurrent, and overcharging protection. The manufacturer has tested the product for all these properties to give the rider peace of mind.
Additional Features
Nomad from Hover 1 is a safe hoverboard for people of all ages and is also smart. It comes with app connectivity and Bluetooth speakers with lights. These speakers produce excellent quality audio to mesmerize you during the commute.
Besides the app connectivity and Bluetooth speakers, the front and side LED lighting provides visibility to the other riders and you during night travel. It is GPS tracking, and trip recording is top-notch and offers better navigation to the riders.
PROS
UL certification for better safety
Easy to control and monitor using App
It comes with a handy battery life indicator
Protection for overcharge, overheating, and discharge
Bluetooth speakers for music streaming
CONS
Battery charging takes look
Average travel range
Hover 1 Helix Hoverboard For Kids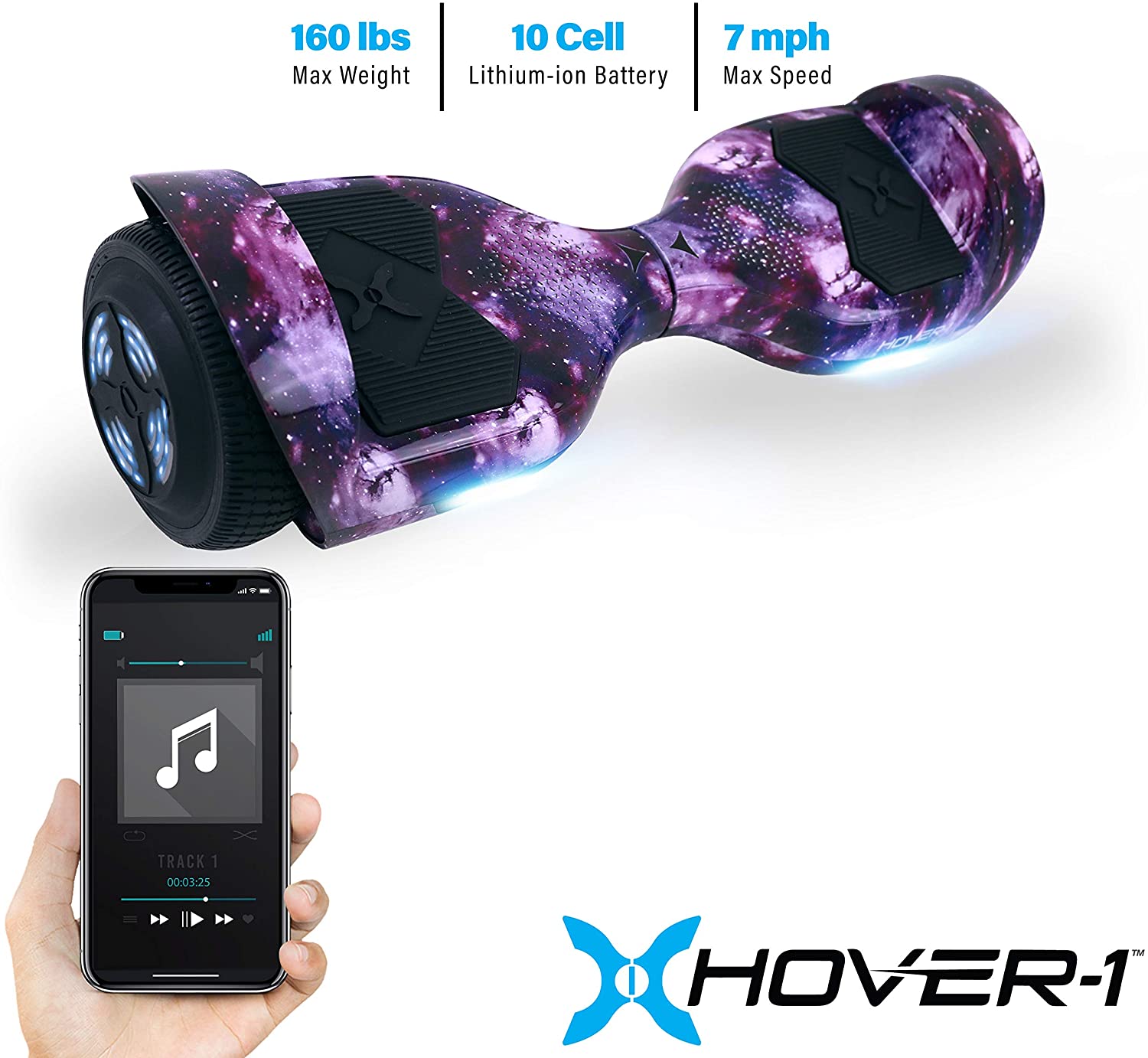 Motor Power: 400W
Top Speed: 7 MPH
Travel Range: 3 miles
Max Weight Capacity: 160 pounds
Wheel Size: 6.5 inch
Warranty: 90 days
Hover 1 Helix is an adult hoverboard as it is specially crafted for kids and teenagers. It has a limited weight capacity and a travel range that separates it from the league of best electric hoverboards for adults. Its maximum speed capacity is excellent for the kids to ride the board while remaining in control on the road.
Speed and Acceleration
The 400W solid motor on the Hover 1 Helix kids Hoverboard guarantees a hassle-free trip across the city. It is possible to go at a maximum speed of 7 miles per hour on the hoverboard, which allows you to enjoy the journey while avoiding road obstructions.
The hoverboard is capable of ascending to a maximum of 10 degrees in a specific direction. This lets you take joy in the scooter ride as it takes you through the terrain and over minor difficulties that may stand in your way.
Battery and Range
The hoverboard comes with a rechargeable lithium-ion battery with UL 2272 certification. Battery features include an output of 36V and a rating of 2.0Ah, and overcharge and discharge safety. When ultimately charged, the battery is intended to provide you with a ride of up to 3 miles per charge.
Charging takes approximately 6 hours on average. It also comes with a protective battery container, which protects the battery and features a life meter to indicate how much time is left on the charge.
Build Quality
The build quality of Hover 1 is extremely good for kids and teenagers. However, the Hover 1 hoverboard weight limit of 160 pounds limits the heavier individual to ride the hoverboard. It comes with non-slip foot pedals that make the anchorage on the board easier and help control the movements and balance the board.
Safety Note of Helix
Like all Hover 1 hoverboard reviews, the Helix hover 1 hoverboard is also safe and secure due to UL 2272 certification. It is not only tested for the battery but also UL certified for the power cord. Additionally, being MSDS and UN 38.3 tested increases the safety and trust of the user to invest in buying this hoverboard.
Bluetooth Speakers
Hover 1 Helix is an affordable electric hoverboard, but it has a built-in speaker for ultimate entertainment. Music playing is possible with smartphone connectivity. Your kids can ride the hoverboard while playing their favorite music and enjoying their Spotify playlist with a clear and crispy sound.
Water Proofing
The Helix hoverboard is safe for outdoor activities while keeping the internal components safe from water damage. It has an IPX4 rating that protects the rider from water splashes and dust particles from damaging the components. However, we advise you to avoid riding through the puddles as the manufacturer has no claim for water damage.
LED Lighting
You are buying a kid's ride so expecting LED lighting should not be a surprise. Helix shows excellent LED lighting options for increasing visibility on the road. This lighting protects your kids while they ride on the urban road from the other vehicles.
PROS
Accurate battery life indicator
High-quality Bluetooth speakers
Available in a variety of colors
Excellent self-balancing mechanism for new riders
Lightweight for portability
CONS
Very low travel range
Takes a long to charge
Error Fixing
Hover 1 Hoverboard Troubleshooting Guide
When connecting the Hover 1 hoverboard App or Bluetooth, you may face difficulty. To address this, we have compiled this troubleshooting guide to guide you through the process and help you connect with your hoverboard.
Connecting Hover 1 Hoverboard with App
There are some instructions that are necessary to follow for connecting Hover 1 hoverboard to an app on your smartphone. It includes some essential steps that you may need to follow for successful connectivity. Before connecting, make sure that your device or phone has the required App installed in it, and then follow the following steps:
The first step is to start your hoverboard. You can turn it on only by pressing the power button on it. The sound of a beep tells you that your hoverboard is ready to connect your phone or device. 
The second step is to check your phone and click on the App that connects your phone to the hoverboard. It's essential to find out the compatible App for connecting to the hoverboard.
After this, there is a sign on the left side of your phone. This sign will help you to go for the direct remote control option.
At this time, you can see one device is available through the App. So, choose this option with a checkmark.
After taping the checkmark, you will find out a password box. Write a password then your phone automatically connects to the hoverboard.
After following all of the steps, you will hear a beep sound. This indicates that your device got successfully connected to the hoverboard.
Connecting Hover 1 Hoverboard to Bluetooth
It may become difficult to connect Hover 1 using a Bluetooth connection if you are unaware of tips and tricks. The following steps will make the process easy to connect the Hover 1 to Bluetooth devices:
First of all, turn on the hoverboard by pressing the power button on it.
The sound of a beep indicates that your hoverboard is ready for connection.
After this, turn on the Bluetooth on your phone and open the settings of Bluetooth. Now scan your device to which one you want to connect and make a connection request.
When you follow all the steps, you may hear a beep from your hoverboard, which shows that your process is complete.
Now, it's time to check the connection, and you can check it by playing a song. If it works well, then you are successful in all steps. However, if you face any trouble during connecting then disconnect the Bluetooth from your device.
Then, repeat the same process until you connect it safely or try Hover 1 hoverboard reset.
Manual Book
Hover 1 Hoverboard Reviews Buying Guide
There are so many questions that may arise in mind while buying a hoverboard. The most common question is how to buy the best Hover 1 hoverboard. The answer to this question is only up to you. Only you can describe all the requirements you want to see on your hoverboard as you can choose the best option for you.
Before making a purchase, figure out all of the features you want to see on your hoverboard. However, some important features need your attention while purchasing.
Speed of Board
Speed is all you crave; that's why this is a common factor that remains the top consideration of buyers of hoverboards. However, the hoverboards with 8 to 13 miles per hour are best, although the speed above 10 mph considers high speed. The Hover 1 H1 shows a fantastic speed of 9 miles per hour.
These hoverboards are for those buyers who want an extra adventure and are already good at riding. Hoverboards are not slower as you can ride with the speed of 6 miles per hour a few inches above the ground, and you feel like racing with the wind. 
Battery Power
The quality of any electric hoverboard depends only on the quality of the battery. A battery of any kind decides the life of the product. So as with the battery of a hoverboard, lithium-ion batteries are usually highly unstable. A little bit of flaw in manufacturing can cause severe damage like catch on fire and crashes.
Now the question is which one battery is suitable for use. When you buy an electric hoverboard, you should choose the UL-certified products tested by experts. LG and Samsung batteries are the best in the business. But there are some alternatives also available in the market. The only need is to make the right choice and only prefer the UL-certified batteries.
Range to Travel
When we talk about the range, it means that how long your hoverboard can go with a fully charged battery. Range describes the ability of the battery as the more the battery storage, the more the range it covers.
Commonly the range varies from 7 to 15 miles at max. A higher travel range is suitable for spending fun time and a good ride along with the town or visiting friends. Lower range limits the travel options and allows travel to a short distance. However, the range may exceed in some of the expensive and high-end boards.
Recharge Time
The charging time of the battery varies from one board to the other, but the lesser the time of charge, it is good for the rider. Normally the hoverboard charges almost in 2 to 3 hours which is best if you plan for the ride and want to get it ready as early as possible. Some hoverboards take more to charge, which can irritate the rider. So, plan before buying the hoverboard.
Wheel Size
There are two most common tires sizes available in the market. One is 6.5 inches, and the other is 8 or 10 inches in diameter. If you are a beginner, then 6.5-inch tires are pretty good for you. Because they are easy to hold on to, and they are also good for indoor surfaces under the supervision of your parents or instructors. 
While the 8 to 10-inch diameter is best for experts as these tires are suitable for rough surfaces and hilly terrains. You can go through grassy patches, and they are handier for all surfaces. But keep in mind that these boards are challenging to ride indoors. For plain surface and learning purposes, the 6.5-inch tires are a good choice. Keep in mind that Hover 1 hoverboard front wheel and the rare wheel have the same diameter for stability.
Safety Features
Safety is the priority for everyone when riding any means of transport. That's why only use those hoverboards which are UL certified. It is an American standard according to which the product went through experiments and tests to become safe for the common person.
In the past, the quality of the hoverboard was not good as they could catch fire due to their bad materials. But now, the manufacturers use good quality products to beat the competition and pass the certification test.
Customer Service
After-service gives you relief and an advantage because you can get service related to the product without any problem. If you want to buy online, then make sure the customer service is available.
You need to understand the importance of the after-services. In any problem, you can avail of them as they resolve your difficulties with care; however, if you buy from the local market, then it is helpful that you can get services at once.
Weight and Price
Most hoverboards can carry a weight of almost 200 pounds. But if you weigh more than 200 pounds, you may look for hoverboards that can hold 300 pounds. However, the boards which can carry the heavier weights are the most expensive ones and have cut-throat prices.
Remaining in your budget is the most obligatory thing. Before buying you may have a look at your pocket and then select the product under your range. The price may go high to $600 and as lower as $200. The features of the product change from one price range to the other.
Addons Specs
To your surprise, hoverboards are not for riding purposes only. There are lots of features that make the hoverboards more exciting for their users compared to the past. There are some extra features below:
Bluetooth: This feature is the first preference for every user because it gives enjoyment during the ride. Previously this feature was only for luxurious products only like the best Lamborghini hoverboard. But now, it is the most common feature in almost every brand today.  
LED: These lights are available in all hoverboards as they add beauty and make you visible to others in the dark. LED lights are present in front and rare sides and are indifferent in color for distinguishing the movement of the hoverboard in different directions.
We have briefly described top models in our Hover 1 hoverboard reviews. You can compare the features and select the best product for your needs. However, from our personal experience and testing for one month of the ride, we can declare 
Hover 1 H1
as the best hover 1 hoverboard due to its balance of features, excellent build quality, and decent speed.
Do hover 1 hoverboards catch on fire?
Almost all of the hoverboards brands use the lithium-ion battery in them. But if there is any flaw in manufacturing, they catch on fire and may explode and endanger your safety. However, Hover 1 hoverboards are safe for riders and do not catch on fire because they are UL 2272 certified and pass all the safety tests.
Is the hoverboard 1 Safe?
The main point for every hoverboard is the safety feature. Hover 1 hoverboards are fully safe as they pass all the safety tests and have a shield on the battery so they cannot catch on fire and prevent overheating. They are also water-resistant, which means they can withstand water splashes during the ride.
Why is my Hover 1 beeping?
If your hover 1 is beeping, then its means that there is a balancing problem. It automatically detects that the surface or the platform is tilted backward or forward by more than 15 degrees. If the hoverboard is sitting on slop more than 30 degrees, it starts to beep. That's why try to ride on a smooth and plain surface.
How long does Hover 1 battery last?
The battery timing depends on the riding surface, speed, model, and surroundings. But in general, you can ride up to 8 to 12 miles with a fully charged hoverboard. It is important to note that every model has different battery life according to the riding conditions