Several manufacturers are dominating the self-balancing hoverboard market. Most of these brands are based in China, where the manufacturing cost is less while they maintain the quality standards of Europe and the United States. Tomoloo is one of these growing brands that is dominating with their kids and off-road hoverboards. To provide you better insight on the top models, we have compiled these Tomoloo hoverboard reviews as you may wonder which one is best and suits your needs.
Tomoloo self-balancing hoverboard reviews include models that have significantly better user ratings and tops the specifications sheet. They are better in the sense of build quality and safety as they come with UL certification and comply with significant safety standards.
Besides this, the aesthetic value and overall self-balancing make them more desirable. The lower price makes them a hot favorite among the folks who need affordable hoverboards with all the bits and bytes of the expensive hoverboard.
Top Quality
3 Best Tomoloo Bluetooth All-Terrain Hoverboards
Selection of the right hoverboard is challenging when plenty of models offer similar specifications and performance. Similar is the case with the Tomoloo hoverboards as they have several models that share the same specs sheet with minor differences.
In this situation, getting expert advice is more helpful, especially if you buy the hoverboard for the first time. We got you covered here as we have chosen the top 3 Tomoloo music hoverboards with in-depth reviews to help you decide what is best for you.
TOMOLOO Fire Kylin Q2-C Music Hoverboard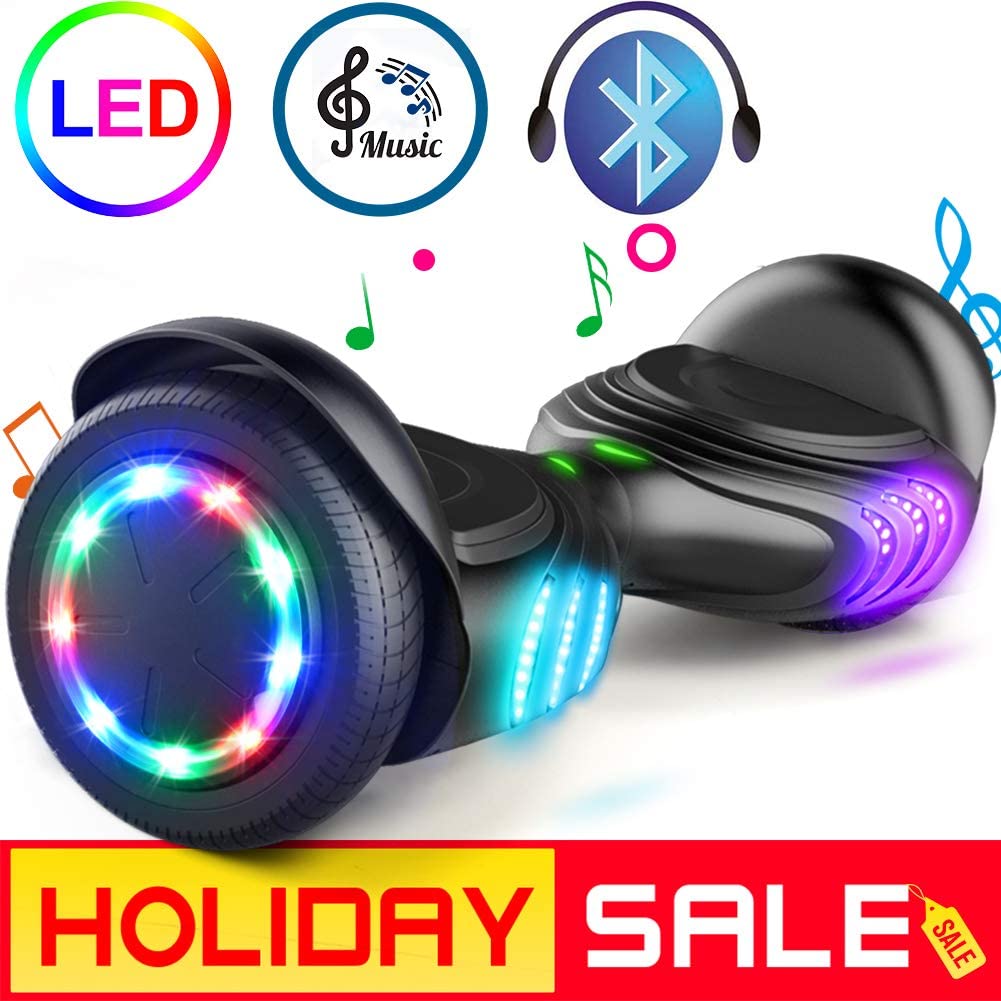 Motor Power: 500W
Top Speed: 7.5 MPH
Travel Range: 4.3 miles
Max Weight Capacity: 165 pounds
Wheel Size: 6.5 inch
Warranty: 12 months
Tomoloo Fire Kylin Q2-C hoverboard is the best Tomoloo hoverboard for kids with impressive build quality and Bluetooth speaker capabilities. It has a unique design that looks both futuristic and easy to ride for kids and beginners. The top-of-the-line materials and safety standards make it the best choice for gifting kids and teenagers.
Speed and Acceleration
The dual 250W motors power this hoverboard for getting a decent torque and acceleration. During our tests, it performed well when rider weight remained below the weight capacity. It produces a top speed of 7.5 miles per hour which is excellent for your little one to ride on urban roads.
However, for incline more than 10 degrees, it struggles to maintain the speed and steady speed for less steep slopes.
Battery and Range
These self-balancing cool looking hoverboards are a great way to stay mobile while on the go. It has an innovative 4 Ah battery that charges quickly in just 3 hours, but it runs only 4.3 miles before recharging. The performance looks similar to the other kid's hoverboards in the battery department as they are more oriented towards fun than commuting.
The Tomoloo Q2C has lights to indicate the battery levels. The green light means you have an ample supply, while yellow signals power loss. Some unit has a red light blinking issue which indicates faulty unit, immediately replace it with the new one.
Build Quality
The Tomoloo Q2C hoverboard is the perfect ride for your kid or light adult. This adorable, well-built product will have you and all your friends smiling as they glide across town without breaking a sweat. Its kids-centric feel makes it suitable for kids to ride at night.
The tires on these wheels are high-quality non-pneumatic rubber and not plastic. They provide better traction, stability, durability than a typical tire would. There are even fenders that protect them from getting damaged should they hit something during your ride.
Certified Safety Trust
The Tomoloo Q2C has three safety certifications which make it the best among the competition. It has UL 2271, UL 2272, and CPSC certification. With these certifications, you can entrust your kids to ride this hoverboard safely.
These certifications ensure that the battery won't explode or catch fire during the commute. Riding the Tomoloo Kids Q2C hoverboard offers peace of mind and a sense of safety compared to other cheaper hoverboards.
LED Lighting
A set of LED light-up outside each wheel for an even more luxurious appearance. The five different colors make it easier than ever before, so there is no need to find something in just one shade anymore. You can color according to your crave and enjoy riding the hoverboard among your friends.
Bluetooth Connectivity
The Tomoloo app is excellent for riders who want to track their distances traveled and speeds. This mobile application can also monitor battery usage by checking how much energy remains in each riding mode. It has three different modes: beginner, intermediate, and advanced, tailored towards just what you need based on your skill level.
IPX Rating
This hoverboard's charging portal comes with an IPX4 rating for water resistance, so you can take it through rain or snow without having bad weather conditions dampen your experience.
PROS
Innovative design for kids
Excellent Bluetooth connectivity
The speaker sounds good
Different riding modes for every rider skill
Sturdy and safe constructions
CONS
Low weight-bearing capacity
Portability issues for small kids
TOMOLOO K1 Hoverboard with LED Lights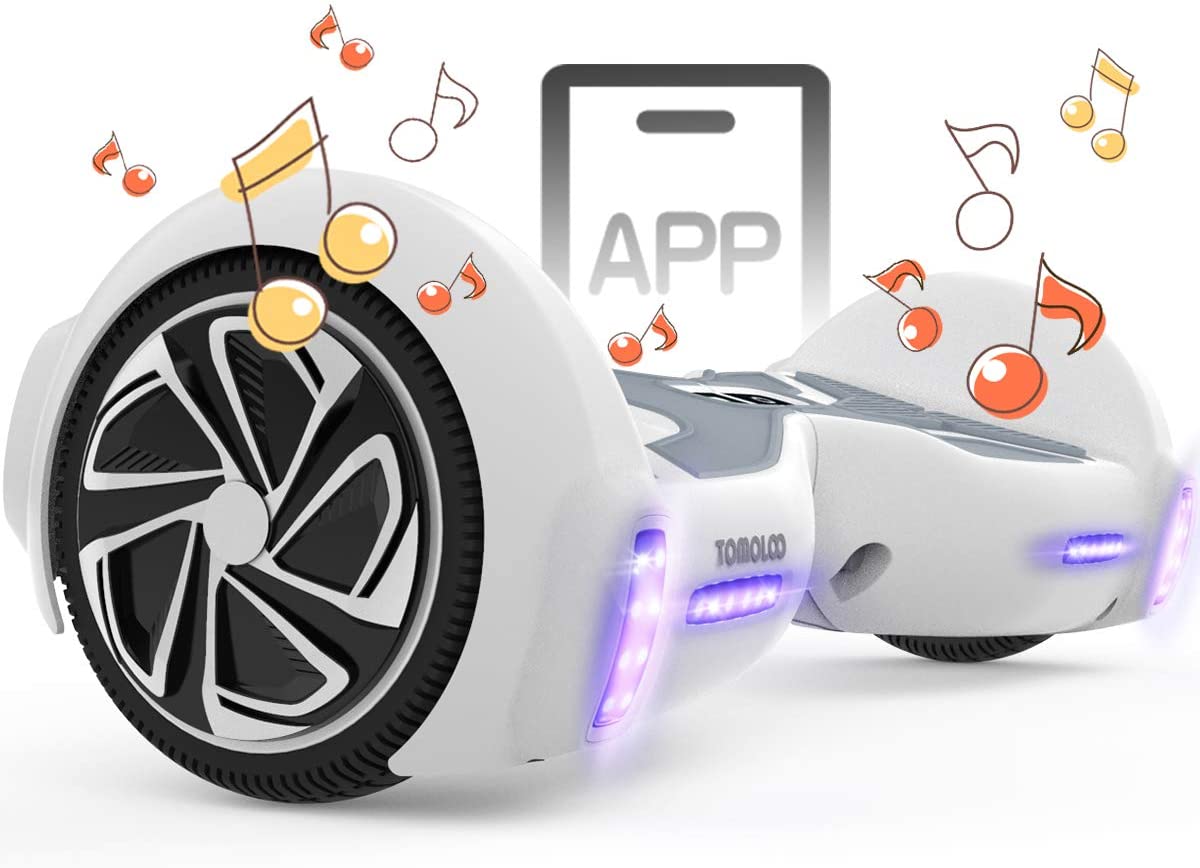 Motor Power: 1000W
Top Speed: 9.3 MPH
Travel Range: 9.3 miles
Max Weight Capacity: 265 pounds
Wheel Size: 6.5 inch
Warranty: N/A
TOMOLOO K1 Hoverboard with LED Lights has one of the highest motor power for a hoverboard in this category. This power results in excellent acceleration and a top speed that amazes every rider for fun rides. The maximum weight-bearing capacity and improved build quality place it on No. 2 in our Tomoloo hoverboard reviews.
K1 Speed and Acceleration
The dual 500W motors are a wonder of innovative technology that helps to generate excellent power while remaining energy efficient. It can take the rider to an uphill of 20 degrees while maintaining a balance's speed and acceleration.
Besides that, it supports a rider's weight of 265 pounds to a top speed of 9.3 miles per hour. The speed may seem fast for beginners, while experienced riders can enjoy a faster commute and have fun with this immense power under the hood.
Battery and Range
Tomoloo K1 is better than the Tomoloo Q1 hoverboard regarding battery and travel range. It performs much better in this department and can hit 9.3 miles. The battery capacity of 4000mAh helps this hoverboard to achieve the milestone while remaining safe and explosion-proof.
For monitoring the battery condition and remaining battery percentage, this hoverboard features a safety indicator. This indicator signals the rider about determining the battery health and remaining percentage easily.
Build Quality
The uniquely designed Tomoloo K1 is the best Tomoloo hoverboard when it comes to building quality. Everything from the wheels to the deck seems perfectly finished. The thick rubber tires help to survive on uneven terrain without much effort. It has a pattern that makes riding easier and more controlled when riding.
The body is highly durable and sturdy, with robust housing, which is fire resistant. Besides that, a non-slip footpad and safety LED are two prominent features in this hoverboard build quality that highlights themselves on the first impression.
Tomoloo K1 Safety
In the past, there were issues with the hoverboard catching fires due to faulty lithium-ion batteries. UL certification becomes necessary for the manufacturers to launch their new hoverboards. Tomoloo K1 has both UL 2271 and UL 2272 certification, making it more reliable and safe for riding.
App Connectivity
The Tomoloo Smart hoverboard is a cost-effective and creative way to get around. It has an intelligent application to control the hoverboard, enabling you to understand how your board works from every angle.
It has three riding modes that target different skill levels of the riders. Besides these essential functions, the app can help the rider control the lighting effects, steering sensitivity, and top speed. You can monitor the real-time battery, distance, and speed with GPS tracking.
Waterproofing
If you like to ride the hoverboard in overcast weather conditions, it is necessary to have a waterproof rating. Tomoloo K1 can fulfill your wish as it comes with an IPX4 rating that protects it from water splashes.
The charging port shows a unique solution for water damage. It has a sealed silicon cap that prevents the port from dust and water damage.
Bluetooth Speaker
Tomoloo music hoverboard K1 comes with the most wanted Bluetooth speakers and the latest 4.2 version. It can provide a unique music listening experience with its stereo speakers. The sound seems loud and clear for pleasant listening.
PROS
UL certified battery and hoverboard
Excellent material quality
Flame retardant building material
Waterproof body and charging port
Impressive LED light setup
It has Bluetooth 4.2 for effective connectivity
CONS
Not suitable for kids
The ride seems less favorable for off-road
TOMOLOO V2 Eagle Off-Road Adult Hoverboard
top range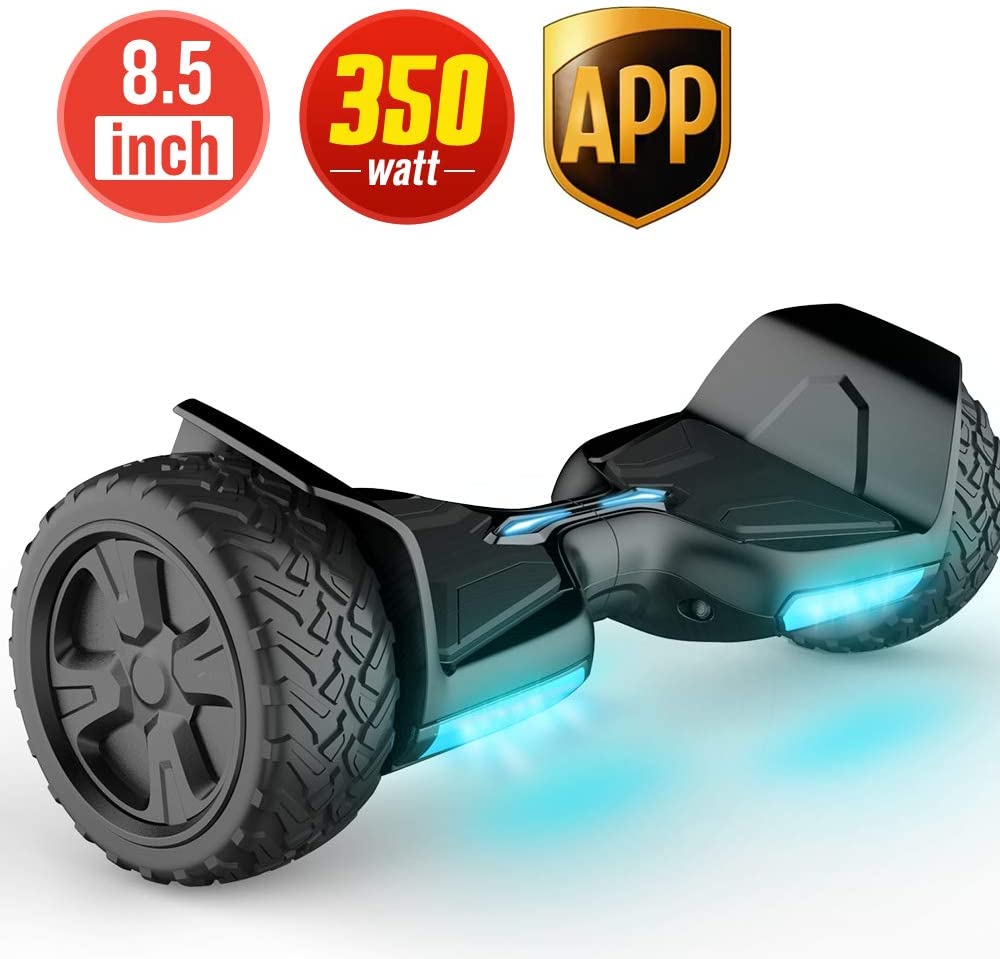 Motor Power: 700W
Top Speed: 12 MPH
Travel Range: 12 miles
Max Weight Capacity: 265 pounds
Wheel Size: 8.5 inch
Warranty: 12 months
The Tomoloo V2 Hoverboard is an innovative way to get around. It has a powerful dual 350-watt motor, 12 miles worth of battery life, and can take you anywhere with ease. Don't look further if you need something fun and safe for the commute, as this hoverboard has everything to entertain and let you commute the ride in style and safety with its UL certification.
Speed and Acceleration
The V2 Eagle is the best Tomoloo off-road hoverboard on the market. It has a dual 350-watt motor that allows for fast and easy climbing, reaching speeds up to 12 miles per hour with relative ease.
The 8.5-inch tires, coupled with the 700W motor power, enable the rider to conquer off-road paths easily. We felt the acceleration and speed overwhelming during our test drive on sub-off-road terrain, which is a good sign of its capabilities for more fun.
Battery and Range
The new V2 Tomoloo hoverboard battery life is not out of this world but set a new benchmark in the market. This futuristic lithium-ion battery-powered scooter goes 12 miles per hour and can get you to a range of 12 miles in just one charge.
What could they possibly be doing differently? Probably equipping energy-efficient motors does the trick and makes V2 stand in the list of the best hoverboard 2022.
Build Quality
The Tomoloo V2 Self Balancing Scooter is a highly innovative light board that weighs 29 pounds. The lightweight of this hoverboard makes it easy to handle and carry on any train or across campus, even if you are an average person with no prior experience in self-balancing technology. Having a 265-pound max weight capacity ensures everyone can enjoy using one of these cool devices.
Tomoloo V2 Safety
From UL2272 Certified to your hands, the Tomoloo V2 Self Balancing Hoverboard goes through quality stress testing. These tests include a stimulating test, a climbing test, and a locked-rotor one to ensure that it will last longer and does not fail during the commute when you need it the most.
It comes with other safety features like overcurrent protection, overcharges protection, and short-circuit protection. Besides all these protections, temperature protection keeps the battery's temperature and prevents any mishaps during the ride.
App Connectivity
Similar to other brands, Tomoloo has introduced its smartphone application. This app is the perfect way to customize your hoverboard. Customizable color lights can change according to your mood and needs, which is fascinating, especially for young riders.
You can get in-depth details on the app, like travel time and current speed. What's even more amazing? The off-road hoverboard supports 16 million different light colors. You can use GPS on the app for traveling to new areas, which is a plus.
Bluetooth Speakers
With a built-in 4.1 stereo surround Bluetooth speaker, you can expect an amazing listening experience while riding on Tomoloo V2 hoverboard. The sound quality is not out of the world, but what can you complain about the speaker on the hoverboard. It sounds good and pleases you during the ride, which is enough.
PROS
Lightweight and easier to carry
Excellent top speed and motor power
Extended mileage than most competitors
Sturdy and robust build quality
Safe and tested with UL standards
Absolute value for money
CONS
App connectivity and performance need improvement
Manual Guide
How to Buy the Right Tomoloo Hoverboard?
There is an excess of Tomoloo hoverboards in the market, and it's become difficult to choose a good hoverboard for yourself. It is a difficult task to find a suitable board from the heap of the models. We are unique in terms of our needs.
That is why it is an important thing to examine all your requirements before buying. And the Tomoloo hoverboard reviews can be a good starting point to select the right choice. To purchase this hoverboard, you need to follow the below features.
Rider Needs
When you want to buy a hoverboard for someone, it is important to know their age and weight. If you want to buy a hoverboard for your child, choosing that lower in speed is highly recommended, about 6 to 7mph. In this case, TOMOLOO Fire Kylin Q2-C Music Hoverboard is the best recommendation.
However, prefer the adult hoverboards for the self-balancing feature. Some of the best Tomoloo hoverboards are specially designed for a good grip while reaching an amazing speed of 10 to 14 mph. TOMOLOO V2 Eagle Off-Road Adult Hoverboard is a prime example as these adult hoverboards can distribute the weight evenly and handle about to weight up to 265 pounds.
UL Certification and Safety
Safety is the most important thing for every rider. A hoverboard that is UL 2272 certified is a good choice because it passes through different safety checks to remain safe for its riders and meet all the UL 2272 standard requirements.
All Tomoloo hoverboards are UL 2272 certified, and they are good self-balancing scooter which meets all the safety requirements. It is best not to choose the cheaper hoverboards as they contain the cheapest batteries and may cause danger.
Wheel of Choice
The size of wheels matters so much as they decide that either you can ride on it indoor or outdoor. There are different sizes of wheels at present in the market, but two types of wheels are common. Ones are 8+ inch and the second is the 6.5-inch wheels.
The hoverboards with 8+ inches of wheels are flawlessly designed for off-road terrains as you can ride on them on cement pavements, even on steep hills up to a certain angle. These larger tires handle all types of terrain very well and give you a smooth and bump-free ride on any surface.
On the other hand, the surface area of 6.5-inch tires is less, so they are best to use for indoor, smooth, and flat surfaces.
Weight Capacity
If you are looking for a hoverboard with the right weight capacity, there are plenty of options. Tomoloo offers a range of hoverboards with various weight capacity as we covered some in our Tomoloo hoverboard reviews.
When you want to buy a Tomoloo hoverboard for your kids, find which can carry approximately 165 pounds as they are helpful and can handle the weight as the kids grow. But when we talk about the adult ones, choose the hoverboard that supports the weight of 200 to 265 pounds.
Build Quality
It is vital thing to look for a good hoverboard that has sturdy material construction. Check out the external material of the product before purchasing. All Tomoloo hoverboards are of premium build quality that is why they are worthy of spending money on them.
These best hoverboards contain superior grade plastic that screams about its quality from every angle. For better grip and texture, the footpad has a rubber construction. It's also stressing to solid rubber wheels that provide good grip while riding on any terrain.
Speed and Range
It explains what you feel when you dash out the lane with speed on your hoverboard. Tomoloo hoverboard offers a fast speed limit of 10-15 miles per hour which is a good speed limit for experienced persons to enjoy the ride.
While the hoverboard designed for the kids has a low speed of 3 to 5 miles per hour, the kid's safety remains ensured. If you are a beginner, it is safe to use training mode and work from slow speed to high speed. After the practice, you can increase the hoverboard's speed up to the amazing speed of 15 mph.
Battery Quality
The hoverboards usually don't have long battery life and even can get out of juice in about an hour. One hour of battery time is good to enjoy the ride either in the park or around the neighborhood without any interruption. Tomoloo hoverboards have a good battery time. You can use it for 5 to 12 miles depending on the model.
Every UL-certified hoverboard battery passes through tests so that the lithium-ion battery ensures safety and efficiency. Its hoverboard also comes equipped with a battery that is UL certified and has a charger with the board, which impressively reduces the time of charging.
Portability Ease
Tomoloo hoverboards are portable, and you can bring them with you anywhere due to the weight between 20 to 30 pounds. Some of the manufacturers provide carrying bags along with them which makes its portability easy. These bags also have some space to place some of the hoverboard's accessories.
It looks easy to bring your hoverboard with you, but sometimes it feels like a burden for a longer distance. You may also carry its charger with your portable hoverboard if you have an idea to use it outdoor for a long time.
Pricing Factor
The standard to purchase a hoverboard should not be the price; safety must be the first to remain in mind. So, it is vital to consider your decision more for weightage on safety and features, not for money, for buying hoverboards.  
The range starts from $100 to 1$000. Chose good quality under your budget as some hoverboards offer premium quality like Tomoloo hoverboard, which is good in experience and under the range of most buyers.
Additional Features
Tomoloo hoverboards come with some special features which may ease and make your ride enjoyable. This excellent hoverboard manufacturer offers more which are below that have made this vehicle a sensation among youth.
Tomoloo hoverboard has a feature of Bluetooth connectivity, which is connected to your smartphone to let you enjoy the music during the ride. There are LED lights that add to the beauty of the hoverboard that everyone takes a second look at. These lights also help you to remain visible at night during the ride.
Steps to follow
How to Calibrate Tomoloo Hoverboard?
Sometimes the self-balancing of the hoverboard gets out of order. To mitigate this problem, you need Tomoloo hoverboard troubleshooting. It involves some basic steps, which we will elaborate on in this guide.
Find a flat surface and put the hoverboard in it. Ensure that the surface is not sloppy and has a proper level, as the hoverboard will get calibrated according to the level.
Shut down the hoverboard with the power button because it is a necessary step to follow. Make sure to power off it and don't put on the sleep mode.
Once you find the adequate level for the hoverboard, press the power button and hold it for 5 seconds till a beep.
Now the LED lights on the front or wheel will flash, depending on the hoverboard model. Once they flash, let the hoverboard sit in this position for 30 seconds.
Your Tomoloo hoverboard is now calibrated and ready to use again without any issues.
Best Recommended Product
Our Tomoloo Hoverboard reviews include enough insight into the best Tomoloo models available for kids and adults. If you are still looking for our expert recommendation, 
TOMOLOO V2 Eagle Off-Road Adult Hoverboard
is the best choice. We used this hoverboard for a few days, tested every expect and found its performance equally good for all-terrain. On slopes, it performed well, which is a plus if you travel in hilly areas.
Common Queries
Tomoloo Best Self-Balancing Hoverboards FAQs
Are Tomoloo hoverboards good?
Tomoloo hoverboards are one of the best boards in the market, giving a good ride experience. It is also UL 2272 certified, which gives us satisfaction about our security. When we talk about safety, it is the product on which we can rely. These hoverboards have cool designs which attract you, and their self-balancing ability can satisfy your thirst.
Is Tomoloo a good brand?
Tomoloo is the best self-balancing hoverboard among the other brand in the market. This company was established in 2013 and always believes in the quality of the product. Because safety is the supreme thing when it comes to the hoverboard, they follow all the safety rules and pass all the safety regulations very well. They aim to satisfy customer needs and make their client's experience more enjoyable with safety and sound.
How long does a Tomoloo hoverboard last?
Tomoloo hoverboards have long-lasting battery life. It can last for more than two years if you use them with all the precautions. In case of any fault, the manufacturer provides a genuine warranty. You can get an extended warranty by paying more and get more coverage for your hoverboard against any possible damage.
What is the minimum bodyweight for these hoverboards?
The minimum body weight for these hoverboards is 44 pounds. Generally, the Tomoloo hoverboard weight limit is 44 to 220 pounds. Some best electric hoverboards for adults can offer 265 to 400 maximum weight capacity, which is absolutely beast when it comes to adult hoverboards.