Looking for a reliable and efficient way to get to work without breaking a sweat or spending a fortune on gas? Look no further than the Addmotor Grandtan City Electric Trike!
A powerful and versatile e-trike that can take you along with your luggage up to 90 miles on a single charge. With its advanced motor and battery technology, this tricycle provides a smooth and effortless ride, allowing you to get a boost on your commute and enjoy the scenery along the way. 
Whether you're looking for a fun and eco-friendly way to get around town or a practical and efficient way to commute to work, the Addmotor Grandan city 3 wheel electric bike is the perfect choice. Read the full article to learn more about the features of this best electric trike.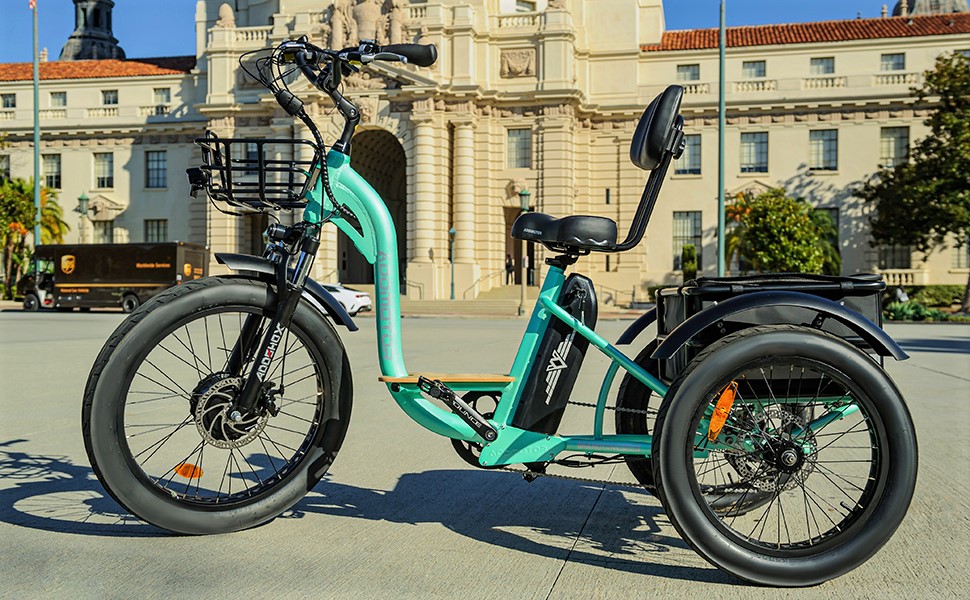 Addmotor Grandtan City Technical Specifications:
The Grandtan city electric trike is equipped with Addmotor latest EB 2.0 electrical system, head tube, and Addmotor 25A controller to make your rides more effortless and enjoyable.
| | |
| --- | --- |
| Motor  | Front hub brushless Bafang motor 48V *750 Watt |
| Battery  | Samsung EB 2.0 battery 48V*20AH |
| Charger | Standard US 5 pins DC charger with automatic magnetic suction |
| Pedal assistance  | Level 7 intelligent pedal assistance |
| Frame | Alloy aluminum frame 6061 |
| Tires | Kenda GIGAS  24''x 3.0''F/ 20''x3.0''R mini fat tire |
| Shifter | Right thumb shifter Shimano tourney 7-speed  |
| Total length and height | 77-Inch & 48-Inch |
| Brake rotors | 180mm Front/ 2*180mm Rear |
| Rims | 36H double wall aluminum |
| Chain | Rust-resistant KMC chain |
| Fenders | Aluminum front & back |
| Controller | 25A Addmotor Controller |
Powerful Motor:
This electric tricycle for adults is designed to provide a comfortable and efficient mode of transportation. You will enjoy your riding with a powerful 750W * 48V brushless front-mounted motor that provides enough power for a smooth and effortless ride. 
The motor of this electric tricycle is designed with an increased heat dissipation performance to ensure that power is effectively utilized. This feature is specifically effective when riding in hot and humid conditions.
The motor is capable of delivering a maximum torque of 80NM and a peak wattage of 1000 watts. This means that the trike can easily navigate through a variety of hard terrains.
UL-Certified Samsung Battery:
Addmotor Grandtan City is powered by UL certified 48V * 20.0 AH long-lasting Samsung battery. You can drive up to 90 miles (PAS 1) with this powerful battery. And the high-quality battery could control the temperature for better performance of the battery, and also make sure you have a safe riding experience.
Step-Thru Frame:
You can easily get on and off with the stylish step-thru frame of this unique fat tire electric trike. This aluminum alloy frame is lightweight, durable, and has a front suspension to absorb the road bumps on the undulating ground to keep you comfortable while riding.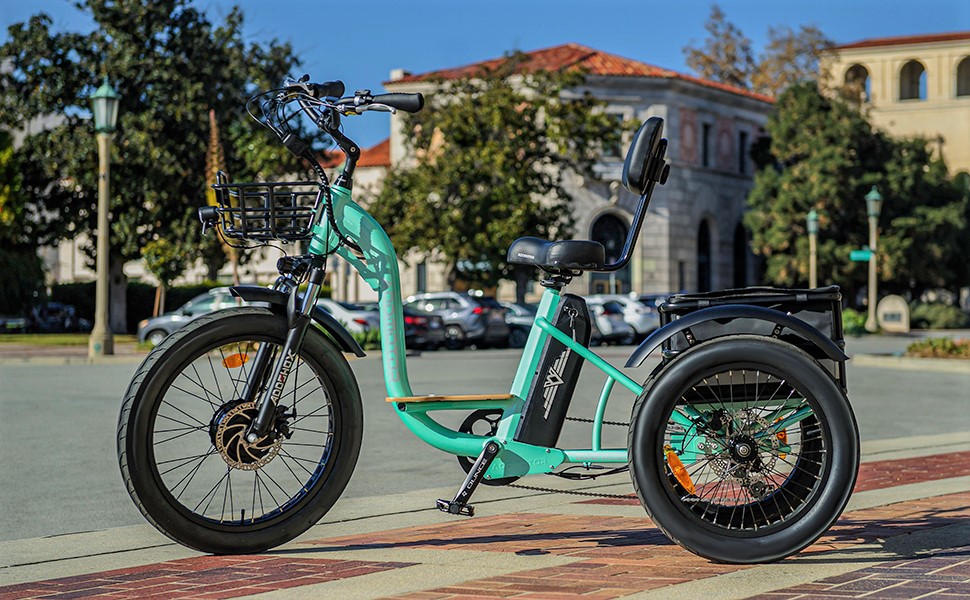 5-inch Waterproof Display:
Addmotor Grandtan City electric trike is also equipped with a 5-Inch waterproof LCD Display on the front handlebar. The display is power efficient and uses little power to function without affecting the battery. 
You can check your speed, battery capacity, turning indications, PAS level, front and rear lights status, and motor output on the display.
Mechanical Disc Brakes:
When you apply the brake levers on this electric trike bike, the Tektro mechanical disc brakes respond quickly, providing enough friction to stop the trike in its tracks. Whether you need to slow down gradually or come to an abrupt stop in an emergency, these brakes have you covered.
The auto motor supply cutoff sensor is another important safety feature of the Grandtan City e-trike. It ensures that the motor automatically stops when the brakes are applied, preventing any accidents or mishaps on the road. One front and two rear brake rotors of 180 mm are installed in the trike. 
Lightening and Controller system:
This electric trike uses an LED lighting system that saves up to 15% of energy while working in normal conditions. The trike has a headlight, tail light, turning signals, brakes flush, and a danger light.
The best electric trike is fitted with chip style controller to increase the onboard free space and improve the speed and stability of different functions. Also, the new upgraded controller is noiseless. 
Fat Tires and Adjustable Seat Backrest:
Addmotor Grandtan City fat tire electric trike is installed with multilayer 24-Inch * 4.0-Inch fat durable tires to give your trike maximum grip and easy control on different kinds of terrain. 
Furthermore, You will love the adjustable Backrest and footrest board of this adult electric tricycle that reduces lower back stress, relax your feet and makes your ride more relaxed and comfortable, maintaining the natural riding posture.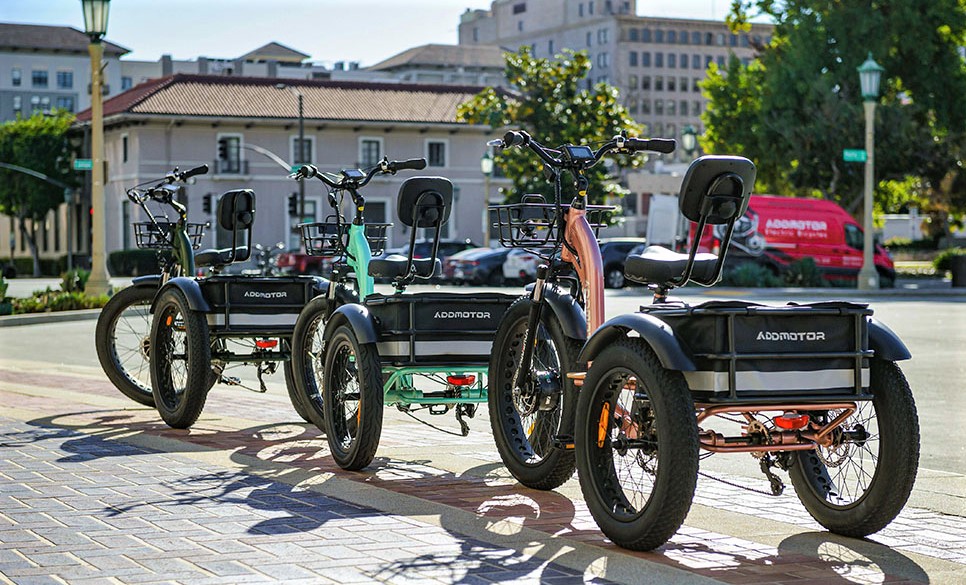 Positive
90+ miles on a single charge
Comfortable for elders
Maximum load capacity 450Lbs
Capable of various terrains 
User-friendly controls
Negatives
Not affordable for low-budget customers
High-capacity battery takes about 9-10 hours to charge
Pro Tips for Buying an Electric Trike:
Think of the route is suitable for a tricycle you will be riding mostly 
Consider your budget and needs 
Check for extra features like an adjustable seat, backrest, and front or back basket
Consider the trikes dimension to fit in your garage
Final Verdict
The Addmotor Grandtan City Electric Trike is a reliable and efficient mode of transportation, perfect for those looking for a practical and eco-friendly way to get around town or commute to work. With a powerful and efficient 750W*48V brushless motor, UL-certified 48V20.0 AH long-lasting Samsung battery, and the latest EB 2.0 electrical system, head tube, and 25A controller, this electric tricycle provides a smooth and effortless ride for up to 90 miles on a single charge. 
The e-trike also features a step-thru frame, a 5-Inch waterproof LCD display, Tektro mechanical disc brakes, and a chip-style controller for speed and stability. Additionally, the e-trike's LED lighting system, rust-resistant KMC chain, aluminum front, and back fenders, and adjustable backrest add to the overall riding experience. 
All these features make the Addmotor Grandtan City electric trike an excellent choice for anyone looking for a reliable, comfortable, and eco-friendly mode of transportation.