Airwheel, a leading Chineseluggage manufacturing company, announced the launch of their 28L capacity electric scooter luggage. The luggage is said to be the world's largest capacity electric scooter luggage and is perfect for frequent travelers. It can hold up to 286 pounds, making it ideal for those who need to pack a lot for their travels. This luggage is also said to be very durable and withstands a lot of wear and tear.
Airwheel World's Biggest Luggage Manufacturer, Introduces 28L Capacity Electric Scooter Luggage; it is a revolutionary new product designed to carry your gear on your electric scooter and make commuting and travelling much easier. 
Standard luggage options typically only offer small capacities suitable for carrying a significant amount of gear. The Airwheel 28L Capacity Luggage provides a much larger capacity that is awesome for carrying your gear. It is a massive upgrade from the traditional & 3 wheel scooter luggage options available on the market.
This e-scooter luggage offers a unique rideable function that allows you to take it wherever you go. It can reach a top speed of 10 km/h, so you can quickly get around town or travel to your destination. The luggage is also very affordable, making it an excellent option for those on a budget.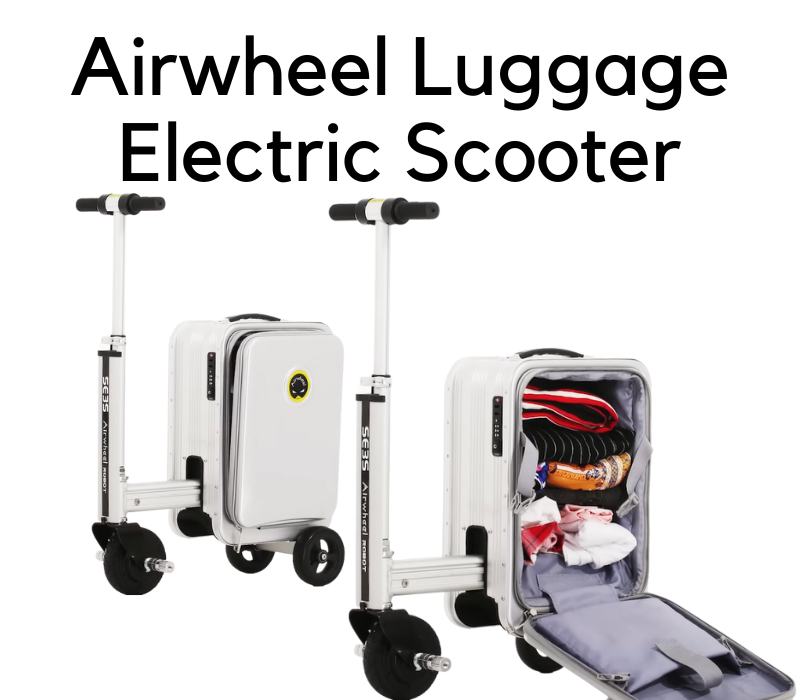 One of the best things about this e-scooter luggage is that it comes with 4-inch large wheels, which make it very durable and able to withstand a lot of wear and tear. It also comes with abrasion-resistant and shock-absorption features, so you can be sure that your belongings will be safe and secure. 
Along with the riding ability, the luggage also features a removable battery, which makes it easy to charge. You can plug the luggage into an outlet to recharge, making it a convenient option for those who need to travel frequently.
This luggage has a spacious interior perfect for storing clothes and other belongings. The interior also includes a storage area for your laptop or other electronics. The exterior of the luggage is made from durable materials resistant to weather conditions. The luggage also has a built-in battery pack that allows you to use without worrying about connecting it to a power source.
An employee of the Airwheel said that "the luggage is designed with a transparent design so that you can easily see what is inside." This makes it easy to find what you are looking for and eliminates the need to search through a pile of clothes or luggage. You can see the creativity and imagination of every suitcase the company has made, and this is one of the best e-scooter luggage companies introduced in the market.
The Airwheel also features an external USB port, which allows you to charge your devices while using the luggage. This is an excellent feature since finding a place to charge your devices while travelling can often be challenging.
The luggage is easy to use and makes it easy to transport your belongings. The large capacity makes it perfect for carrying all of your gear. An Airwheel electric suitcase scooter is an excellent option for anyone who wants to improve their commuting experience.
The Airwheel SE3 -drive your luggage's patented design is another excellent feature of the luggage. It is designed to be the more oversized electric scooter luggage and is perfect for frequent travelers. It also features an aluminum alloy frame, making the luggage durable. It can also withstand a lot of wear and tear, so you can be sure that your belongings will be safe and secure.
A PC material shell & one-piece frame technology makes the luggage almost indestructible. It can also withstand frequent falling, so there will be no risk of damage to your belongings when you are travelling outside.
Airwheel: A Promising Brand
Airwheel is a leading luggage manufacturing company that provides a wide range of luggage products for travel and everyday use. When talking about Airwheel, the brand has years of experience in the luggage industry and known as a trusted source of quality luggage.
Airwheel has something to fit everyone's needs, from carry-on luggage to checked bags. Whether you're looking for carry-on or checked luggage, Airwheel has you covered. With quality materials and a professional team of experts, Airwheel is a company you can trust.