Segway is a reputed electric vehicle brand that is famous for its electric scooter lineup. It was established in 1999 and then transferred its headquarter to China. The best Segway hoverboard represents the same quality and commitment that we get in all other products. This hoverboard has a unique design and stylish operating mechanism that is native to the Segway brand. They are known for their excellent motor power and long mileage due to top-notch craftsmanship.
Segway is a good brand hoverboard that has one of the finest build quality. It is suitable for an urban ride due to its massive tire size. These hoverboards have one of the highest motor power that can drag the rider through most terrain without limiting the movement. Besides that, UL certification makes them safe for kids and adults for indoor and outdoor commuting.
Best Choice
Top 3 Best Segway Hoverboard to Buy
Although there is not much choice when buying the best Segway hoverboard due to limited models from the manufacturer, you may still get confused while making the buying decision. The top 3 best Segway hoverboards to buy are different in terms of functions and features. Therefore we have tested each hoverboard and explained reviews Segway hoverboard. You can also get help from the buying guide to select the best one.
Segway Ninebot S Max Best Hoverboard Brand
maximum power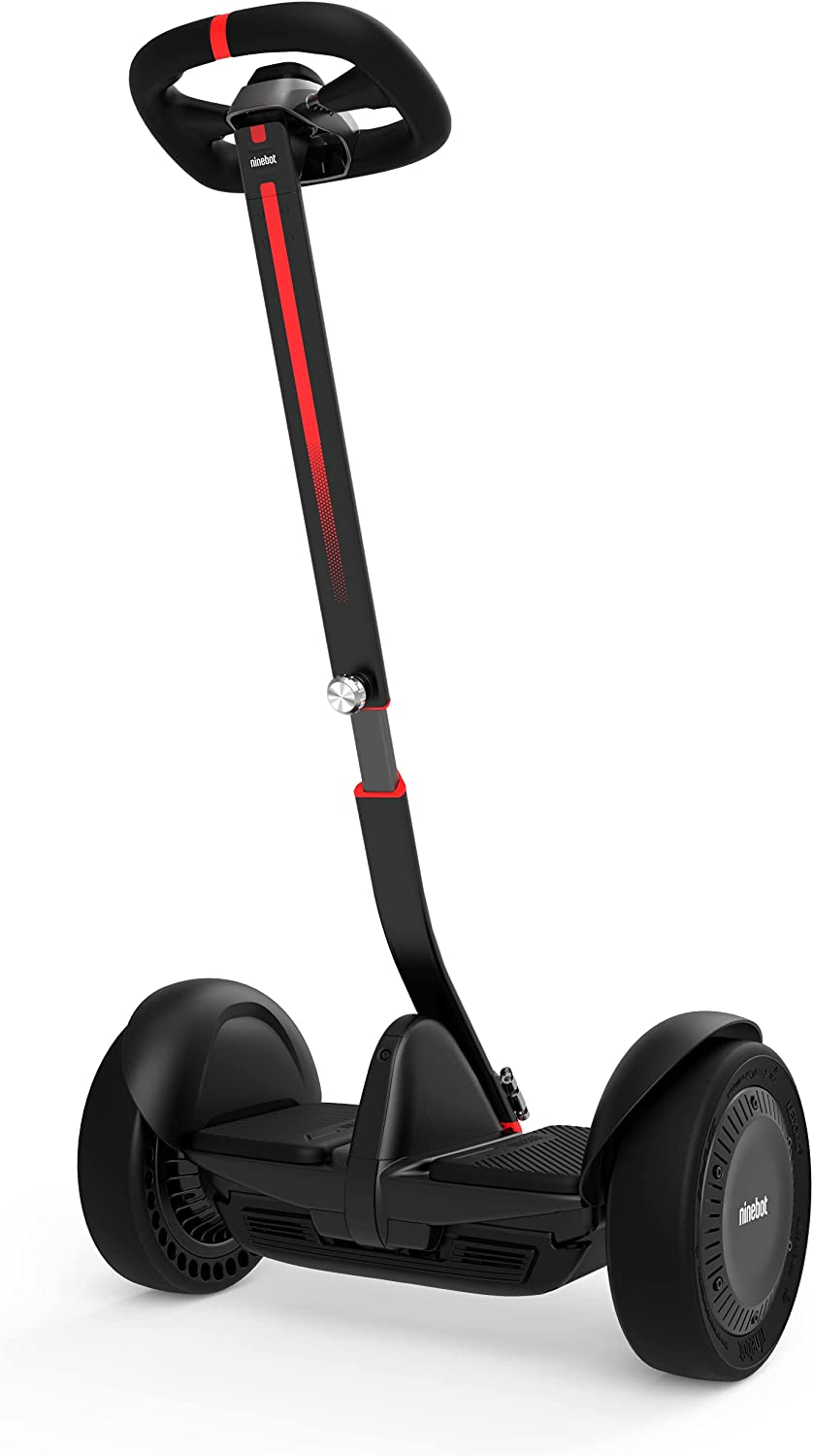 Motor Power: 1000W
Top Speed: 12.4 MPH
Travel Range: 23.6 miles
Max Weight Capacity: 220 pounds
Wheel Size: 10 inch
Warranty: 12 months
The Segway Ninebot S Max is the best hoverboard segway brand for eco-friendly and reliable personal transport. It packs one of the best travel range that we have seen on the hoverboards. In addition to its range, it has excellent motor power and a unique style that makes it the best choice for indoor and outdoor use for people of all ages.
Speed and Acceleration
If you upgrade from a regular hoverboard, you may find Segway Ninebot S Max an amazing upgrade. It has a larger wheel that gets power from the dual 1000W motors. These electric motors can provide 4800W at max with an average rider's top speed of 12.4 miles per hour.
The motors have hub designs that are better in terms of performance compared to the most electric hoverboards available in the market. It has a 15-degree climbing angle that makes it perfect for slight slopes; however, any hill gradient larger than this may decrease adults' motor efficiency and speed.
Battery and Range
The 432 Wh battery in the S Max is the most extended range lithium-ion battery that takes the rider to a distance of 23.6 miles per charge. This is extremely useful if you want the hoverboard for a long-range commute.
Despite the large Segway hoverboard battery and extended travel range, the recharge time of the Segway S Max is short. There is overcharge protection in the charging system. It only takes 4 hours to charge the hoverboard.
Build Quality
Segway S Max has a hardened plastic body that keeps it safe from external elements. However, the handlebar and the internal components are metal that integrates well with the hoverboard frame. In addition to the plastic and metal parts, the solid rubber tires make them more durable and resistant to wear and tear.
Besides the excellent build quality, the tires have brilliant shock absorption for traveling on most terrain, making them the best 10-inch hoverboard. Its solid tires are not as good as pneumatic tires for shock absorption, but this is the slight tradeoff for the protection against getting flat during the commute.
For parking and better transporting, the S Max hoverboard has detachable handlebars. These are easier to remove while you end your pleasure ride and reach the destination. You can park the scooter anywhere in the crowded area due to its compact size.
Ride Quality
The Segway Ninebot S MAX looks similar to a hoverboard with a handle connected to it. The dual motors do an excellent job of auto-balancing the board while a rider is standing on it. However, the most challenging part of learning how to drive is when going over minor bumps or going on and off pedestrian paths.
The Segway S Max contains several lights and signals, including an electronic odometer, dual front LED headlights and a battery level monitor on the front of the vehicle. The handlebars are simply customizable to suit practically any rider's height and weight.
Safety Provided
The S Max by Segway provides increased control as well as higher stability. It responds to action with 0.01-second responsiveness thanks to its innovative and practical Leansteer technology, which detects and tracks each action, delivering a comfortable ride overall.
PROS
Excellent battery capacity for the long travel
Massive solid rubber wheels
The fast response rate for the movements
Accurate odometer for the speed check
Decent acceleration and speed
CONS
Solid tires have weak shock absorption
Segway Ninebot S Plus Hoverboard for Adults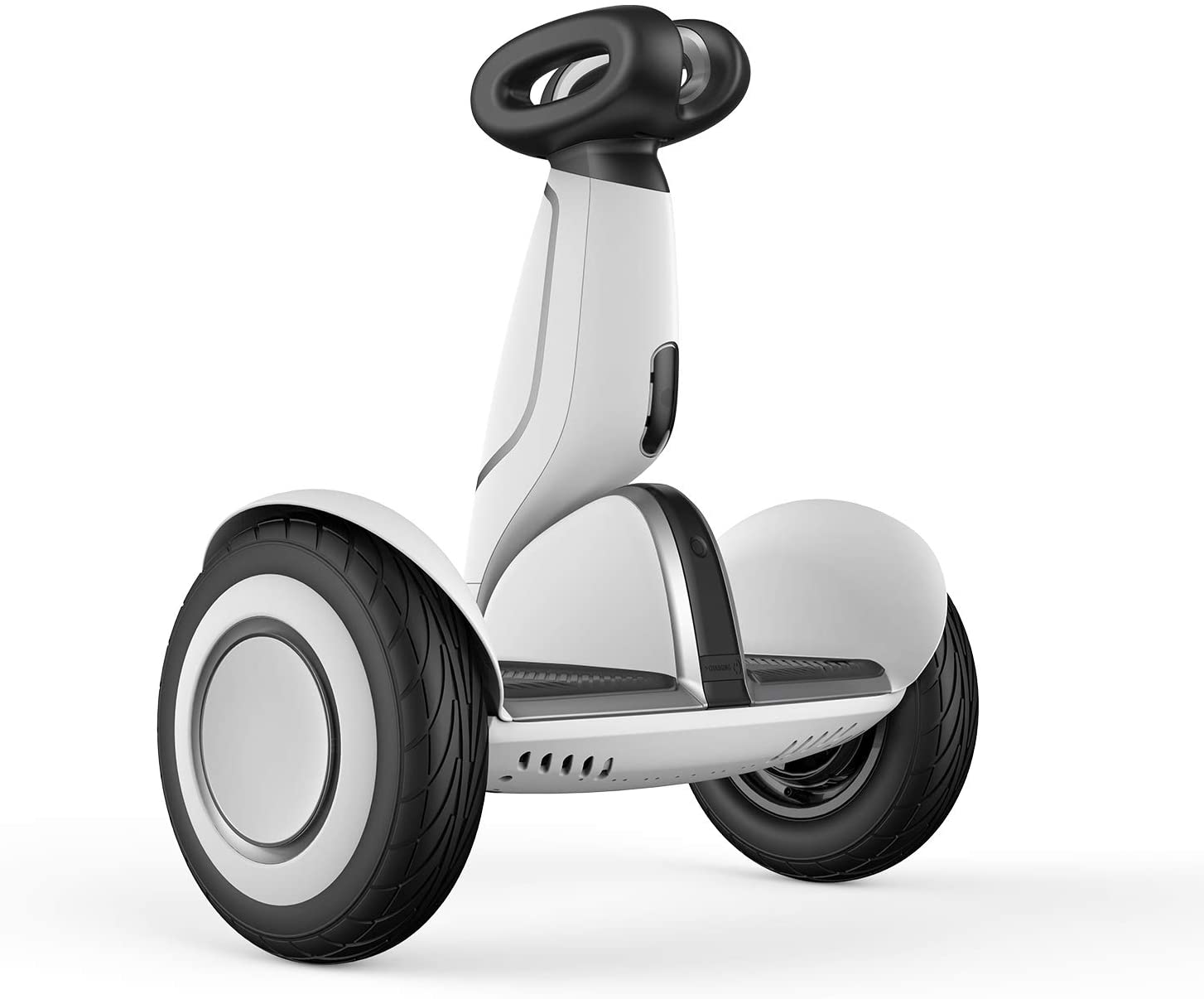 Motor Power: 800W
Top Speed: 12.5 MPH
Travel Range: 22 miles
Max Weight Capacity: 220 pounds
Wheel Size: 11 inch
Warranty: 12 months
Segway S Plus is a nice upgrade from the Ninebot S, having a quicker cruising speed and a range of 8.3 miles longer than the previous generation model. In addition to this, its self-balancing allows riders to rest a little while still maintaining control of the vehicle.
Even though this model is not a budget hoverboard. We believe it provides a fun and convenient way of travel for segway hoverboards for adults.
Speed and Acceleration
With a high speed of 12.5 miles per hour, the Segway Ninebot S Plus goes the extra mile. The enhanced effectiveness of the motors results in a substantial boost in mileage, with the increase in range by 8.3 miles from Segway Ninebot S hoverboard, courtesy to dual powerful 800W motors that enable a total output of 1600W at peak.
This significant increase in Wattage allows for a top speed of 2.5 miles per hour quicker than the previous model. You can impress your friends with this tremendous power and can cruise at a higher speed. Because of this strength, the Segway Ninebot S Plus can readily manage uphills of up to 15 degrees and loads of up to 220 pounds without difficulty.
Battery and Range
You may anticipate a distance of at least 22 miles on average with Segway S plus hoverboard. However, this depends on various circumstances such as rider weight, riding technique, pace, terrain, hill grade, and other considerations.
The Segway Ninebot S Plus battery protects against excessive voltage, under-voltage, overheating, and short circuits. This contributes to the overall safety and reliability of your hoverboard. Additionally, auto-sleep and auto-wake technologies can maximize battery life while also increasing user comfort.
Build Quality
With a design comparable to the regular model, the S Plus white Segway hoverboard features a novel and efficient knee control bar that allows for swift and precision turning at the slight movement in any direction. Constructed from compact, aircraft-grade aluminum alloy, this board has the advantage of being both sturdy and portable.
It also has a practical fold-up design for convenient storage. The use of 11-inch pneumatic, anti-skid tires provides riders with a pleasant and comfy ride capable of tackling various terrains and environmental conditions.
Segway S Plus Safety
The Ninebot S Plus has a self-balancing mechanism to provide a safe and relaxed ride on hoverboards, which lack a handlebar to help you maintain your balance. The self-balancing technology ensures that you remain balanced when riding, no matter what terrain you are on.
As a result, you won't have to worry about falling off your Segway S Plus and endangering yourself. However, you must maintain an appropriate riding position at all times and wear all necessary protective gear to avoid any injuries.
Moreover, with an integrated waterproof storage compartment, IP54 protection certification ensures that the board remains usable in any weather condition. Safety is also a top priority and addressed with an alarm that delivers a notification to your smartphone.
App Connectivity
There are a lot of additional features and functionalities available through the Segway smartphone app for your hoverboard. This includes customizing LED lights, setting speed restrictions, setting alarms, using track mode, and many other features.
PROS
Innovative knee handle control bar
Customizable lighting options
Excellent self-balancing
Faster and reliable top speed
Extended range for long rides
CONS
Expensive
Not suitable for off-road rides
Segway Ninebot S Cheap Hoverboard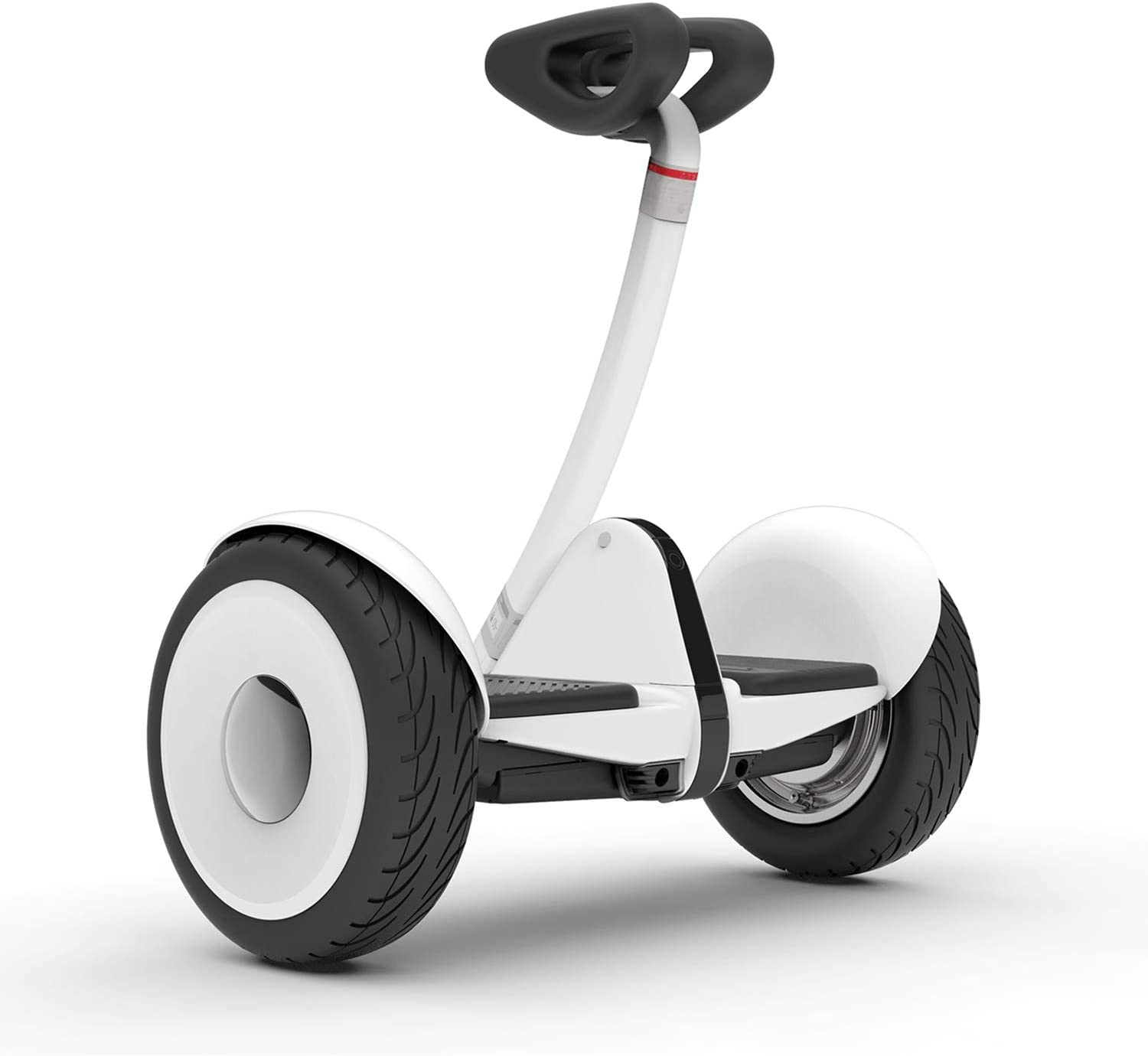 Motor Power: 1600W
Top Speed: 10 MPH
Travel Range: 13.7 miles
Max Weight Capacity: 220 pounds
Wheel Size: 10.5 inch
Warranty: 12 months
In terms of urban commuters, the Segway Ninebot S is among the top-rated self-balancing hoverboards on the market. You already saw larger Segways with handlebars utilized for balancing. However, this cheap Segway hoverboard has a style that falls between traditional and larger Segways. Beginners would find it considerably easier to ride the Ninebot because of its unique steering system.
Speed and Acceleration
The 800W dual motors in Ninebot S delivers a top speed of 10 miles per hour. In the training mode at the start, you should ride slowly. Once you master this mode, you can trigger to higher speeds. You can enable training mode again to make the ride safe for kids with a limited speed of 6 miles per hour.
Battery and Range
The Ninebot S has a 310W lithium-ion battery that gives an exceptional amount of travel per charge. With a travel range of 13.7 miles, you will never get stranded during your commuting.
This amounts to 1 hour and 20 minutes of steady riding at peak pace for the entire distance. Given the increased range, recharging the hoverboard takes longer than the regular hoverboard.
Build Quality
Segway S hoverboard is exceptionally well-made in terms of construction. This sturdy platform is constructed of strong and high-strength Magnesium alloy components to give a firm foundation. The majority of the device's body has plastic construction, which helps to keep the device's weight down. 
The 10.5-inch pneumatic tires ensure a smooth ride, but they are likely to get flat and puncture. It is the best off-road hoverboard due to these massive tires.
Safety Tested
The Ninebot S has been certified as IP54 compliant. In other words, it is dust and splash resistant, but it is not waterproof for puddles and broader exposure to the water. Therefore, do not ride it in puddles or severe rain.
It has been tested and approved to UL 2272 and UL 2271 standards. As a result, its electrical system and battery ensure that they are free of faults. The Smart Battery Management System has a dependable efficiency to prevent overheating, under-voltage, overvoltage, and short circuits to eliminate any problems.
App Connectivity
The Segway Ninebot S comes with a smartphone application to connect your device with the hoverboard through Bluetooth. The software assists with the activation of the device and the digital locking and unlocking of the device. You can also enable and disable the training mode and manage the speed limits.
PROS
All-terrain performance
A smooth and reliable ride
One of the best self-balancing
Knee control assists in the better ride quality
Anti-skid and large pneumatic tires
Comparison
Segway Ninebot S vs S Plus – Which One to Buy?
At the time of arrival, the Segway Ninebot S was considered one of the best hoverboards in the market. But the Segway Ninebot S Plus introduction provided some extra features and changes from the previous model. It introduced some surprising features which make the hoverboard more versatile, handy, and portable.
The Segway Ninebot S plus is better than its predecessor, Segway Ninebot S. We set a chart here so that you can compare all of the features of both hoverboards and determine which one is better than the other.
| | | |
| --- | --- | --- |
| Features | Segway Ninebot S | Segway Ninebot S Plus |
| Motor Power | 800W | 800W |
| Top Speed | 10 MPH | 12.5 MPH |
| Range | 13.7 Miles | 22 Miles |
| Climbing Angle | 15 Degree | 15 Degree |
| Waterproof | IP54 | IP54 |
| Item Weight | 28 pounds | 36 pounds |
| Recommended Age | 16+ | 16+ |
| Weight Capacity | 220 pounds | 220 pounds |
| App Connectivity | Yes | Yes |
Motor Power and Top Speed
This feature in both of the models is the same as they have the same motor power. Segway Ninebot S and Segway Nine S Plus come with dual motors, which generate about 800W.
The highest speed of Ninebot S is almost 10 miles per hour, but when Ninebot S Plus boosts 12.5 miles per hour under its hood. Although the top speed difference is not much from the rider's perspective, this is a significant increase. If you are an expert and enjoy a snappy ride with an adventure, you can prefer Ninebot S Plus.
Weight Capacity
The weight capacity of both the model Nine S Plus and Ninebot S is the same. They can bear the exact weight of the rider, about 220 pounds. If we look at the market, many other brands offer more weight capacity to accommodate up to 265 pounds.
For heavier adults, if your weight exceeds the limit, it can decrease the speed and may affect the overall performance of the hoverboard. In our consideration, this weight limit is ideal for regular users like teenagers and adults.
Segway Hoverboards Range
The range of the hoverboard means how many miles you can cover with one charge. If we talk about the range of Ninebot s and Ninebot S Plus, the S Plus beat with a large margin. Segway Ninebot S can only cover about 13 to 14 miles in a single charge. But if we talk about the Segway Ninebot S Plus, it can cover the range of 22 miles with one charge.
There is a significant difference between both of the hoverboard ranges, and probably it accounts for the higher price of the S Plus. If you want to ride around the town for a short distance, Ninebot S is the best choice. But if you're going to cover the long-distance and enjoy the ride for more distance, then Ninebot S Plus is a better option.
Design and looks
There is no significant difference between the design of Ninebot S and Ninebot S Plus. The Ninebot S has a slimmer look, and the Ninebot S Plus has a bulky look. The design of the S Plus is a little bit different from the Ninebot S.
Both of the hoverboards have an attractive and sturdy look. If you want to decide which one is good, it may be a tough decision as both are best. If you like the slim look, then Ninebot S is your choice, and if you want a bulky look, then S Plus is good.
Overall Winner
After this comparison, we declare the Segway Ninebot S Plus as the best choice between these two models. No doubt, the Segway Ninebot S also offers excellent features and is the right choice if you have less budget.
If you have a reasonable budget, then buying Segway Ninebot S Plus is the right option. Although the price of this S Plus is high, it is worth spending on it due to its extra features. You may hardly find these features in other hoverboards in the market.
Follow these Factors
Segway Hoverboard for Adults and Kids Buying Guide
Choosing the best Segway hoverboard to get easier if you know what features you need in the hoverboard. You must have a clear understanding of the features to make the right decision. For buying the best hoverboard Segway brand, consider these features before.
Hoverboard Motors:
Nowadays, high-quality dual motors are present in most hoverboards. So look for those options. More the motor power in watts more the capacity and better the performance. Commonly hoverboard comes with 250W dual motors, which collectively produce 500W of power.
But the latest and advanced models of hoverboards offer 400W power from each motor which becomes 800W of dual motors. Choose the motor power wisely depending on your use.
Hoverboard Battery:
Everyone knows that the self-balancing scooter can move only with batteries. From experience, now the manufacturers are more concerned and make the batteries safer and secure.
Segway hoverboards undergo some special tests and are UL certified. There are some main points to keep in mind for the battery quality, like how much charge it can bear? How long distance can it cover with a single charge? And How much can it support the speed of the motor?.
Hoverboard Speed:
When buying the Segway hoverboard for adults, speed is one of the main concerns. While making a purchase, the speed of the hoverboard plays a vital role for any user. This speed feature directly depends on the motor power and the size of the wheels.
Hoverboards with dual motors always offer good speed. The minimum speed of Segway hoverboard starts from 10 mph, and this speed limit is going to its maximum speed of 12.5 mph, which is enough even for the expert rider. Nowadays, most companies offer the app feature from which you can directly control the speed using the smartphone app.
Hoverboard Tires:
Segway hoverboard riding experience primarily depends on the tires as you cannot move comfortably without them. When buying a hoverboard, tires need more focus as they are essential for a safe and secure ride.
The inner and outer structure of the tires decides their quality. The internal design of the tires is significant as it helps you determine the quality of the ride. Choosing rubber, flexible, and high-quality tires is vital for a smooth ride and bearing the riders' weight while on the road.
When purchasing the electric hoverboard, size is also an important consideration. The Segway hoverboard ninebot tire size varies from 10 to 11 inches which is one of the best we have seen on the hoverboards. Always consider tire quality, type, and size while buying the hoverboards for your or your kids. 
Hoverboard UL 2272 Certification:
Safety always remains the priority for anyone when you want to buy some self-balancing scooters. We have already briefly discussed above that they only prefer those products which are UL 2272 certified. This certificate is essential for any hoverboard manufacturer company. Every brand must pass all the tests of this certification.
Make sure about the hologram of the UL 2272 certification on the hoverboard's bottom. It also ensures the battery, motor, and tires and protects them from charging and overcharging. Segway hoverboards are UL certified, and even the cheapest Segway hoverboard comes with this certification so that you can buy them without second thoughts.
Hoverboard Weight:
There are two types of weight; one is the weight of the hoverboard, and the second is the weight that can be bear by the product. The product's weight is a much more important consideration as if you want to carry it with you to another place on vacation.
Then it should be light enough so that you can take it with you without any problem. Hoverboard weight is also important as it tells if the hoverboard is fit for your riding or not. Gold Segway hoverboard can accommodate about 220 pounds of weight.
Hoverboard App Connectivity:
In this age of technology where you can operate all the things with fingertips, the hoverboards also bring some progressive changes. You can handle all the functions of the best Segway hoverboard by installing the app and connecting it to your smartphone.
App connectivity offers several important features. You can avoid any accidents for your little kids as you can easily handle the speed with your smartphone with the hoverboard app. It is a good option for beginners and experts who can reduce speed without moving their bodies.
Hoverboard with Bluetooth Speakers:
Traveling without music looks boring as you need something thrilling which gives you more excitement. For bringing style in your ride, the hoverboards come equipped with built-in Bluetooth speakers which can easily connect to your smartphones. You can listen to the music of your choice by streaming the music directly from the phone and listening from hoverboard speakers.
Buying the hoverboard due to built-in Bluetooth is the primary factor that helps in listening to music during the ride. You can easily connect your smartphone only by turning Bluetooth on. Bluetooth Segway hoverboard has two connectivity options. You can directly connect your mobile phone to the hoverboard or use the app to connect the hoverboard.
The decision-making while buying the best Segway hoverboard depends on personal preferences. All the hoverboards manufactured by the Segway show excellent built quality and top-notch features.
If you can accept the handlebar design, the
Segway Ninebot S Max hoverboard
is the best device that you can choose. It has one of the best electric motors, high build quality, and an unmatched travel range to impress enthusiasts.
Is a Segway better than a hoverboard?
The size is the primary and significant difference between the hoverboard and Segway. A hoverboard contains two tires and one board for your feet for balancing. Segway comes equipped with a more robust design and a handlebar for steering and balancing.
What is the top speed of a Segway?
The maximum speed offered by the Segway is up to 12.5 miles per hour. This self-balancing scooter can cover a distance of 23.5 miles with a fully charged lithium battery. The speed may get affected by the surrounding factors like terrain, style of riding, and depend on the condition of the batteries.
How to reset a hoverboard Segway?
Press and hold the power button for few seconds, and do not move your hoverboard during this time. Avoid and neglect all the beeps and lights flashing for 10 seconds. Then release the power button and let the hoverboard turn off. Your Segway hoverboard is now reset and ready to turn on.
Is Segway a good brand?
Since 1999 Segway has been in the market of two-wheeled transportation. It is an excellent brand and the foremost producer of electric transit in mobility scooters. Their priority was to give people the most convenient transportation, which also offers a pollution-free environment. Segway hoverboard price and build quality speak for their brand reputation.
Is Segway made in China?
The purpose of this company is to provide transportation products, and they are also concerned with the development, manufacturing, designs, and care for the sales of short-distance vehicles.