In this age of rapidly evolving technology, hoverboards are no longer unusual gadgets. In addition to being extremely popular among individuals of all ages, including children and teens, they also make beautiful gifts.
The SISIGAD hoverboard reviews contain the boards, which are a relatively new product on the market. They have swiftly gained popularity among hoverboards enthusiasts and are now one of the most popular self-balancing scooters available on the market.
Several unique characteristics distinguish the SISIGAD hoverboards. Still, the most notable is the self-balancing function, which ensures that you are always stable and away from any mishaps that may arise due to losing your balance in any circumstance.
They are pretty easy on the eyes in terms of their aesthetic value and offer plenty of other promising features, including Bluetooth/wireless speakers, LED lights, and rugged wheel and pads for riding on types of terrain. In this article, SISIGAD hoverboard reviews are enlisted for your ease to choose the best pick for yourself and your loved ones.
Personally, I am a big supporter and promoter of EVs. As a traveler, I always carry my electric ride to keep journey comfortable anywhere in the world. I came here online on this platform to give you my personal experience and other user's reviews of all used products.

WHO I AM?
Top Picks
3 Best SISIGAD Hoverboard Self Balancing Scooter
Choosing the finest Sisigad Hoverboard is a difficult task. The hoverboard has a specified weight restriction, making it suitable for users of all sizes. We have selected 3 best buy SISIGAD hoverboards worth your money. Let's start with the SISIGAD classic hoverboard reviews one by one.
SISIGAD Off-Road 8.5 Inch, Sisigad Hoverboard Speed
large tire size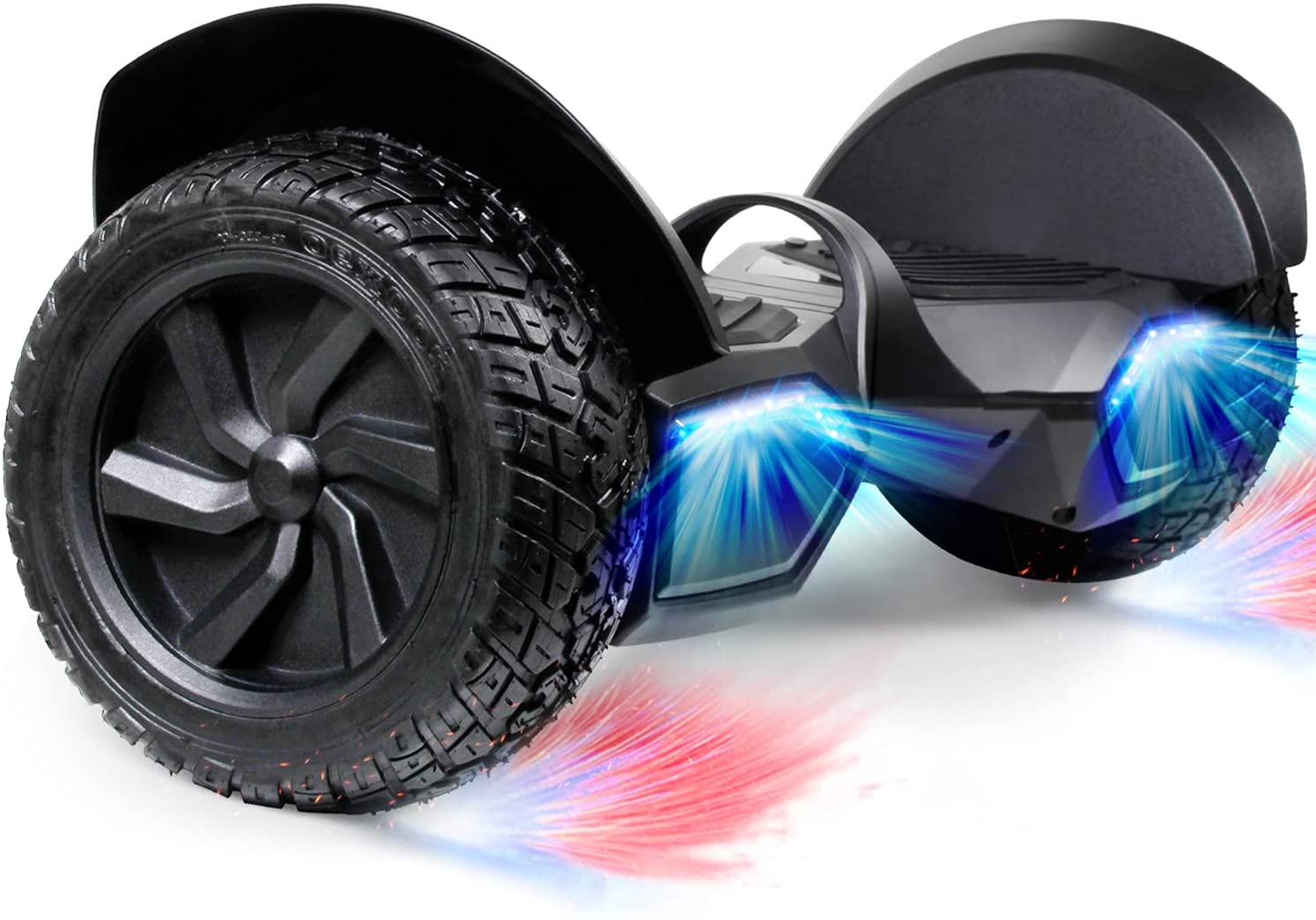 Motor Power: 700W
Top Speed: 10 MPH
Travel Range: 9.5 miles
Max Weight Capacity: 265 pounds
Wheel Size: 8.5 inch
Warranty: 90 days
A high-gloss black off-road hoverboard with crisp, electric blue Bluetooth speakers that blast excellent music at a reasonable price is available. This Off-road Hoverboard is a lightweight and portable mode of transportation with a solid performance from other products in our Sisigad hoverboard reviews.
The SISIGAD Off-Road Hoverboard is a self-balancing hoverboard that may be used off-road. This model intends to be a more dependable, safer, and more durable version of the SISIGAD off-road hoverboard. Along with the latest technologies, It features a sturdy construction and excellent wheels to handle virtually any terrain.
High-Quality Construction
Through this model, SISIGAD provides you with an all-terrain design. The sturdy and robust construction of the material offers a great deal of versatility across various terrains. The rugged 8.5-inch tires bolster the hoverboard's overall toughness on the bottom.
Off-road Capabilities
The off-road capabilities of this hoverboard are the most remarkable and appealing aspect of this product. To enhance the ability of an off-road hoverboard, it must go over rain, grass, dirt, and gravel. As a result, this is the finest 8.5-inch hoverboard on the market, and it has a lot to offer.
Power and Battery Performance
Another benefit of this SISIGAD off-road hoverboard is the amount of power provided by the engine, Its dual motors. Each of which is capable of producing 350 watts. Sisigad hoverboard replacement charger is also available in the market easily.
In contrast to other hoverboards, this off-road hoverboard also enables you to obtain a reasonable battery charge up to 10 miles per hour when traveling at a moderate speed. It also allows you to charge more quickly. This hoverboard has 36Volt/4.0Ah Li-ion batteries, which provide a longer operating duration.
Speed and Acceleration
SISIGAD hoverboard speed performance has an exceptional capacity of up to 10 miles per hour on the board almost at all types of terrains. Furthermore, the board is put through a series of intensive tests to ensure its safety.
Angle of Climbing
This hoverboard has a maximum climbing angle of 30 degrees, which allows it to ride well. It also provides stable upright riding on a variety of terrains. The climbing angle indicates its ability to maneuver through the off-road and extreme terrain with ease.
Weight Capacity
This SISIGAD hoverboard weight limit ranges from 44 pounds to 265 pounds, which allows it to travel comfortably. The load bearings on this hoverboard are likewise of high quality. It is equally suitable for young kids and adults while the construction quality keeps you on the wheel without fear of breaking down between commutes.
Additional Features
You can connect your SISIGAD hoverboard with Bluetooth via your smartphone to the built-in Bluetooth speaker and enjoy the trip as you're getting to your destination at a breakneck pace. However, to prevent you from going too wild with speed, the board is equipped with a sophisticated, high-tech control system that assists you in maintaining balance while you ride.
The powerful LED headlights provide enough lighting for driving at night or in low-light conditions. This board also has responsive turn signal lights to ensure that you have the most enjoyable riding experience possible.
PROS
Light-weight board
Convenient to use for both adults and children
Sturdily constructed wheel
Easy to take fast and sharp turns
CONS
Not the most suitable for kids because of its high speed
SISIGAD Hoverboard Self-Balancing Scooter with Bluetooth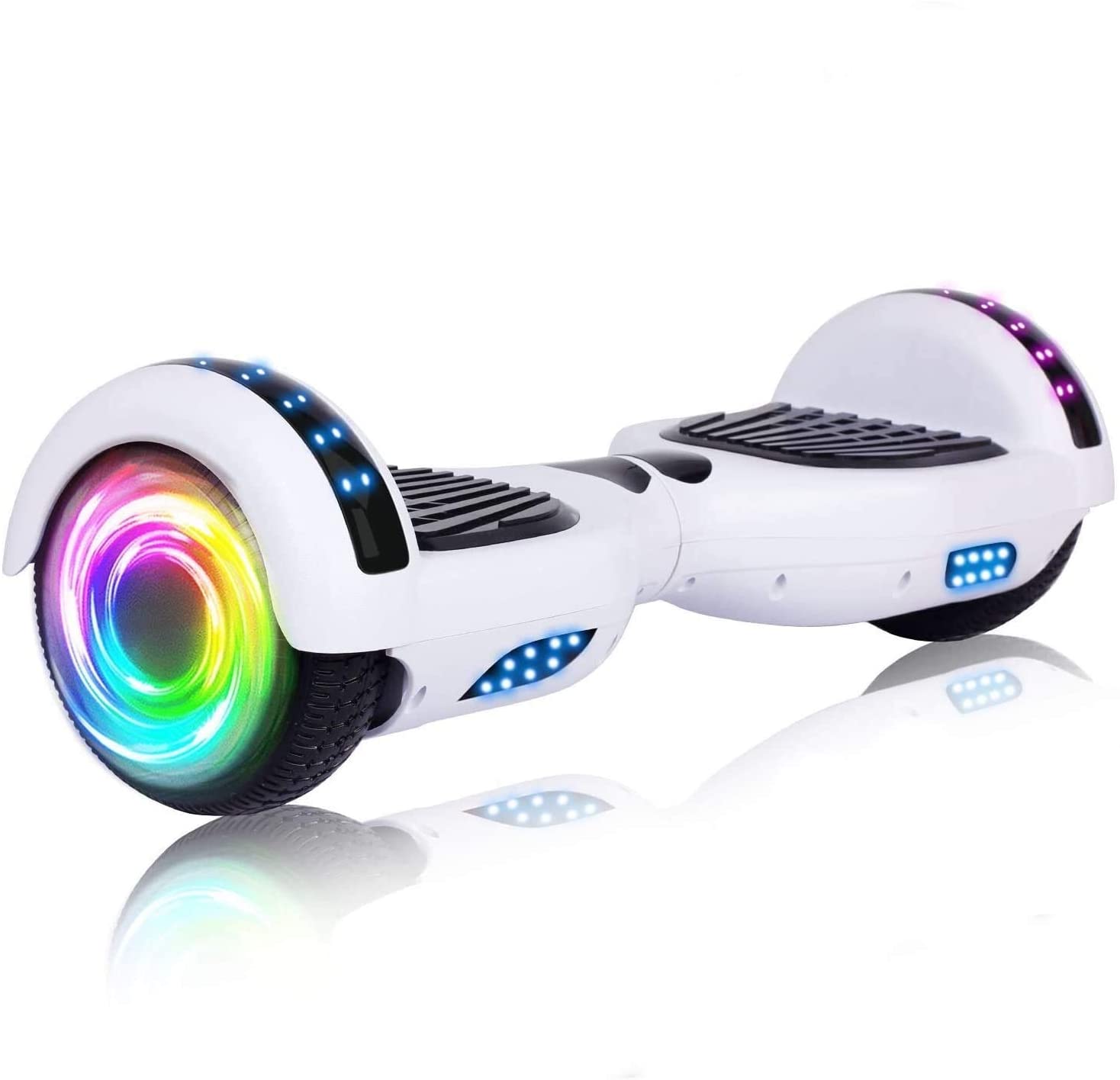 Motor Power: 600W
Top Speed: 9 MPH
Travel Range: 6-9 miles
Max Weight Capacity: 260 pounds
Wheel Size: 6.5 inch
Warranty: 90 days
This SISIGAD hoverboard is relatively new to the market, but it has rapidly marked its position in Sisigad hoverboard reviews. Subsequently, it became one of the most popular self-balancing scooters on the market. It is the most widely used hoverboard on the market today. The SISIGAD hoverboard self-balancing scooter 6 5 reviews have proven to be amusing-looking gadgets for riders undoubtedly.
Speed and Range
For a hoverboard with this price range, an average speed of 9 miles per hour and a range of 6 miles are very remarkable numbers. Usually, a hoverboard with 6.5 inches tires will only go 6 miles per hour. You may want to encourage children to ride at a slower pace, particularly when they are learning to ride for the first time until they have mastered the appropriate control of the vehicle.
Power and Performance
The Dual 300-watt motors powers the SISIGAD hoverboard. Because of the dual motors, this scooter is more than capable of reaching the required speed. This hoverboard is capable of carrying a maximum weight of 260 pounds. Hoverboards are not for slopes or rough terrain, but you should enjoy a comfortable and pleasant ride on this model as long as you are on the ground.
Self-balancing
The self-balancing mechanism on this board is one of its most impressive features. According to reviews, children as young as three years old are effectively riding this hoverboard after five to ten minutes of practice. However, the weight should be around 44 pounds for outdoor usage for safety purposes. In addition, the 6.5-inch tires provide a pleasant ride for beginners.
Battery Capacity
It has a charge period of 3 to 5 hours, which is sufficient for everyday usage. The SISIGAD hoverboard also has a low battery indicator. With a low charge, the business provides a range of 30 to 60 minutes of use per charge.
In many cases, the battery capacity varies greatly depending on your weight, the amount of charge applied, and the road conditions.
Safety Factors
Well-designed, with a long-lasting construction of SISIGAD hoverboard. It has a high-quality material build that can endure the roughness and tumble of everyday family use. With the UL 2272 certification, you can ensure that it has undergone and passed rigorous battery safety testing.
Hence, it ensures that it will neither overload nor provide a fire danger to the user. Keep in mind to follow the manufacturer's directions while using an electrical product, as you do with any other electronic device.
For instance, even this hoverboard is somewhat water-resistant, this hoverboard is not entirely waterproof for all other elements.
Additional Feature
Overall, this finest hoverboard is affordable if you search for a beginner hoverboard for adults and children. It's a hoverboard with LED lighting, making it safer to operate in low-light situations than other models. It has enough power to allow you to go on a ride of decent duration.
It has Bluetooth connectivity that performs well and connects with your cell phone with ease. Although it is unlikely that children would enjoy hearing their music, it is convenient. The sound quality is good enough for the riders who like some music while traveling.
PROS
High-quality rubber tires
Auto-balancing for beginners
Robust and durable
Wireless connectivity for speakers
CONS
Noise is disturbing for some users
SISIGAD 6.5-inches Classic Hoverboard for Kids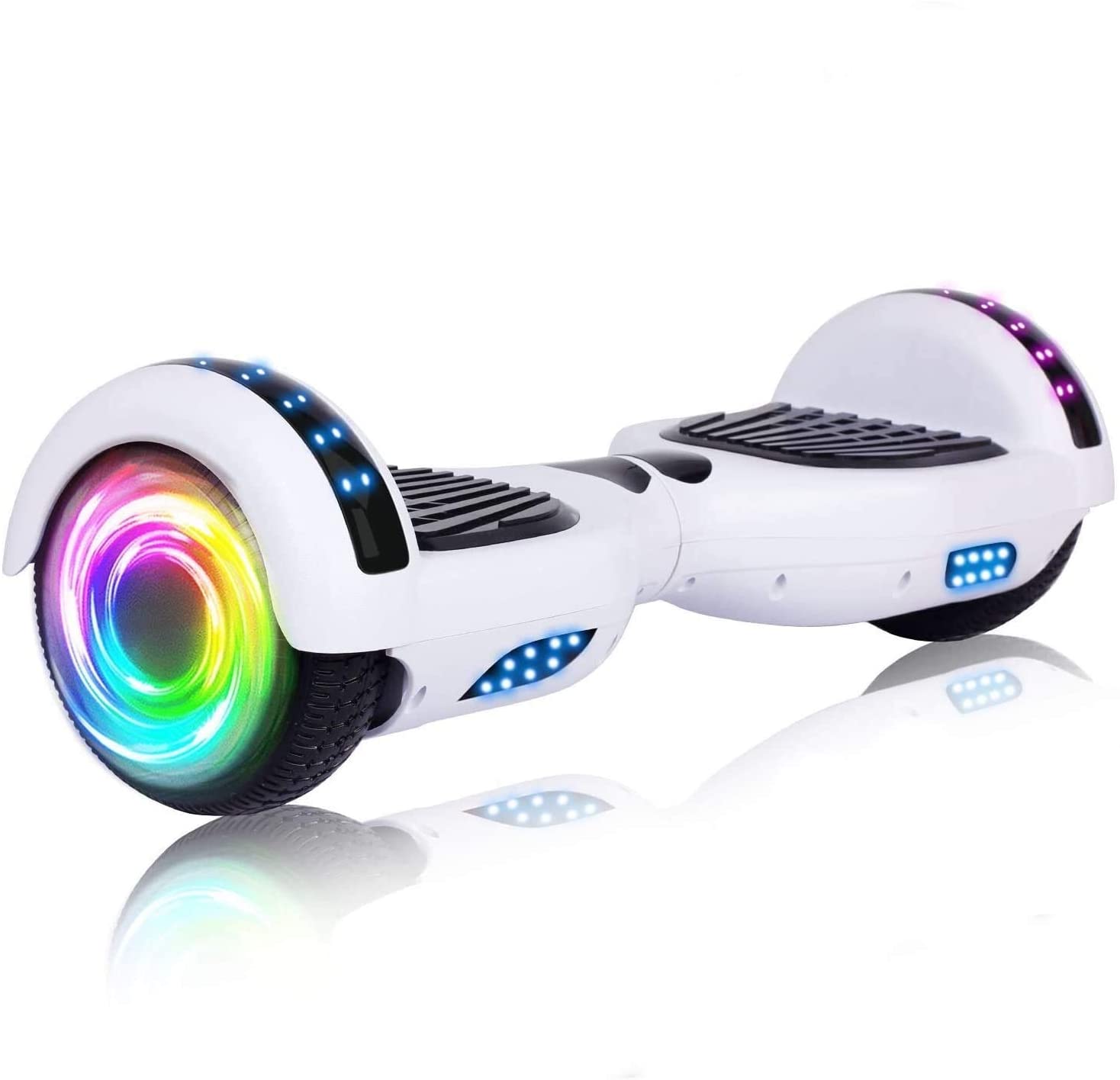 Motor Power: 600W
Top Speed: 6 MPH
Travel Range: 6 miles
Max Weight Capacity: 200 pounds
Wheel Size: 6.5 inch
Warranty: 90 days
This SISIGAD hoverboard self balancing scooter is well-constructed to provide a higher degree of stability. In addition to self-balancing technology with grippier footpads, your journey becomes more safe and enjoyable. It is straightforward to learn, which gives you another incentive to get it even if you are a complete beginner.
The 6.5-inch tire provides smooth travel even on some of the most challenging terrains. In comparison, SISIGAD hoverboard 6 5 reviews have proven that the combination of a lower price and a higher-quality construction makes this Hoverboard one of the finest hoverboards available.
Advance Motherboard
With advanced motherboard addition, the SISIGAD self-balancing hoverboard reacts way more rapidly to angle and speed changes. Because of the sophisticated motherboard's stability of balance system, maintaining balance is undoubtedly more effective and efficient.
Self-balancing
With the self-balancing control system, you won't exert any additional effort to keep your balance, as you would with most motorbikes and bicycles. Therefore this hoverboard is also attractive to children.
Safety and Durability
A robust body of this self-balancing hoverboard can endure the test of time. The SISIGAD hoverboard has sophisticated electroplating techniques and high-quality ABS components. Additionally, durable rubber tires and pedals with a non-slip surface guarantee long-lasting smooth rides in your house or on outdoor excursions.
Battery range and performance
The 300 watts, dual solid motors, and sturdy shock absorber tires let riders ride more quickly and with more stability. The SISIGAD self-balancing hoverboard has a long battery life of up to 30 to 40 minutes when used continuously.
Furthermore, it maintains a pleasant riding sensation even after many years. The Li-ion batteries provide reasonable coverage. Li-ion batteries contain flammable electrolytes, which may pose a severe danger if they overheat.
However, such risks are not frequent and are maintainable to a very bare minimum. The charging period is the only significant drawback since it takes 3-5 hours to reach the battery's maximum capacity.
Discreet and Secure
This hoverboard has been tested and certified by UL2272. As a result, riding is both safe and secure, even for children. The footpads provide excellent grip, allowing you to maintain more stability and traction while riding.
Rugged Wheels
Hoverboard tires are an essential factor to consider when designing a hoverboard that can travel smoothly on uneven terrain. This hoverboard comes with 6.5-inch hub motor wheels, which allow for more comfortable riding on rough terrain.
Unlike typical tires made entirely of rubber, these tires have excellent traction on the ground. It is also less likely that the rubber tires of the SISIGAD Hoverboard would be punctured, making it simpler to ride over rough terrain.
Aside from that, the tires feature shock-absorbing properties that minimize the effect of vibrations and make your journey more pleasant. The shock-absorbers also aid in the maintenance of the rider's balance while riding through rugged terrain. It also comes with LED lights on the sides of each wheel to make riding more enjoyable even at night.
Additional Characteristics
This last hoverboard in Sisigad hoverboard reviews has an innovative self-balancing mechanism that allows you to manage and enjoy your ride on it effortlessly. Take pleasure in the most stable riding and balancing experience possible with creative LED light.
Furthermore, a built-in permanent-magnet speaker with Bluetooth 4.2 technology delivers stereo surround sound. The built-in Bluetooth speaker allows you to quickly and connect your smartphone or any other Bluetooth device.
PROS
Self-balancing control system
Sturdy build
LED lights for safe night travel
Smooth ride on various terrains
CONS
Slightly challenging to carry around
Factors to Keep in Mind
Sisigad Self-Balancing Bluetooth Hoverboard Buying Guide
While the popularity of hoverboards has reached new heights and increased the number of manufacturers, you must be very sure of what you are purchasing. To do so, you must first determine the criteria by which you will choose the most appropriate board for your needs.
Our Sisigad hoverboard reviews covered the best products. However, we will assist you in selecting the one that best meets your needs by examining SISIGAD hoverboard specs and factors to consider before making your purchase.
Dimensions of the tires
The size of the tires affects the smoothness of the ride and the ability of the board to go off-road effectively. Large tires perform better in off-road situations than tiny tires. The tires on the majority of hoverboards have a diameter of either 6.5 inches or 8.5 inches. Smaller tires may be helpful for off-roading, but they don't have as much grip as bigger tires do.
Size of Pad
The size of the platform on which you stand is the pad of the hoverboard. The preferable pad size for adults is relatively more extensive than for youngsters. The overall stability also enhances when using a bigger pad size.
Weight Capacity
Some hoverboards have a weight restriction, while others have no limit. Extra weight will put additional pressure on the motor, which may effect the board to fracture or shatter. Pay careful attention to the maximum weight that the hoverboard is capable of supporting.
Safety and dependability
Regardless of what manufacturer's hoverboard one is purchasing,  place a high value on safety. It is your right to find out if a product is safe for you or not before buying it.
Some of the models are equipped with UL 2272 certification, self-balancing characteristics, which are the most appropriate for your safety since they assist you while you are riding. As a result, you must evaluate whether or not the hoverboard meets all of the necessary safety requirements.
Portability
Hoverboards are tiny personal vehicles that weigh between 20 and 30 pounds. They are easy to transport. Some hoverboard manufacturers provide a portable hoverboard carrying case that fits snugly around the self-balancing scooter and has enough room for a few minor accessories to be added.
Speed and Range
It goes without saying how awesome it seems to be to sprint down the lane on your hoverboard, but you need also consider your safety while you do so. A high-speed limit of 15 mph is accessible by some of the companies that produce fast hoverboards.
On the other hand, the hoverboards for children have a reduced speed restriction of about 3 to 4 miles per hour. The maximum speed of these hoverboards is purposefully limited to protect the safety of the children.
Battery Range and Performance
Every UL-certified hoverboard battery is put through a rigorous testing process to guarantee that the Lithium-ion battery is safe and efficient. With the installation of UL-certified batteries in their hoverboards, the battery provides fast charge.
All of the well-known hoverboard manufacturers decrease their boards' charging time by as much as 50%.
An important fact to note about the SISIGAD manufacturer is that if your battery is malfunctioning, the SISIGAD hoverboard replacement battery is easily acquirable via their service.
Warranty and Customer Service
If your hoverboard is damaged, having a guarantee on it is beneficial for your emotional well-being in the long run. Most hoverboards come with a guarantee, allowing you to ride them with confidence on and off-road. The greater the manufacturer's warranty length, the more dependable and trustworthy the product is for the customer.
Usage Guide
SISIGAD Hoverboard: How to use it?
All hoverboards built goals are not the same. However, the self-balancing feature guides you through the process and assists you in acquiring new skills. So, before you jump on your hoverboard, make sure you read the handbook and get familiar with it. Take your time getting used to your board before riding. 
Once you're ready to take your first ride and get your hoverboard moving, make sure it's ultimately charged before you go on it. Relax as much as you possibly can and take it easy at first.
1) To make a forward or backward movement
Lean your body very little in the forward or backward direction. Maintain a straight line across your midsection so that the only thing that moves is your ankles.
2) To make a left turn
As you step forward with your right toe, your weight will move in the opposite direction of the way you want it to travel. Maintain the horizontal position of your other foot. You may also lean very little in the direction you want to travel if that helps.
3) To make a right turn
Make a forward movement with your left toe. In the same way that turning left causes your weight to move in the opposite direction of where you want to go, turning right does the same thing.
4) To move around in a circle
To turn left, bring your right toes down while simultaneously bringing your left ankle down. Push your left toes and right ankle to the right to go to the right. The further you extend your toes, the sharper your motions and twists will be, so proceed with caution the first few times you try it out.
However, hoverboard spec will typically tell you what degree of the slope it can manage. The hill in front of you will determine by sight if it is too steep or not. Begin with minimal inclines at very moderate speeds to get the feel of it when you are just starting to get the hang of it. Furthermore, in case of any trouble SISIGAD hoverboard reset system sets the overall settings to default once again.