The Razor E300 Electric Scooter is an entry-level E Scooter for adults and teenagers for urban riding. It ensures a comfortable ride due to its large frame and deck size. On top of this, extra-wide tires make it easy to travel at the top speed of 15 miles per hour.
Razor is a reputable brand and has won many awards. The E300, however, is not up to mark with the brand reputation. Although its design suits adults and teenagers, it all comes down to personal preference at the end of the day.
Commuting on Razor E300 Scooter is fun, and you can enjoy exploring the neighborhood with its easy to park design. It is an excellent option to travel a short distance and urban exploration. If you are looking for an electric scooter that can commute anywhere with Average speeds and more travel range, Razor E300 is for you.
Razor E300 E-Scooter Specifications
| | |
| --- | --- |
| Manufacturer | Razor |
| Model | E300 |
| Motor Power | 250W |
| Travel Range | 10 miles |
| Battery | 24 V |
| Top Speed | 15 MPH |
| Tire Size and Type | 9 inch Pneumatic |
| Item Weight | 43 pounds |
| Max Weight Capacity | 220 pounds |
| Battery Recharge Time | 6-7 hours |
| Brakes | Hand operated |
| Lights and Water Resistance | No |
| Warranty | 90 days limited |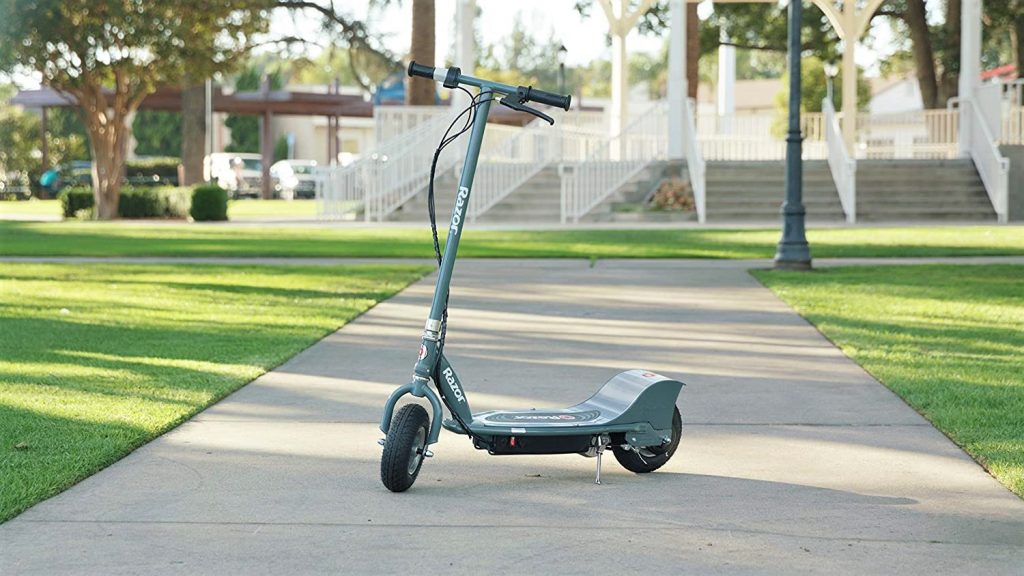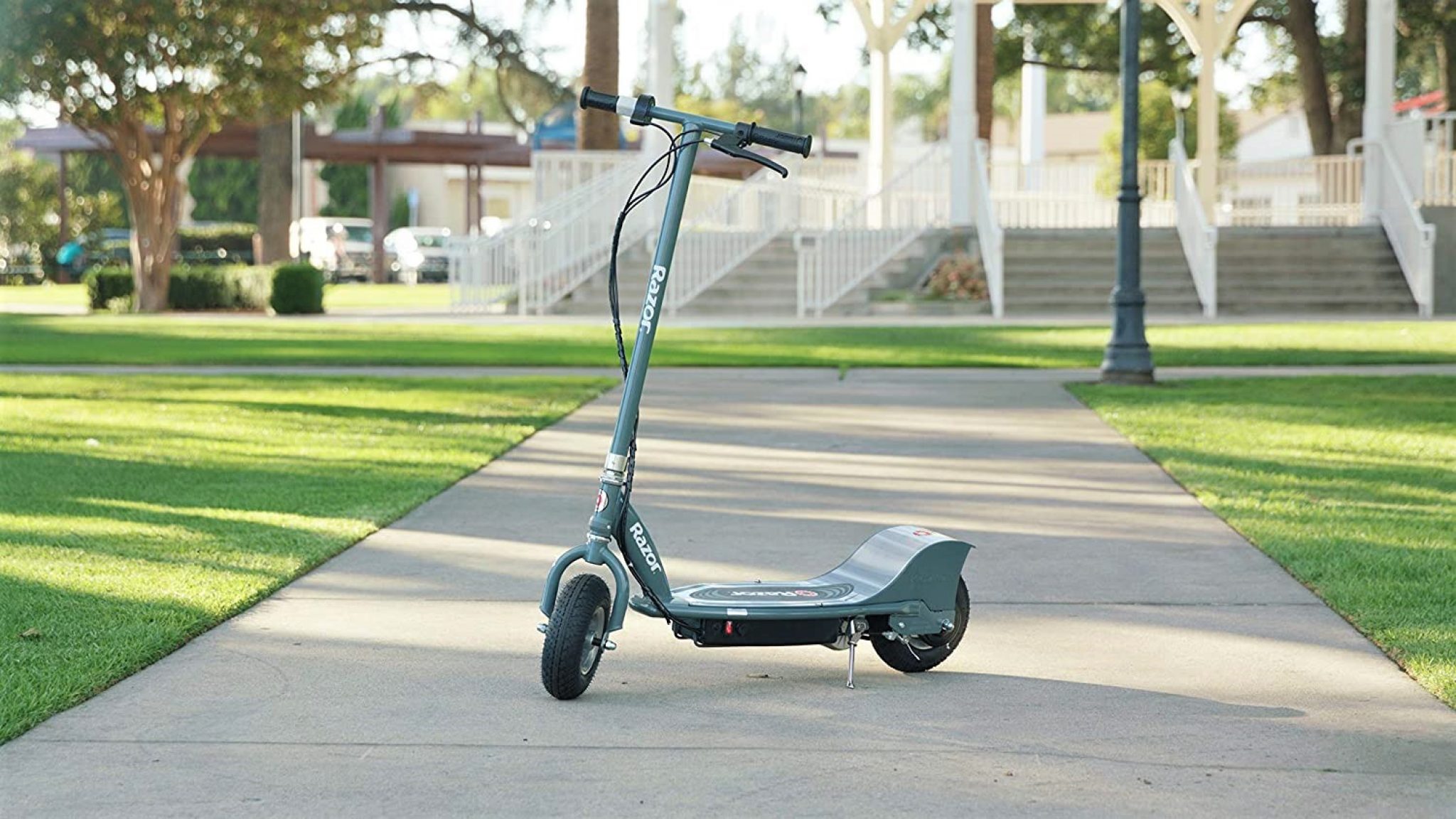 Razor E300 Electric Scooter Assembly
Razor E300 Electric Scooter requires assembly on arrival. It comes in a secure package that prevents any damage during the delivery. The package includes an instruction manual and required tools essential for placing together the electric scooter for the first ride.
The assembly process is straightforward, and it takes almost 10 minutes for Razor E300 Electric Scooter assembly. You do not need any technical knowledge for assembling the parts as the process involves joining only larger parts.
To begin with the assembly, you need to find the hollow post above the front wheel and take the handlebars and slide it into that post. Once it fits well, secures the handlebar by tightening the clamp. The manufacturer supplies an Allen wrench to help you with tightening the clamp in place.
After successful assembly, charge the electric scooter to its full capacity before driving for the first run. Doing this is suitable for securing the battery health and longevity of the battery's overall life. (Source: Ride On Electric)
The Razor E300 electric scooter build quality is not shabby. It is perfect, and the steel frame is substantial. It may feel a bit heavy due to steel construction. For most scooters, 43 pounds weight is pretty basic. The focus on durability is more rather than the style and looks of the scooter.
If you want a sturdy electric scooter, this is the right choice for you, but if you want a sleek and stylish design, you may get disappointed after getting a hands-on E300 electric scooter. The overall built quality is one of the strongest points for its popularity.
Razor E300 Electric Scooter Battery Life
Razor E300 comes with 250W motors that can reach a top speed of 15 miles per hour on ideal rider weight and smooth road. However, the power is not enough to climb uphill as it does lack the acceleration and speed that helps cover incline roads.
The primary use of the E300 electric scooter is leisure ride and commuting inside the city on relatively smooth roads. You can expect to lose about 5-7 miles per hour on a slight uphill, which is not what we expected from a reputable brand like Razor.
During our speed test, we observed the performance to be mid-ranged. With a full-speed throttle and cruising with the top speed, it managed to get an average of 14 miles per hour on smooth urban terrain. At the same time, its off-road performance is at the bottom of the class due to less power.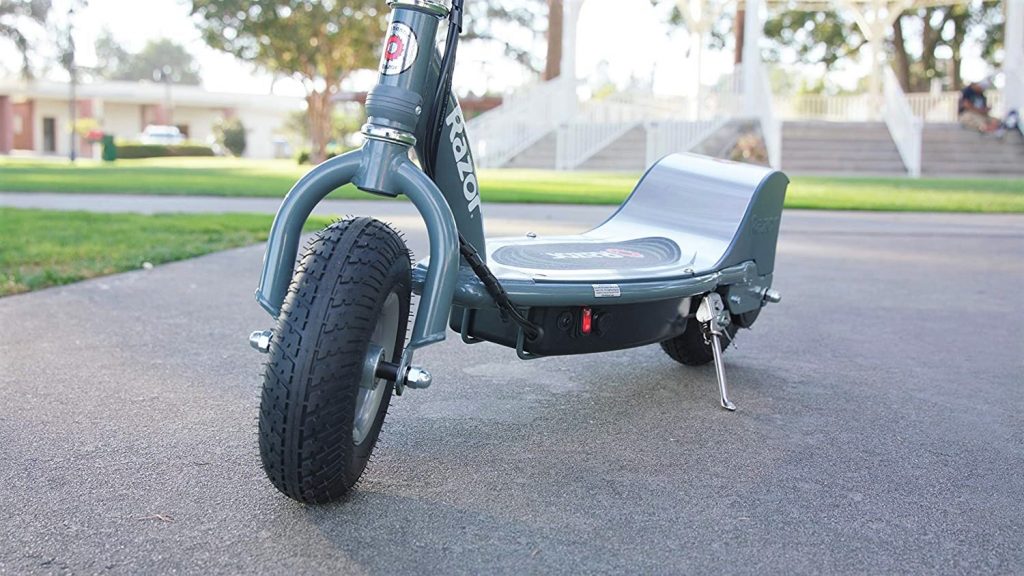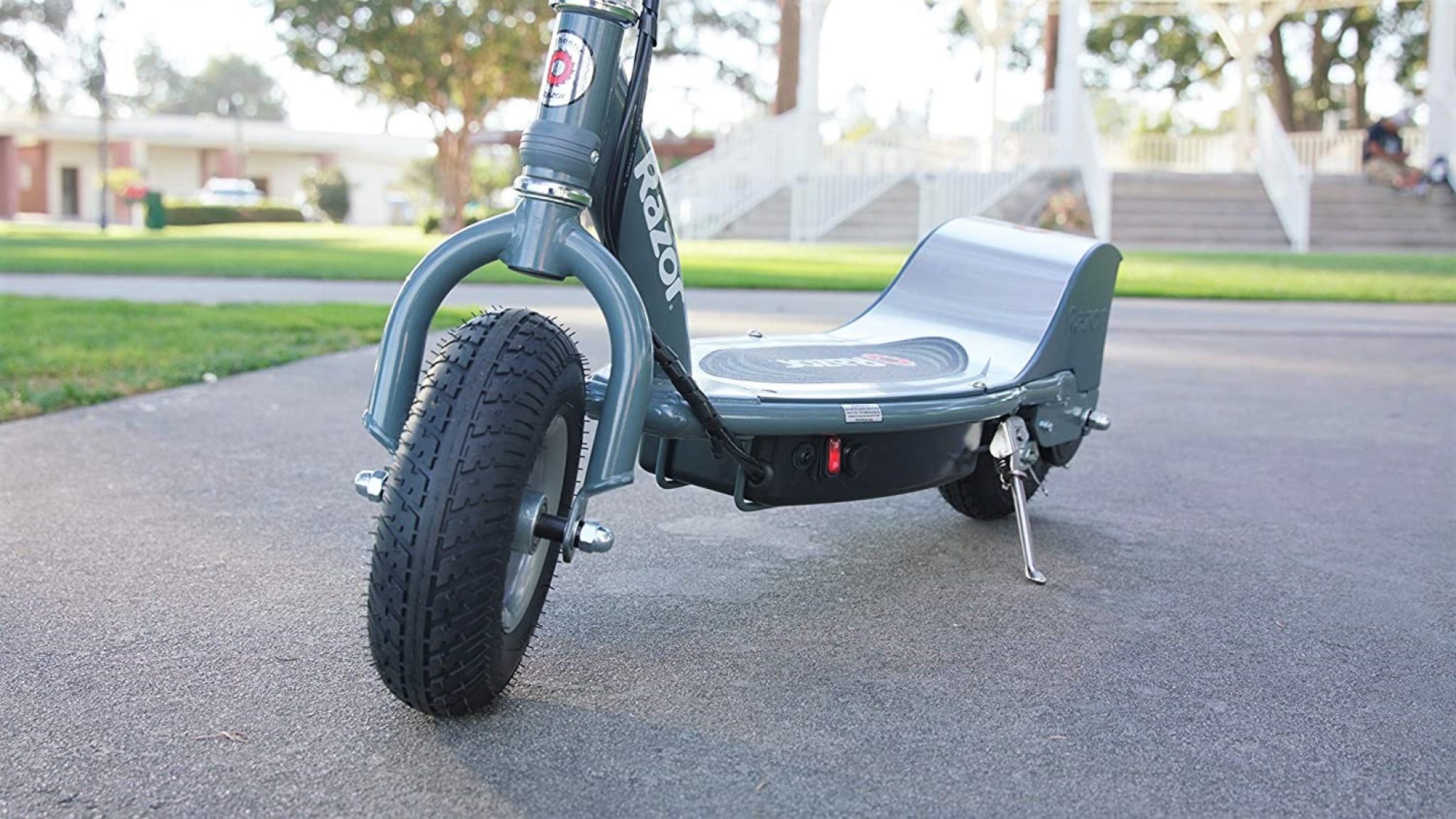 Razor E300 Scooter Range | Time & Miles
When making a buying decision, it comes to the mind that "Is Razor E300 Electric Scooter Battery is enough for daily commute?" For the answer, let's first look at the specs of the battery. It is a 24V acid battery that runs only 40-45 minutes on a single charge.
We have practically calculated the miles per charge, and it converted into 10 miles which is the average travel range for a mid-range electric scooter. However, if you are looking for a daily travel scooter, this might make you change your decision as, for most people travelling, more than 10 miles a day are normal.
Once discharged completely, it takes 6-7 hours to charge the battery fully. The charging speed is slow and disappointing as many scooters offer faster charging for this battery capacity. The manual that comes with it states that it can take 24 hours to charge the battery fully.
Razor E300 Weight Capacity
It has a large deck and frame that are sturdy and can support heavier weights up to 220 pounds. Most of the electric scooter typically ranges in this weight capacity with only a few exceptions.
Being sturdy and well built, E300 does only weigh 43 pounds. It falls in the average range electric scooter category according to its weight. You can easily commute for a leisure ride and travelling in urban areas. However, its design is not foldable that may cause an issue for some people who need portability in electric scooters.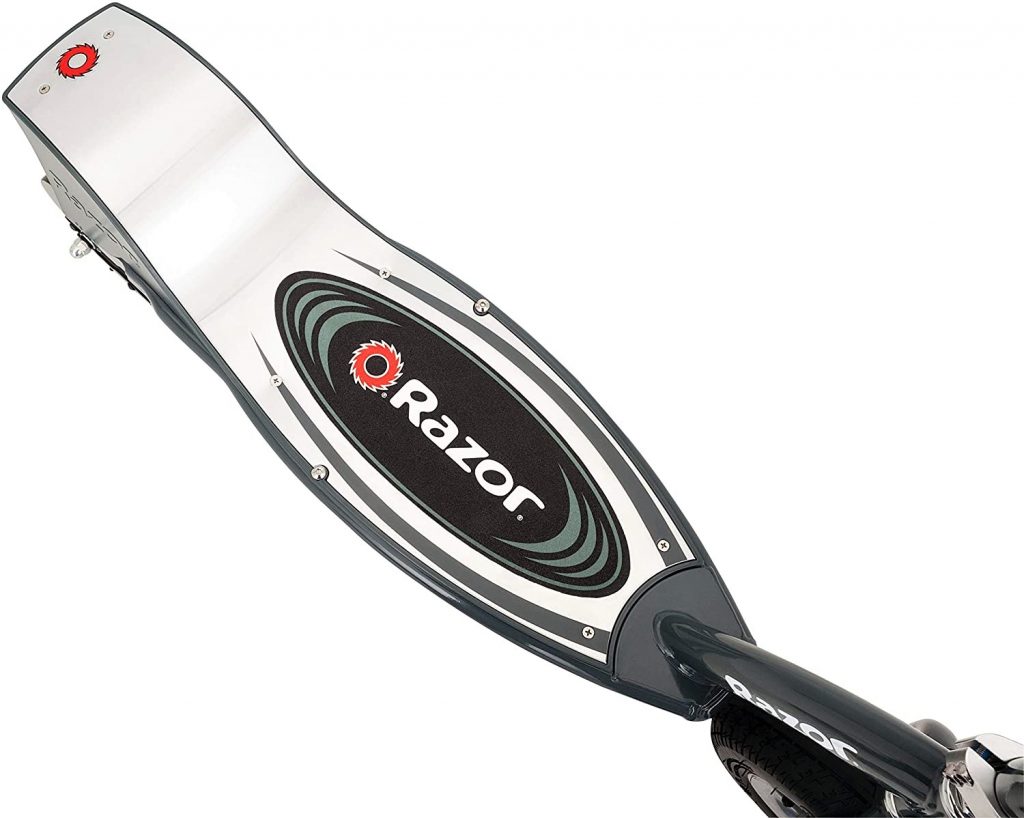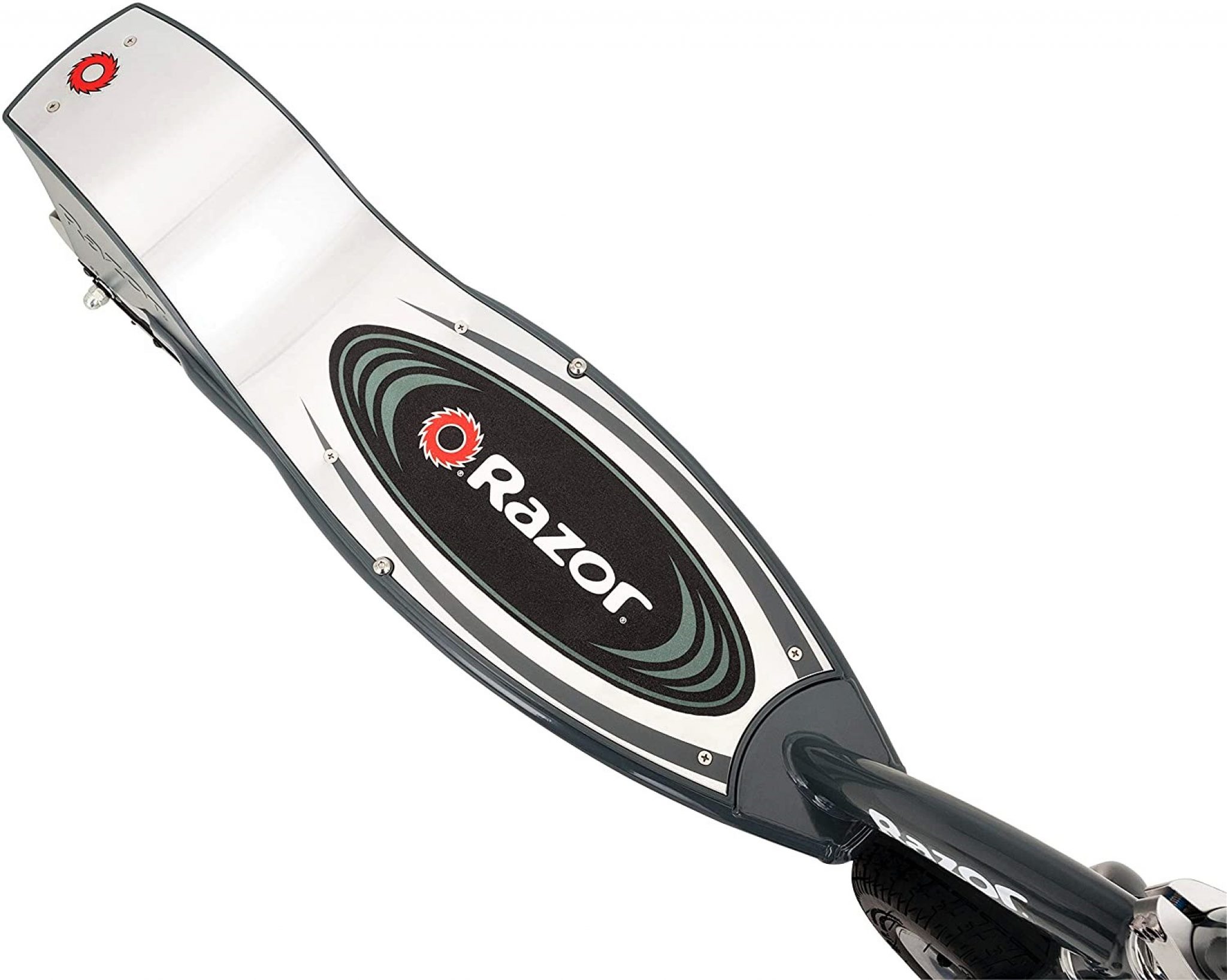 Razor E300 E-Scooter Portability Concern
Razor E300 Electric Scooter portability is a big concern. Due to its 43 pounds weight and non-foldable design, you may get disappointed. However, there is a workaround for E300 storage. You can dismantle the handlebars to make enough room for storage. But this is not a straightforward task as it takes few minutes to dismantle and assemble the handlebars.
If you are a gym freak, you may find 43 pounds of this electric scooter easy to carry around. But for ordinary people, it is hard to move it around. Especially when you are travelling and need to carry the scooter around in case of any malfunctioning, it becomes difficult.
Razor E300 Frame Durability
As all the E300 electric scooter body has steel used in the construction, the frame is no exception. The tubular steel frame is very sturdy and durable. It can easily hold a 220-pound rider weight. However, more than 220 pounds can damage the body. It becomes challenging to carry the weight due to the smaller motor.
Although Razor E300 electric scooter is an excellent choice for teenagers and adults, the heavier frame can cause a portability issue for kids and teens. You cannot expect them to drag around 43 pounds of scooter weight if the battery spark ends during the ride.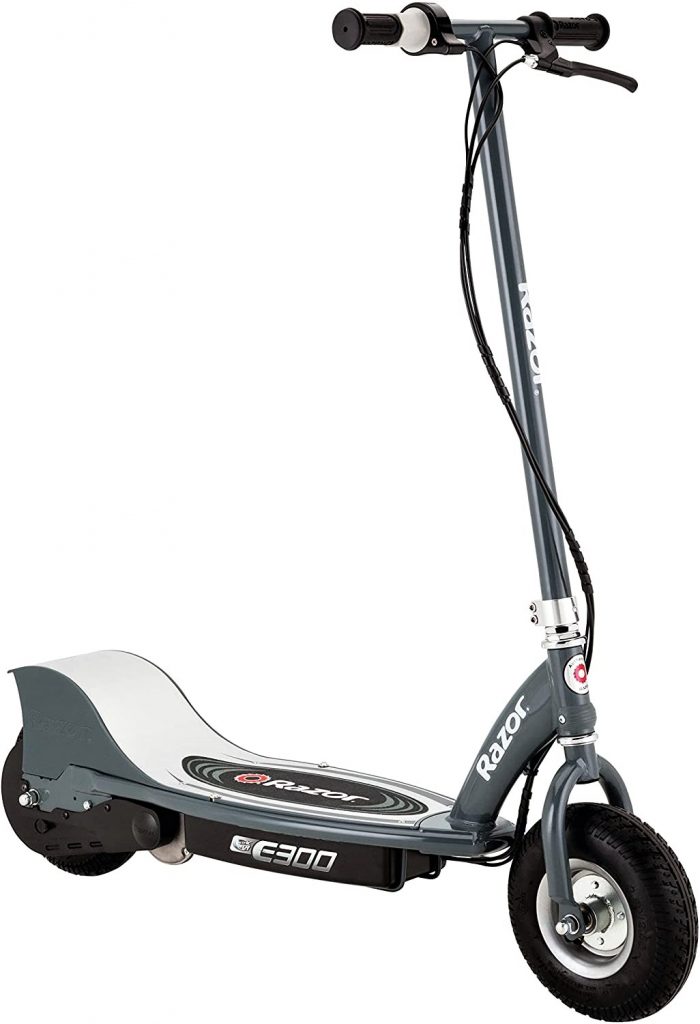 E300 Electric Scooter Deck
Razor E300 Electric Scooter deck is large and broad. It can accommodate a variety of body types maintaining the comfortability level. The material of the deck is non-skid the acts as an anti-slippery surface when riding on it. Kids and teenagers feel secure due to the non-skid and comfortable deck.
Besides the deck size and accommodation, you can set a removable seat to make the ride more comfortable and enjoyable. However, a seated version of scooter has almost the same features and known as Razor E300S.
Razor E300 Electric Scooter Tire
The wheels of any electric scooter are crucial for safety and comfortability concerns. Razor E300 electric scooter wheels are pneumatic which means they are air-filled. You can have a comfortable ride on these pneumatic tires as they absorb shocks for road bumps well compared to solid tires. 
Razor E300 wheels are 9 inches in size. They can handle heavy-weight riders and road bumps effectively. There is a disadvantage of air-filled tires over solid rubber tires that they can get punctured during travel and need regular maintenance.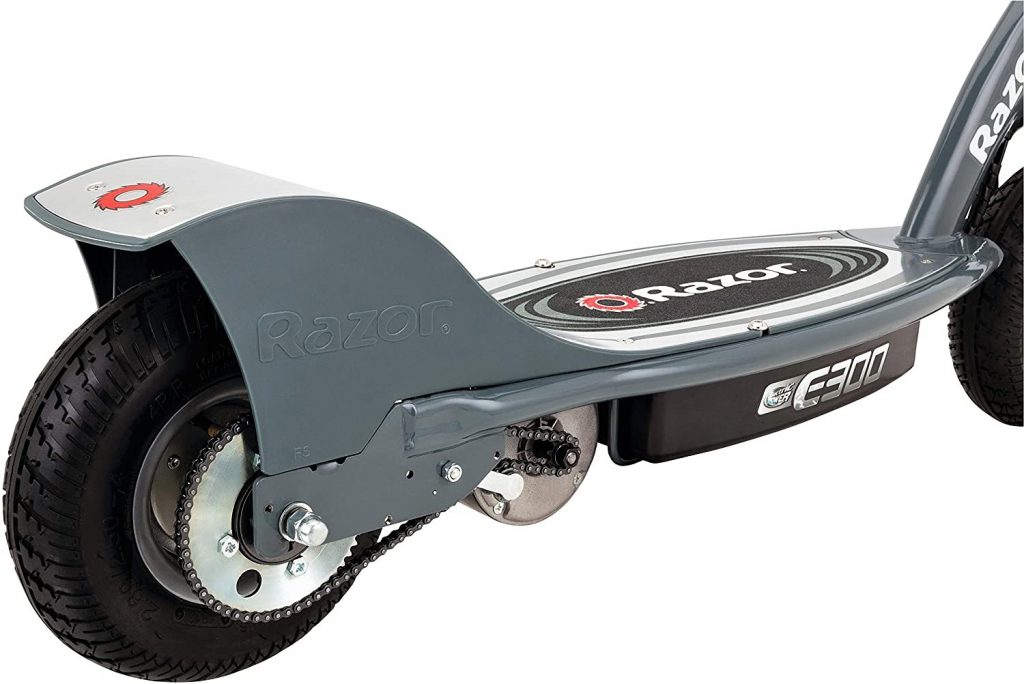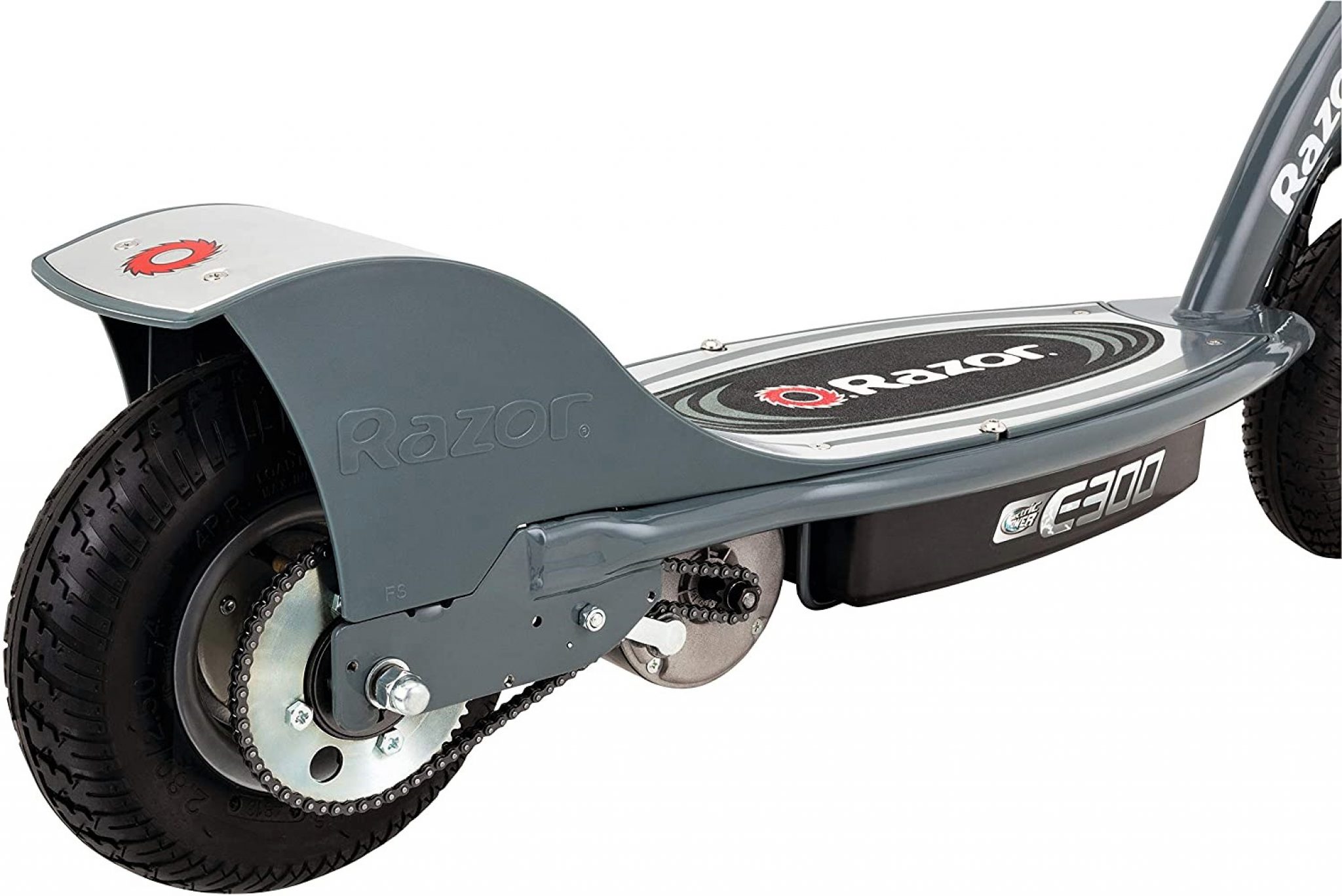 Razor E300 lacks a spring suspension system on both front and rear. Most electric scooters at least feature one suspension to make the ride comfortable and less bumpy. But Razor has ignored suspension in this E300. However, the air-filled tires compensate for the absence of suspension by absorbing the road bumps effectively to some extent. 
Razor E300 electric scooter has only one disc brake, which works excellent under every condition. We have tested the braking quality of the E300 by selecting different speeds and both incline and smooth terrains. The result we observed was satisfactory and depicted an excellent braking system.
For our first test, we check the brakes on the smooth road without any slopes. The brake's response was excellent and satisfying under different speeds. For our second test, we selected the road with a steep slope. During our test, the brake worked exceptionally well. However, the brake could be better in the presence of redundancy for making the ride safe.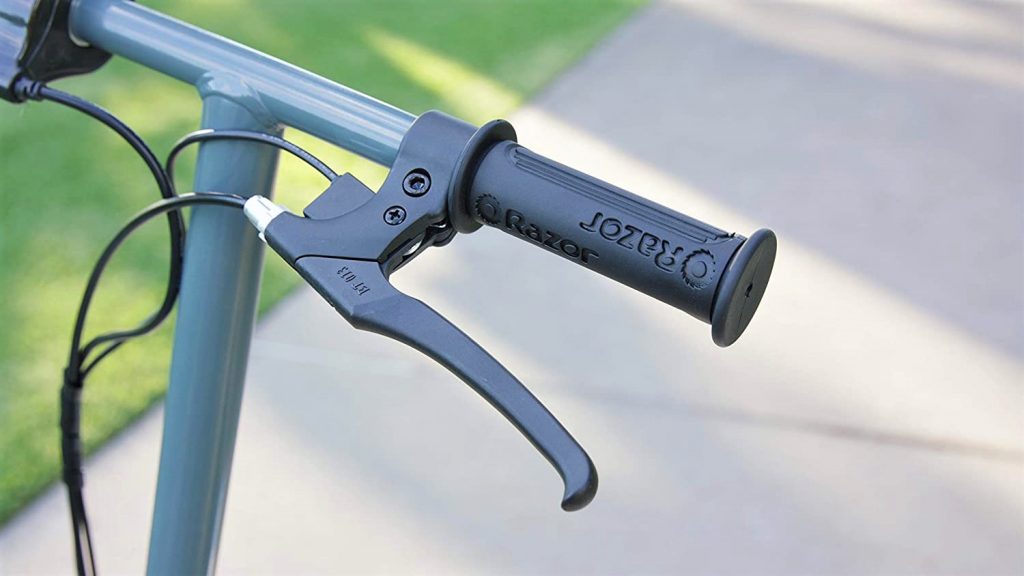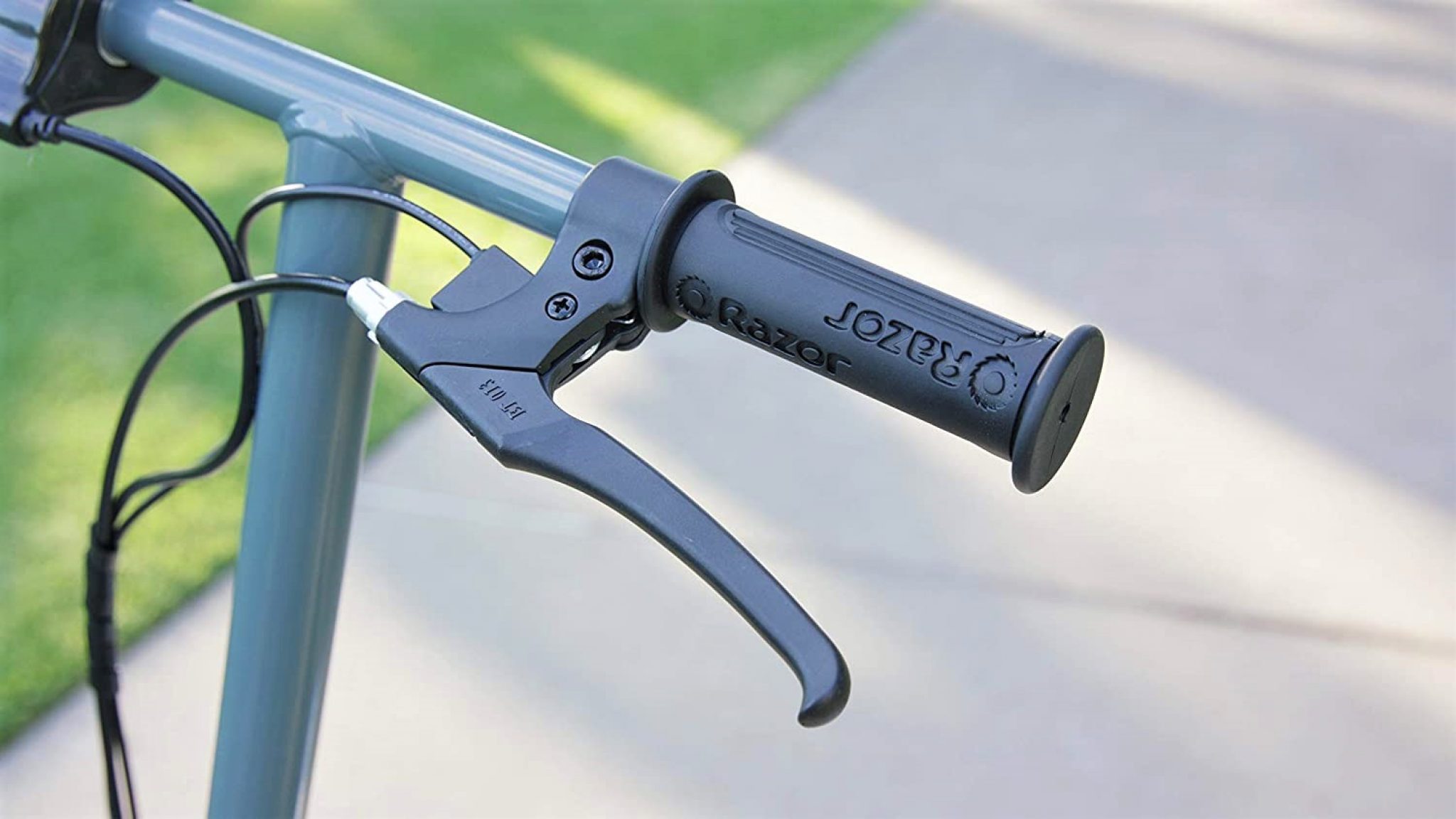 Addons
Additional Features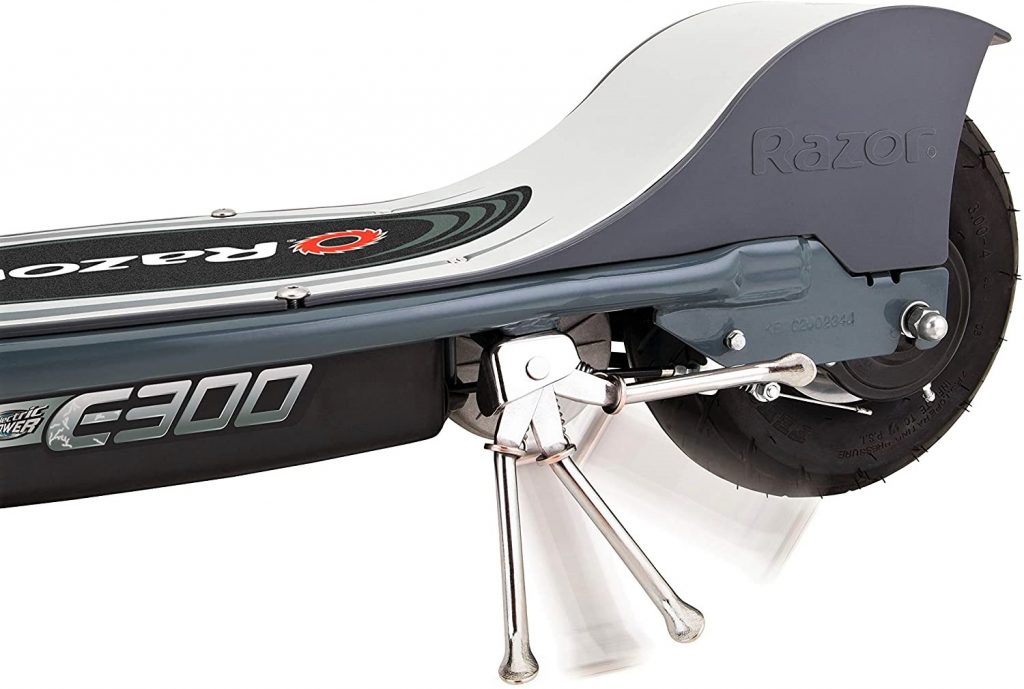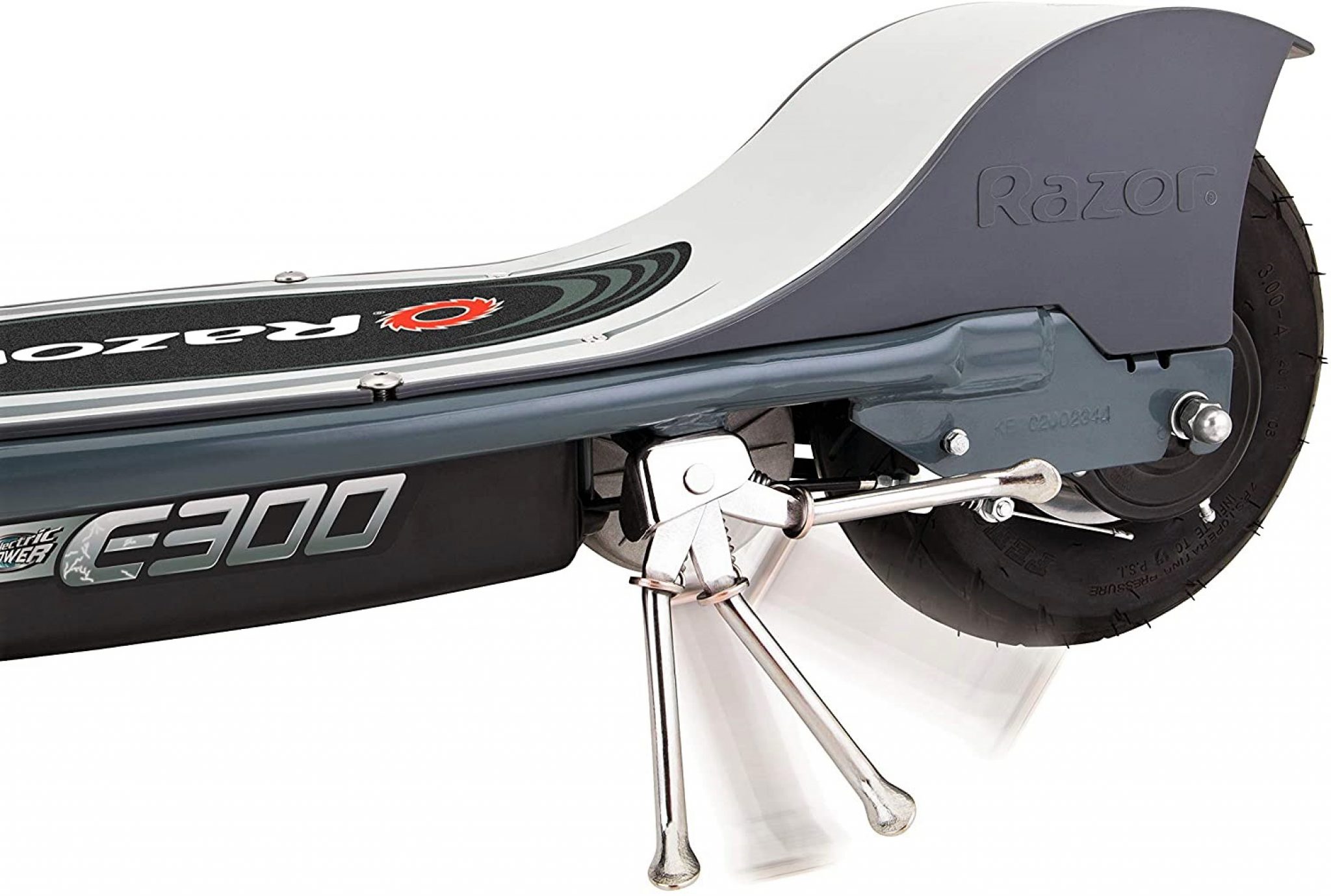 Razor electric scooters are very similar in their operation and features. You can only difference between them in terms of weight capacity, portability, and travel speed. The rest of the features are essential and common in all models.
There are few notable features that we observed in the E300 electric scooter. The first one is the throttle acceleration of the scooter, similar to the standard motorcycles. The twist grip provides a way to control the acceleration near the upper ends of handlebars.
There is a sturdy and functional kickstand near the rear wheel of the scooter. This kickstand is again similar to the bicycles and motorcycles with a slight modification. It helps to keep the scooter in an erect position for standing and parking purposes.
There are two areas where E300 lacks, and both are essential for operating the scooter effectively. The first one is the absence of a sound suspension system in the scooter. Razor E300 electric scooter lacks the suspension but has somewhat compensated it by the pneumatic 9-inch tires that effectively absorb shocks.
The other feature that lacks in this electric scooter is the absence of a lighting option. There is no front headlight and rear backlight on the Razor E300 scooter. This is unclear why Razor has missed this critical safety feature in E300. You can use an aftermarket mounted headlight for the scooter for travelling in dim light or night.
Warranty:
Razor customer service does not have a good reputation and has a lower rating on platforms like Trustpilot. This doesn't mean that they manufacture low-quality products but depicts their ineffective customer care service.
Razor offers 90 days limited warranty for their electric scooter range. This limited warranty does not include any wear and tear contributed by the improper use of the scooter. For an extended warranty, you can contact the retailers, and for those offers, Razor is not directly responsible. 
PROS
With the vast deck, the ride on this scooter is reliable and comfortable
The speed control is very basic that makes it easy for a teenager to ride it
The operational noise of this scooter is very low, which is pleasing for riders and others.
Steel body makes it durable and sturdy for long term use
The affordable price bracket makes it highly desirable
Disc braking system is highly efficient and keeps you safe during a commute
Easy to assemble and comes with manual and assembling tools
CONS
1. Battery recharge takes ages to complete compared to the competitors
2. The design is not foldable, which makes it difficult to carry around 43 pounds ride
3. It lacks in the area of top speed and acceleration
Verdict
Razor E300 is not a top-level electric scooter, and it fails to match the electric scooters of the same league. It lacks quicker acceleration and faster top speeds. However, there are many features that you can get compromising these above concerns. The ride is smooth and quiet, even during top speeds. The body is durable and sturdy to carry around more than 220 pounds. Overall, we have given Razor E300 electric scooter a mid-ranged rating for its features.
People Also Ask
Razor E300 Electric Scooter FAQs
Is the Razor E300 electric scooter good?
Razor E300 electric scooter is suitable for teenagers and young adults riding in the neighborhood and urban areas. It features a durable body, and the deck area is huge to accommodate. The tires are pneumatic and wide in size for providing a comfortable ride. It has a 15mph speed and a travel range of 10 miles. However, we recommend this scooter for beginners and teenagers due to its fewer features.
How fast does a Razor E300 electric scooter go?
Razor E300 scooter has a 250W motor that gives a top speed of 15 miles per hour ideally. You may expect less or more speed according to terrain type. For example, if you are riding an inclined road, top speed may get reduced by 5-6 miles per hour. You will not feel slow when riding on urban roads, but off-road, it has underpowered performance.
How long does the E300 last?
Razor E300 packs a 24V acid battery that can run about 40 minutes on a single charge. This performance depends on the riding mode, acceleration, terrain, and rider weight. If we translate the 40 minutes into the miles, this electric bike runs about 10 miles on a single charge. The recharging process takes between 6 to 7 hours for a full charge.
Can the Razor E300 go up hills?
Yes, Razor E300 electric scooter can travel uphill but with limited speed. The top speed on uphill roughly varies between 8 to 9 miles per hour. But it depends on the slope angle, road condition, rider weight, and battery charge. If you want an electric scooter, especially for uphill riding, you may look for other options with better acceleration and top speeds.