Electric scooters are an excellent commuting source for enthusiasts who like to travel in a fun way. However, certain limitations make them dangerous. Out of these, road safety is a big concern for the riders. The best electric scooter horn bell adds more to your road safety and keeps pedestrians and other riders alert about your presence.
Despite the increasing popularity of electric scooters, some necessary accessories like headlights, side indicators, and horn bells are missing in most models. This absence of features affects the road visibility of the rider and compromises on-road security. Therefore, an electric scooter horn bell is the best way to keep you secure and get your kid a reliable ride.
Personally, I am a big supporter and promoter of EVs. As a traveler, I always carry my electric ride to keep journey comfortable anywhere in the world. I came here online on this platform to give you my personal experience and other user's reviews of all used products.

WHO I AM?
Tested Picks
Best 3 Electric Scooter Bell Horn
When searching for an electric scooter horn bell, you may get to choose between several options. Some horns are powered by battery, hand-driven, or conventional air pressure horns. It is important to select the right bell for your commuting needs. We have listed the top 3 horns for an electric scooter that you can buy for the best sound experience and loudness, even on crowded roads.
NAPASA Electric Scooter Horn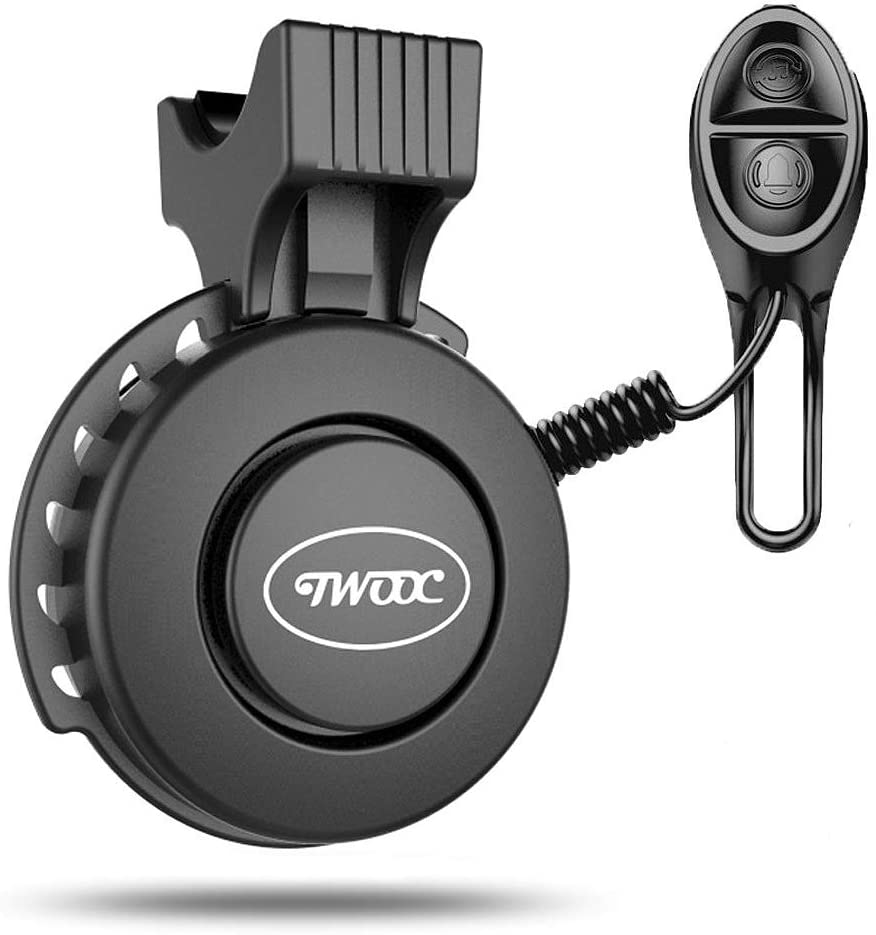 Smart and modern look
Built-in boost circuit
Rechargeable lithium battery
USB cable charging
Easy to install
NAPASA electric bike horn is an excellent utility for electric scooters with one of the loudest sounds for commuters. It helps you to get more visibility on the road and carries you more safely. With rechargeable batteries, you can expect a solid performance for your busy rides across the city roads.
Sound Quality:
The Electric Bike Horn with Rechargeable Battery is a great bike horn for the modern cyclist. Its sleek design and 120 decibel sound are unmatched by any other product on this list, so if you are looking to make your commute safer, then look no further. It produces more sound than the average 110 decibels of a normal car horn which is enough for better road security.
Battery Capacity:
NAPASA is the best electric scooter horn bell that comes with a lithium battery, the same type of battery as what you might find in your cell phone. It's powerful enough to charge 2000 uses and take only 1 hour for a single full recharge.
Lithium batteries are known not just because they're durable but also offer an insanely long lifespan – so we are sure they will last quite some time. The 280 mAh battery capacity is enough to keep the horn charge for a long time.
Sounds Mode:
The 120 dB alarm is so loud it can be heard from several meters away – perfect for drivers who need a little extra assistance. The remote trigger comes with the package, making switching sound modes easy and convenient.
You can choose between sound modes for more fun. It features three sounds modes that are alarm sound, whistle sound, and horn sound. You can choose between these options and set them according to the mood and horn needs.
Water Resistance:
The best part about Napasa electric scooter horn is that it's completely waterproof and can withstand pressure from a water jet. It has an IP65 rating, which means you'll never have to worry about rain or storms while traveling on the roads.
The high level of resistance also contributes to its long lifespan – so not only will the risk of accidents be decreased by having peace of mind over damages incurred in transit, but you won't need to buy another one anytime soon either.
Mounting:
The bike horn is easy to install with the silicone strap and takes up no space at all. It fits any size handlebar that you might have, so there's never a problem. You can use it for mounting on the handlebar or with the stem of your electric scooter.
Overall Experience:
The only thing that we dislike about this electric scooter horn is the lack of a volume switch. The remote trigger has a button for turning on and off your horn, and it's sound setting, but no way to change it during driving.
Although it does not have a volume change function, Electric Bike Horn with Rechargeable Battery is the go-to option ride for long trips. It's durable, lightweight, and easy to use in a pinch when you need it most.
PROS
Louder and clear sounds
Louder and clear sounds
The loudest sound level of 120 decibels
Long-life battery for repetitive use
Three different sound modes give sound diversity
Easier to install and use
Hornit dB140 Scooter Horn
cool in listening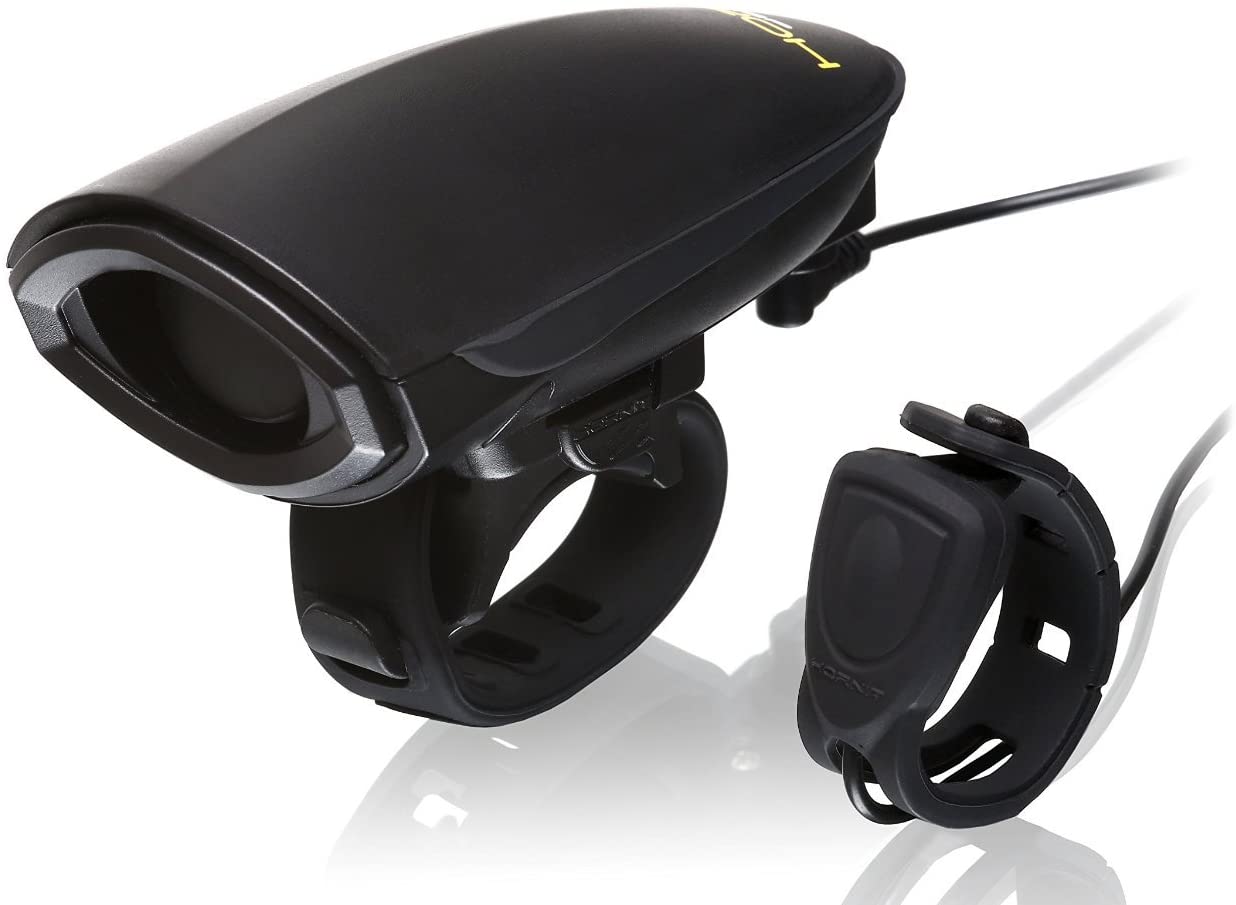 Sound of a jet engine
Easier to install
Rubber trigger mount
Quieter park mode
Long-lasting battery life
Hornit dB140 bike horn is not an everyday horn that you often see on many electric vehicles. It is famous for its louder sound and more reliable performance over in all types of weather. With its rider and park modes, you can get high and low pitch sounds. However, the batteries are not rechargeable that may have their advantage and disadvantages.
Sound Quality and Modes Tin Tin:
The Hornit dB140 is the best electric scooter horn bell that is a little louder and more audible than we have seen on the e-scooters. This horn can wake up babies in houses due to its loudness. It is so loud that we can compare the sound with the jet engines.
The bike horn offers two different sound modes, each with its unique tone. The road mode sounds like birds chirping after being startled by a loud noise, while the park mode is perfect for when you are close to pedestrians or other cyclists that may be trying to get past them through narrow passages.
Build Quality:
This horn is water-resistant and can withstand the occasional rain. It comes with a headlight, remote control, cable to attach it all together. There are silicone straps, so you never have to worry about losing the horn in the middle of the commute. The remote control shows the same quality and resistance to the water, making it perfect for use in all weather.
The included cable is so thin; you can barely feel it when holding the controller. It's long enough to fit all of your handlebars and brake levers, though. We like attaching our bell on the left side because then the thumbs have room for quick braking maneuvers if you need emergency braking.
Battery:
If you're looking for a reliable and long-lasting electric scooter horn, the Hornit is precisely what you need. The product comes with two batteries which will last hours each on regular usage.
If anything happens to your batteries in the future or their spark dies out, replacing them won't be difficult as they are easier to find at any store around town. The replacement is not even an issue as you don't need any complicated tool for it.
Overall Experience:
One of the downsides of this product is its thin, durable cord. But it's concerning that you might need to replace your cable before even considering a battery replacement. However, this is not fragile to an extreme extent.
The Hornit dB140 Horn is so loud that we could catch the attention of drivers 10 meters away. Now, if you like biking at high speed, then these might be what you need.
PROS
Easier to install and get it to work
Easier to install and get it to work
Lightweight and convenient design
Water-resistant properties for outdoor use
Included long-lasting batteries for reliable performance
CONS
Cables look more fragile when exposed to elements
Ytuomzi Electric Scooter Horn Bell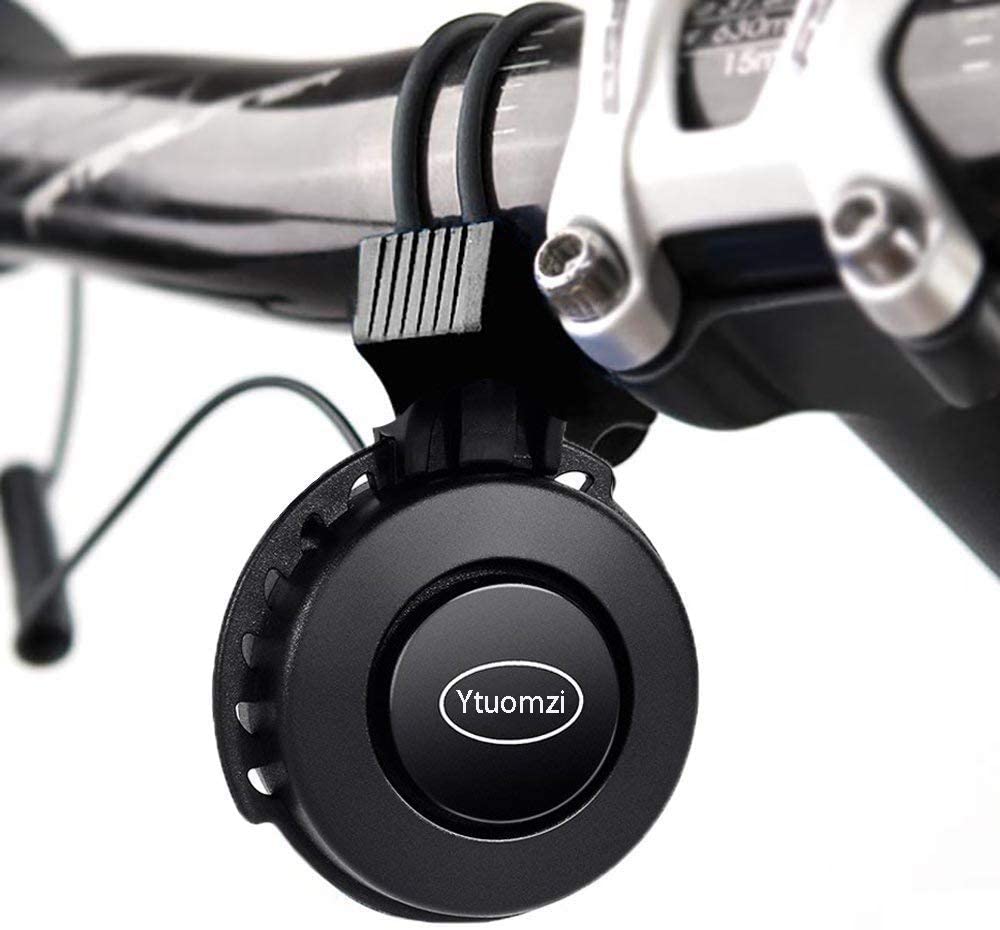 Compact, manageable size
Multifunctional horn
USB rechargeable bell
Universal fit for scooters
Ytuomzo bike horn is a uniquely designed electric scooter horn that boosts an incredible performance while keeping the design compact and straightforward. Its waterproof properties and speed modes make it desirable for riding in rainy weather. You can achieve higher performance with this USB recharging electric bells on urban roads.
Sound Quality:
This electric bike horn is one of the best safety features a biker can have. It's built to recharge quickly and has 120 decibels of sound that will alert people with peace of mind or just taking their time, making way for you on busy streets.
We have tested the performance of the horn against the different situations. The loudness is the decisive factor that we placed this horn on the list. It is better for pedestrians and car riders as they can listen to your horn equally well and give you a way to move forward on the road.
Multi-functional:
The Ytuomzi scooter horn is no doubt the best electric scooter horn bell for adults. It is full of features that keep the utility and quality in focus. The water resistance properties are more than welcoming for riders who like to ride their waterproof electric scooter in rainy weather.
Besides that, this electric scooter bell is resistant to dust and external elements. You can ride on off-road tracks without doing any damage to the horn. The advantage of going anywhere makes this horn the best in its class.
Battery Performance:
This is the perfect horn for anyone who needs a reliable horn and can last long on a single charge. The built-in 280mAh battery allows you to keep your phone alive while working, and with its 1.5-hour charge time, this baby will last up to 20 days on standby.
Easy to Install:
This electric bike horn is perfect for any bicycle with the generous 40-gram weight and space in mind. It is easy to install with a comfortable silicone buckle that fastens on handlebars of virtually any size.
There is the advantage of the silicone mount as it can act as a universal mount. It can fit most handlebars having variable sizes and diameters. We tested this bell on few scooters and found it perfect for them.
Horn Types:
You can cycle through all four different sounds with the button next to the horn. The other button plays your current sound, which you chose on the first power-up. Instructions are self-explanatory and straightforward as you mount it onto a bike after 8 hours of initial charging time.
The bells are loud enough to grab the attention of those ahead for crossing or vehicles that don't use their signals. You can switch between the intensity levels as every sound type of these four options has different echo and intensity types.
PROS
Great replacement for stock horn
Small and compact size
Louder sound for more coverage on the road
Additional options for sound settings
Universal fitting for a wide range of scooters
CONS
Tricky to press the button to avoid undulating sound
Chosen Factors
What to Look for When Buying Bike Horn?
When it comes time to choose your bike bell, many things need consideration before investing in quality and safety gear. The first is determining how louddo you need the sound from the device? Always keep in mind the following things while buying a best electric scooter horn bell.
Sound Quality and Loudness:
The sound of the bike horn is an effective way to warn drivers and pedestrians. It must have loudness and pitch for people not to tune out your noise for a clear warning. So choosing a loud horn is the best investment.
If you're looking for a scooter horn that will make people jump, then the best option is to choose one with an exceptionally high sound level. You won't have any trouble hearing your horn even on city noise. If you want something louder, choose those horns that are easier on the ears, primarily for kids' use.
Material Selection:
Bike horns are a few items that most people don't think about when shopping. And yet, a bike horn is essential for safety. It's essential to know what material your bike horn has before purchasing it because different materials will affect durability and resistance in different ways.
Choosing a bike horn can be tricky. There are plenty of options to choose from, but you must know what material is best for your needs. Easy-to-use horns in the form of an aluminum alloy or stainless steel will make riding more enjoyable and safe with their loud sounds alerting cars nearby who may not see you.
A Perfect Fit:
Think about the size and diameter of a scooter bell. This will help you know if it fits nicely on your electric scooter, as some bells may not be compatible with particular handlebars because they are too big or small in either case.
What's important to consider when choosing a horn for your bicycle is that there isn't one universal size and shape, so think carefully before making any decisions. If you have a commuter scooter, measuring the diameter of its handlebar will let you know the compatibility of the bell.
Extra Features:
If you are looking for a bike horn, it's essential to consider its extra functionality. Some come with features like an built-in LED lights or siren-like noise maker – which can be fun and valuable.
The horn may also come with a headlight, an excellent feature for your safety and those around you. A remote trigger is handy to have, but batteries can die out on these devices, so it could take some effort to recharge them appropriately.
Pricing:
From personal experience, you want to look at the price of a product and not just because it's cheap. You should consider how much value it offers for your money. Some products might seem too good to be accurate, but they usually are, so make sure that what you buy is worth what you pay.
How to Install a Horn on a Bike?
Installing an electric scooter horn is not a challenging task. In some cases, you may only need to connect the horn to the handlebar, and you are ready to use it. For some horns, it needs to either connect batteries or connect the wire with the wiring.
Either way, the installation does not take more than few minutes. To make the process straightforward, you can take the help of the manual that comes with the horn. Follow these steps as they work for most horns installations.
Find a place to mount the electric scooter horn on the handlebar. Avoid its placing in the way of any moving part.
Now select the mounting space for the switch. You can either place it near your grip or the place where you feel the convenience of use.
Connect the horn to the power source. This step is critical as you won't need any power source for the air pressure horn while needing proper connection for other types of horn that requires power to operate.
Manage the wiring and make sure to connect the wires right. You can get help from the manufacturer's manual to avoid any issues.
Avoid placing the horn in a position that touches the scooter's body other than the grip. Otherwise, it won't work as intended.
That is all, now check the performance of the horn and ensure that everything is working perfectly.
Recommendation
The selection of the best electric scooter horn bell is tedious for some people. To makes the process easier, we have reviewed the above products. If you are looking for our top recommendations, then
Hornit dB140 Scooter Horn
is a perfect choice. It is a universal fit for most electric scooters and provides a headlight as an additional accessory. After a month of its use on urban roads, we can declare it as the best electric scooter bells for adults.
What are the most trusted bike horn brands?
Kids and adults electric scooter horn bells have their brands that are giants in terms of consumers and quality products. Many trusted brands produce high-quality horn bells. However, you can look at our recommendations for getting a better solution for your electric scooter horn bell to need.
Why is my bike horn not working?
There are several reasons for your bike horn not working correctly. A quick evaluation of the horn can tell you the possible cause of the issue. However, it mainly depends on the type of your bike horn, and the reasons may vary accordingly. For starters, you may look for any blockage in the horn's throat. Observe for any damage to the horn wiring or its working parts.
How do I install bike horns?
To install a bike horn, you will need the following tools: screwdriver or screw nuts. It should be easy if your bike has wingnuts since most battery-operated horns have silicone or rubber straps that can stretch and attach to the trigger. The horn can be attached to any part of the handlebar. It can either go on your right side, left side, or even between both sides if you are ambidextrous.
How to care for and clean bike horns?
The first thing is knowing the type of horn that you have. You need to wipe off any dirt or debris with water before wiping down its surface with a dry cloth. The next step is to use liquid soap diluted in warm water and dry thoroughly after use (to avoid rusting).