Experts accept that a half an hour ride on a hoverboard will lead to burning 250 to 300 calories of the human body. Do you know how it happens? It is because you need to balance your weight on it. While standing on a board you realize that if you get misbalance, you will fall on the ground and that can be dangerous for you.
That is why you try to make up for your upper body weight on your limbs properly. It activates all the muscles and your mind is alert to have a command on your equilibrium.
The fastest hoverboards give you an opportunity to cover the distance in a flash. This activity is getting popular day by day among youngsters. They adopt it as a recreation and are involved in racing with their scooters.
In addition to fast road capabilities, the electronics should have a safety certificate from the US department. There are some more characteristics that should be present in the device making it durable for the spin along with long trips.
Personally, I am a big supporter and promoter of EVs. As a traveler, I always carry my electric ride to keep journey comfortable anywhere in the world. I came here online on this platform to give you my personal experience and other user's reviews of all used products.

WHO I AM?
Best in Market
5 Worlds Fastest Hoverboards
The world's fastest board has a good speed of up to 12 to 15 mph. It must have some peculiarities that are: It must be all-terrain and safe for all riders. Having a good speed limit is the foremost quality of the super-fast hoverboard. You want to get it for racing, so it should have racing tires that support you in racing competitions. A dual powerful motor makes its functions up-to-date.
Additionally, it should be charged in a few hours. A good range covering is the exceptional part. Larger tires ensure safety and grip. It is called a self-balancing scooter because it is able to save you from misbalancing. Bluetooth speakers with good sound effects and LED lights are very much necessary for enjoyment and night safety.
These features will be added to your comfortable riding adventure with your fast-moving gadget 2022. We have picked up some best products for your high-speed hustle and bustle.
UNI-SUN Hoverboard Speed Limits up to 9.95 mph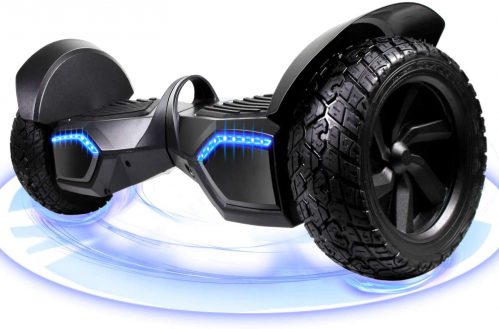 8.5 inches tires
Dual 350 Watt motor
9.95 mph speed
More than 30 degrees of climbing angle
36V lithium-ion batteries
Weight load from 44lbs- 260 lbs
UL2272 certification
If you wish to conquer all kinds of roads? Choose Uni–Sun hoverboard.
It gets all the best functions for its user. You can use it for a long time period. It has larger tires which are a perfect griping provider when you are on rough surfaces. The high speed hoverboard's powerful motor makes it in working order even in exceptional conditions. It charges like a shot and is feasible for long-distance range. It is the most powerful hoverboard on our list. Let's have a look at its features and the benefits.
All Terrain
You will not find smooth roads all the time in your journey. So, your vehicle must have features for better performance on all surfaces. It is the fastest off-road hoverboard. This is functional on not only paved roads but also on bumpy surfaces like grass, uphill, sandy areas, etc.
It promises a smooth ride for its user. It executes as a racing car on rougher terrain providing the rider a happy-go-lucky racing.
Bluetooth and LED lights
Frankly speaking, transportation ranks nowhere when it does not have an entertainment option. The super fast hoverboard has a racing sound that is great for racers. Bluetooth speakers give the pleasure of traveling when playing record-breaking music.
The super-easy safety option adds on LED lights for a risk-free night trip. The product details include sensitive turn rides for comparatively trouble-free moving.
Self- Balancing System
A person having a max weight of 260 lbs can feel comfortable with this professional device. The perfect conditions of self-balancing give you the confidence to mount and spin on the board effortlessly.
It is designed with high technology which supports you to stand symmetrical on the panel. It gives you the authority to be stable on it in almost no time. It is definitely the fastest electric hoverboard as far as I research.
Safety Note
The safe and durable device has a unique shape. In the comparison chart, you will find it obtains UL2272 certification. That means a lot to a rider; he can ride without worrying about damaging and exploding the battery. It has some extra layers on its dual power battery which makes it an out of danger mobility option.
Addon Features
The best budget hoverboard has a 36 V lithium-ion battery. It gets fully charged in a short space of time. It includes a handle that benefits the rider while moving fast. It offers more than 30 degrees climbing angle.
It has 2.8 times the walking speed. It is covered by a sturdy shell. It has shock control tires enabling wear resistance for moving on rugged roads. In conclusion, it is one of the fastest hoverboards in the world.
PROS
It is all-terrain.
It has a sturdy structure.
It is shockproof and has solid tires.
It is portable and easy to carry.
The handle is attached for convenience.
Anti-collision tires give perfect grip.
Safety is guaranteed.
CONS
Must have some warranty
Must be affordable
Jetson High Speed Hoverboard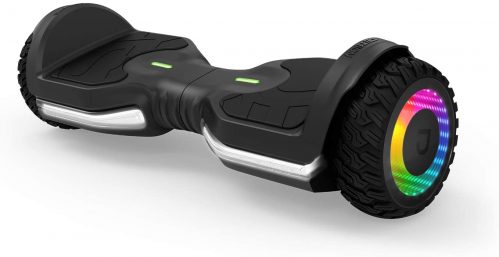 500-watt dual battery
10 mph speed limit
Lithium-ion battery
Charge time 3 hours
Range up to 12 miles
This high speed hoverboard is known to cover a distance of 10 mph. It has rugged tires which make you relaxed while going on rigorous areas. It has a safety certification that guarantees no risks.
The 500-watt dual motor performs extraordinary actions that come across the blast of your favorite transport. It gives you a ride like smooth pavement on all terrain. Get indulge in the features of the fastest hoverboard first.
High Speed
The power battery is responsible for this board appearing in the list of the fastest hoverboards. It is formulated with temperature protection. Its incredible speed of 10 mph is great for racing purposes.
The addition to fast-moving assures you safely to ride thanks to its dual hub motor and anti-slip tires. Everything is under control when rushing to work or just wanting to glide over it for fun.
Mileage Range
The riding range covers up to 12 miles in a single charge. Just give 3 hours to a full charge, then discover the velocity of the fastest hoverboard in the world in 2022. It has a remote control that is responsible for speed and other functions. You will feel a good try-on to carry it in hand. The safety features ease you off in traveling.
App Controlled Power
This can work with a smartphone app. Just install it on your phone! The hoverboard brand satisfies its customers by using innovative technologies in these gadgets.
The traveler feels comfortable and enjoys music during his expedition. The hoverboard speed limiter can up and down the speed easily. The flash wheel lights are due to safety in the dark. No worries, you can get a tour in the moonlight too.
All Terrain
The wide tires ensure an effortless and guarded excursion of the most expensive hoverboard in the world. The anti-slip grip mat helps you stand up comfortably. The racing is super easy because you can monitor all the operations on your phone. The battery life is great to get much experience of racing. Mobility is in your footsteps.
Additional Features
The super fun reveals when you enjoy your choice of music. The pretty decent way to travel faster provides you with a massive understanding of utilizing your hoverboard. All teenagers and adults can mount on this board and entertain themselves.
The lightning wheels are momentous to make you visible from far distances. The rider will find himself one in a million with this great hoverboard. The hoverboard speed limit is 10 mph.
PROS
The self-balancing system provides an easy ride.
Built-in Bluetooth speakers can add up the amusement.
All-terrain tires are good for racing.
A rechargeable battery assures a long-lasting trip.
Power is controlled by the app at your fingertips.
It is ready for first-time riders.
Light up wheels and Bluetooth speaker.
An anti-slip grip mat makes perfect safety.
CONS
Should ride on uphill
Should be within budget
Ninebot E22 Fastest Segway Model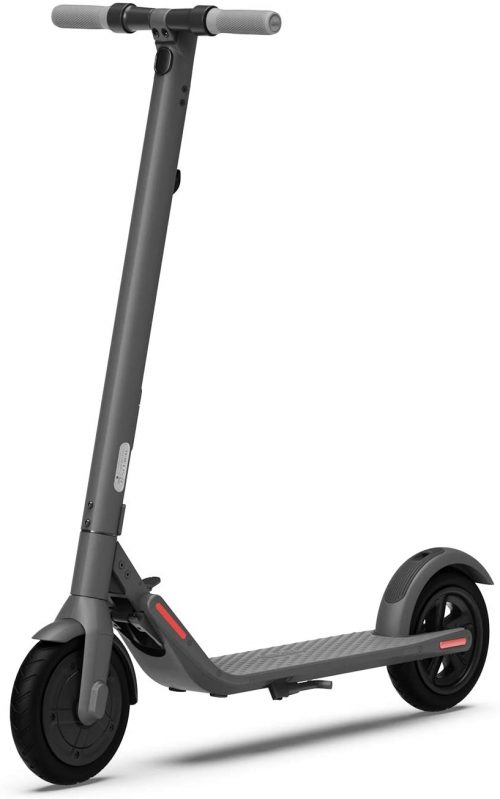 300 Watt direct current motor
Speed 12.4 mph
Range 13.7 miles
Max load 220 lbs
15% hill grade capability
9-inch dual-density tires
The super fast hoverboard has the most powerful dual-density larger tires showing the great sustainability of the fastest hoverboard. It is the lightest in weight. You can wonderfully fold it and hold it in your hand. New technology offers a dual brake system. Read further to make up your mind.
More Powerful Upgraded Motor
The powerful upgraded motor is present inside the panel ensuring its fastest movement. The 300-watt brushless direct current motor has a new version. It has a reach of up to 12.4 mph.
The sturdy board can bear a load of 220 lbs. Dynamic plus stronger capabilities bring exceptional traveling hang-on referring to the fastest self-balancing scooter.
Safe and Comfortable Ride
It can be risky when moving fast on hoverboards. But this product can benefit you from the supreme shock absorption technology. It has the guarantee of no tire punctures. It features 9- inches dual-density tires which are an addition to providing stability and easiness than the 8-inch tires.
A great characteristic is its dual braking system. It has a bell that you can ring during your trip as you need it. Now you can count the safety measures provided in this product.
Innovative Technology
The brand spends 7 years of continuous technological development. It has the honor to produce 300 million batteries. Its experience in the field supports that it is quite concerned with its products.
The fastest self balancing scooter removes all the doubts of dangers with its innovation. It displays accurate power for the working conditions of the products. Smart battery management systems are responsible for giving power and managing the battery in extreme conditions. It is the fastest hoverboard for adults.
Quality Assurance
If the product is designed after great research, then it will get certified for sure. So this is one of the fastest hoverboards that have quality assurance. The latest E22 is just accurate for your next distance governance. One year warranty makes you feel relaxed when buying it. No product has these kinds of greater assurance for its quality.
Additional Features
The dual brake system gets you far from moving and turning risks. It has electric brakes and mechanical brakes. It gives you an offer to ride 15% hill grade. You can connect with social networking.
Just click once and the scooter will be in lock mode. Adjustment of speed is no problem with the phone application. You can record and share your trip too. No one can deny its qualities, so book it fast. You will get the parcel of the fastest hoverboard speed up to 12.4 mph in a week at your home.
PROS
An electric kick scooter is easy to use.
Lightweight and foldable.
The powerful upgraded motor guarantees high speed.
Dual brakes and bell are great features.
A smart battery management system ensures high quality.
Claim the warranty within one year.
It gives a stable and comfortable ride.
CONS
Should have Bluetooth speakers
Should have LED lights
EVERCROSS Hoverboard Speed in km/h
favorite selection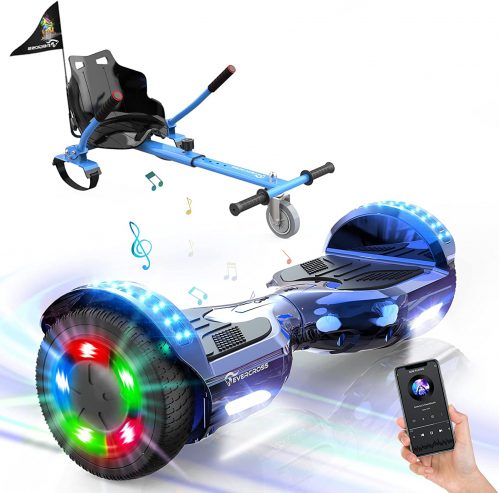 Range up to 7-10 miles
2 x 350 Watt engine
Max load 220 lbs
Speed up to 10-15 km/h
ABS polymer crafted
6.5" solid tires
If you are finding out the fastest hoverboard that is equally useful for kids and adults. Then select Evercross hoverboard. The kids can enjoy their racing as a recreational activity and the adults can take part in sports with this powerful transport.
It has really attractive features that engage the cheerful people in it warmly. If you attach it with the seat then nothing is cozier than it. It maintains the balance of the rider perfectly. It can be an ideal gift for your family. Read about its features and the benefits,
Battery and Range
The board has a high-end battery and it has authority for cruising ranges up to 7 to 10 miles. It is the most robust having a 350-watt dual-engine. This strong board can bear to 220-pound weight in all driving conditions. The hoverboard max speed is up to 15 km per hour. It will never wastage of money when you decide to buy it.
Advanced Self-Balancing System
The hoverboard is never effective without having a self-balancing system. This product has an advanced self-balancing system which can make it easier and safer for beginners and professionals to ride on it.
When turning on roads, you can easily move ahead and back and you can move around in such a comfortable way that has no match with the other products. You can spin on it freely. It will definitely maintain your balance. Just do some practice!
Multi Safety Protection
The fastest hoverboard is crafted with ABS polymer. Plus 6.5 inch solid tires and non-slip pedals form a stronger grip on the board. It is protected by an integrated battery engine safety control system that shows safety at its maximum level.
You can enjoy a long duration of fun with this great product for kids and adults too. You must present it to your loved ones and they will be pleased surely.
Additional Features
Including two dynamic attractive LED lights, it illuminates in dark conditions. The high-quality speaker which can work via Bluetooth adds great fun to your traveling. You can enjoy your best music and have fun in the weather.
Just try on a wonderful device within your range. When you attach the hoverboard with a comfortable seat then it brings you a safe and cozy journey in the air. It can be an idealistic thing for your kids.
PROS
It has a self-balancing system.
Bluetooth speakers, LED glowing wheels
A powerful engine provides fast speed.
Safe and cozy driving
It is safer for beginners.
Non-slip pedals and solid tires are due for safety purposes.
Integrated battery overloads protection.
TOMOLOO Hoverboard Max Speed Up to 9.3 mph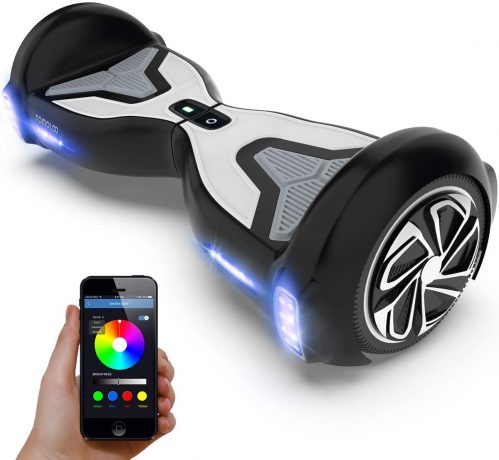 265 lbs load limit
6.5" solid rubber wheels
500-watt dual motor
Max speed 9.3 mph
Max range 9.3 miles
UL2272 certified
If you want to get a high-speed hoverboard that is good for heavy adults too. Then go for Tomoloo high speed hoverboard. The most promising quality of this device is its intelligent control system that offers three skill modes for beginners, intermediate, and advanced level riders. The UL 2271 certification provides you with the safety limits of the riding experience.
So let's come up with the details of this fastest hoverboard,
Battery and Range
The great power board has a 500 Watt dual motor that is responsible for its proper functioning. It is generated with 6.5-inch solid rubber wheels. The maximum speed it provides is 9.3 meters per hour and the maximum range is 9.3 miles. It will become a fascinating vehicle for its riders.
Intelligent Control
The intelligent control system provides you with 3 skill modes from beginners to advanced level riders. Your kids can enjoy and learn the balancing on the board and adults can take part in racing competitions because of its fastest speed that is 9.3 meters per hour. You can watch the speed limit, the battery, and the distance covered by you on this board onto the mobile app. You can set its functions accordingly from the app.
Self-Balancing Technology
The unique features keep the left and right pedals on to the horizontal plane all the time that providing you the perfect self-balancing on the board. The fast self-balancing scooter is very easy to learn either you are a beginner, a kid, or an adult. You can control the manual functions properly and simply. The self-balancing technology makes it secure for all types of riders.
Safety Protection
The hoverboard costs nothing if it is not assured by the US department of safety. This board is fireproof and is designed with a solid metal structure. It is prominently UL2271 certified. It is non-explosive. The company provides you with superior products within your budget. It also presents high-class services for its users. So feel free to buy this one!
Additional Features
This is really lightweight which can be carried easily onto the subways and in the elevators. It can bear a weight of 265 lbs. It has 6.5 inches tires. You can listen to your choice of music on speakers playing via Bluetooth. It can fix the colors, brightness, and flashlight effects of 8 lights. The best fastest hoverboard creates a unique atmosphere for your trip.
PROS
Lightweight and easy to carry.
A solid rubber wheel ensures fast speed.
App controls music and LED lights.
Flash effects of 8 lights are fun.
3 skills modes of speed
Free setting options are great.
Self-balancing technology is the best.
CONS
Should be available in different colors
Should be within budget
Procedure
How to Select the Fastest Electric Hoverboard for You?
If you are eager to find out the fastest power board for your transportation purpose or you want to enjoy racing on it with your friends then you must read further. There is some specification of the board which you have to consider.
Because you will discover a great number of the most powerful hoverboards in the market and also online. Then you will feel difficulty in choosing the best one for you. We will help you in this regard. So just read the article and select the best vehicle for your long trip.
Budget Friendly
When you are going to buy anything from the shop then you consider the perfect brand for you within your budget. So that step is also applicable to buying the fastest hoverboard. You will have to select it within your range.
You will find a great variety of expensive hoverboards on Amazon which provide you with fabulous experiences. These are equipped with innovative technologies but just consider your pocket money for spending on that device.
Safety Certified
After the budget, the foremost thing is its safety. When you choose the hoverboard which is safe and certified, then you feel confident to mount on it. Most probably it can be dangerous when you can't balance it. If you do not stable yourself then you can collapse.
If the motor does not work well then it gets explodes. The fastest hoverboard should have the ability to run on all terrain. Otherwise, there is no use for it. Certainly, you will not find smooth roads always when racing with your friends. So choose the fastest off-road hoverboard.
High Speed
Next thing is to know about the speed limit of course. When choosing the fastest board you will have to consider its speed. It must have a specific speed that can be good for your racing experience.
However, that will be used only for mobility purposes because you cannot compete with your friends in racing if your vehicle has less speed limit. So the option is to pick a high-speed hoverboard.
Battery
The battery of the fastest hoverboard should have a long duration of working power. Alternatively, when you are indulging in your racing then it will fail to run and you can lose the race. So try to find a hoverboard that has the best battery and motor. It must have the ability to charge within a few hours and a long-lasting battery for full entertainment.
Durable
When choosing the product you need to consider durability which is the most important part of your shopping. If you do not consider it then you may waste your money within no time. So do consider if it is sturdy and can bear your load on it.
It must perform well in tough conditions. It should be all-terrain because you want to shop for your racing recreation.
Glamorous
Kids and the youngsters like appealing products with funky colors and unique designs. If you select the power board with these qualities in your mind then it will be great for your kids and for your own self too. When racing if you are on the hoverboard which is great in looks. It will be a real encounter for you to enjoy your activity more.
Bluetooth Speakers and LED lights
Another promising quality of a super-fast hoverboard should be, it must have bright LED lights that light up your way when you are traveling in the dark. It is necessary that your board has some LED glittering lights to be seemed prominent in the crowd. It must have a Bluetooth speaker to provide you with better options for riding fun while enjoying your favorite music records.
Troubleshooting
How to make a Hoverboard faster?
We can change the functions of electronics items by changing their motor. Likewise, you can speed up your hoverboard up to 40 mph. Do you want to know how? Then let's read it carefully.
Step 1: Cleaning
The first thing is to clean your used board. The dirt and the junk make their place inside it due to getting in touch with the ground. So you need to clean it well.
Required
Paper towel
Gloves
Lubricant WD40
A piece of cloth
Screwdriver
Steps
Follow these instructions properly;
Wear your gloves
Open the panel with a screwdriver
Place the open panel onto the paper towel
Spray the lubricant from the outer side to the inner side of the junked hole
The junk inside it runs out in the form of liquid. The paper towel will carry it
Take a piece of clean cloth and wipe the panel properly
Again spray the lubricant on it to check if it is having junk or not
Now close the panel with a screwdriver
Step 2: Wheel Balance
When you run fast on the board, it can collapse. You need to make it stable.
Required
Binnen band
Hobby tape
Double-sided tape
Scissors
Steps
Open the Binnen band from the middle by using scissors.
Upside down your board and attach the double-sided tape to both sides of the middle joint.
Wrap the Binnen band over the tape on both sides of the board tightly
Secure it with hobby tape firmly
Make sure that the board joint is wrapped properly
Now, the sides of the board will not move independently and you can run on it faster than before.