Technology has made significant advancements in transportation, which is constantly enhancing. In these Swagtron hoverboard reviews, we have discussed the most recent additions to the list of transportation options. These hoverboards have several advantages over walking, including being environmentally friendly, reducing traffic congestion, and getting you from one location to another.
In addition, we get to act out our fantasy of simply lingering around in the background. In response to the widespread interest in hoverboards, many companies seized the opportunity to sell their products.
They bulk hoverboards at low prices for those who could not even want to spend a lot of money but yet wanted to get their hands with one of the coolest gadgets ever. Swagtron is one of the producers who has managed to preserve its integrity amidst all of this. We have compiled a comprehensive list of the top hoverboards available and our favorite Swagtron products.
Best
5 Swagtron Self-Balancing Hoverboard
Being versatile and loaded with features, buying the best Swagtron hoverboard can be tricky. Each Swagtron hoverboard specs are different from model to model, so deciding between the models gets challenging.
But you don't have to worry anymore as we have deeply researched all the models and chosen the best available options. You can get help from the review and the buying guide to select the ultimate hoverboard for you and your kids.
Swagtron Swagboard Elite Electric Hoverboard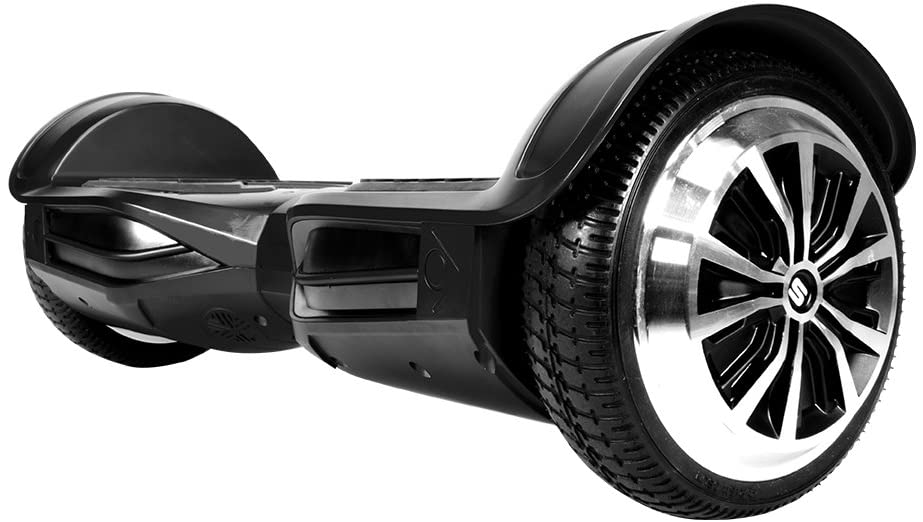 Motor Power: 500W
Top Speed: 8 MPH
Travel Range: 11 miles
Max Weight Capacity: 264 pounds
Wheel Size: 6.5 inch
Warranty: 90 days
Swagtron's Swagboard Elite Hoverboard seems an excellent product that combines an elegant appearance and superior craftsmanship. This product will appeal to both males and females in equal measure. It has captured the hearts of millions of people worldwide because of its unique design and impressive set of functions.
Speed and Acceleration
To be honest, there aren't many hoverboard models that allow you to choose your speed. Most of these devices operate at a constant speed. However, Swagboard Elite will enable you to adjust the speed. A newbie who is just getting started with hoverboard riding can begin at a slower speed. This product has a top speed of 8 miles per hour.
Ride Quality
The overall performance of this hoverboard is impressive due to the presence of a 250W dual motor. It also provides greater stability, which allows for more traction.  Such excellent performance is commendable when you consider its speed adjustability and tendency to cross any terrain surface with ease.
Build Quality
This hoverboard has a weight capacity of 220 pounds, which is quite remarkable. The product allows everyone from children to adults to use the hoverboard with the same zeal because it can withstand the additional weight.
The deck of this hoverboard equips with high-quality speakers that provide excellent sound. You may turn them on manually or through the app on your phone or tablet. Compared to other hoverboard models on the market, this one stands out due to its advanced technology.
Battery and Range
The charging time of a hoverboard is something that most people are worried about. Normally hoverboards can take up to 4 – 5 hours to fully charge the battery. On the other hand, this model is significantly superior to most on the market because it just takes 2 to 3 hours to charge completely. You will be able to spend more time riding and less time charging your hoverboard this way.
Safety
Checking the hoverboard's safety certification is one of the vital elements you must look for when purchasing. The UL2272 certification is the most common type of certification you can find on most hoverboards. This certification is primarily in charge of properly inspecting the product before its release onto the market for purchase.
Swagtron Elite has undergone extensive safety testing and verification. You don't have to worry about the hoverboard triggering any mishaps when you ride it for the commute. Its overall performance is likewise fairly good, according to the scale. 
Additional Features
It's rare for a budget hoverboard to provide app support. This feature undoubtedly increases the price, but it provides you with greater control over the scooter. Android and iPhone devices are both compatible with this app. You may use the software to keep track of where your hoverboard is at all times.
Besides that, you can easily monitor the remaining battery life of the hoverboard so you can estimate the remaining mileage beforehand. It includes a Bluetooth speaker that can entertain you while riding on the scooter with the playback of your favorite songs.
PROS
Excellent build quality
Battery indicator with LEDs
App assistance for better connectivity
Superb motor power for top speed
CONS
Pricey option for the riders
Swagtron Swagboard T500 Hoverboard for Kids and Adult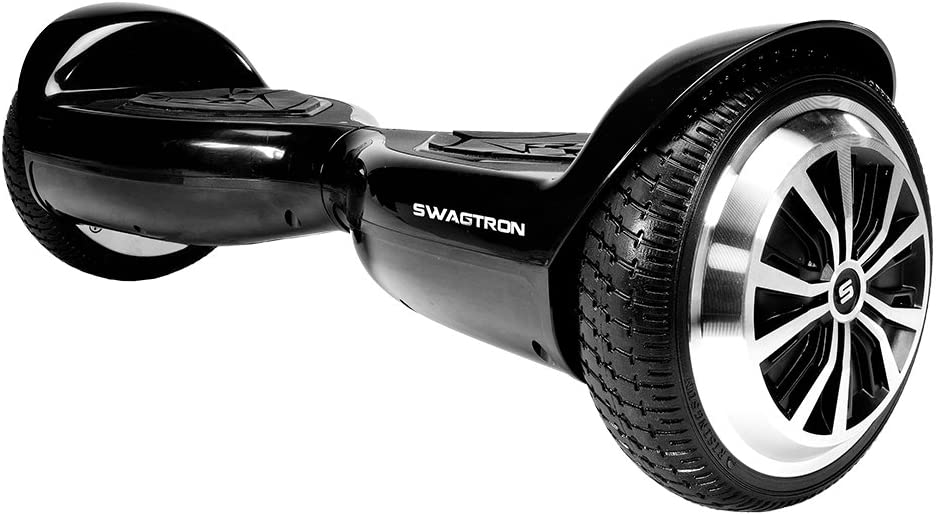 Motor Power: 500W
Top Speed: 8 MPH
Travel Range: 14 miles
Max Weight Capacity: 275 pounds
Wheel Size: 7 inch
Warranty: 90 Days
The Swagtron T500 is a well-built Swagtron electric hoverboard that uses only the highest-quality components and safety features that are not common in competition. Many of the T500's innovative features make it an excellent choice for children, as well as a perfect option for adults. However, you may select more options from the best hoverboard for kids in 2023.
Speed and Acceleration
T500 Swagtron kids hoverboard comes with a safe speed option for young riders, while a top speed of 8 miles an hour is available for experienced hoverboarders who enjoy riding at higher speeds. The maximum speed of this hoverboard depends upon your weight and the terrain type.
Battery and Range
The T500 board drive by a rechargeable battery that is simple to charge and requires roughly one hour of straight-up charge time to reach full capacity on the board. Even more, the rechargeable battery protects by SWAGTRON's patent Sentry Shield (smart battery management) technology, which offers multi-layered hovering and skateboarding safety in addition to the standard protection.
The hoverboard has a range of 14 miles and is lightweight. The range of the hoverboard varies depending on the surface area, such as flat ground or topography. Apart from that, the range may vary depending on your bodyweight capacity.
Build Quality
Even while the Swagtron T500's speed and range weren't the most astounding, its build, design, and ease of use are enough to get the attention of potential clients. The hoverboard model constructs high-quality ABS plastic to achieve the toughness and lightweight properties of the Swagtron T500. There are various colors available, including black, and the style is sleek and straightforward.
Its board is the most significant component of a hoverboard. It is equipped with non-slip rubber pads that strengthen the grip between the user's feet and board and allow them to maintain complete control of the board at all times. This function for the rider also ensures improved stability and safety. This model can carry weights as little as 18.9 pounds and as high as 275 pounds.
Safety
The SWAGTRON T500 is a well-built machine that uses just the highest-quality components and industry-leading safety measures. More significantly, the board has received a high-end certification from UL (the international, independent, and safety-science company), demonstrating that it has been thoroughly examined and determined to fulfill all applicable standard requirements for its intended use and application.
Additional Features
The board is available in black color and constructs a highly sturdy metal shell that will provide you with excellent value for your money. It intends for people of all ages to use this particular hoverboard/electric self-balancing scooter.
On the other hand, it is most appropriate for children and young people. Unlike the Standard mode, the Learning Mode may restrict speed to ensure safe practicing, while the Standard mode will enable unfettered rolling. A sleek, contemporary logo appears on each of the pedals of this hoverboard.
PROS
One of the best durability
High-quality lithium-ion battery
Advanced technology for speed
Very inexpensive
CONS
Pro gliders may find it restrictive
Reduction in maximum weight
Outlaw T6 Swagtron Hoverboard for Adults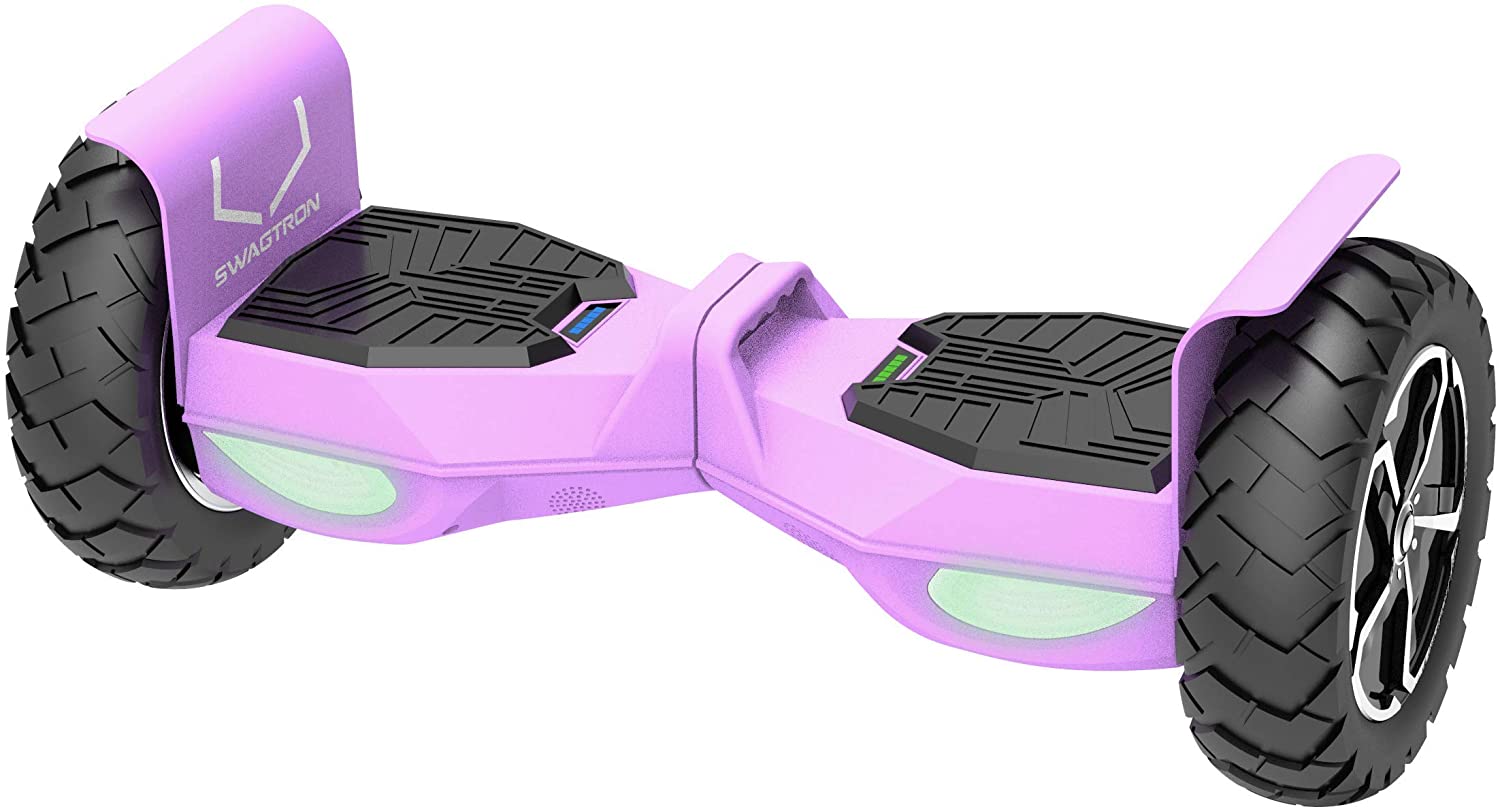 Motor Power: 600W
Top Speed: 12 MPH
Travel Range: 12 miles
Max Weight Capacity: 420 pounds
Wheel Size: 10 inch
Warranty: 90 days
Some of the best hoverboards on the marketplace have a long-range, a rapid top speed, and a quick charge time. The Outlaw T6 Swagtron Hoverboard for Adults satisfies all three criteria and exceeds them in a few other areas. Let find out more in Swagtron t6 hoverboard reviews.
Speed and Acceleration
The Swagtron T6 has a battery capacity of 12 miles on a single charge, which corresponds perfectly with its top speed of 12 miles per hour. Due to its long battery life, the Swagtron T6 is an excellent choice for traveling around town even while having sufficient battery life to return home for a recharging session.
Even if its top speed isn't fast enough to put you in danger of serious harm if you do happen to take a tumble, it is fast enough to give the impression that you are making real progress toward your target rather than just creeping along.
Battery and Range
T6's battery protection by SentryShield multi-layered battery shielding effectively covers the battery in serious harm (fire-proof) aluminum housing. It helps to ensure that the battery lasts for an extended period despite the extreme off-road riding conditions.
UL Certification testing for hoverboards performs by Swagway Systems (the based company behind the Swagtron brand). This technology is probably one of the reasons Swagtron Hoverboards achieve the UL Certification testing.
Build Quality
The Swagtron T6 is built with a powerful 300-watt dual-motor setup to ensure long-lasting performance. The dual-motor design enables it to maintain its maximum speed for extended durations without overheating or becoming too loud to be used outdoors.
Moreover, it is powerful enough to climb up to 30 degrees in a single step and discharge across practically any terrain. The wheels are pretty massive, measuring 10 inches in diameter, and they treaded, allowing them to traverse muddy or damp terrain without difficulty easily. They are one of the best 10-inch hoverboards for all-terrain.
The hoverboard's structure construct of ABS, plastic, and aluminum ensures that it is robust and has a strong frame able to support riders weighing as much as 420 pounds.
Ride Quality
Walking through a muddy ditch may be the only caution you need to take because doing so would submerge your hoverboard, causing water to get into the wheels, which might also lead your battery to run out.
Although the difference in speed may not be significant, motors with more than 250 watts generally suggest off-road use and adult use. The T6 doesn't disappoint when it comes to pushing you through all of those obstacles and road bumps.
Safety
When it refers to a Swagtron T6, safety is unquestionably a factor to take into consideration. The batteries can overheat and catch fire because of the SentryShield casings that protect them. With its extra-wide foot pedals, the Outlaw lets you enjoy the thrill of maximum speed without having to worry about losing control.
The pedal engineers to be non-slip, allowing you to easily and securely ride on uneven or smooth roads in equal comfort and security. They perfectly position the inner of the tires. Of course, the T6 has been thoroughly tested and certified following the UL2272 requirements.
Additional Features
In addition to its ability to link with your smartphone via Bluetooth, the Outlaw has several other unique features. It can all achieve through the SWAGTRON app, which requires that you download it, link your smartphone to the board, and you're ready to go. T6 Outlaw riders have the option of three riding modes, including Learning, Standard, and Advanced.
Flashing LED lights on the Swagtron T6 can project light up to 6.5ft in any direction. It is remarkable concerning the fact that not every board equips with lights on both sides.
PROS
Faster than most rivals
Adaptable to all riders
Rugged design
Integrated carry handle
Fantastic performance
CONS
Little pricey
Not waterproof
Swagtron T580 All Terrain Hoverboard
all modes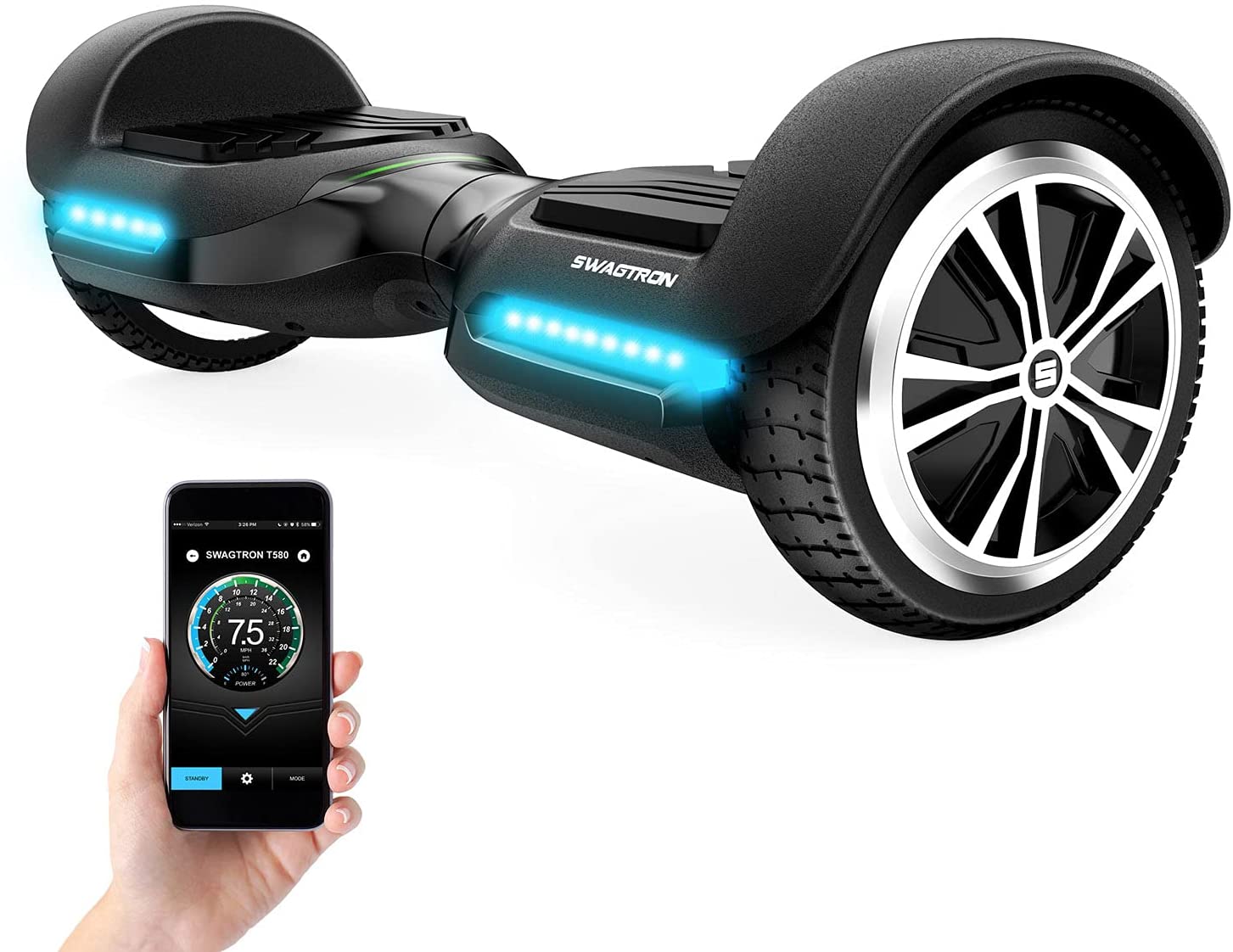 Motor Power: 400W
Top Speed: 7.5 MPH
Travel Range: 8 miles
Max Weight Capacity: 220 pounds
Wheel Size: 6.5 inch
Warranty: 90 days
If you want an excellent electric scooter and looking for one with a lot of features and a comfortable ride with the proper speed and range balance. Swagtron T580 All Terrain Hoverboard can be the best available on the market.
Speed and Acceleration
This hoverboard is an excellent choice for children because it allows them to travel at a slower speed. You may also select several ride modes, useful for children and newbies who want to start slowly. Using the smartphone app, you can switch between different modes, including a learning mode and a conventional ride mode.
Beginners will benefit from the learning mode because it allows them to practice their skills while riding at peak speed. Other hoverboards in the same price range as the Swagtron T580 can only reach speeds of 5-7 mph, resulting in the T580 taking the top spot in terms of speed.
Battery and Range
With Smart Battery management and SentrySheild technology, the battery is provided with multi-layered protection to keep it safe. It indicates that the battery has undergone tests to guarantee that it is safe to use in various applications.
It helps to keep the battery safe from short-circuiting, overheating, and other possible battery problems. The Swagtron t580 has a motor with a power of 400W and weighs 20 pounds, making it a bit of a slow-moving machine.
Build Quality
With a sleek appearance, the T580 is a pleasure to look at. It is available in three different colors: black, blue, and red, all of which contribute to its exquisite appearance. You might forgive to thinking that the Swagtron T580 is a high-end hoverboard at first glance, thanks to its striking appearance. It features cool LED lighting and constructs of elevated lightweight materials that design to resist the wear and tear of frequent use.
Ride Quality
A ride on the T580 is not difficult. Even children can easily learn to ride well in a short period with the proper instruction. Standing on the non-slippery footpads and leaning forward or backward is all that requires of you.
The gyro-sensors will sense your movement, and the gadget will move in response to your movements. Your body weight can move about to achieve dynamic equilibrium, allowing complete control over your direction and speed when riding a bicycle.
Safety
The T580 Vibe hoverboard, like most other Swagtron hoverboards, has undergone stringent safety tests, earning it the UL2272 certification for superior performance. The hoverboard's SentryShield technologies provide multiple layers of protection. It protects the board from overheating and possible excessive issues that may occur.
Additional Features
The Swagtron fits with 6.5-inch wheels, which make it an excellent choice for traveling around urban areas. Although it is not designing for off-road riding, it performs admirably on the street and the highway. The tires have a reasonable breadth, which results in a liquid-smooth riding on the majority of the roads you'll see regularly.
If you have a smartphone, you can pair the Swagtron T580 with it. The Swagtron app may be used to unlock the various ride modes and provide some essential diagnostics, such as the available battery life, the speed track, and other parameters. The Bluetooth connectivity option is excellent, and it is simple to pair with other devices in a matter of seconds.
PROS
Bluetooth speakers
Various riding modes
Runs safely for the kids
Amazing travel range
Design for portability
CONS
Lacking in pace
Not for terrain surfaces
Swagtron T3 Premium Self-Balancing Scooter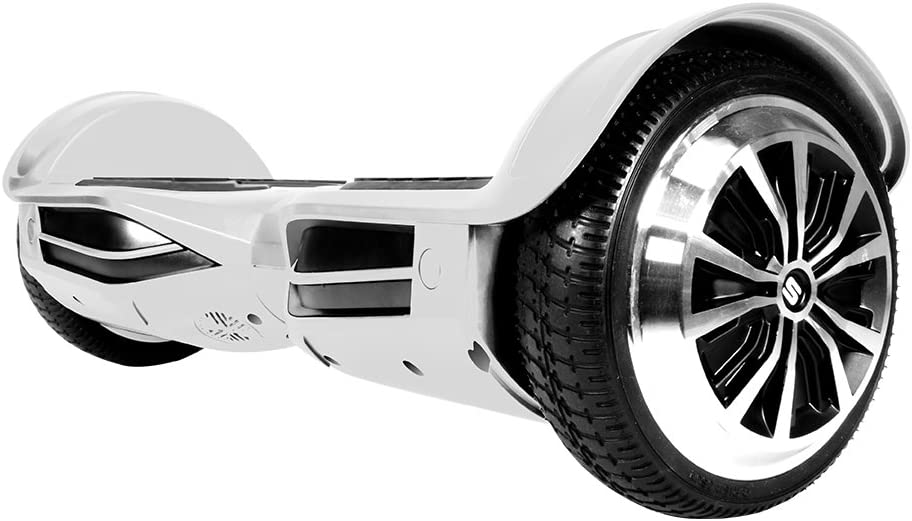 Motor Power: 500W
Top Speed: 8 MPH
Travel Range: 11 miles
Max Weight Capacity: 220 pounds
Wheel Size: 6.5 inches
Warranty: 90 days
Hoverboarding on the Swagtron T3 self-balancing scooter is in itself a fun and super-quiet experience which takes you where you need to go playfully. It is designed to be used by both adults and children and is a connected app that allows users to switch between modes after gaining enough comfort and confidence.
Speed and Acceleration
Because two 250W motors drive the Swagtron T3, it is more robust than the Tomoloo Hoverboard's motor. As a bonus, it comes with an app that allows you to track things like your ride information and select between riding modes. The top speed of this hoverboard reaches 8 mph with an 11 miles range.
Battery and Range
It is distinguishing with the presence of a Sentry Shield Battery, which can recharge in as little as 2-3 hours. After being fully charged with the Swagtron hoverboard charger, it will provide a running range of up to 11 miles, which is an outstanding amount of distance.
Whether you are riding or not, the board's five-level battery indications can tell customers how much charge is remaining on the board. It features five different levels of hoverboard monitor indications that will inform you how well your board is performing.
Build Quality
T3 has a considerably sportier feel. It appears to have made using the exact sleek and attractive design blueprint the T1 while also looking far superior to the XPRIT hoverboard. The built-in Bluetooth functionality allows for communication with the app, which is useful because it may utilize contact service to customers if you require it.
Ride Quality
The vehicle equips with a twin autonomous engine that has to rebuild, for starters. The control's gear adjustment is likewise well labeled. The internal components are responsible for the sturdier, more stable feel, and a smoother ride overall.
The T3 equip with three learning modes that are ideal for beginning riders and a connected application that lets you choose between the mode once you have gained enough confidence.
Safety
For the first time, a hoverboard like the T3 was certified as safe by the tough new UL requirements, which look for electrical failures like vibration and overheating. This writing is the only brand to have passed the UL's 10-ton crushing test.
The T3 contains several other safety features, such as a fire-resistant casing and a unique "SentryShield" battery chamber that protects the battery from damage. In other terms, it is a hoverboard that is safe.
Additional Features
This hoverboard features a BMS technology that assists in guaranteeing that it is operating properly. By preventing short-circuiting, this technology contributes to increased longevity.
However, you can consider yourself fortunate with such a hoverboard because it features an auto-stop feature that prevents such mishaps. When the battery reaches its maximum capacity, this technology safely glides you to a safe stop.
PROS
Multi-layer protection
More stable ride
Powerful motor power
LED lights for night riding
Safe for people of all ages
Table
Swagtron Hoverboard Comparison
Following is the chart for Swagtron comparison, which can further help you decide between the Swagtron electric self-balancing scooter reviews.
| | | | | | |
| --- | --- | --- | --- | --- | --- |
| Feature | Elite | T500 | T6 | T580 | T3 |
| Motor Power | 500W | 500W | 600W | 400W | 500W |
| Top Speed | 8 MPH | 8 MPH | 12 MPH | 12.5 MPH | 8 MPH |
| Travel Range | 11 mile | 14 mile | 12 mile | 8 mile | 11 mile |
| Weight | 264 pounds | 275 pounds | 420 pounds | 220 pounds | 220 pounds |
| Wheel Size | 6.5 inch | 7 inch | 10 inch | 6.5 inch | 6.5 inch |
| UL Certificate | Yes | Yes | Yes | Yes | Yes |
Factors to Read
Swagtron Hoverboard Reviews Buying Guide
You can choose Swagtron self-balancing scooters and be confident that you're getting a fair value. With a Swagtron, you can rest assured that your expectations will never be disappointed. The fact is that selecting the appropriate boards for the appropriate riders is still critical.
When looking through the different options, keep the following points in mind before placing your purchase for more than just a Swagtron hoverboard. You may select the cheapest Swagtron hoverboard with specs that you can get at a premium price.
Age Restriction
All Swagtrons limit the age range of those who can use their boards due to licensing agreements with third parties. Some of the bigger and more powerful Swagtrons did not suggest for children under the age of eight.
Others with a learning mode, on the other hand, are frequently suitable for both adults and children. If you're buying a motorcycle for the whole family, it's a good idea to look for switchable riding modes.
Pace of hoverboard
The maximum speed and the board must also keep in mind – both for the sake of fun and for the sake of safety. As an experienced rider, you'll want something that can travel at least 7-8 miles per hour.
If you purchase a bike for younger children or new riders, 5-6 miles per hour may be a more appropriate speed. For those searching for a truly exhilarating ride, anything that can reach speeds of 10-12 miles per hour is best.
Strength
All Swagtron boards have constraints in terms of the lowest and highest rider weights they can accommodate. When it comes to minimum rider weight, you'll typically discover that it's around 40lbs. This is the weight required for the board to run. Maximum rider weights range from 180 pounds to more than 400 pounds on the other end of the spectrum.
Keep your Swagtron hoverboard from being pushed to its absolute limits by leaving some wiggle room. If you weigh exactly 180 pounds, get a product that has a carrying capacity of at least 200 pounds.
Battery Power
The range of a Swagtron hoverboard battery is the amount of time you can ride well before the battery needs to recharge. When related to Swagtron hoverboard battery life, it goes without saying that bigger is always preferable for various reasons.
With Swagtron, most boards tune to provide the longest possible per-charge range while maintaining the lowest possible cost. The distance might range from 8 miles to as much as 12 miles, depending on the board. Just the right amount for a relaxing ride or a quick trip to the office.
The amount of energy your Swagtron has under the engine will impact several important factors. Power is associated with various characteristics such as Swagtron hoverboard weight limit, endurance to climb terrain, speed, max speed, and even responsiveness.
When it comes to experienced adult riders, more power is always preferable to less power. On the other hand, having too much power can be an issue for boards for youngsters.
Smartphone Connectivity
Swagtron is well-known for having developed among the most innovative hoverboard applications available. Bluetooth functionality includes the board you purchase, so you're in for a treat.
Journey tracking, board performance monitoring, and managing a range of tasks may all be done from your smartphone or tablet device. It's true that not every Swagtron hoverboards come with Bluetooth, but it's officially an optional extra that isn't a deal-breaker.
Safety Certification
The fact that all Swagtron hoverboards seem to be UL 2272 approved means that there are no issues. It indicates that they have completed a series of critical safety checks to remove the possibility of a fire or explosion.
Keep an eye out for this critical safety feature whenever you are searching for a battery powering hoverboard.