Segway Ninebot ES2 is the ultimate choice for every e scooter lover, and it has gained a lot of popularity in recent times. Segway has managed to keep the reputation of a good manufacturer by providing a scooter that features high-quality material and a comfortable design.
It comes in the mid-ranged price that further elevates its value for money. However, there are few features that Segway may improve to make it a considerable choice among electric scooters. It lacks high speed and acceleration that separates it from the higher league.
Besides the speed and acceleration, Segway Ninebot ES2 gets the job done to carry you around from one place to other. It is powerful enough to take you on urban rides. Due to its low maintenance requirements, you can easily commute daily and get a stress-free ride.
Enough for the introduction, let's jump into the detailed Segway Ninebot ES2 review to explore where it outperforms and where it needs improvements.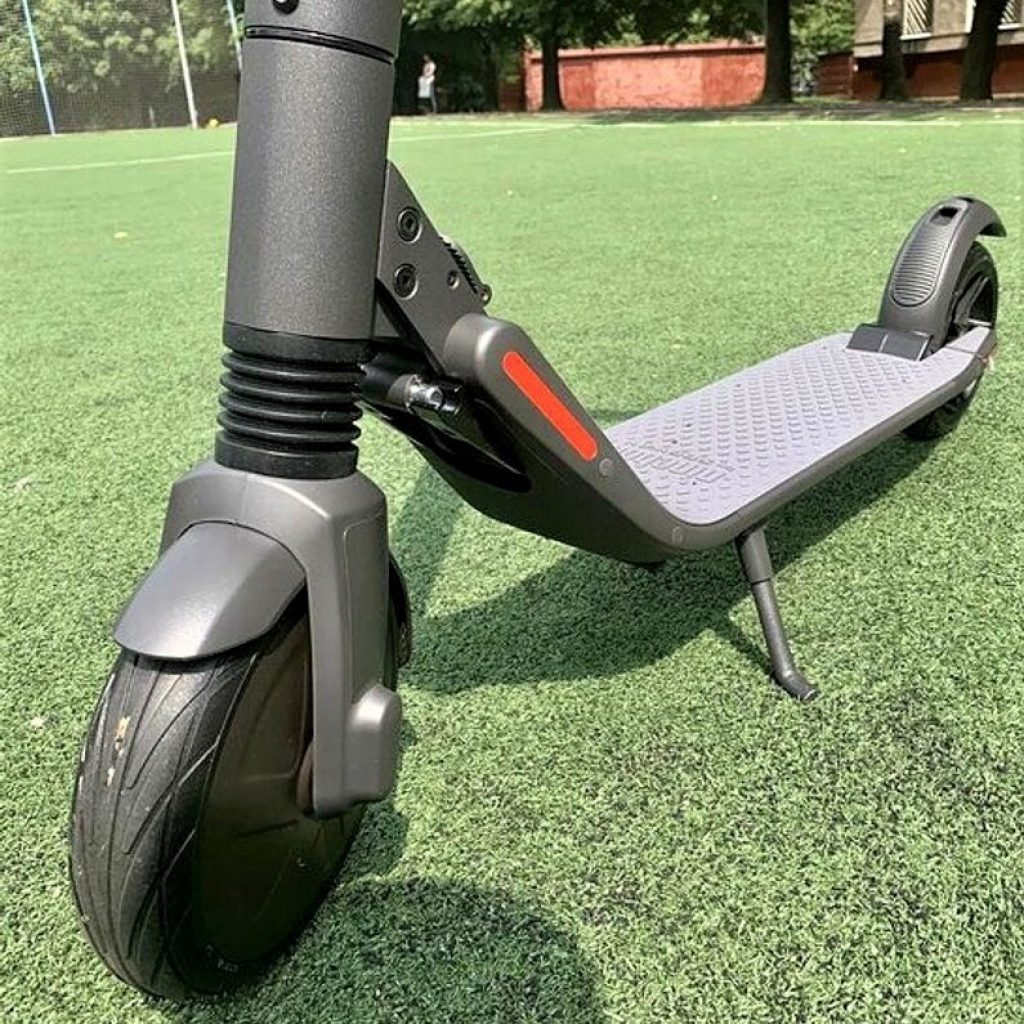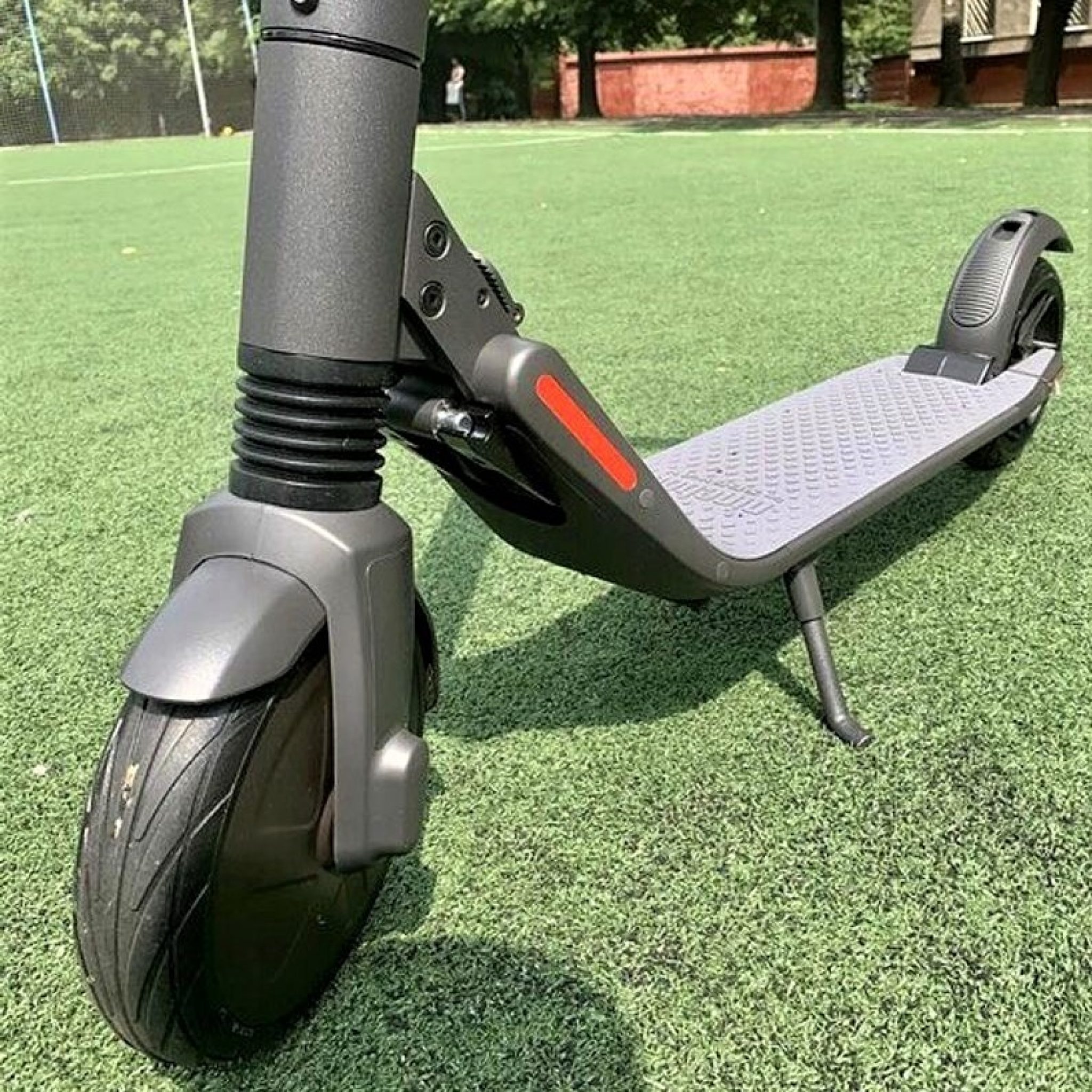 Segway ES2 does not come pre-assembled as it requires some fittings to get it functional. The shipping comes in protective and well-secured packaging. You get some separate parts inside the packaging like a scooter, charger, handlebar, five hex screws, and hex key to assemble them.
There is a Segway Ninebot ES2 manual in the shipping that provides brief instructions to assemble the parts. It comes in various languages to make the process easy for non-native English speakers. There are some safety instructions on the manual that are important before assembling the parts.
For the first run, you need to properly adjust the kickstand and handlebars and make sure to screw and secure them before use. Once the assembling completes, the battery needs a full charge that contributes to the battery's lifecycle.
Segway Ninebot ES2 Specifications
| | |
| --- | --- |
| Manufacturer | Segway |
| Model | Ninebot ES2 |
| Motor Power | 300W |
| Travel Range | 15 miles |
| Battery | 5200 mAH |
| Top Speed | 15 mph |
| Tire Size | 8-inch front, 7.5 inch rear |
| Tire Type | Solid rubber |
| Item Weight | 27.6 pounds |
| Max Weight Capacity | 200 pounds |
| Battery Recharge Time | 3.5 hours |
| Brakes | Regenerative |
| Lights | Front and Rear |
| Water Resistance | IP54 |
| Warranty | 12 months |
Build Quality
The first thing that we notice on the arrival of Segway ES2 is its good build quality. We can easily declare it one of the best quality that we have seen in the electric scooter of the same price range. It has an aviation-grade aluminium alloy that provides higher strength and a durable body. The material is superior to the many competitors.
Besides the main body, Ninebot ES2 has some mixture of plastic parts in various locations. The control paddles, rear brakes, and wheel cover are plastic made. This plastic addition does not spoil the beauty, and parts are durable enough to withstand extreme conditions. However, you can use the warranty in case of any damage to the parts during the warranty period.
The most electric scooter features a folding design in which they fold near the base of the handlebar stem, which can cause the handlebar to lose the rigidness and feel loose. Segway Ninebot ES2 managed this by providing folding at the front of the deck. This prevents extra flex on the stem and handlebars and keeps the handlebar secure from wobbling.
Another best thing about ES2 is its solid tires. Although there are some drawbacks of the solid tires in the electric scooters, Segway managed to overcome them by providing higher grade tires. These tires do not go flat during the riding and offer long life compared to pneumatic tires.
Motor power is a critical feature that should be a top priority during an electric scooter purchase. Segway Ninebot ES2 motor is quiet in operation and features a 330W power that can take you effortlessly through urban roads. However, you may face issues travelling off-road due to limited power. We won't recommend it for taking off-road.
The motor engages and starts with the kick start that is common for almost all electric scooters. It generates a decent acceleration and speed. When you run ES2 on full potential on sports mode, it can reach a top speed of 15.5 miles per hour. However, you may not like the sports mode as it affects the travel range and decreases it.
There are three riding modes on Segway ES2, including speed limit, standard, and sports mode. Speed limit offers an increased mileage but cut short the speed and power. The standard speed mode can generate an acceleration of 12.5 miles per hour and give a decent range. Sports mode is for best speed and acceleration at less travel range and more battery consumption.
Moreover, ES2 electric scooter is not the best option for climbing uphill terrains. It offers a climbing maximum of 10% incline. This climb further depends on the rider's weight and the amount of charge remaining in the battery.
So, if you need an e scooter to climb uphill more than 10%, you may look for alternative scooters. But doing so can increase the cost as most scooters in this price range offer the same incline support.
Range & Milage
Segway Ninebot ES2 battery carries 5200 mAh that gives a mileage of 15.5 miles per charge. But this range only becomes possible on Eco mode. You can ride it on weekends or for a daily urban commute without fear of low battery.
However, if you feel that travel range is not enough, use a Segway Ninebot ES2 additional battery to get back up for longer miles. The range is crucial for those who travel daily but don't worry if you carry an additional battery that produces almost double the range compared to the single body.
To charge this 5200 mah battery takes 3.5 hours. This charge time is nothing compared to the outrageous charging time of other scooters, which can take up to 20+ hours to charge fully. To watch the remaining battery juice, an LED panel is present on the handlebar. It shows battery percentage in five bars where each bar represents roughly 20% charge.
Weight Capacity
Segway Ninebot ES2 weight is comfortable, and it is the best lightweight scooter in its competition. Weighing at 27.6 pounds, it is the relatively lightest electric scooter. However, you will never get disappointed by its build quality, even on this lighter weight.
The scooter's weight is worth it in terms of its range as it saves power on dragging the heavy body. A lighter body is easy to carry for the motors. However, Segway Ninebot ES2 mileage is nothing to brag about, and it is in a fine line between low and decent mileage range.
Due to the lighter body, Segway ES2 only supports 220 pounds of the rider weight. This is the base value for an electric scooter in this category. So, if you are considering buying ES2 but your weight is heavier than the max limit, you should look for alternative choices.
Portability
Segway Ninebot ES2 dimensions and weight make it easy to carry it around anywhere during your commute. It has a stem size that is oversized in terms of length and diameter, respective to the other scooters in the competition.
Its length makes it challenging to fit in well in an average car trunk as it has folded dimensions of 44 x 17 x 12 inches. These dimensions and lengths can put you in the struggle when placing them in your car. However, you may angle it for placement or put it on the backseat.
Besides this, Segway has produced an excellent portable design that involves a folding mechanism. You can bend the handlebar near the base of the deck and make it foldable. When pushing towards the rear wheel, click sounds ensure that it is fully portable and ready for transport. Moreover, the compact design of handles and deck make it feasible to carry around in backpack.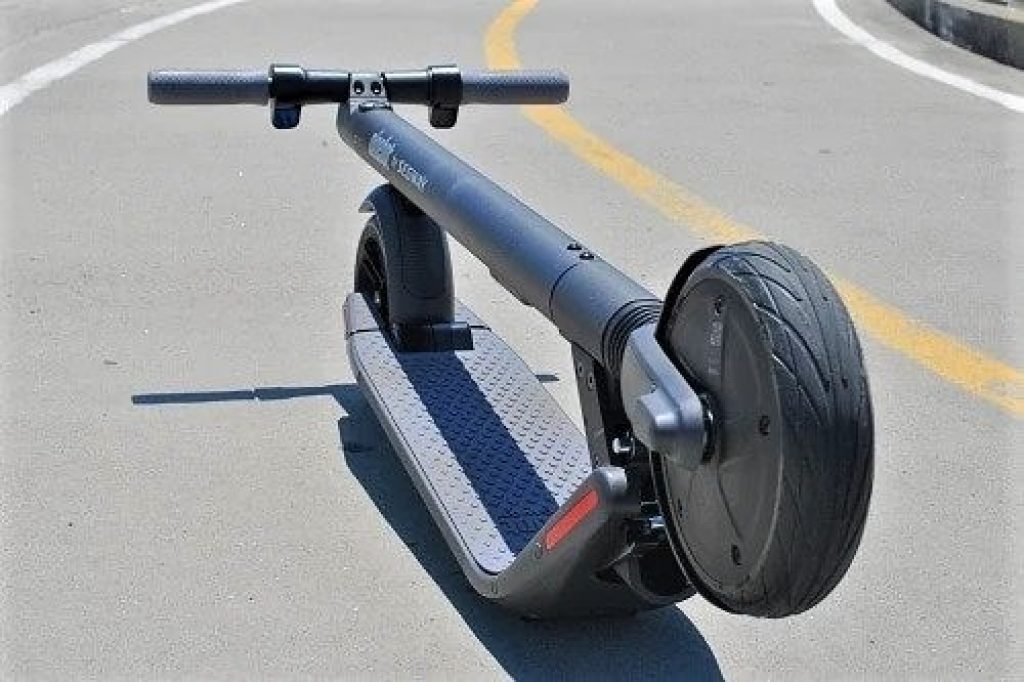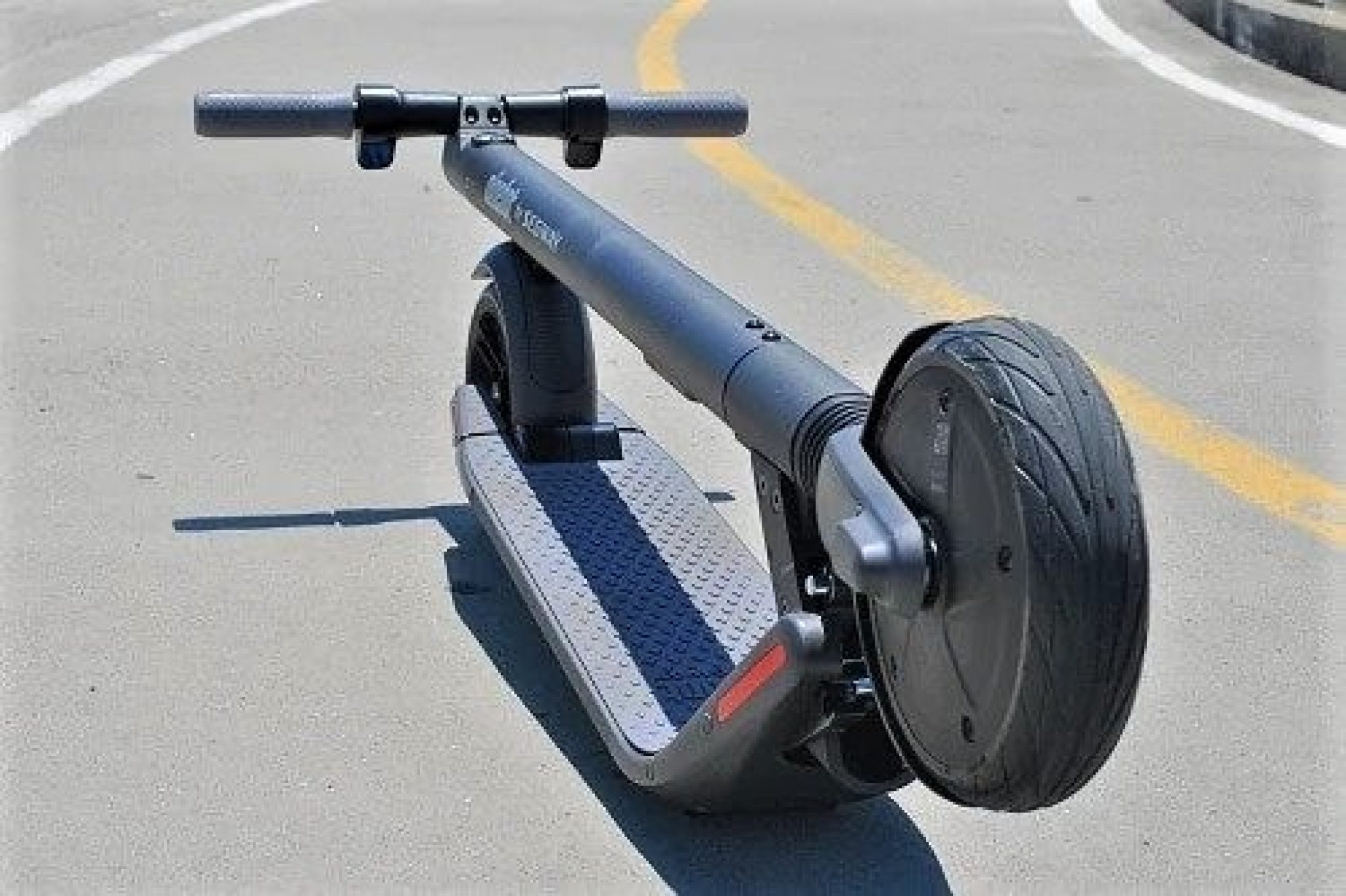 Solid ES2 Frame
Like overall build quality, the Segway Ninebot ES2 kick scooter frame shows higher strength while keeping the weight minimum. The lightweight design became possible due to aviation-grade aluminum alloy material. This premium material gives a solid construction to the scooter.
Besides the build quality and weight of the frame, it is aesthetically pleasing. The unattractive gear like wires and other electric stuff is hidden inside the frame while the simple and clear looks provide an attractive sight. The frame design precisely depicts why Segway Ninbot ES2 is one of the best selling electric scooters.
Lengthy Deck
The dimensions of the deck are for a daily commuter with an excellent design. It has a length of 16 inches that is a good range for the electric scooter. The gradual increase in the deck slope further increases the space of the deck. You can place the foot easily on the deck due to the smartly-designed area distribution.
For getting good shoe grip and a stable platform, the deck has a rubber textured footplate. The 6 inches wide footplate on the lengthy deck enables you to ride the scooter comfortably. Any shoe size can fit nicely on the deck, and you won't feel it short for your body.
Segway not only focused on the deck space and its quality but also provided premium quality colored lights. These are customizable from 16 colors, located at the bottom of the deck to give a lovely view.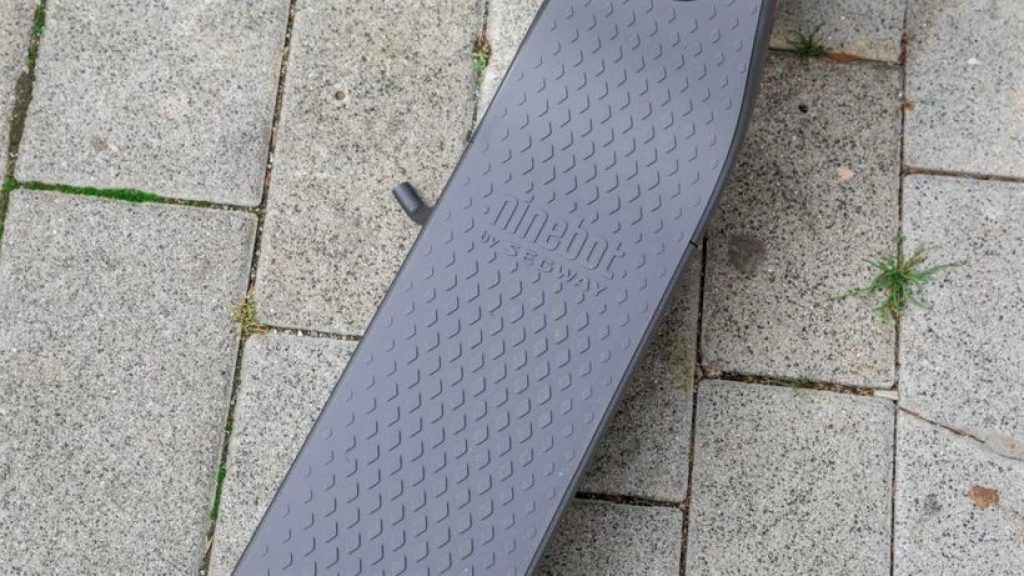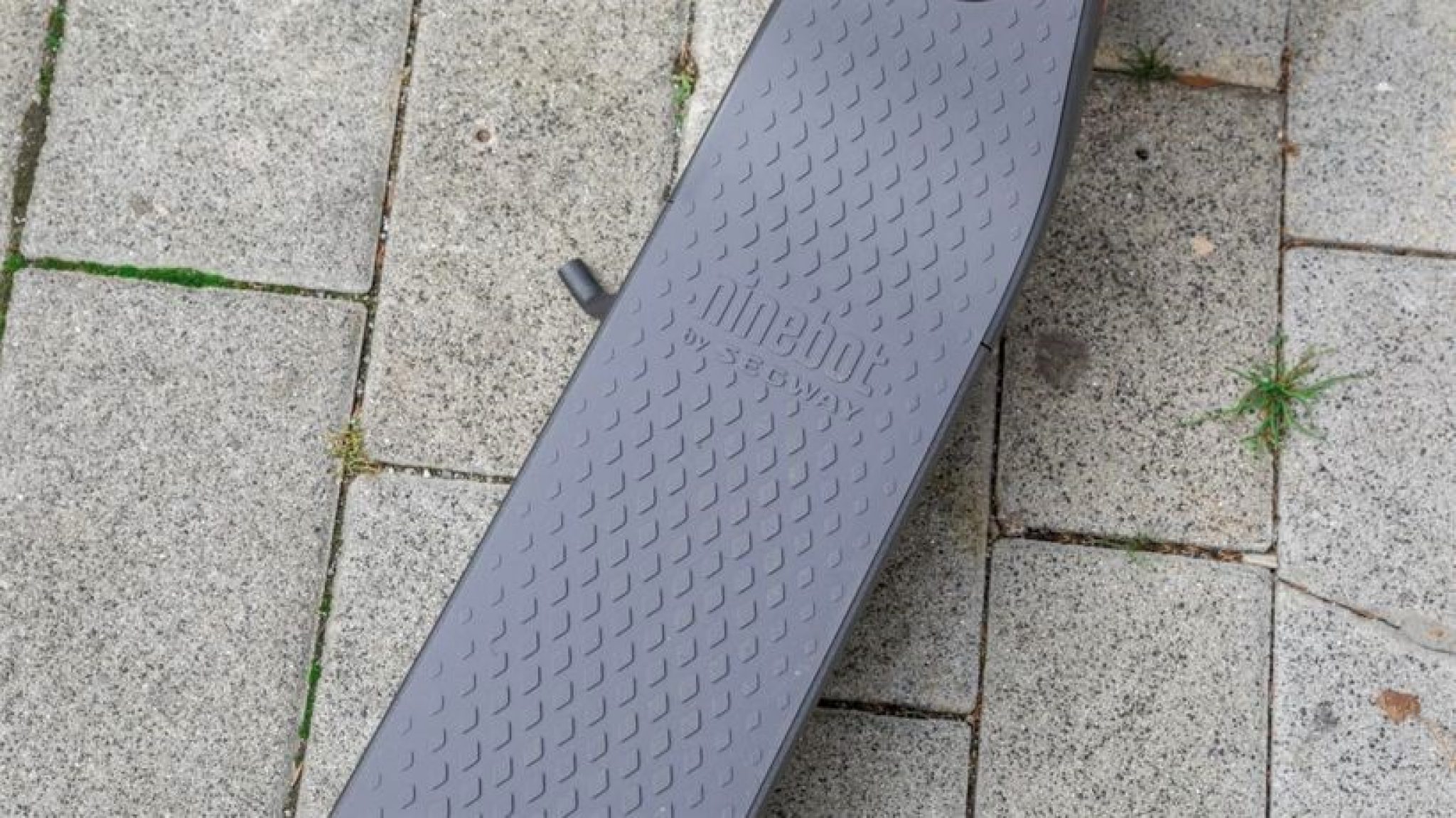 Segway ES2 has solid rubber tires that are comparatively less flexible than pneumatic tires. They are a product of hard rubber that gives less cushioning on the road. Besides these downsides, the tires on ES2 are very reliable and less prone to wear and tear on the road.
You are not left without a guard on bumpy roads, thanks to the suspension system that minimizes the shocks. It also alleviates some of the solid rubber tires' uncomfortably and reduces it on the rough terrain and off-road drive.
The front and rear tires have different sizes, as the Segway Ninebot ES2 front wheel is 8 inches while the rear tire size is 7.5 inches. Besides their one downside, they are reliable so that you won't face flat tires during the ride. You can replace the tires after they have completed their life. No other regular maintenance needs when you drive an electric scooter with solid rubber tires.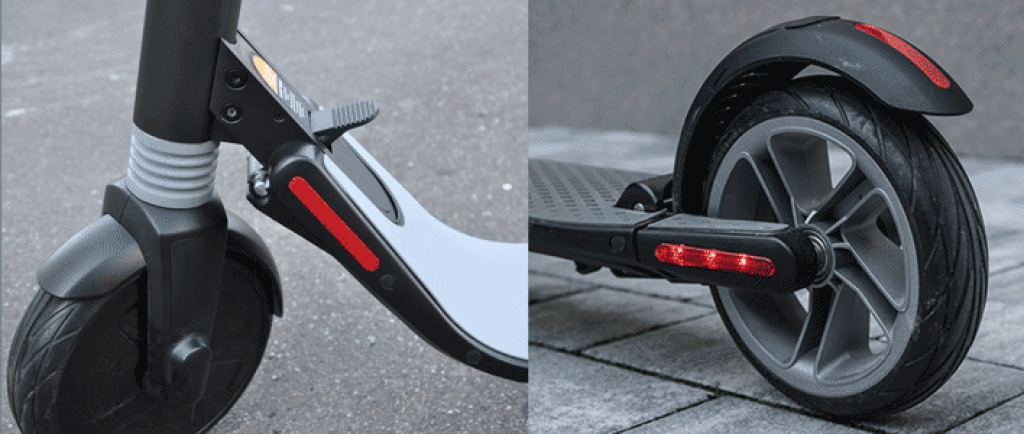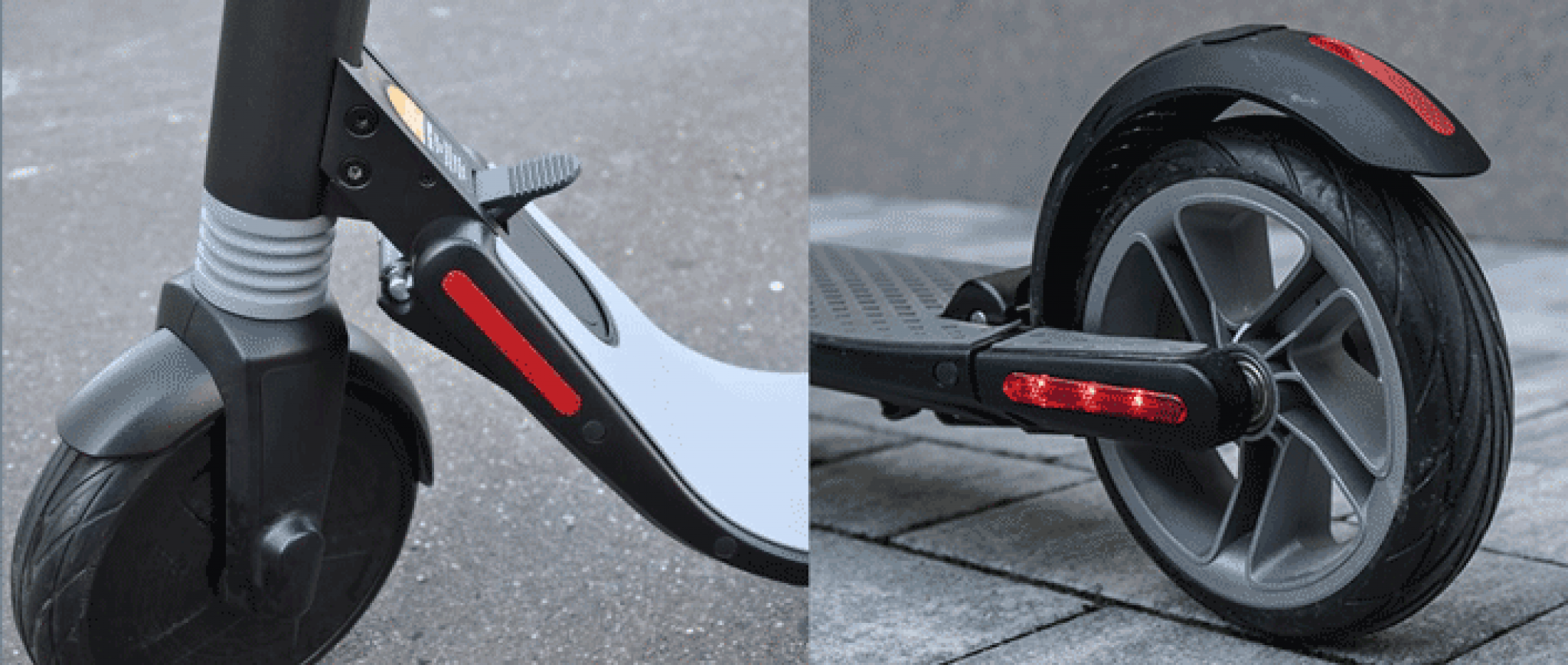 Suspension
The dual suspension system on Ninebot ES2 supports the rider well by absorbing the shocks. It has front and rear shocks that are pleasing since the presence of solid rubber tires. They provide extra cushioning to minimize the bumpy impact of rough terrain.
The front and rear suspension act purposely as the front suspension reduces the shocks on handlebars to provide fewer vibrations. The rear shock offers a comfortable journey as they support the deck area where you stand, resulting in less stress and vibrations on the feet.
Brakes
There are regenerative foot brakes present in the Segway Ninebot ES2. You can stop the scooter quickly by using both front and rear brakes at once. The mechanism is straightforward as you need to put your foot over the brake and shift the weight toward that foot for practical brake application.
Regenerative braking is highly effective in recycling the power that you use to stop the scooter. In this way, you can get better mileage and extend your journey. The braking system manages the top speed effectively, so it's a win-win situation.
Addons
Additional Features
An LED panel is present on the handlebar that reflects different parameters on its screen. It is an effective way to show the data regarding speed, riding mode, and battery level. Like most electric scooters, it shows on limited data. Most of the time, you require the battery data compared to the speed data on this electric scooter.
Segway Ninebot ES2 Scooter has an effectively working cruise control feature that is amazing for commuting. You can set the speed value on the cruise control and relax regarding the speed as ES2 will maintain a constant speed.
An exciting feature of Ninbot ES2 is its connectivity options with different devices. You can connect any iOS and Android device with the scooter using the Segway Ninebot app. It needs few easy steps to get inside the application. Starting from signing up and then active the scooter on the app, it's straightforward. You can control the LED light color and riding mode easily with this application connectivity.
Talking about the LED light, it has a bright LED headlight and tail lights on the rear. You can get even more than that with the customizable LED lights under the deck. You can choose from 16 color choices according to your mood. These lights are easily controllable through Bluetooth application connectivity.
Lights not only contribute towards the aesthetics but also are the primary security feature. You can ride in dim lights or at night. Besides the lights, reflectors on both sides of the scooter increase security, and you can watch behind you using these reflectors.
Segway Ninebot ES2 features a luxury of water resistance that has an IP54 rating which means that it can handle the water in the form of light rain and splashes. We won't advise you to pass the scooter through heavy standing water or ride it in heavy rains.
Another good feature present in the Segway ES2 is excellent battery management. It involves effective monitoring of the battery charging and gives the protection it from overheating and short circuits. The prevention of overcharging is extraordinary in ES2, which increases the battery life in the long run.
Segway offers additional attachments for their Ninebot Es2 accessories. One of the attachments includes a comfortable and elastic seat. It is highly comfortable due to the presence of shock absorbers and high elastic foam. You can get it in an affordable price range with excellent features.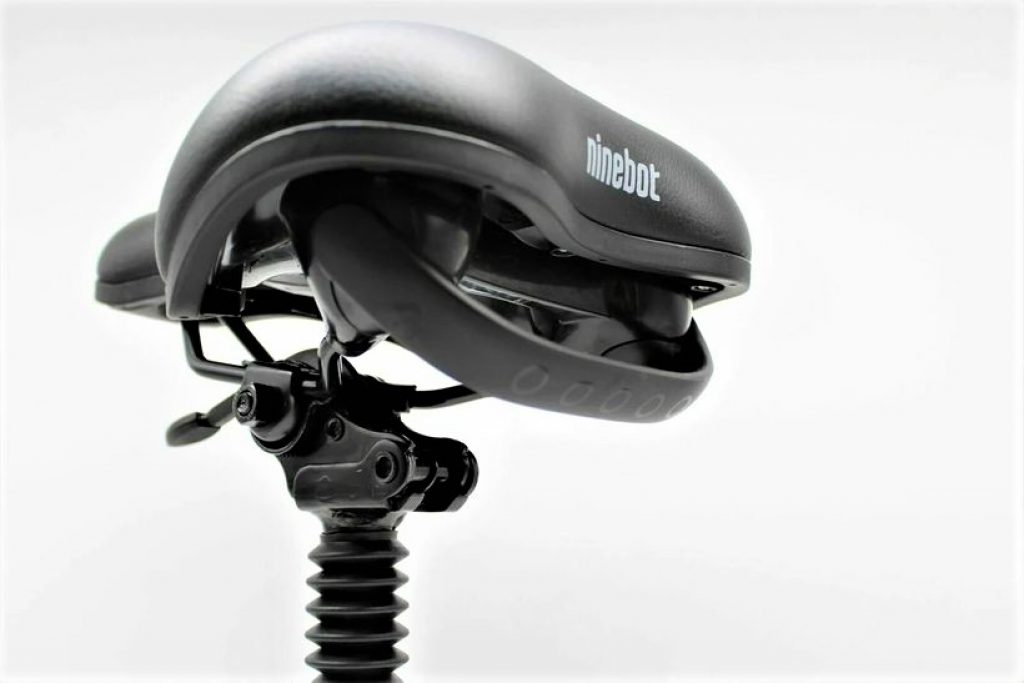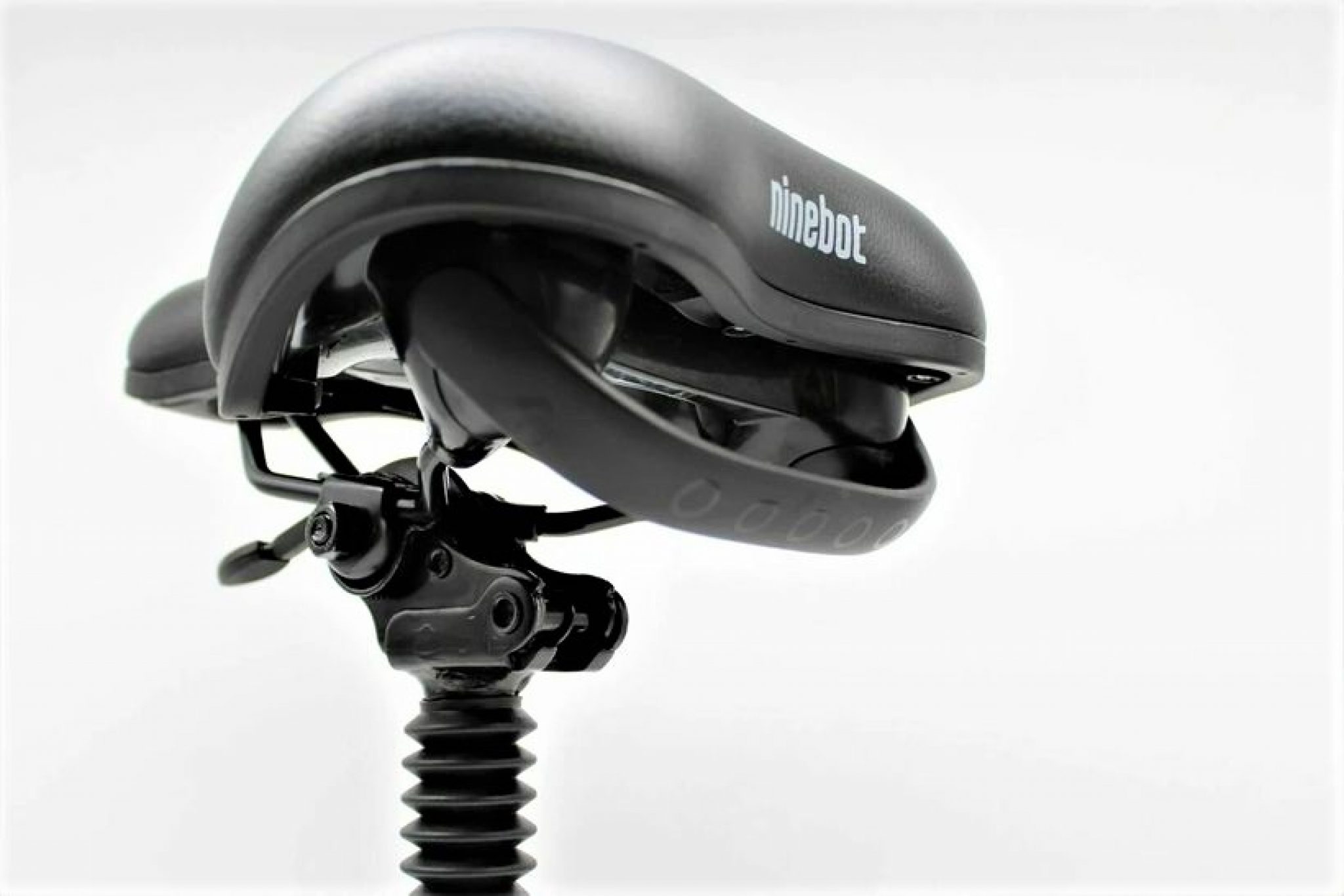 Warranty:
Like other Segway products, the Segway Ninebot ES2 warranty lasts for 12 months. But it only complies if you have purchased it from any authorized dealer. This warranty further translates to different categories. Parts like wheels, deck, and other body parts get a 12-month warranty, but the battery, brake paddles, and electronic throttle have six months warranty.
However, ES2 is not generous when it comes to the headlights, kickstand, and handlebars bag. It only provides a three-month warranty on these parts.
PROS
Modern and pleasing design for every age group
A lightweight body makes it easy to carry and transport
16 colors for customizable LED lights
Effective speed control using cruise control
Sturdy aviation-grade aluminum body
CONS
Rubber tires feel bumpy on rough terrain
Low speed and acceleration compared to competitors
People Also Ask
Segway Ninebot ES2 FAQs
How fast Segway Ninebot ES2 can go?
Segway Ninebot ES2 has a 300W motor that helps it touch a top speed of 15 miles per hour. However, you may observe varying top speeds on different terrain and rider weight. The motor on ES2 is not underpowered but at the same time not worth bragging. It is a moderate setup that can help you cover a maximum of 10% incline while it is not very good for off-road adventures.
What is the difference between Segway ES2 and ES4?
Segway ES4 is the upgraded model of ES2 and addresses all the issues that we observed in the previous model. Compared to the Segway ES2, Ninebot ES4 has almost 9.3 miles more mileage due to better battery capacity on a single charge. At the same time, the motor power is also upgraded in ES4 by 200 W than increases the acceleration and top speed by roughly 3 miles per hour. With all the improvements it only has 1 pound weight increase.
Is Segway ES2 worth buying?
Segway ES2 is a premium and durable electric scooter in an affordable price range. It has decent speed, acceleration, and mileage per charge for flawless urban riding. However, if you are looking for an electric scooter for off-road and a weight capacity of more than 220 pounds, you might reconsider buying it. Overall, ES2 is a great all-around electric scooter.
How long Segway ES2 battery last?
Segway Ninebot ES2 battery is a 5200 mah decent size battery. It can help you carry around 15 miles on a single charge if the conditions are perfect. However, the travel range can vary depending upon the road type and rider weight. This mid-ranged battery power is relatively easy to refill in almost 3.5 hours, which is very good for ES2 as many competitors in this price range take more hours to charge with nearly the same mileage per charge.