The Xiaomi electric scooter Pro 2 is the perfect replacement for Xiaomi's two most powerful and successful models, Xiaomi M365 and Xiaomi M365 Pro. It looks almost identical, but it incorporates a few changes, especially the more durable tires that make it the best electric scooter on the market. If you want to have the freedom to choose your ideal form of transportation, consider the Mi Pro Scooter. It is not only built for broad application but capable of making your riding experience even better. It has an extended range of 28 miles for commuting and cruising the city, while the weight of 31 pounds makes it accessible.
This is the perfect choice for anyone who is just getting started to ride an electric scooter. Xiaomi Pro 2 carried the legacy of its first model and has maintained the same trait of simplicity and user-friendliness. It will allow the entire new entrants and those who have just gotten their first scooters to be more at or less easily integrated into the scooter culture. The Xiaomi Pro 2 is compliant with the law and can provide you with a highly joyful and fantastic riding experience. Budget-conscious customers will also find great value in this product since this product offers excellent value for the money.
It's essential to note that Xiaomi Pro 2 has all the features to attract a large customer base. Anyone seeking a scooter will find the Pro 2 to be entirely trustworthy and is likely to be impressed by the features and functionality it offers.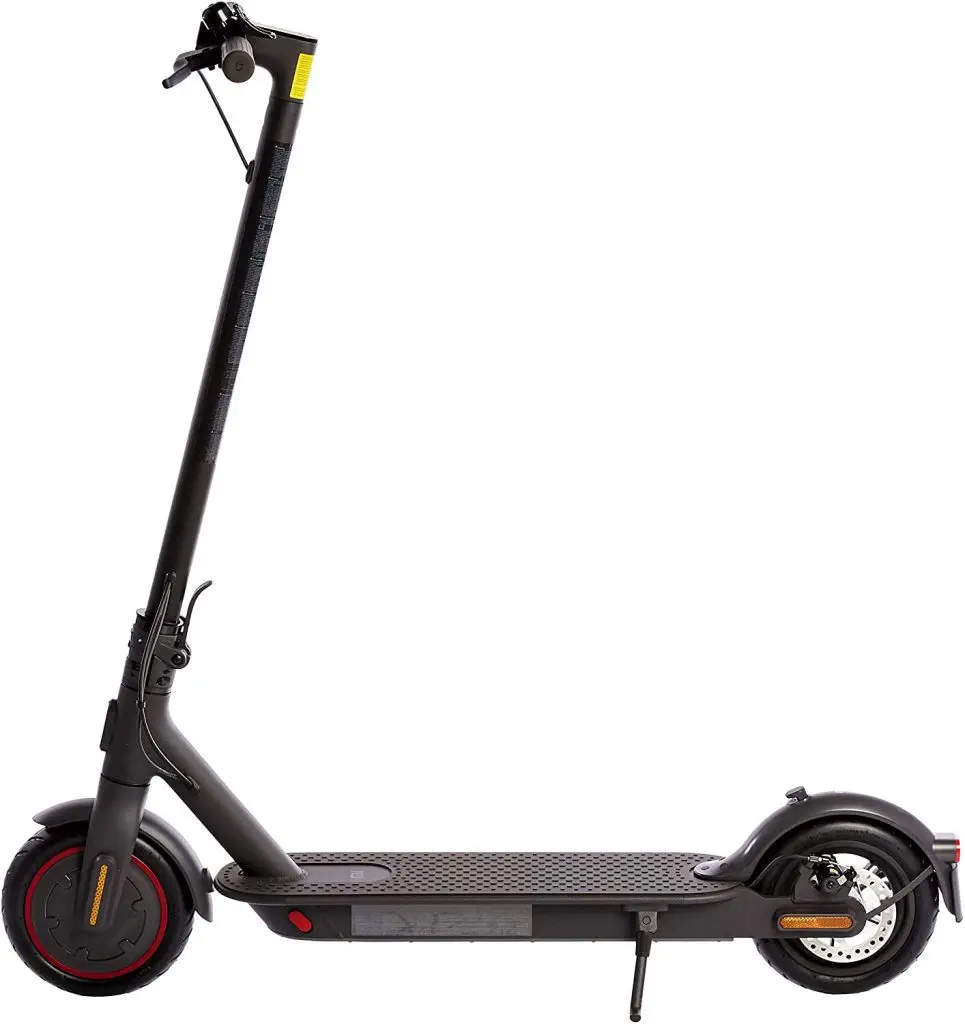 Xiaomi Electric Scooter Pro 2 Specifications
| | |
| --- | --- |
| Manufacturer | Xiaomi |
| Model | Pro 2 |
| Motor Power | 300W |
| Travel Range | 28 miles |
| Battery | 446 Wh, 36 V |
| Top Speed | 15.5 mph |
| Tire Size | 8.5 inch |
| Tire Type | Pneumatic |
| Item Weight | 31 pounds |
| Max Weight Capacity | 220 pounds |
| Battery Recharge Time | 8.5 hours |
| Brakes | Front electronic, Rear disc |
| Lights | Headlight, brake light, reflectors |
| Water Resistance | Yes, No waterproofing |
| Warranty | One year |
MI E-Scooter Pro 2 Assembly
The Xiaomi Electric Scooter Pro 2 delivery comes inside a well-packed box. You can expect the package to contain the scooter, handlebars, spare tire, charger, screws, Allen Key, tire pump valve, user manual, and warranty card on unboxing.
No additional efforts require in Xiaomi Electric Scooter Pro 2 assembly as it is almost pre-assembled. You are just needed to take out the scooter and install the handlebar in its stem. The whole process is easy, and it just takes 1-2 minutes to get the scooter ready for your first ride.
Before riding it, you need to make sure that all the nuts and bolts are in their proper place. Check for screws if they need any assistance and close them tightly. Charge the battery to its total limit to ensure its long battery. And last but not least is checking the tire air pressure and brake test. 
Both these tests are necessary as they are suitable for ride safety. You can take the help of the user manual if you need any assistance regarding assembly and usage of the scooter. It is good practice to read out the manual as it contains all the information you should know before riding the scooter.
Xiaomi Pro 2 Build Quality
This is by far the best-maintained cheap scooter till today. It is excellent value for the money. An immense amount of technical experience in its manufacturing improved it from the previous model. The Xiaomi Pro 2 resulted from years of modifications, enhancements, upgrades, and features over the Xiaomi M365. No other scooter has these features of luxury and comfortability at its disposal.
This scooter has a high-quality aluminum alloy. It offers an impression of trustworthiness. The sound features remained the same as we see in the previous model (why alter a good one?). It may not have the same premium quality feel or attention to detail as budget-priced scooters but greatly fulfills the expectations. 
The cables on this scooter are, for the most part, confined to the stem, which is essential for good appearances. The scooter rides smoothly and generates an almost inaudible sound that results in a pleasant riding experience.
We observed a sturdy body and incredibly stable ride during our test that shows how robust its frame and body are. It can last at least years, even continuous exposure to urban riding. 
For front-drive scooters, the greater the speed, the higher the acceleration and torque the engine rotates. As you increase the acceleration, the faster the engine turns. The motor of Xiaomi Pro 2 bounds to the wheel and uses DC electric current. 
It is a brushless motor that produces 300W of base and 600W of maximum power that is good enough for most commuters and leisure riders. The power lets the scooter travel at high speeds and provides a respectable top speed and control. It offers solid climbing and lifting capability for practically any adult.
The Xiaomi Pro 2 ships with a top speed of 15.5 miles per hour to conform to local traffic regulations, but certain regions will provide the motor with a limited speed. It has excelled at the top speed of the previous model. However, the new Pro 2 still retains some jerky movement at the start.
Officially Xiaomi Mi Pro2 supports 20 percent uphill. It seems that Xiaomi is sticking to safer options here, as the electric scooter can go much higher in hill climbs than it has demonstrated in previous tests. In the event of even steeper slopes, the scooter can still push and causes it to climb. It will ascend all the more challenging hills but can only maintain a slow speed on the toughest of slopes.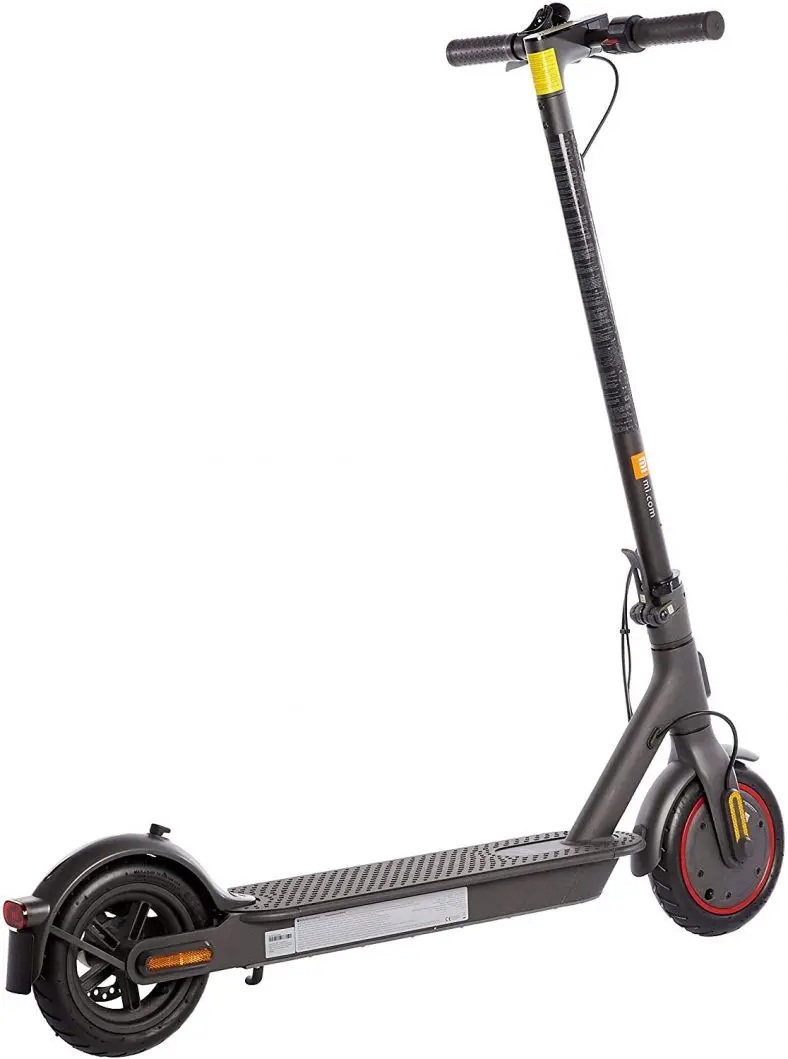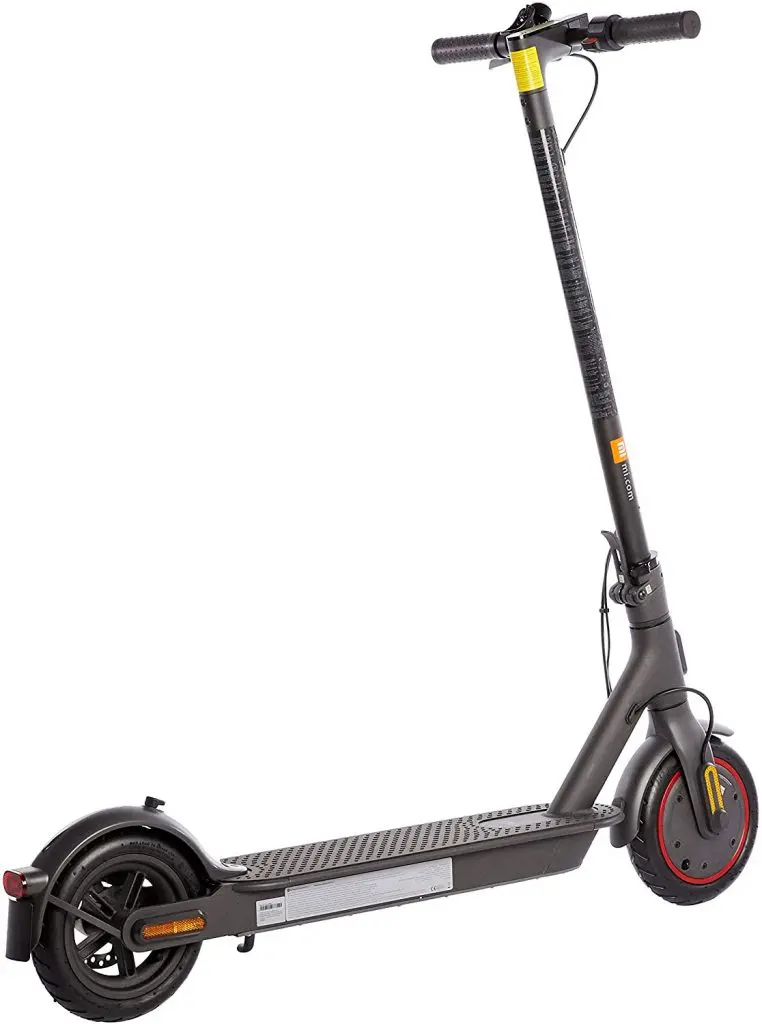 Mi Pro 2 Range
The estimated travel range of the Mi Pro 2 is 28 miles, and undoubtedly, this is the most powerful aspect of this scooter. This model significantly outsells its competitors and outperforms those between 15 and 18 miles inner-city travel range.
Using the Pro 2 is undoubtedly advantageous for people who bike to work and bike around town. Such an extreme range of options may take you on almost any course of action. The fact that the scooter is lightweight and compact when folded also allows individuals who use their scooter as a method of public transportation to manage their overall physical activity without adding an excessive amount of strain to their bodies or their day planners.
The 446 Wh, 36 V lithium battery is a crucial aspect of the Mi 2 Pro scooter and is among the world's most robust and long-lasting batteries. Also, it ensures that the battery doesn't overcharge, overloads and prevent short circuits and corrosion from occurring.
The charging plug is positioned on the left of the board, as the well-known characteristic red cap covers and protects it. The battery takes eight to eight and a half hours to charge completely.
Weight Capacity
The sturdy body of the Xiaomi Electric scooter does handle a 220 pounds rider. It is official from Xiaomi and is definitely the weight limit of this scooter. However, You may observe a performance decline when using the scooter at its maximum weight capacity. But it is normal for electric scooters to perform less than their potential when subjected to the maximum weight they can carry.
Many people do not take the weight limit seriously and end up breaking their scooters. We advise you not to follow this mindset and choose the electric scooter according to the weight capacity limit. This scooter is not for you if you decide to buy Xiaomi Electric Scooter Pro 2 and weigh more than 220 pounds. Alternatively, you can check out electric scooters for heavy adults.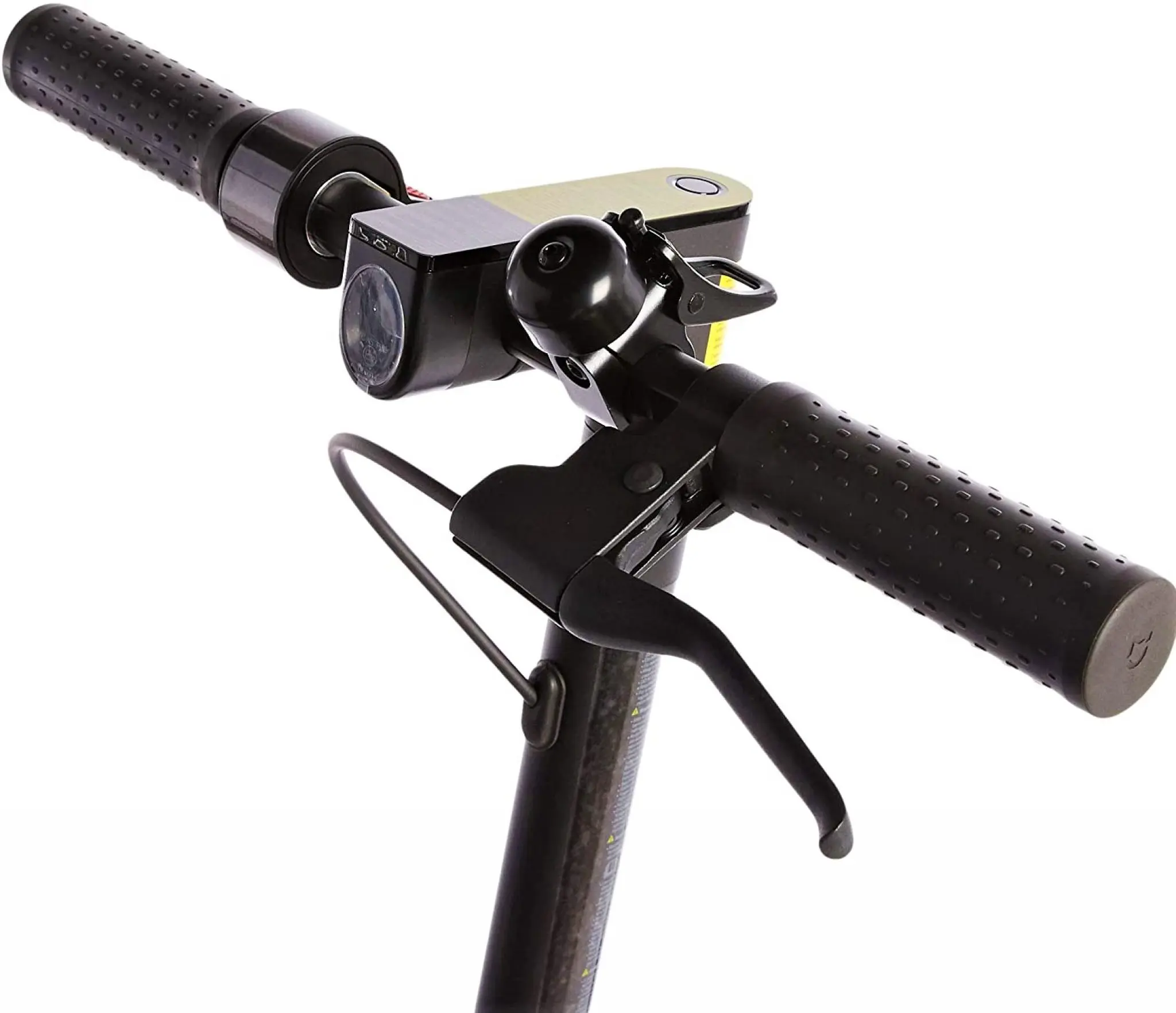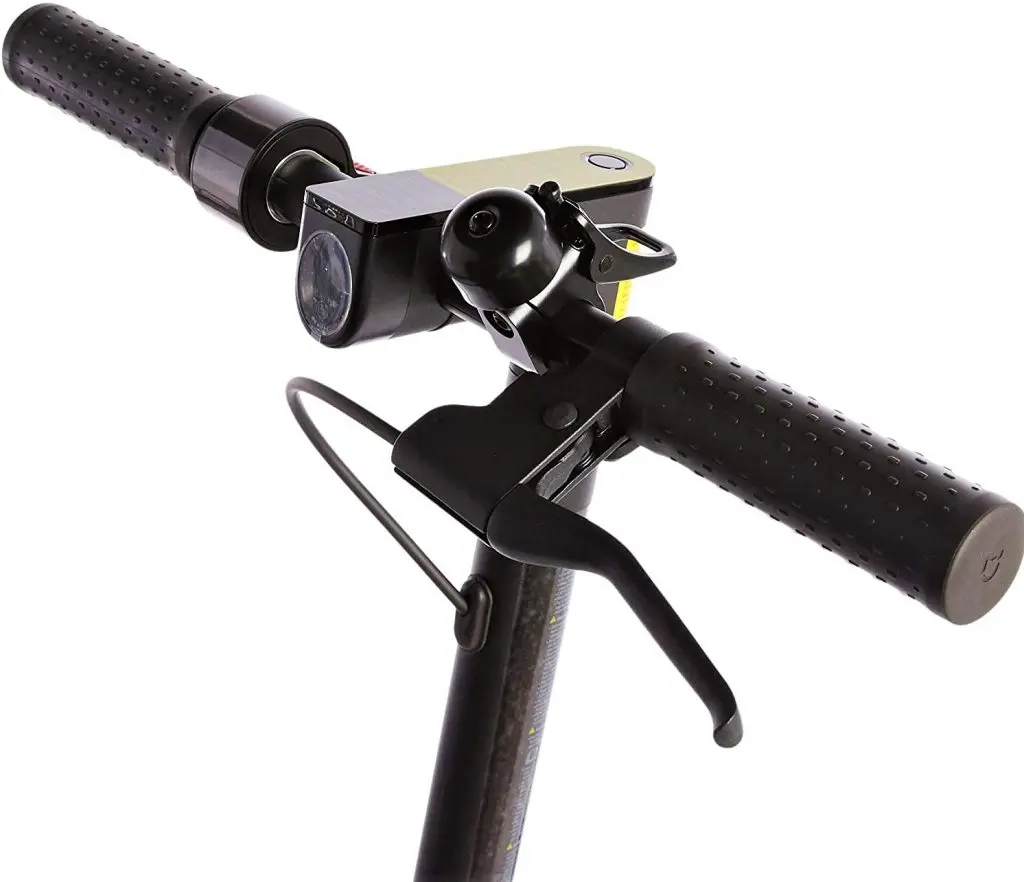 Foldable & Portable
Xiaomi Mi Pro weighs 31.3 pounds that are comparatively easy to carry for an adult. What we would want to see is an overall ideal weight of commuter scooter weight. Anything about this weight range seems hefty to carry around.
The weight and the scooter's size are compact, making the scooter transportable and very easy to use for most adults. These scooters are easy to carry around. You can carry it in luggage racks, small closet spaces, or on the floor, or even in the back seat of a car.
Aerospace Grade Frame
With solid connections joining the base to the platform, the Aerospace-grade aluminum appears to be of excellent quality. To put it simply, it feels very weighty, and even at 33.3 pounds, it's not a compact electric scooter that anyone can be able to push around. The scooter itself was pretty comfortable riding for the entire trip; however, carrying around in buses or trains during commuting is not a big deal.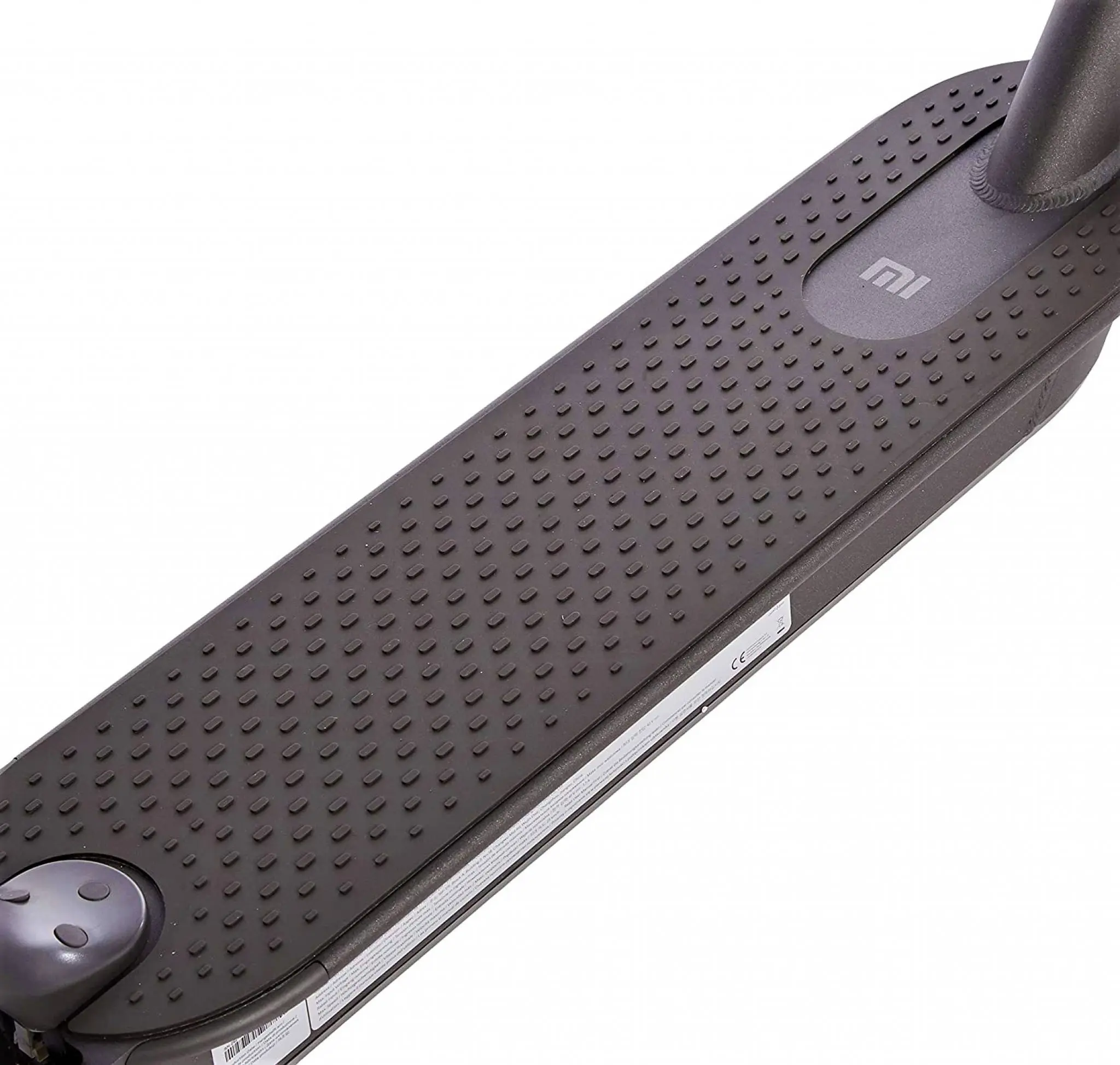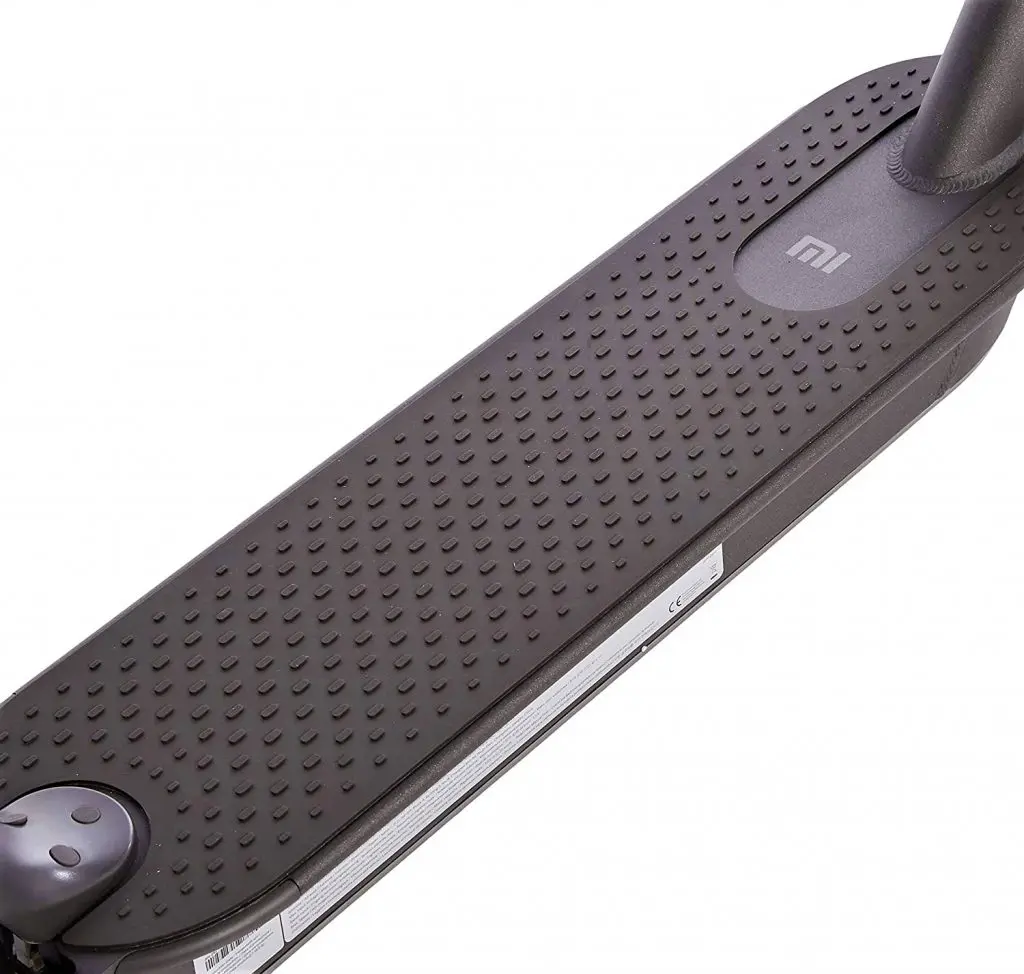 Sturdy Deck
Similar to the frame, Xiaomi Electric Scooter Pro 2 deck has excellent build quality. It is wide enough to carry any body type and shape. You will feel no issues riding the scooter because of the comfortable deck, as it has an anti-skid surface. This prevents any slipping from the deck in case of a bumpy ride on rough roads. 
Moreover, the distance of the deck from the ground is enough to give it a good clearance. You can expect smoother rides on most of the terrains. While riding on rough roads, you won't feel the deck touching the ground due to its 8.5-inch tires.
The highly durable pneumatic 8.5-inch wheels are identical to those of the original 8.5-inch Mi TGM bike models. However, the build quality of M2 tires is exceptional. Mi claims the tires to be explosion-proof, showcasing their sturdiness. The tires on this model are highly resistant to puncture, proving themselves to be more durable.
Although things can go wrong, it is rare to encounter flat tires on Xiaomi Mi Electric Scooter. It comes with an additional tire that is good for replacement in case of any unfortunate event. This is an excellent implementing policy by Xiaomi to support its customers who had put down funds and is wise on their part, given the current price of tires.
In the current models, the fenders become stronger and sturdier to support the tires' weight better. These fenders have an additional steel support plate for the wheels. This is a fundamental difference between the current version and the previous one.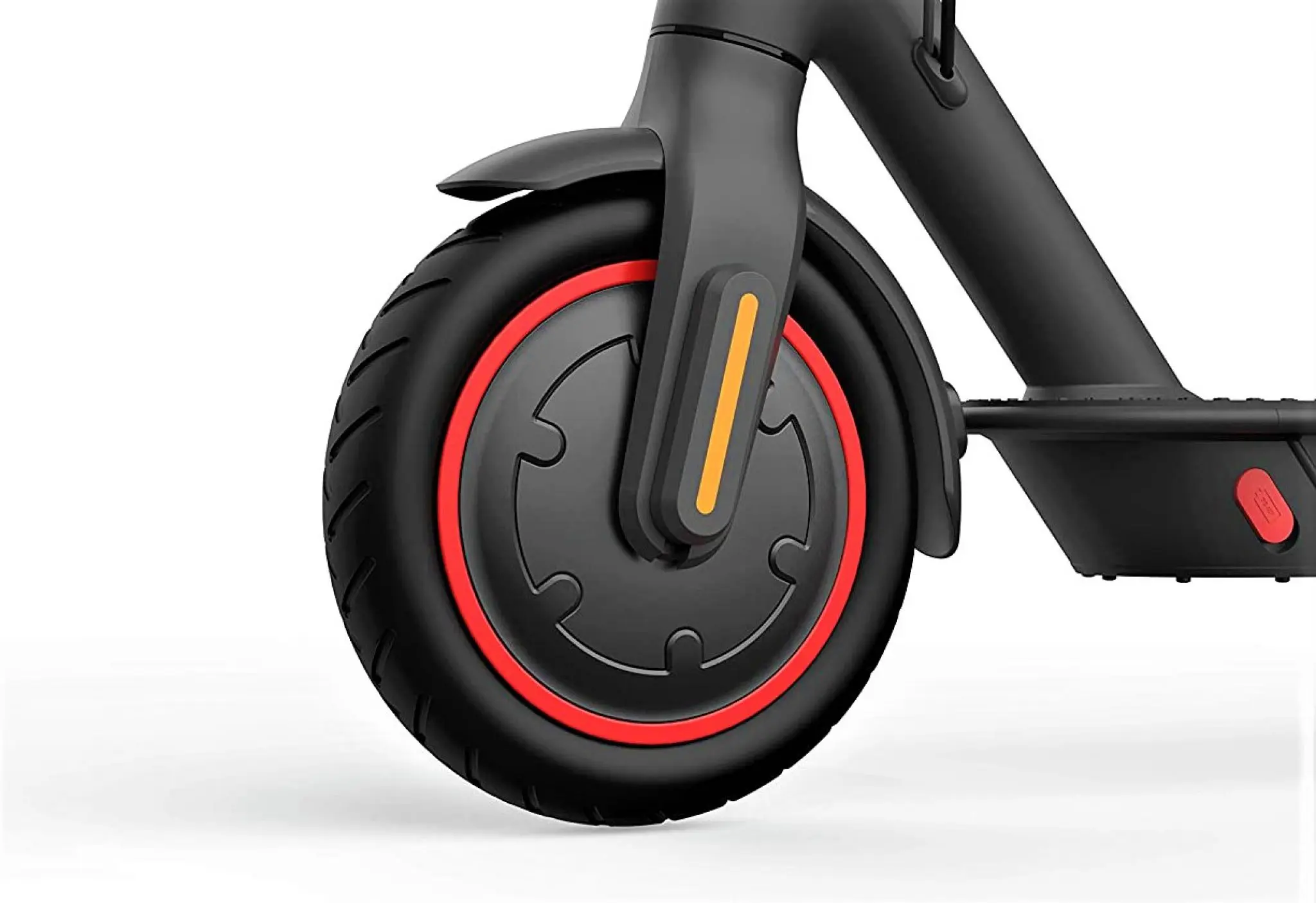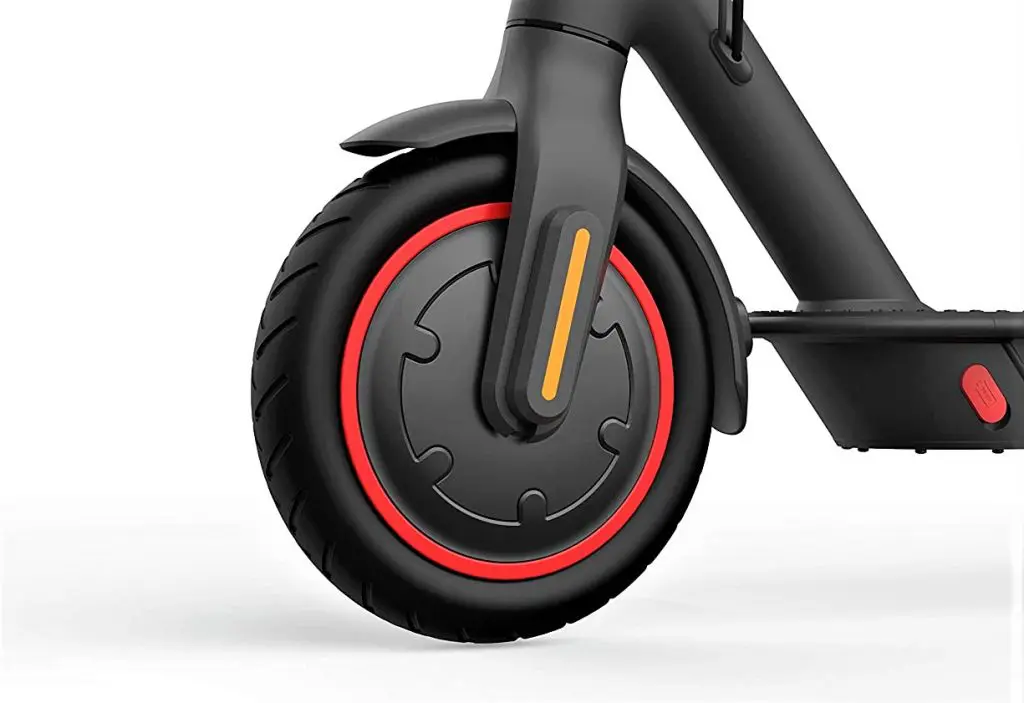 E-Scooter Suspension
Despite being a highly durable and comfortable electric scooter, Xiaomi Pro 2 electric scooter does not have a dedicated suspension system. It only relies on the pneumatic tires to support the ride on rough and bumpy terrain. The lack of a suspension system seems a negative point on the specs sheet.
But on our test ride, we were amazed to see its level of comfortability. The passage seems smooth, and the lack of suspension does not feel much most of the time. Its comfort level is the pneumatic tire, as they are much more efficient in absorbing road bumps than solid rubber tires.
Antilock Braking System
The Xiaomi Pro 2 has exceptional stop power and comes with a low risk of failing. It has a disc brake on the rear wheel and responsive electrical regenerative braking on the front wheel. The braking distance is equal on both brakes, as long as one of the systems works. Both these brakes guarantee a braking distance of six meters which is not bad for an electric scooter. 
The levers of the brakes trigger at the same time to aid in controlling the vehicle's braking, which increases the driving's system reliability and promotes safety. This has an electronic antilock braking system (E-ABS), which is very important for scooters because it increases the vehicle's control on any surface, such as wet or slippery surfaces.
Addons
Additional Features
It is fair to say that the LCD screen is vibrant and has good contrast, making it readable even on sunny days. The LCD also provides the current speed, current speed mode, the current Bluetooth status, and battery level readings.
This Xiaomi Pro 2 model has an IP54 rating, equivalent to most scooters in the competition. It has complete protection from water splashes but is not entirely waterproof, and you cannot take it out for a ride in rainy weather. 
In this instance, "can tolerate being splashed in the rain" is a positive attribute because you want your ride to remain dry and not be soaked when used outside. Some riders reported that they no longer find wet roads problematic. However, it is still highly encouraged to get the most use of your scooter while the weather is good.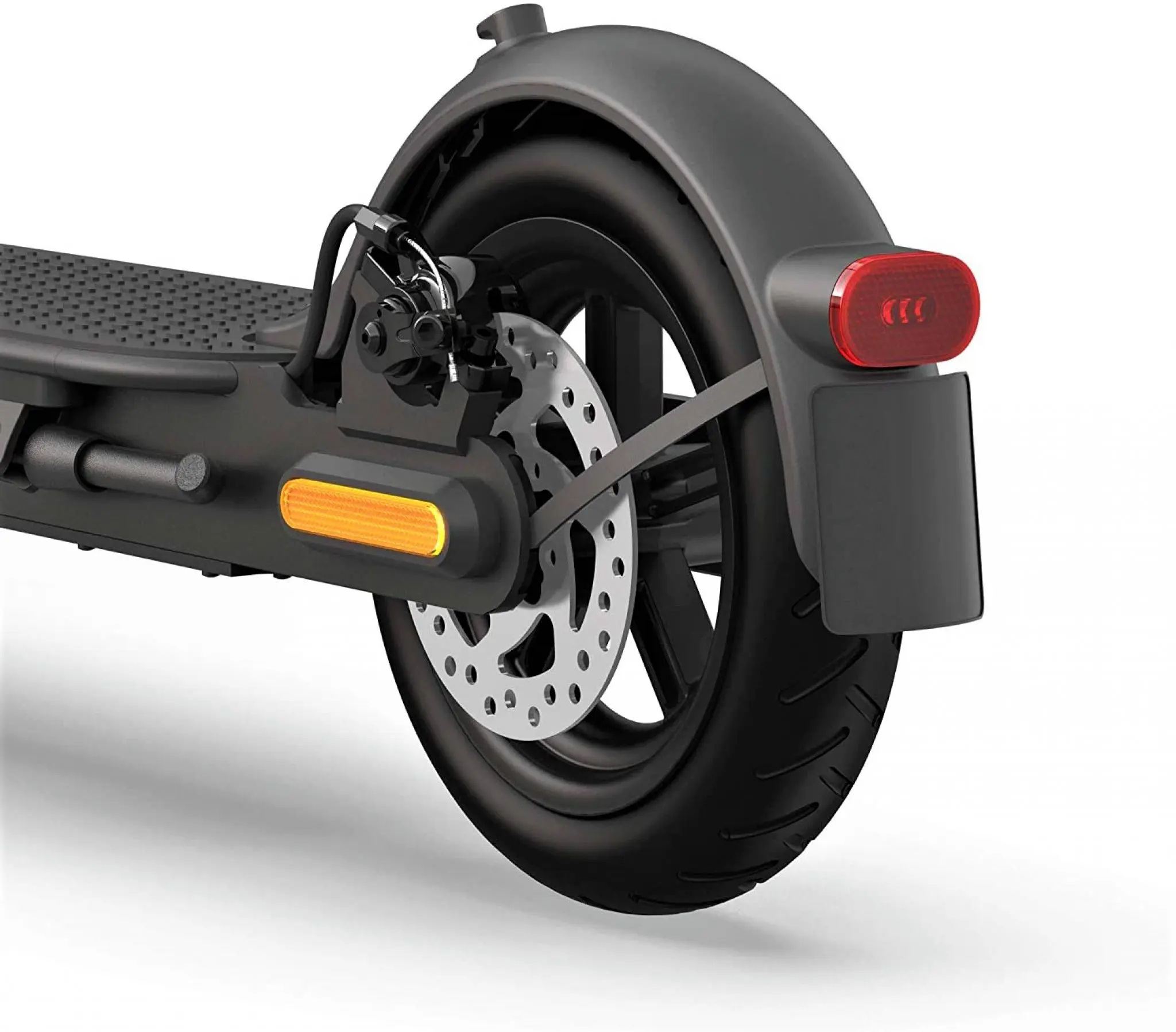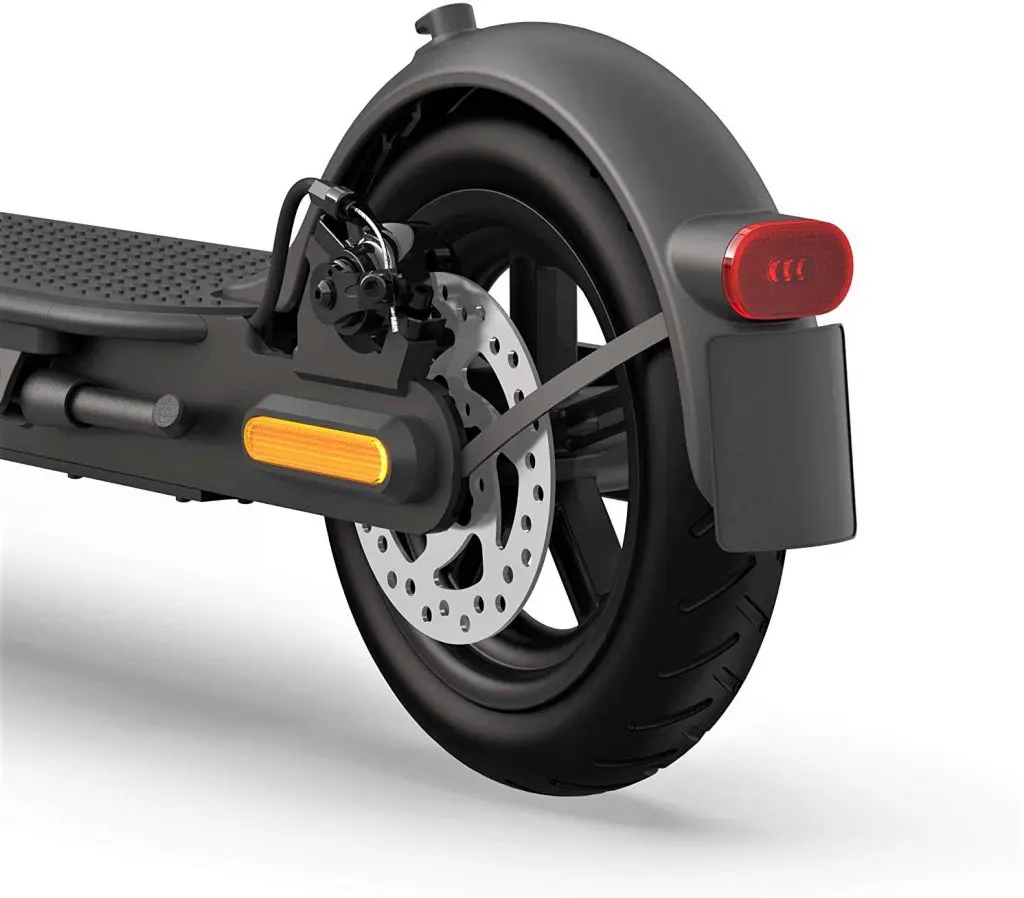 Xiaomi Electric Scooter Pro 2 FAQs
How fast does the Xiaomi Pro 2 go?
Xiaomi Electric Scooter Pro 2 is decently fast and can reach a top speed of 28 mph. This is more than enough for an electric scooter as the legal limit in many countries falls below this range. You can get a good throttle due to excellent acceleration on this electric scooter.
Is the Pro 2 electric scooter waterproof?
It depends. Xiaomi Pro 2 has an IP54 waterproof rating. This rating makes it suitable against splashes of water. However, it is not fully waterproof. There are still chances that any heavy interaction with the water can damage the scooter. That's why do not take your Xiaomi Pro 2 in the rain.
How do I set up my MI Electric Scooter Pro 2?
Setting up Xiaomi Mi Electric Scooter Pro 2 is straightforward. It only needs to assemble the handlebar to the stem of the scooter for the first ride. You need to tighten the screen for a safe ride. Never use the electric scooter without fully charging the battery for the first ride. Otherwise, it can affect the battery life in the long run.
How do I reset my electric Pro 2 scooter?
Resting Xiaomi Electric Scooter Pro 2 is not what you need every day. However, if you run into a condition where you need to reset the scooter, the process is not complicated. Turn off the scooter and wait for the display to blackout. Now press the power button, brake lever, and throttle for 3 seconds.
Conclusion
It's impossible to argue that the Xiaomi Mi 2 electric scooter is the best of its type within its $500 price bracket. It has learned from the successful features of previous models to expand upon the range and capabilities of this model. It offers excellent versatility and service at the cost of higher pricing. Electric scooters are suitable investments for a friend or lover. They provide joyful riding and allow you to have your first electric scooter adventures.