Are you tired of sitting in traffic for hours during your daily commute? If so, it's time to upgrade your ride; read the Varla Eagle One electric scooter review. Varla Eagle One is a sleek and powerful scooter that is a game-changer. It offers an eco-friendly, cost-effective, and exhilarating mode of transportation.
It comes with a top speed of 40 mph and a range of up to 40 miles on a single charge. But the Varla Eagle One Dual Motor Electric Scooter is more than just a fun ride. It also has convenient features like an LCD, a built-in alarm system, and powerful LED headlights for added safety. Take control of your daily commute and upgrade to the Varla Eagle One Electric Scooter today.
Exclusive Discount: New Coupon Code
Save $60 on Varla E-Scooter Purchase: ROE
Varla Eagle One Best Off Road Electric Scooter Specifications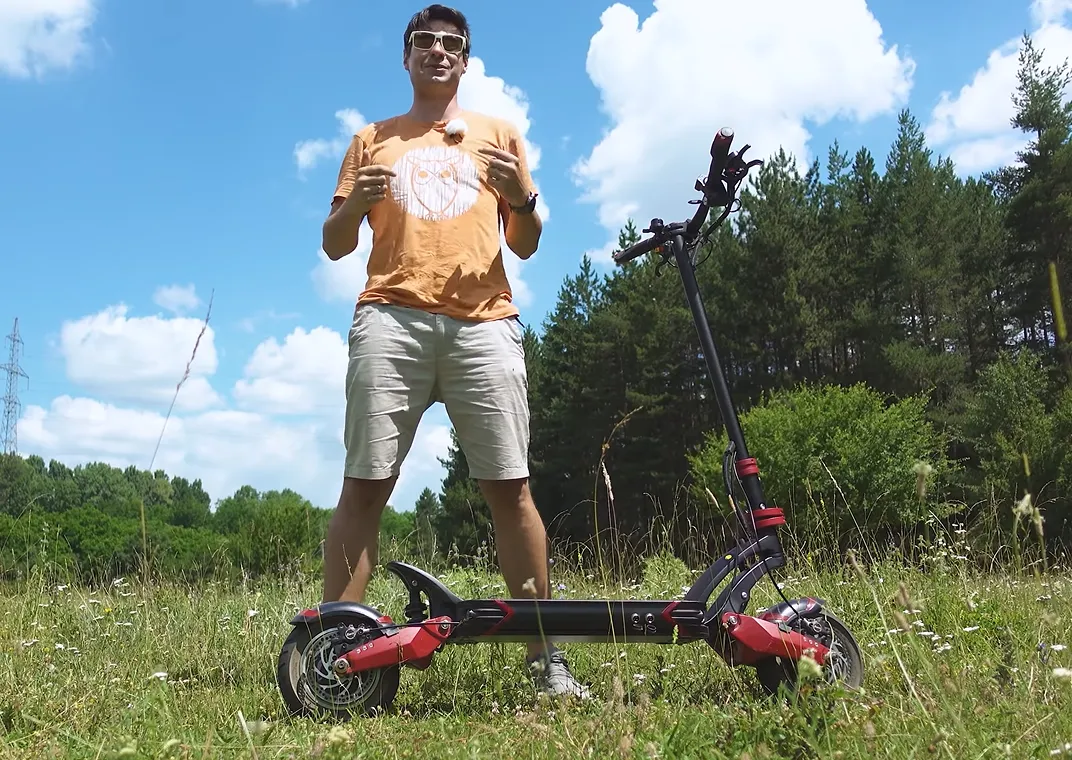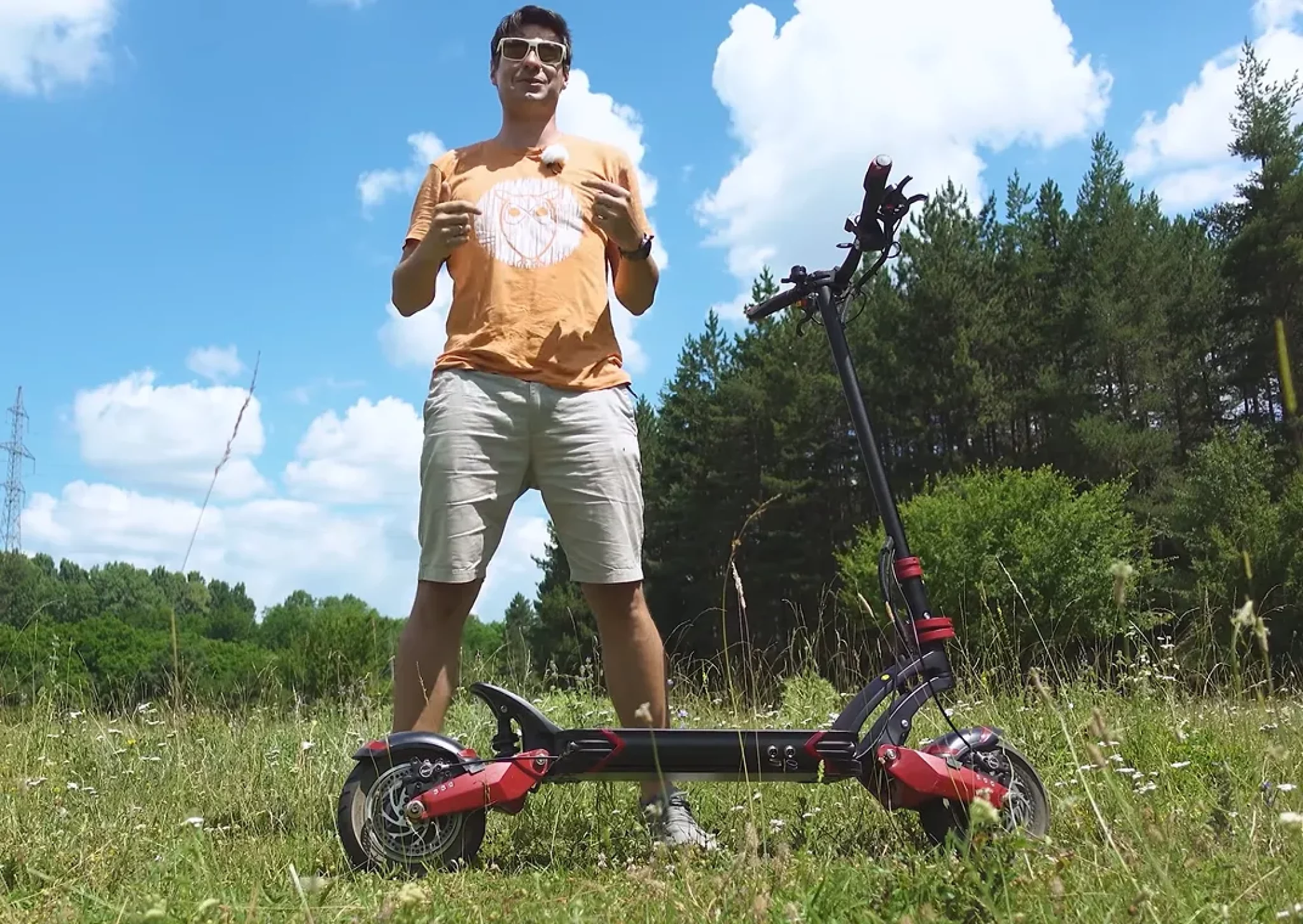 | Specification | Tested Values |
| --- | --- |
| Motor | Dual Hub, 1000 x 2 |
| Battery | 52V / 18.2Ah lithium-ion battery |
| Range | Up to 40 miles (eco mode) |
| Top Speed | Reach up to 40 mph when fully charged |
| Climbing Angle | 30+ degrees |
| Max Load | Max. 330 lbs / Recommended 265 lbs |
| Torque | 36 Nm |
| Charging Time | 8-9 hrs (single charger) / 4-5 hrs (two chargers) |
| Charger | 1.7A Charger |
| Deck Size | 9.1 Inch |
| Tire Size | 10 x 3 in pneumatic tires |
| Brake | Dual hydraulic brake + ABS |
| Recommended Height | 4'5″–6'11" |
Design and Build Quality:
Varla Eagle One electric scooter is sleek, modern, and durable in design and build quality. The scooter boasts a frame made from 6061 aluminum alloy, a material known for its lightweight and durable properties.
Its maximum capacity is 330 pounds, which is enough for most riders, although the recommended weight limit is 265 lbs. If you fall within this weight range, you'll find that the scooter feels stable and secure under your feet.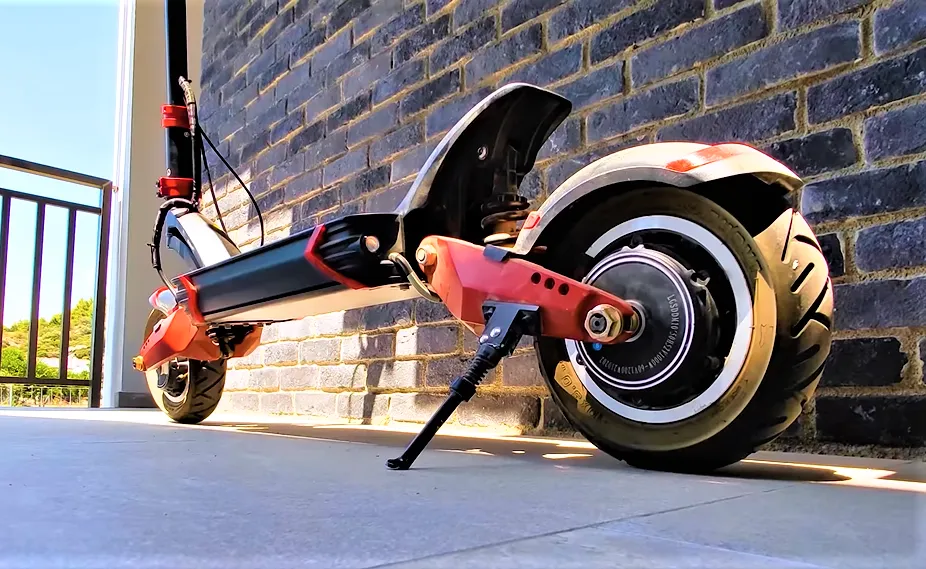 With a torque of 36 Nm, this scooter stands out among its competitors. I have used it and found that the torque makes for a smooth and enjoyable ride. It doesn't matter if you're cruising around town or commuting to work.
Performance and Features:
If you're looking for a high-performance electric scooter, the Varla Eagle One won't disappoint. This scooter is designed for speed and power with a dual hub motor that can reach up to 40 mph when fully charged.
In the Varla electric scooter review, my team discovered that the motor is also impressive. The quiet motor lets you enjoy a smooth and peaceful ride without disturbing those around you.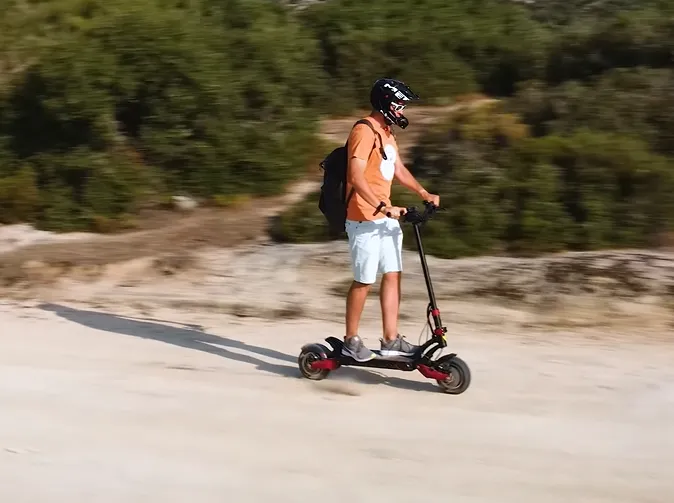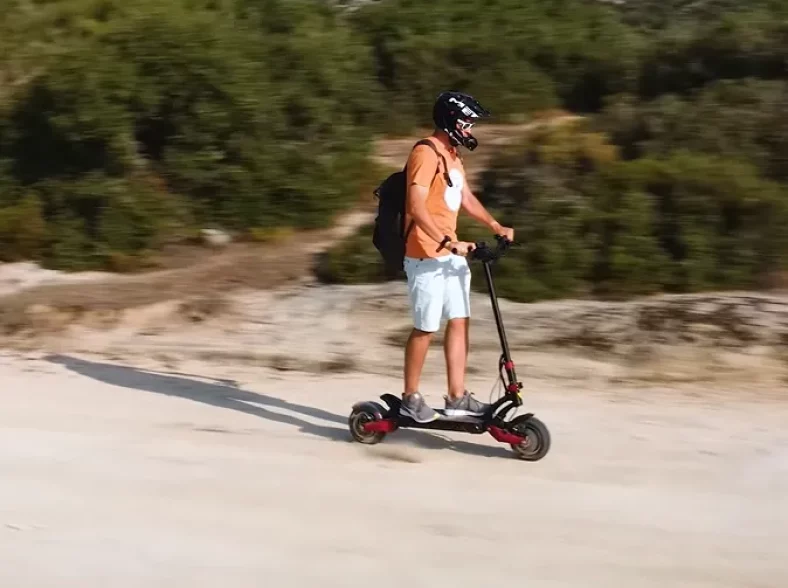 Moreover, this convenient e-scooter comes with two-speed modes, eco and fast. The fast mode is ideal when you are in a hurry. Longer rides benefit from the eco mode, which extends the battery life. The Varla Eagle One battery is designed with a 52V / 18.2Ah lithium-ion that provides plenty of power for your daily commute.
Ride Quality and Comfort:
The scooter has independent front and rear suspension that cushions the discomfort bumpy roads bring. This suspension system allows you to ride over bumps and uneven terrain without feeling every shock and jolt.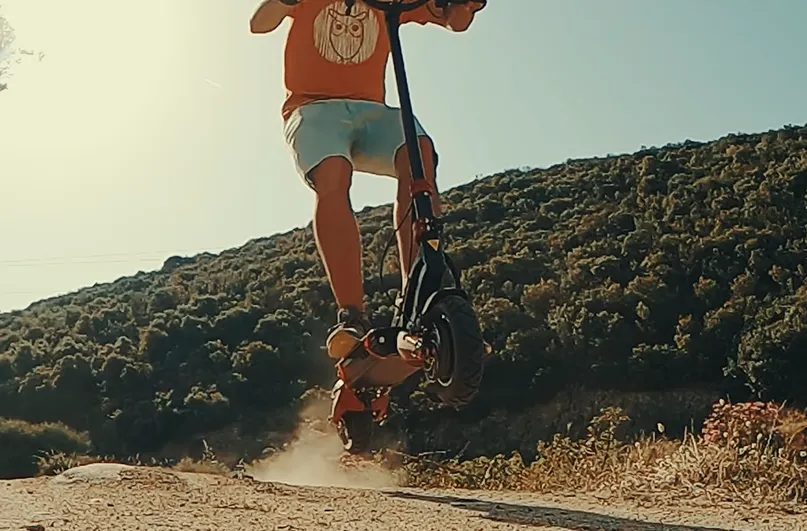 A secure lock allows scooters to be stored or transported easily. I have found the dual lock clamp, which is another excellent feature. It makes folding and unfolding the scooter quick and convenient.
Finally, the Varla Eagle One has front and rear fenders to keep you clean and dry. While riding this e-scooter, I have no water splash issues because it has well-designed fenders to give me a sense of protection in any weather condition.
Safety and Convenience:
A dual hydraulic brake system is an essential safety feature of the Varla Eagle One. This system ensures you can stop quickly and safely, even at high speeds. In addition to the hydraulic brakes, the scooter also features an anti-lock braking system (ABS), which helps prevent skidding and loss of control when braking.
I liked its bright LED headlights and taillights that make me more visible to other drivers and pedestrians. It helped me to see the road ahead, even in low-light conditions, and combat the risk of sudden accidents.
The scooter comes with a 1.7A Varla Eagle One charger. It can fully charge the battery in 8-9 hours (single charger) or 4-5 hours (two chargers). Moreover, the scooter's LCD shows you how much battery power you have left. It might help me to plan the rides accordingly.
The scooter's deck size is 9.1 inches, providing enough room for your feet to stand side by side. Moreover, the 10 x 3-inch pneumatic tires provide good shock absorption, anti-skid performance, and high control sensitivity, making off-road riding a breeze.
Ultimately, this electric scooter suits riders with a maximum load capacity of 330 pounds. In addition, with the recommended height range of 4'5″ to 6'11", this scooter is an excellent option for adults and teens.
Scooter's Manual:
The Varla Eagle One manual helps you get the most out of your scooter without any damage risk and aids in better use. These scooters came in 95% assembled condition. But a few things were found unassembled, which takes only 15 minutes to get your e-scooter for your commute.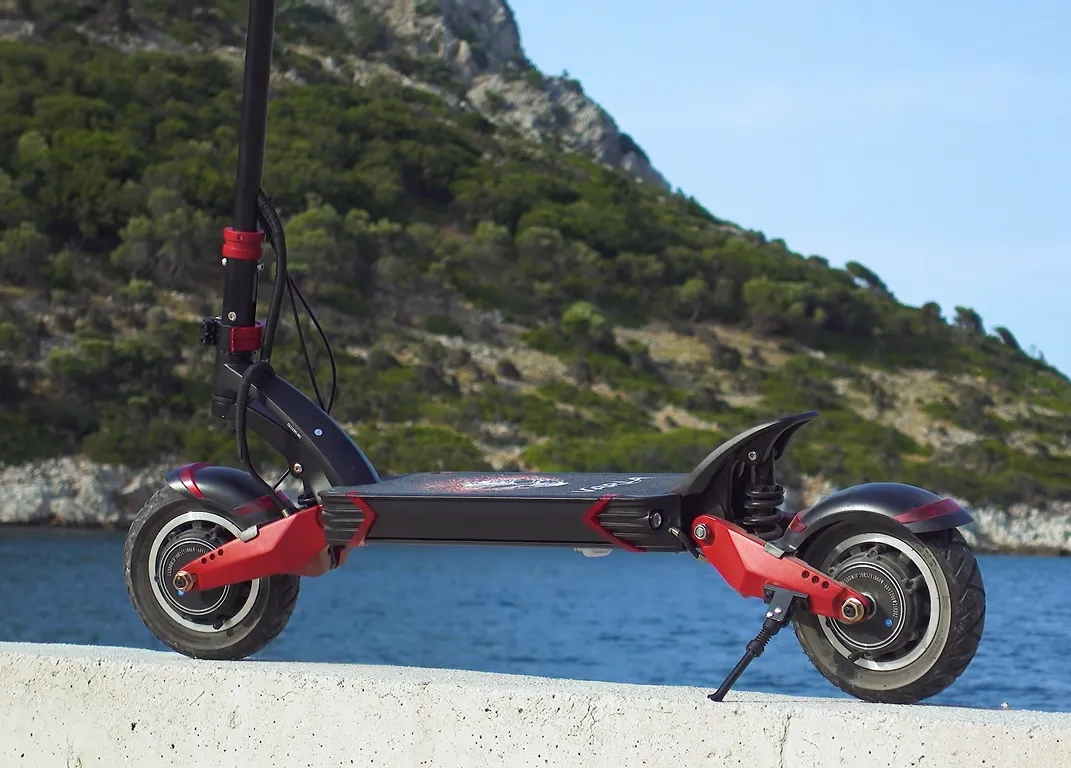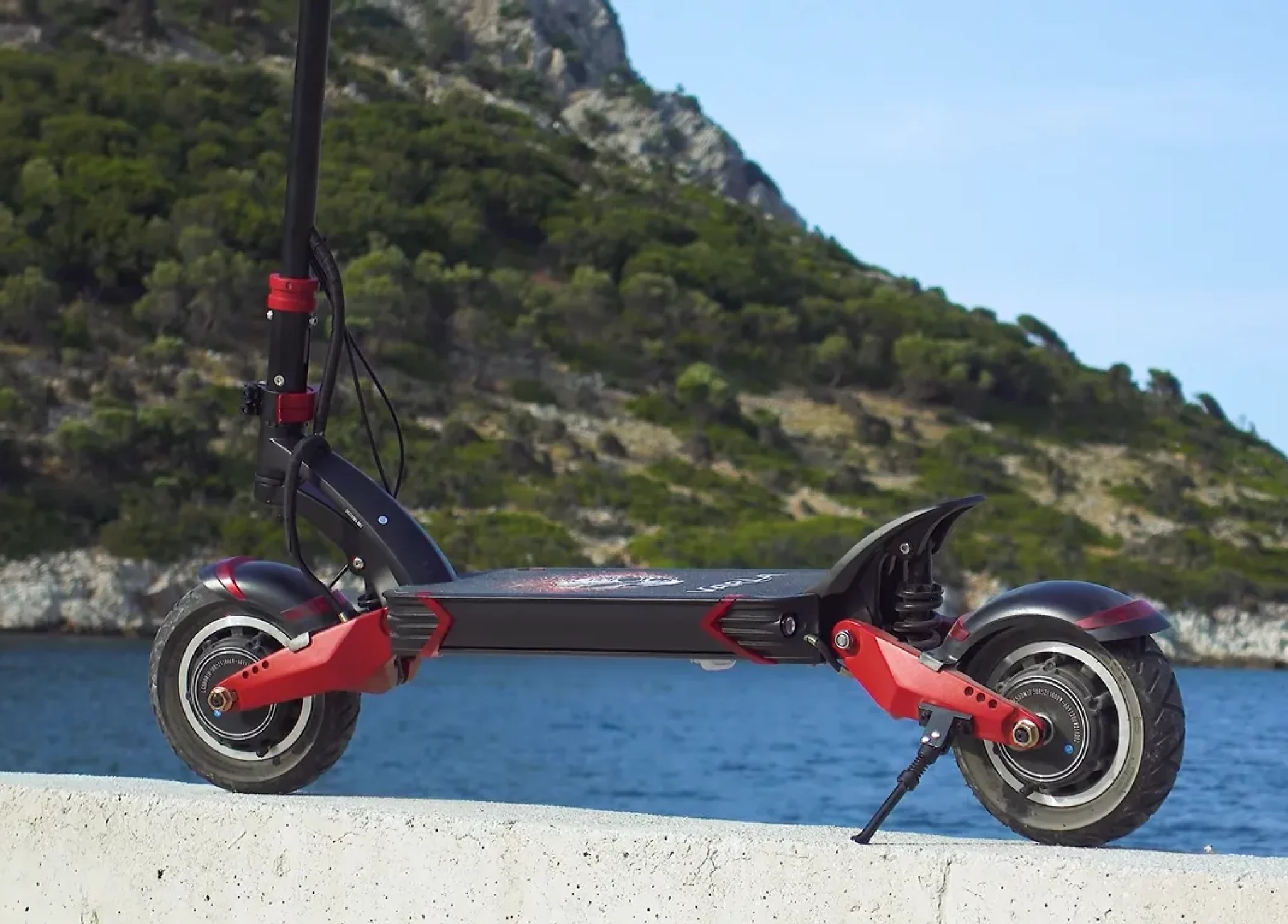 The manual includes instructions on assembling and disassembling your scooter and information on operating and maintaining it. There is also troubleshooting advice if you encounter any issues. I also got some additional tips on the manual for optimizing my ride. So, it is a big yes if I need something easy to assemble.
Benefits
It provides a top speed of 40 mph
Gives you up to 40 miles on a single charge
Sleek and sturdy aluminum alloy frame
Dual motor with two-speed modes for an enjoyable ride
Front and rear independent suspension for comfortable riding
Dual hydraulic brake system and ABS for safe stopping
LCD and bright LED lights for added convenience and safety
Drawbacks
Long charging time of 8-9 hours with a single charger
Recommended weight limit of 265 lbs may exclude some riders
Pneumatic tires require more maintenance than solid tires
Are VARLA electric scooters legal?
Varla electric scooters are legal in the USA, but the legality varies by state and city. They are generally classified as electric bicycles and can be used on roads and bike paths.
How long does it take to charge a Varla electric scooter fully?
The charging time of a Varla electric scooter varies by model, but it can take anywhere from 4 to 10 hours to fully charge.
Can I ride my Varla electric scooter in the rain?
Varla electric scooters are designed to be water-resistant and can be ridden in light rain. However, it's important to avoid riding through deep puddles or flooded areas to prevent damage to the scooter.
The Varla Eagle One Electric Scooter review concludes that it is an excellent option in the market. It is great for those seeking high-performance, eco-friendly, and cost-effective transportation.
Moreover, impressive features like an LCD, a built-in alarm system, and more make it a speedier, safer, and more convenient e-scooter. Finally, its comfortable to ride quality and suitability won the perfection battle. It is a crown jewel for daily commutes and leisurely rides.