Hundreds of people die from accidents every year due to smartphone usage during the ride. Electric scooter riders are no exception to this bad habit. To keep yourself safe during rides and being a responsible citizen, the best electric scooter phone holder is the right solution. It helps keep the rider's focus on the road while front mount design keeps the rider alert about the incoming notifications or google map navigations.
Getting the motor scooter phone holder is not a challenging task. However, selecting the right one that fits your needs and requirements can get difficult with many options available in the market.
Several things need to be considered, as its compatibility with smartphone, durability, usage, and waterproofing. We have listed the best electric scooter phone holders in this article to enlighten you about the best products in the business.
Personally, I am a big supporter and promoter of EVs. As a traveler, I always carry my electric ride to keep journey comfortable anywhere in the world. I came here online on this platform to give you my personal experience and other user's reviews of all used products.

WHO I AM?
3 Top Rated
Best Electric Scooter Cell Phone Holders
VUP E Scooter Phone Mount: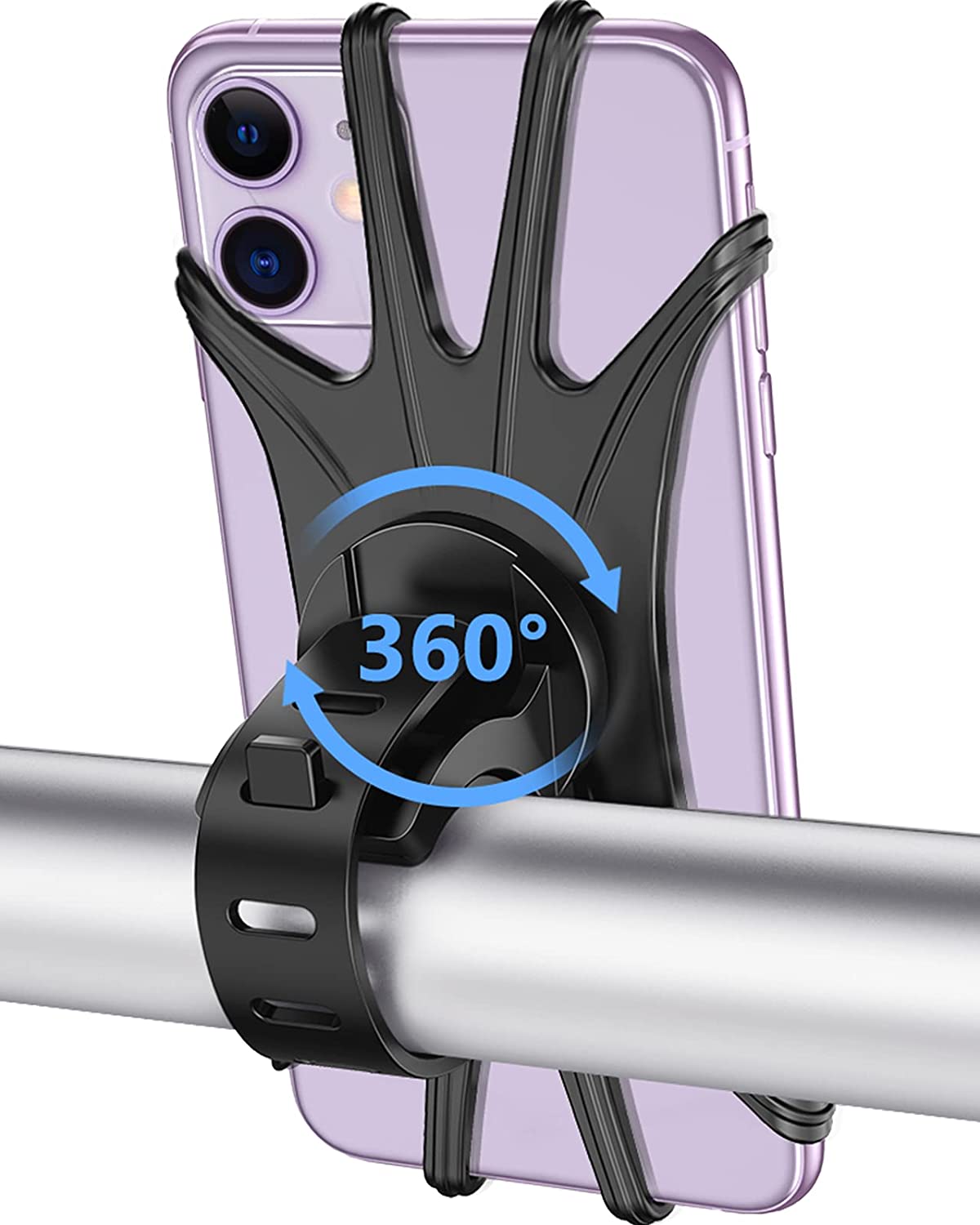 360 Rotatable holder
Tough stretchy silicone bands
Superior protection design
Stable friendly design
The VUP e scooter phone mount is the best electric scooter phone holder as it offers an incredible value with the perks that are native to the expensive products only. The mounts are set well on the handlebar of your electric scooter. Its ability to rotate allows you to place the phone in either direction, unlike most electric scooter smartphone holders that only mount in one direction.
The size of the mount suits most smartphones as it can easily work with a six-inch screen. You can attach the phone with a big waterproof case to get maximum protection from outer elements. Besides that, you can keep the current case if you don't like to swap between different cases. This versatility makes it one of the top choices.
The performance of the stock case is amazing. It protects the phone even on the roughest tracks and bumpy roads. You can expect a military-grade performance from it. During our tests, it retained its durability and remained firmly attached to the mount. For one of our acquaintances, the experience was not good as the cover rubber broke. But even with the broken rubber strap, it performs excellently, and there is no danger of your phone falling.
The spider web design is secure for making the phone firmly attached to the handlebar. However, this design is prone to get damaged over time if you live in extreme weather conditions. We found the spider web more reliable during our tests, but any braking in the network would toss the phone away from the mount and shatter the glass.
One downside of this secure e scooter phone holder is the time to attach and detach the phone. For an average user, this is not concerning, but people who like to capture traveling movements can find it disturbing.
PROS
Multi-directional rotating options
Excellent fit for most smartphones
Inexpensive while retaining the quality
Durable to withstand a variety of usage
Swappable between electric scooters
Negatives
The waterproof case only fit six-inch smartphones
Hinders quick attachment and removal
Quad Lock Motor Scooter Phone Holder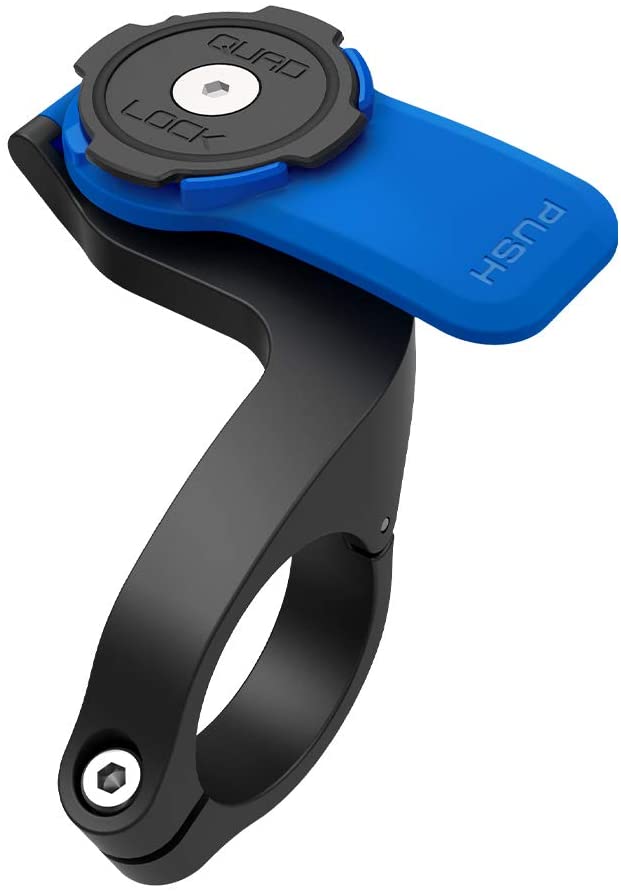 Secure smartphone mount
Patented Dual-Stage lock
Over stem mounting
Action Cam Adapter
Quad Lock Front mount has revolutionized the way we view holding our phones on the handlebars of an electric scooter. Its patented design lets you know that this holder doesn't mess around when it comes to being secure and durable. This is a must-have mount for keeping your phone steady while going up hills as well as taking pictures.
The sleek design of this electric scooter phone holder makes it suitable for style and class. The main advantage is easier removal and attachment of the phone to the mount. This made possible due to the futuristic design and moderately thick dimensions. The case size looks almost exact but looks more durable and sturdy for long-term use.
Coming down to the attachment of this handlebar phone holder, it's difficult and easier at the same time. It depends on the size of the bar, as you have two options for the attachment of the mount. One is "Out front mount," while the second is handlebar mount. A handlebar mount is more suitable for electric scooters as it grips around the handlebar using zip ties for more gripping power.
The zip ties are good for mounting on the handlebar, but they have some limitations and downsides. If you want to use the phone holder in extreme weather and involve repeated attaching and detaching, they can wear off with time. The best thing about them is that the wearing process is pretty slow and can take a long time to break.
Overall Quad lock phone holder for an electric scooter is the best choice for the young people who lie in different locking mechanisms for their handlebar. However, the applicability of this smartphone mount is limited if you wanted to use it for several electric scooters due to its tricky installation.
PROS
Minimal design with stylish look
Contain both handlebar and front mount grips
Weatherproofing makes it versatile for riding
Easy and quick removal and attachment
CONS
Expensive yet quality phone holder
Expensive yet quality phone holder
Roam Universal Electric Scooter Phone Mount
Whether you're zipping around town or getting some fresh air, Roam Universal phone mount for your electric scooter will help keep your eyes in the road and not looking down to see where you're going. The secure holder fits most smartphones and stays super firm with a tight grip. Secure it on the outer part of the bike's handlebar, lock it in place and enjoy that scenic ride while safe as ever.
The Roam Universal Smartphone mount is a safe, secure, and easy-to-use Xiaomi scooter phone holder. It fits most electric scooters and motorcycles with handlebars from 7/8 inch (22mm) up to 1/4 inches (32mm) in diameter. This universal smartphone holder will fit most phones between 2.2 – 3.5 inches wide, including Samsung and iPhone models.
The securing points of this phone holder have a co-pilot mount mode. This mode has plastic and silicone construction that contribute to the firm grip on the handlebar. The clamp making the grip is one of the largest in the market to suit all handlebar sizes. The silicone net is not rigid as it can stretch to keep the phone secure and prevent it from falling off during the drive.
If you want to take your phone while riding, but don't want it falling off the handlebars every time you go over a bump, then Roam bike mount is for you. This universal mounting system will hold any smartphone up to 3.5 inches wide and can be used on motorcycles as well. It provides versatility due to its wide range of smartphone support.
Overall, Roam Universal electric scooter holder is durable and sturdy. You can trust its grip for placing your expensive smartphones. With its fits right handlebar mechanism, you won't need any other electric scooter phone holder.
PROS
Excellent build quality and durability
Keeps the phone tight on bumpy roads
Extensive compatibility with smartphones
It fits right on the handlebars
CONS
Need to tighten regularly
VUP e Scooter Phone Mount is the best scooter phone mount for a variety of smartphones. It fits well with the handlebar and keeps the phone intact during travel. We have found it best for the Segway scooter phone mount due to its excellent compatibility.
Quad Lock Motor Scooter Phone Holder is an expensive yet durable and versatile e scooter phone holder. It comes in two types of grips to makes it suitable for every kind of handlebar. The durable and sturdy material ensures your phone remains protected from falling off.
If you are looking for an affordable electric scooter cell phone holder, especially for your Samsung and iPhone smartphones, Roam Universal Electric Scooter Phone Mount is a perfect choice. It offers a secure lock system to make the mount more trustable with your expensive phones.
Best Electric Scooter Phone Mount Guide
When you want to buy a bike phone mount, you may need some consideration to look for before making the final decision. These are important buying factors that decide whether to go for a product or not. For the best electric scooter phone holder, you may consider a balance of everything.
Dimension:
When you are looking for a bike phone mount for purchasing, it is important to keep in mind that it needs to be appropriate for your phone. You can look for the capacity of the phone holder for your phone by two methods. First, visit the manufacturer's website and find your smartphone model from the list of supported models. The second way is by the physical capacities that the mount can hold, usually in inches.
The size of the mount matters so much as a smaller size than your phone can snap the clip holding in place. If the mount is too big for your phone, then your phone will fall. So, it's important to find the right one for your phone according to the phone's dimensions. Some phone mounts have limited width, which can cause issues for wide phones. 
Handlebars Compatibility:
Mostly electric scooter phone mounts are not suitable for all handlebar sizes. The handlebars may cause difficulty fitting the mount properly because most handlebars are different in diameter and shape, which can conflict with the phone mounts.
If your bike phone mount does not fit properly with the handlebar, It can damage the phone several ways. Either your phone can fall from the loosely fitted mount during riding, or it can undergo severe damage to the internal parts or screen.
Practical Usage:
Always choose your mount according to the usage of your phone. It's up to you whether you want to mount it for your phone only or whether you want to use it for your GPS. If you're going to use mount not only for your phone but also for the use of GPS, some considerations need to keep in mind before fitting mount.
Choose a bike phone mount that has a large capacity and with silicone corner bands. This is important so that it can hold your phone firmly. You can use the GPS seamlessly if the screen is clear from any corner bands, and it gives clear access to read all the information. 
Waterproof Protection:
If you love to ride and have fun in rainy weather and want to take out your phone, choose a waterproof mobile holder for the scooter. There are many phone mounts in the market which are waterproof and provide good protection from external elements.
The waterproof mobile holder for the scooter has a special protective case. This case provides a shield against rainwater and humidity that keeps the phone safe. Choosing a waterproof phone holder is especially beneficial if your phone does not have any IP rating.
Vibration Intensity:
The electric scooter riders who mostly travel around the rough terrain and hilly areas need to consider a bike phone mount with anti-vibration qualities. It is a vital requirement for a phone mount to have a firm grip to remain safe and not get damage.
For this purpose, use a mount with rubber inside clamps to hold your phone and control the vibrations to a bearable level. This vibration protection is essentially useful as high-intensity vibrations can damage the internal parts of the phone.
Benefits of an Electric Scooter Phone Mount
While riding a scooter, it is difficult to operate a mobile phone because it's dangerous and illegal. That's why it is better to have a phone mount on your bike. These electric scooter smartphone mounts with a low-cost kit add comfort to you.
Assisted Navigation:
You can set your phone in front of the handlebar while going out for a ride. Now start navigating on Google Map to find out the path to your destination. You can continue your journey without touching the phone while navigating at the same time.
Know your Caller:
It is good to know that you can attend the call without any problem due to the bike phone mount. You only need to connect your phone headphones with Bluetooth. The phone remains at your glance, and you can see who is calling and whether to attend the call or decline it.
Distance Tracking:
Tracking the distance becomes challenging if the electric scooter does not have an LED display. But getting an electric scooter cell phone holder can help you track the distance easily with the help of a smartphone GPS app. It is handy for electric scooter riders having a short travel range.
Tuning Music:
Due to Bluetooth connectivity, it is easy to skip songs and adjust volume according to your taste. But on the other side, it becomes difficult to bring out your phone from your pocket and then adjust the volume or change the song. But when your phone is inside the phone mount, you can comfortably handle all your needs.
Motor Scooter Phone Holder FAQs
How to put a phone mount on your electric scooter?
When you decide to buy a phone mount, the first thing which may keep under consideration that what kind of handlebar is on your electric scooter and at which position you want to position your phone. A "universal handlebar mount" can be beneficial if your scooter has a traditional tubular handlebar. You can use rubber straps or clip mounts to mount it, depending on the phone mount model.
Do I need a waterproof phone case?
It's better to have a scooter phone holder waterproof when you are traveling during rain. Some of the brands apply their proprietary phone cases to mount your smartphone on the bike. The other choice you can keep your phone in your jacket pocket during rainy weather and can listen to the ring of your phone by Bluetooth. But there is a drawback as the road noise and distractions can make you miss voice prompts.
Can electric vibrations destroy the phone on the phone holder?
Long-term use of standard electric scooter phone mount can somehow affect phone as some cases reported losing camera functionality. But now, some brands offer vibration dampener accessories that can help overcome these vibrations or prevent your phone from shaking. If you often ride through rough terrain, then it is important to consider these phone mount options.